Happy Thanksgiving, fellow Canadians! Hope you enjoyed a wonderful weekend with family and loved ones.
In recognition of the fact that a lot of us are still recovering from our turkey comas, a post full of photos and minimal words seemed like a safe bet. So, I hope you'll enjoy this (mostly visual) recap of my recent thrifting adventures.
I had to chance to make an impromptu stop at the Red Deer Value Village, and that's the kind of chance I don't pass up. I had all of 10 minutes to spend in there, but I still found a few gems, like this Talbots skirt (and the next two dresses below). I was tempted but ultimately decided to pass – not quite my style.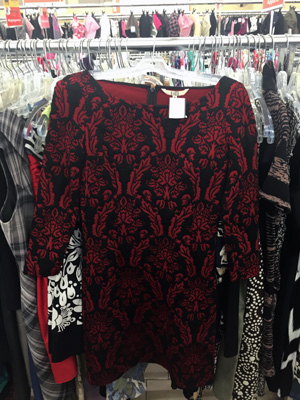 Ditto with this BB Dakota sweater dress. But how cute would this be for the holidays?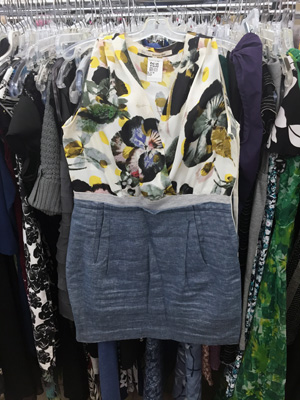 This, on the other hand, was right up my alley – so much so that I have one already hanging in my closet. I hope that, after my visit, some stylish Red Deer resident gave this dress a new home.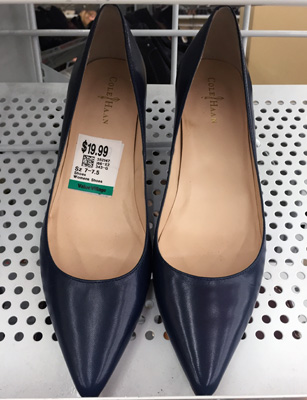 Also from the Red Deer VV, these pumps broke my heart. I've been looking for a pair of navy (low) heels forEVAH … too bad these were a size too small. *sob*
This vest had all kinds of preppy potential, but I just didn't see myself wearing it.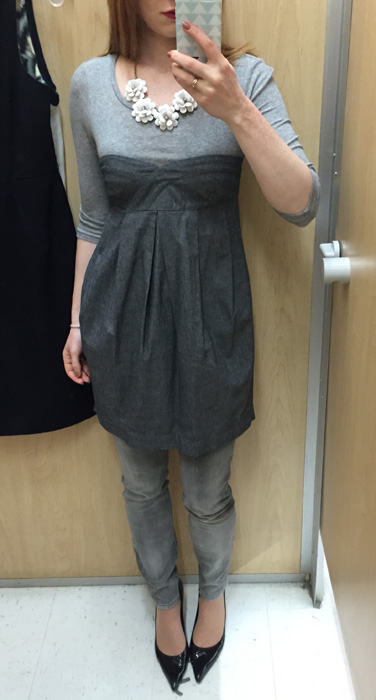 Funny story: I actually had this dress about 10 years ago, only in a different colorway. Ahh, memories. It was such a weird fit, then and now.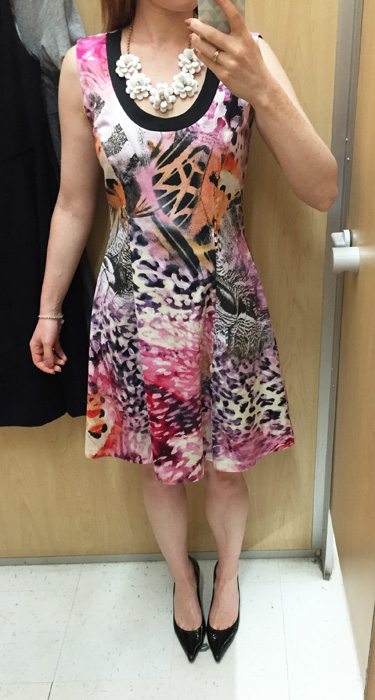 Cute but (a) not quite my style, and (b) definitely not my size.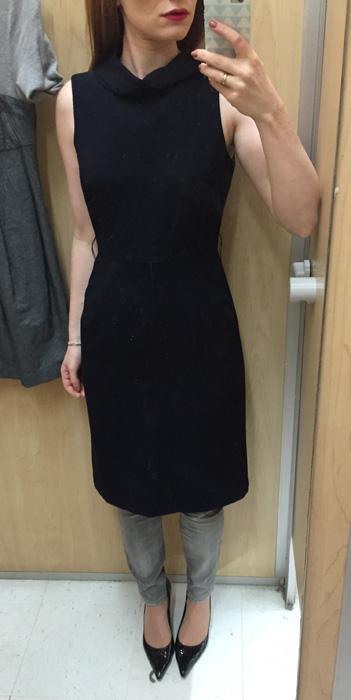 This dress was an "almost" for me. It had a really cool back: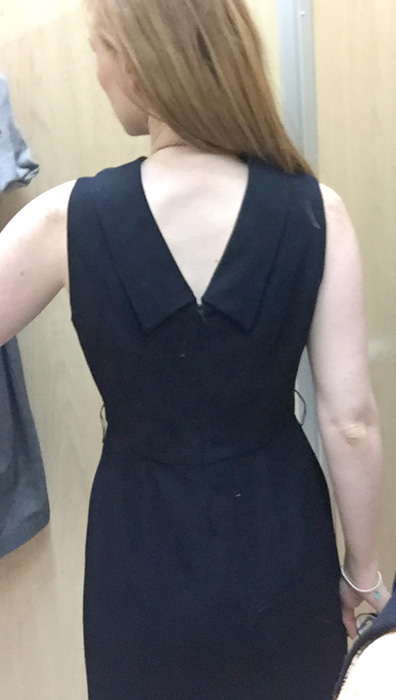 … but it was, sadly, just a tad too big. My last experience with alterations at the tailor ran on the expensive side, so I'm not buying any more things that require significant work.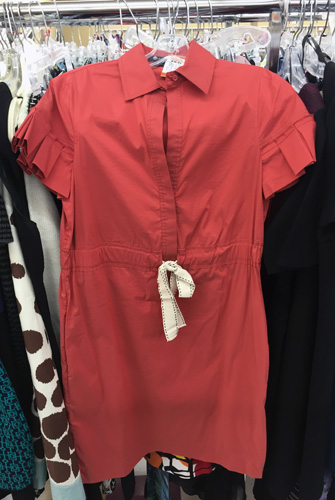 Not my style, but cute. Also fairly reasonably priced, considering that VV lives to jack up its prices on BCBG and BCBGeneration pieces.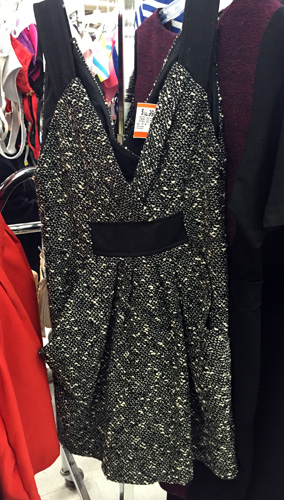 Also cute but (a) too "young", (b) too short, and (c) probably too small.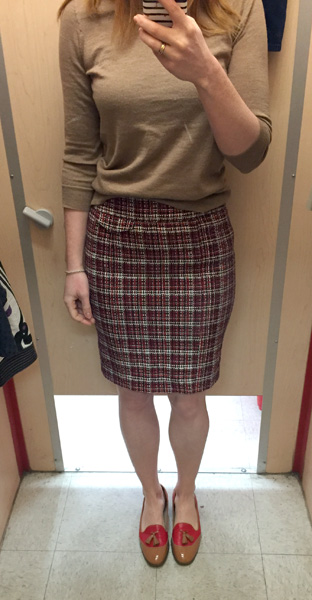 Pink Tartan is one of the few Canadian designer brands that has stuck around for a while. I've worn their pieces before and liked them a lot. Too bad this skirt was too tight.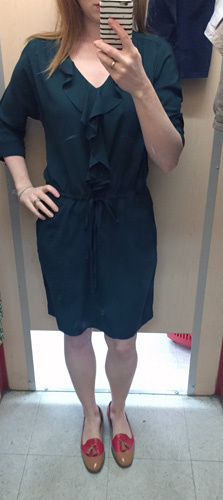 I loved the colour of this hunter green Jacob dress, but the 100% poly killed it for me. Also it was too casual for work, and too dressy for my usual weekend needs. I'm sure it will find a good home, though.
"Jeez, Adina" you're probably thinking by now, "do you ever actually buy anything in these thrift stores or what?" Well, wouldn't you know, after a few weeks of busts, I finally did.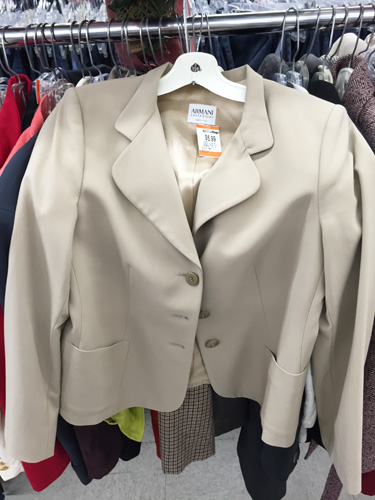 An Armani Collezioni blazer for $3.50? How could I not? It's too big for me but I'm giving it to a friend.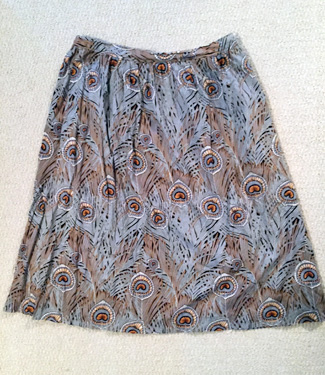 This home-made/vintage skirt looks pretty Little House On The Prairie right now, but I adore the print, and I think I can handle a simple hem job on my own. For $3.50, it's a DIY no-brainer.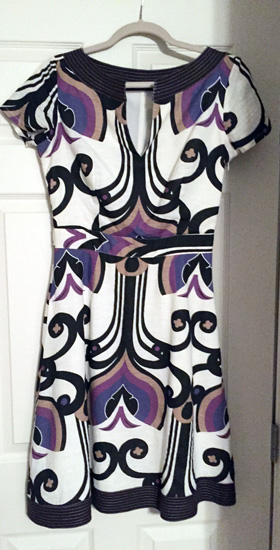 I probably didn't need this Vero Moda dress, but it was cute and fit nicely and it was only $14. The end.
And there you have it – another epic(ally long) thrifting post. I can't wait to hear about your amazing thrifting scores – hit me up in the comments.