The rise in popularity of capsule wardrobes and minimalism (as a lifestyle, rather than an aesthetic) has created a great deal of discussion I find fascinating, perhaps none more so than on the topic of whether these movements encourage a futile search for perfection in clothing form. It seems almost inevitable: if your closet is curated to the extreme and meant to last for years and years, it's natural to expect that its contents should meet some pretty lofty standards — a Platonic ideal if you will. Indeed, capsule bloggers who "refresh" their selections every season are often criticized for betraying the ethos of capsuling (is it a word now?) and being nothing more than consumerism peddlers in a cunning guise. For what it's worth, I think both of the above approaches to capsule/minimalist wardrobes (searching for "perfect" pieces versus "perfect for now" pieces) can have their advantages and drawbacks (or, worse yet, pitfalls), assuming the goal is to practice more mindful consumerism and reduce one's environmental footprint.
Nonetheless, as far as I'm concerned, there is no such thing as a Platonic dress, or skirt, or coat. Or, rather, the ideals are too numerous to count, influenced by any number of factors, and subject to the unpredictable whims of personal taste. The perfect dress for a sunny summer afternoon when I want to feel sexy on a date with my husband is not the same as the perfect dress for a cold winter weekday morning when I want to feel powerful in a client meeting. Nor is 26-year old Adina's perfect summer afternoon date dress the same as 28-, or 32-, or 36-year old Adina's perfect summer afternoon date dress. Maybe some people find it possible to hone in on their ideal wardrobe pieces with greater specificity than me; more power to them.
But I didn't start writing this post because I wanted to talk about philosophy. Honest. What got me started was an idea I had on the train home one day: what if I HAD to pick one, and only one, piece from each category of clothing in my closet as the piece most representative of my personal style — which one would it be? Given what I wrote above, I expected this to be a difficult exercise; to my surprise, I began coming up with answers almost immediately, and with little hesitation. After I ran through the whole list in my head, I decided to write it up as a post, partially because I love making such lists (and thought that making this one might be enlightening), and partially because I wanted to hear your thoughts. So, after you read about my Platonic pieces, tell me yours in the comments!
Dress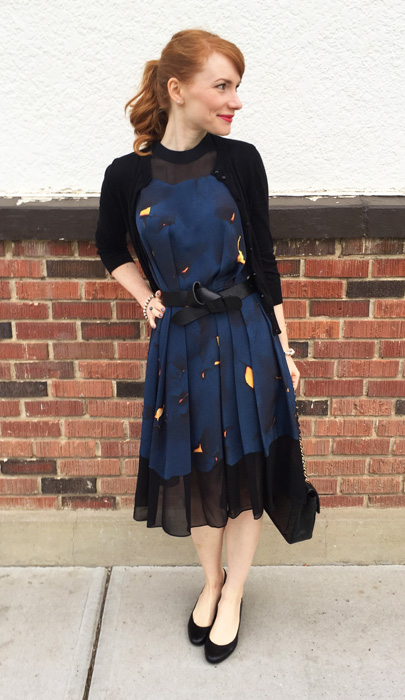 This one was the first answer to come to mind: my dark blue 3.1 Phillip Lim dress. It's the dress to which I turn whenever I need to look "my best" and feel confident. I wouldn't go so far as to say that it's appropriate for all occasions in my life (it would look out of place at a backyard BBQ, where a maxi dress might be just the ticket), but it would cover a pretty wide gamut.
As I mentioned above, I thought it would be interesting to dig a little deeper and ask myself what it is, exactly, that I like about this dress, which makes more "perfect" in my eyes than others. Here's a shortlist:
– it drapes beautifully, and skims the body without being clingy or body-conscious (I hate feeling uncomfortable and/or self-conscious)
– it accentuates my waist (when belted) and flares out without being too poofy (I like un-fussy, figure-flattering silhouettes)
– it has a high but interesting neckline — almost boatneck, without the bra strap limitations (I am cleavage-averse, by necessity, at least 80% of the time)
– it has no sleeves (I almost always wear layers and hate the "bunched up" feeling of sleeves within sleeves)
– I love the colour, and the abstract print/colour combo (it's unexpected without being too "loud")
Thinking about it, I realized that it's an "Adina" version of this dress, which is basically as close to perfection as a dress can get.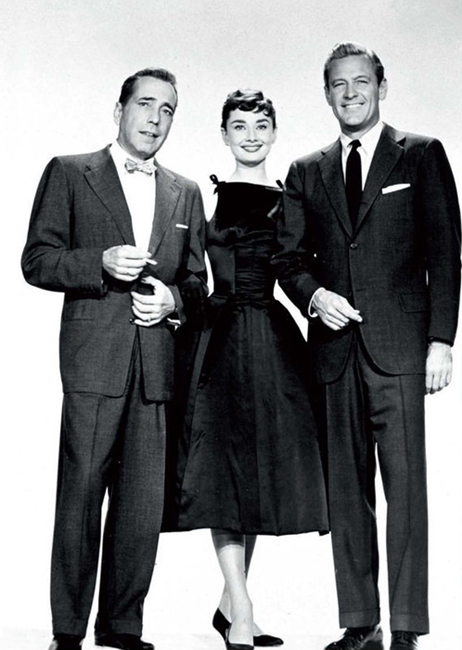 Pants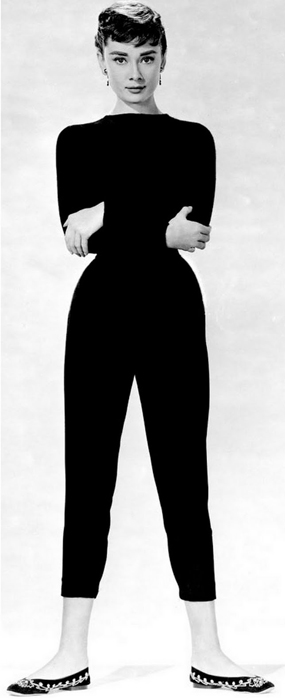 Sticking with a theme, my ideal pants are basically a take on the ankle-cropped cigarette pants worn by Audrey Hepburn. Most of my pants, both dressy and casual, share this silhouette DNA. My closet favourites are the Adriano Goldschmied Stevie (in denim and corduroy) and the BR Sloan.
Some of the things I like about these pants:
– they are stretchy and comfortable (honestly, my #1 requirement for any article of clothing, but especially pants)
– they make me look taller regardless of what shoes I'm wearing (probably my #2 requirement because I have a lack-of-height complex)
– they make me look more slender (clearly, this is entirely subjective)
Blazer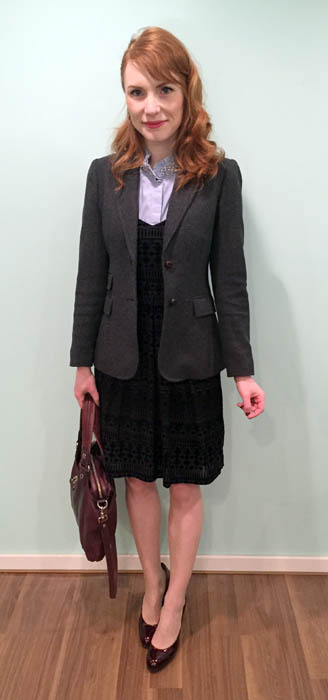 My J. Crew Factory tweed blazer is one of the most worn blazers, and with good reason:
– it fits me perfectly in the shoulders and nips in at the waist (perfect tailoring is one of my wardrobe aspirations)
– the length works with dresses, skirts and pants (versatility is another aspiration)
– the material is a good weight for winter, fall, spring and, more often than not, Edmonton's summer as well (see above)
– the blue-grey colour works with most things in my closet, and is less severe than black — indeed, it's second in versatility only to my greige Theory blazer, which doesn't have as flattering of a cut (more versatility!)
– the buttons, though not leather, have a convincingly similar look (I love an understated luxe detail)
Skirt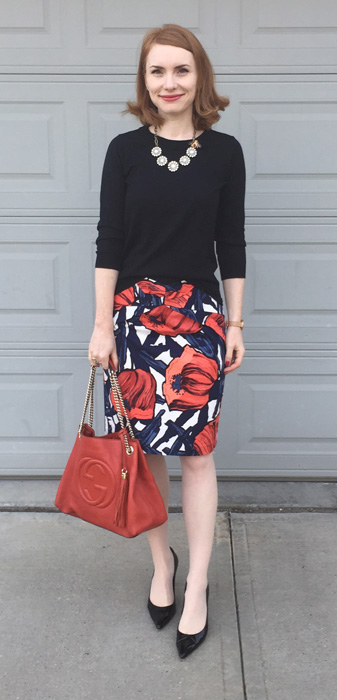 Although I do love a twirly skirt, if I had to pick one style as my ideal, it would be the pencil skirt. And there isn't a more ideal pencil skirt than this Moulinette Soeurs number.
– it fits perfectly in the waist AND hips (figure-flattery AND tailoring win)
– it stays in place, all day, every day — no rotating, hiking up, etc. (comfort is key, remember!)
– it's the perfect length to make my short legs look longer (see above)
– the colour palette (blue, red, white, black) is quintessentially "me"
– the floral pattern is quintessentially "me"
– the fabric is lightweight without being too wrinkle-prone
Top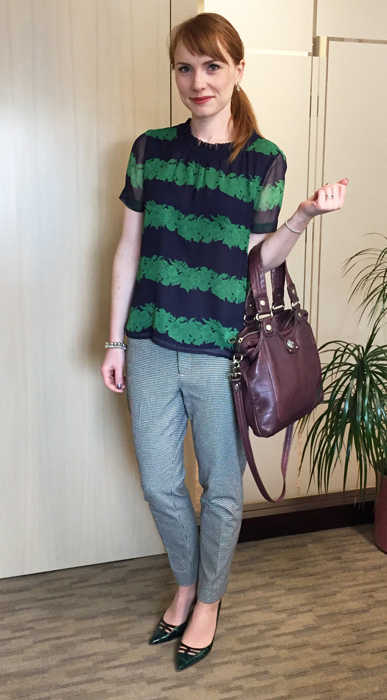 This is one of the categories with which I struggled; perhaps it's a sign of the fact that, most of the time, my tops are not the focus of my outfits. I ultimately landed on this J. Crew blouse for a number of reasons:
– it has a high but interesting neckline (no cleavage but still interesting!)
– it has sleeves that are the perfect length (for layering AND upper arm coverage) and sheer (no bunching!)
– it's made out of silk, which feels nice against the skin all year round (I like a touch of luxe)
– it's opaque where it counts (I'm not a fan of wearing camisoles — too fussy!)
Coat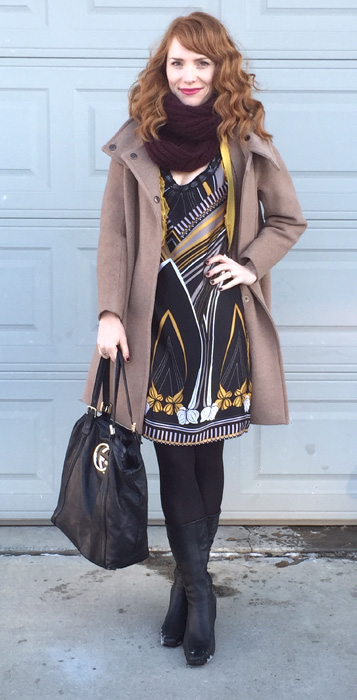 This one was a no-brainer, based on what's currently in my closet. I love this MaxMara coat because:
– camel goes with everything — no, really, it does! (versatility, yo!)
– the funnel neckline, when buttoned up, feels very classic and sophisticated (which is, basically, what I aspired to be)
– the arms are cut wide enough (in an intentional way) to allow for extra layering in the winter
– the weight is perfect for mild winters and spring/summer (versatility, yo!)
– it can be dressed up or down (did I mention versatility?)
– it works with pants and dresses (… you know the drill)
I would say that a classic camel trench (like my Burberry trench but in a solid colour) would be a tempting option for a purely aesthetic perspective, but it would not be as functional for my lifestyle. I need something I can wear over bulky layers (particularly blazers), and a trench would not accommodate that as elegantly as this cocoon coat.
Shoe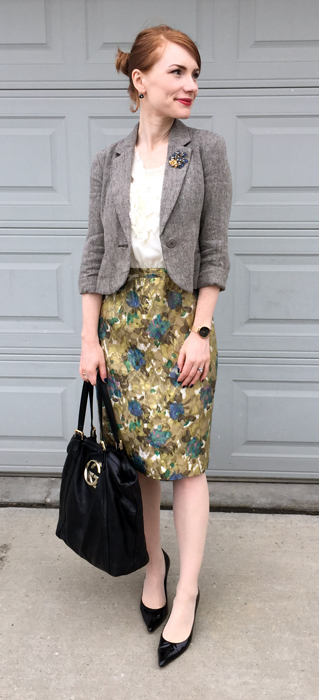 Pointy toe pumps for the win. And, as much as I love a bold coloured shoes, black pointy toe pumps by Stuart Weitzman all the way:
– the pointy toe elongates my leg line (height complex appeased)
– the 3 inch heel strikes the right balance between comfort and height
– the thin heel is classic rather than trendy (classy is as classic does … or something like that)
– no platform!
– it manages to be comfortable notwithstanding the lack of platform (comfort is still #1)
– in a pinch, black goes with everything (versatility, redux!)
– dark patent leather shows wear and imperfections less than non-patent leather (I'm also practical like that)
– they are crazy durable (I'm thrifty too)
Bag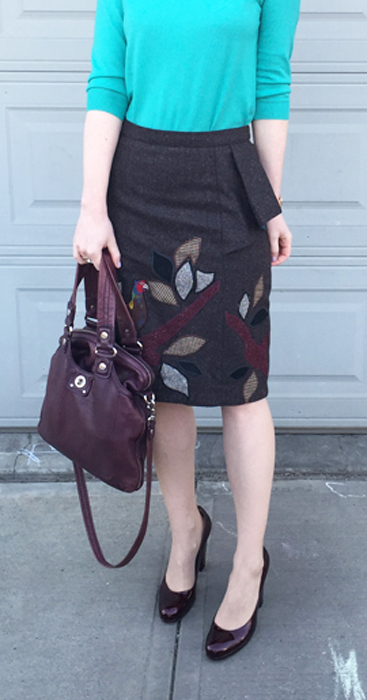 This was, hands-down, the toughest category. I tend to love and buy bags for looks as much as function, which complicates things — the bags whose looks I love the most are not always the most functional. Still, since I had to finish the exercise, I ended up picking my MbMJ Mag bag and here's why:
– burgundy goes with everything — or, in a pinch, the fool's gold version is a good bet too (versa-say it with me- tility)
– it can be dressed up or down (versatili …yawn)
– it is a good size — neither too big nor too small (call me Goldilocks)
– it can be comfortably worn on the shoulder or cross-body (comfort AND versatility)
– it has a zipper (extra security but easy access)
– it has a front pocket for extra easy access (I'm lazy — really lazy)
– it has a turnlock closure on the front pocket (I'm a sucker for turnlocks of all kinds)
– the leather feels really nice but isn't too delicate, and holds up to wear really well (remember, I'm practical!)
– it's inconspicuously branded — the inner fabric lining is logo-ed but the bag is not otherwise instantly recognizable (I'm a bit of a snob. Or a big one, idk)
So that's my list. Obviously, I could never get by with just these items in my closet, but they are things that will probably live in my closet for a very long time. The lists of "likes" for each item could easily turn into shopping guidelines, although I think I would benefit equally (or perhaps even more) from putting together a list of "dislikes" — methinks I smell a new project.
Your turn: tell me all about your Platonic closet!