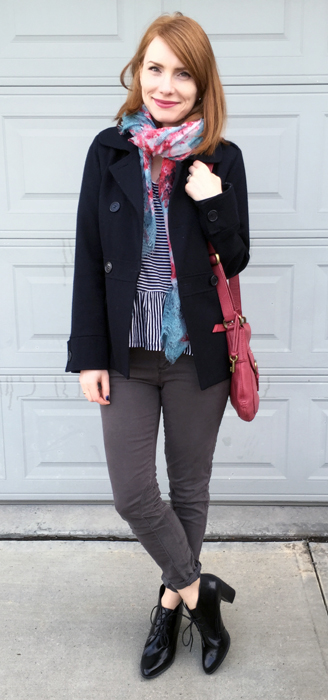 This is my fall weekend uniform these days, in all its dubious glory. I have so, so many casual pants, I'm basically spoiled for choice. Thankfully, they all work with my Clark's ankle boots — which are, hands down, one of my best purchases of the year. Not the kind of shoes I typically get excited over, but so useful and so comfortable. (Just like the Kelsi Dagger loafers I wore all summer on weekends.) They were about $60 at Winners (I had a gift card, so I paid far less out of pocket), and I think they will have fantastic CPW in no time even at the (relatively) higher price point.
I spruced up an otherwise pretty basic (boring? let's go with basic) outfit with some colour courtesy of my scarf and the sorta-matching purse. This is my first Fossil bag, and I have to say that I'm loving the uber soft leather. I would definitely love to find more of these at the thrift store — fingers crossed.
Hope you guys have an exciting weekend planned. Happy Friday!