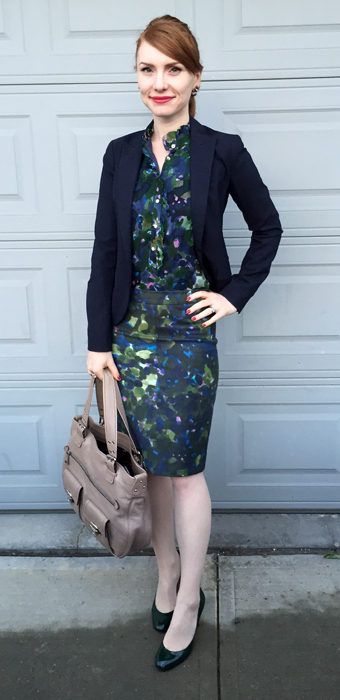 The day I wore this outfit I woke up to a thunderstorm, so the moody floral print seemed very apropos. I've worn almost this exact outfit before, but since on this occasion I updated it with a couple of new pieces, I thought I'd show it to you anyway. Real life and blogging collide, run for your lives. Just kidding! Come back and read on, please.
I finally found a classic style navy blazer after searching for a few months. I gave away my old Aritzia one because I wasn't crazy about the sleeves (couldn't get them to roll up properly, grr), but then I missed having the option in my closet. So I looked and looked. And looked, until I got lucky. Blazers, like dresses, are almost always good bet for me at the thrift store; sometimes you have to wait a bit if you're looking for a specific colour, but the selection is quite good if you're starting from scratch. This blazer is from Theory, and looks to be the same style as my oft-worn greige blazer — love it.
The shoes are also newish, and the colour is proving so, so versatile. These are the Elsie d'Orsay pumps, and they are still available on the J. Crew website although this particular colour (cottage purple) might be an eBay-only option at this point. It might be worth tracking down because the muted, greyed out purple is such a nice, subtle colour accent.