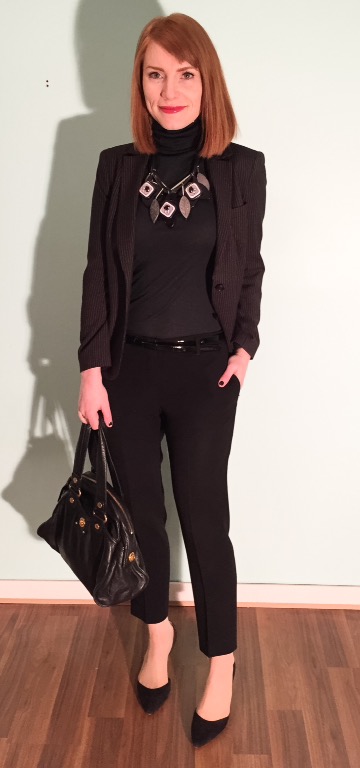 Obvious observation #1, courtesy of my dear love, who told me: You look like it's the 80s, and you've just put out a hit on somebody. Thanks, honey. I prefer "Badass Boss B*tch".
Obvious observation #2: I cut my own bangs. I was desperate, you guys. They need to, um, settle. Still, infinitely better than the old fivehead (and cheaper than Botox, obvi).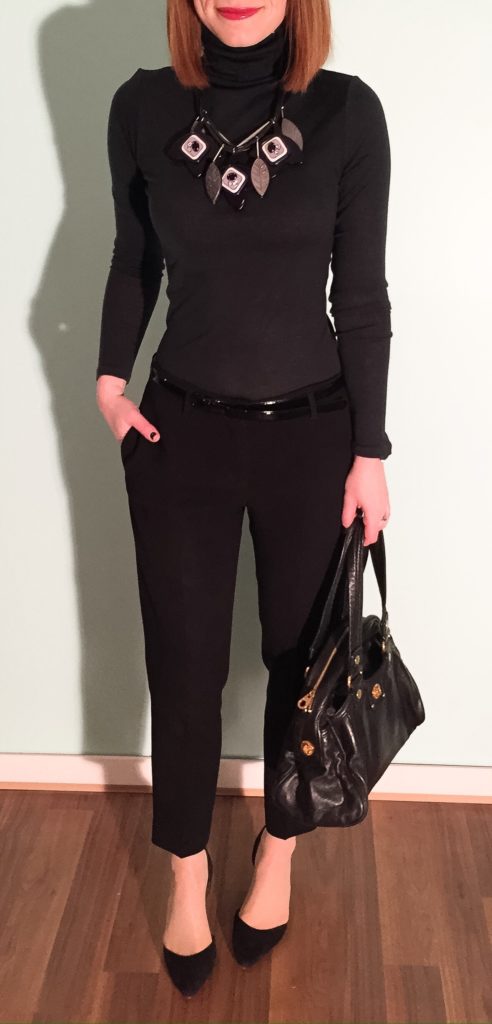 OK, with all that out of the way, let me tell you the important stuff. Run, don't walk, over to Club Monaco and buy yourself one of these extra fine wool-cashmere blend turtlenecks. I'm serious; go right now before they completely sell out. You know I almost never buy anything at retail, but I gladly paid $38 CDN for this (dark forest green) turtleneck, along with a black version as well. And then, after wearing this outfit for a 16 hour day (don't ask), I ran out and bought the dark plum colorway as well (which rang up at $32, for some reason). No regrets. I will probably go back around Boxing Day to check for further reductions, and possibly acquire a back-up black one.
Let's back up a bit. I had been looking for a thin, black turtleneck for ages, having realized it would be a great staple for my wardrobe — perfect for layering, especially under my summer dresses and my blazers. How did I know? Because time and again, I kept finding myself wishing that I had one on hand. Sadly, the thrift stores did not deliver one to my specifications (super lightweight, close fit, non-ribbed). So, reluctantly, I decided to go looking at the mall. Luckily, I started at Club Monaco … where my search ended almost immediately when I found this guy on the clearance rack ($59 plus an extra 40% off). The material (a wool-polyester-cashmere blend) is a perfect weight, and super soft; my skin is sensitive (not allergic) to wool and stiffer fibers, and I found this to be minimally scratchy when I first put it on (becoming less so as the day went on). It's warm without being too warm, and breathes nicely.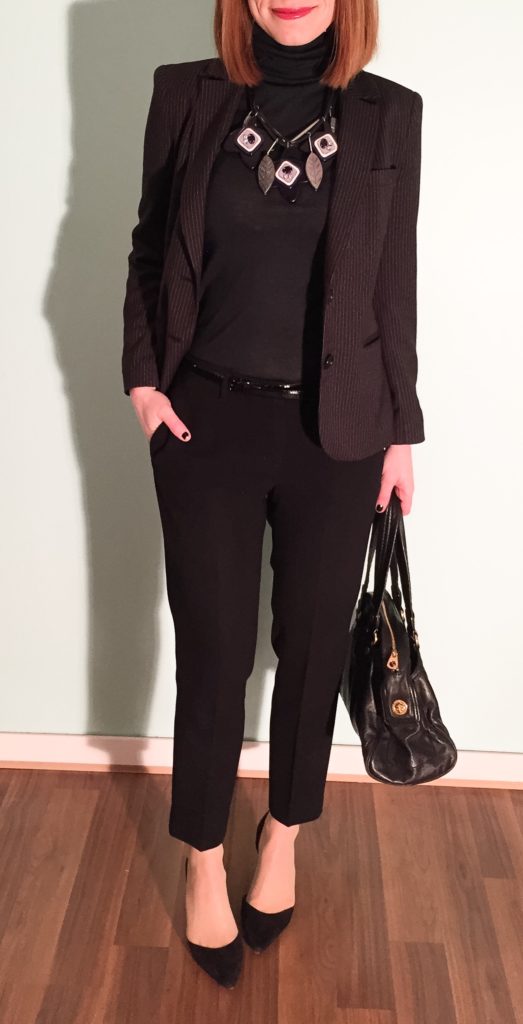 I would advise sizing up, particularly if you're larger on top than, say, a B cup. The sales associate told me it fit small; personally, my bigger concern was that the sweater was quite sheer in my usual size. Sizing up resolved the sheerness almost completely (enough that I can wear this on its own without worries), and I did not see an appreciable difference in fit otherwise.