As promised, here are my best purchases of the year, as judged by me. They are basically a mix of things I love and things I find terribly useful, and sometimes both. I had a hard time narrowing down the selection, and ended up with a somewhat arbitrary 20 … so I decided to prepare a separate list for accessories capped at — wait for it — 16. It all makes sense, eh? And now you guys will have to come back tomorrow to check out my final "best of 2016" installment. [That's how clickbait works, right?]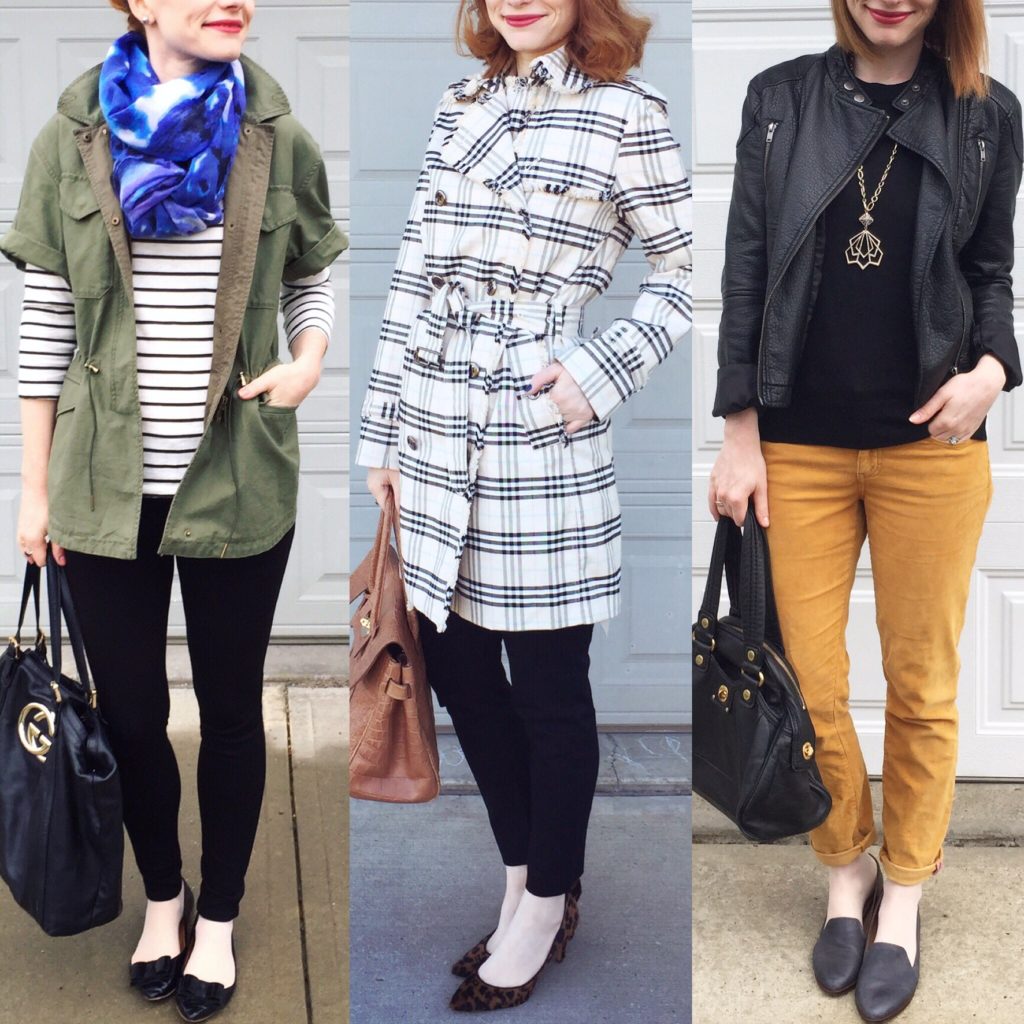 I thrifted a lot of awesome outerwear this year, but none as endlessly versatile as my Joe Fresh leather jacket. This moto style is perfect for casual outfits and dressy ones alike. It cost me $10, and I've worn it 30 times already. A close second in the versatility stakes is my Club Monaco short-sleeved field jacket ($8/19 wears). I've become a huge fan of khaki, especially in my weekend wardrobe — a totally underestimated, classic neutral. Speaking of classics, nothing could be more so than my Burberry trench. Even though it has a much shorter season here than in other climates, it's a keeper. The cut is impeccable, and I always feel extra fawncy when I wear it. Also, $8 y'all. 'Nuf said.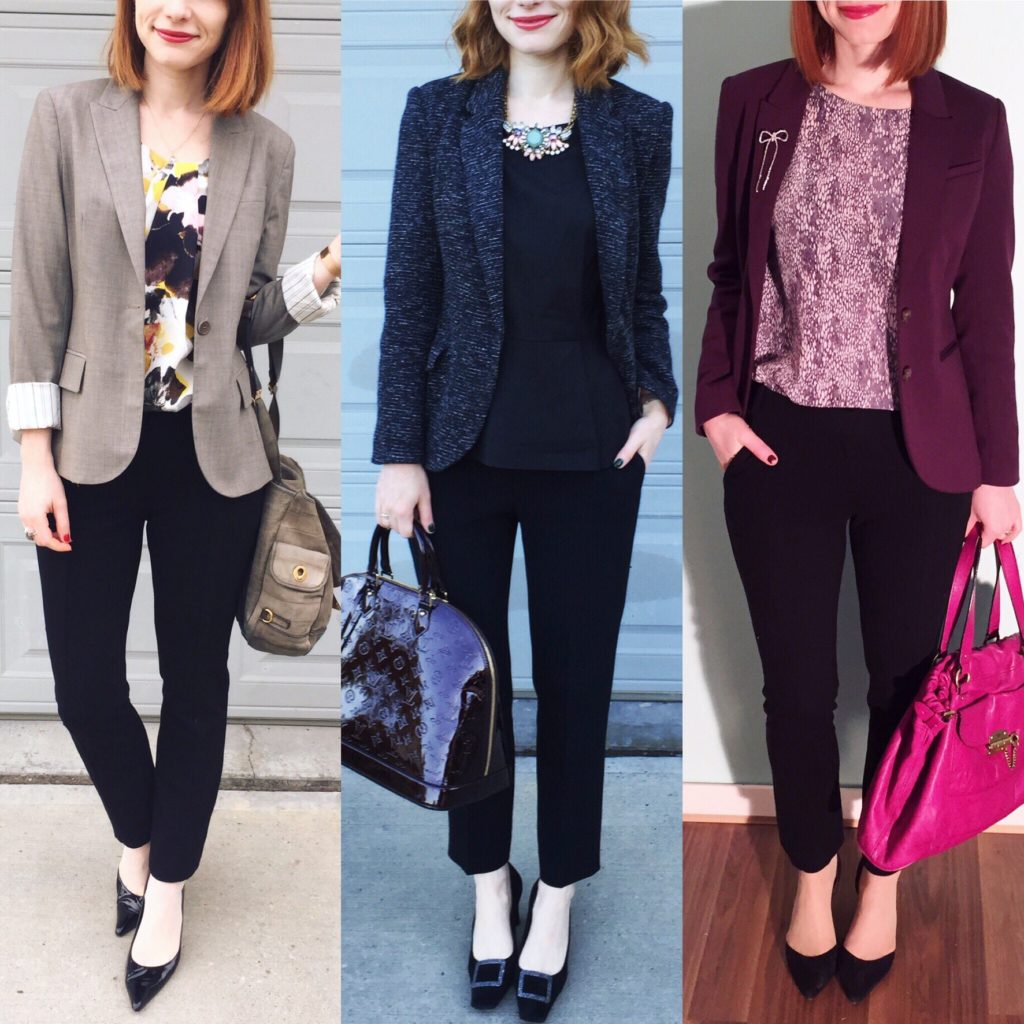 I also thrifted a bunch of great blazers, with a few true standouts. I'm sure you guys are sick of hearing about my Cartonnier blazer ($12/13 wears), but there it is again: it's all around perfect. I love the heathered colour, the cut, and the feel of it. It's the kind of blazer I never take off even when I'm alone in my office because it's just *that* comfortable.
My greige Theory blazer should also be familiar to eagle-eyed readers ($8/15 wears). Although it's a size bigger than ideal, the colour is so wonderfully versatile that I don't mind the boxier fit. Whenever I'm not sure what topper to throw in with an outfit, this blazer is usually the answer.
The burgundy H&M blazer ($8/3 wears) is shaping up to be in the same category. The colour is a perfect "neutral" for my wardrobe palette. The fit is also great, though I have reservations about the quality; I like the ponte material, but the lining is not very breathable. I will definitely be looking to upgrade this piece next year, thrift gods willing.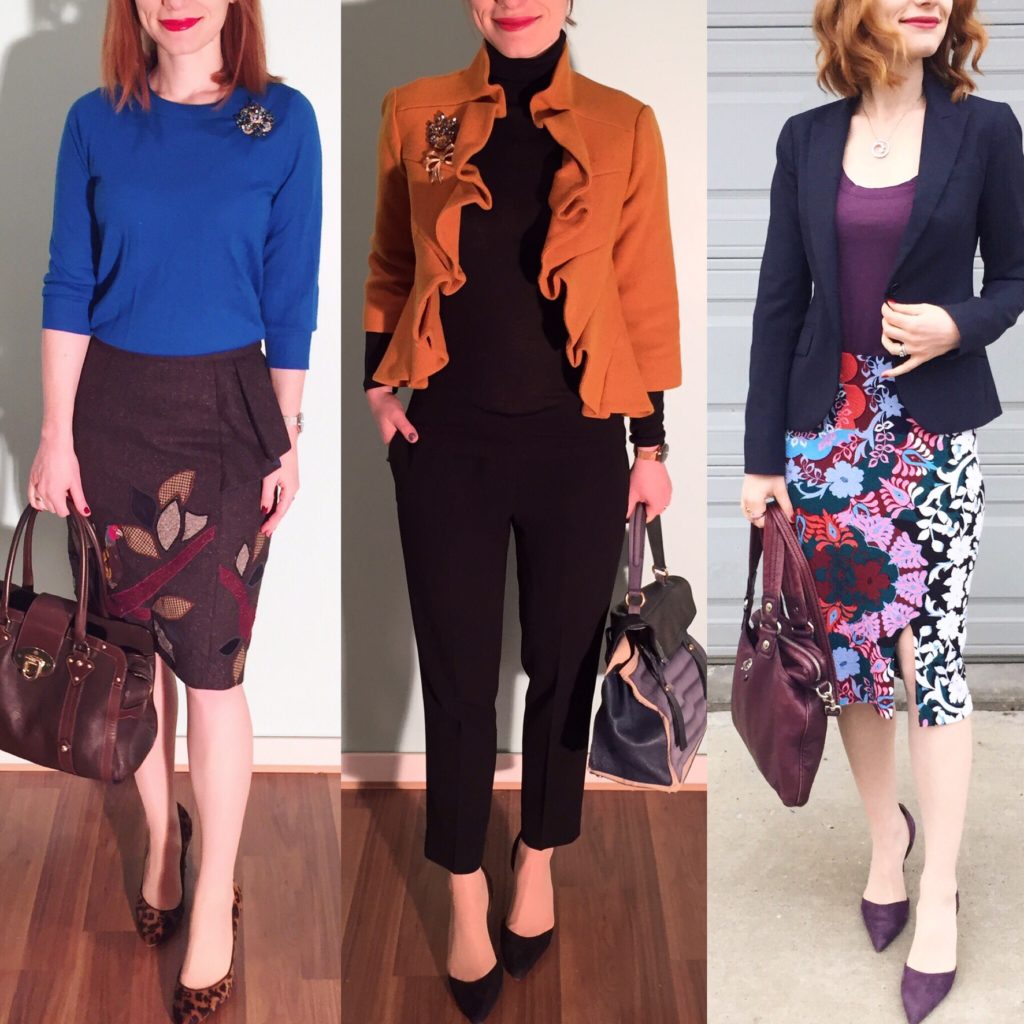 When it comes to workwear, blazers were only the beginning. I love me a good statement skirt, and these two Anthro pieces definitely fit that bill. The pheasant skirt ($72/5 wears) tickles my whimsical bone, and it also garners compliments whenever I wear it. The Maeve number ($5/3 wears) is the epitome of comfort in pencil skirt form; the colour palette makes it a cinch to accessorize — it works with just about anything in my closet. But in terms of being a wardrobe workhorse, few things beat my T. Babaton trousers ($8/11 wears). If I knew their style name, I would be tempted to buy a back-up pair … at retail price, no less. They have proven to be a great (and slightly dressier) alternative to my beloved BR Sloan ankle crops.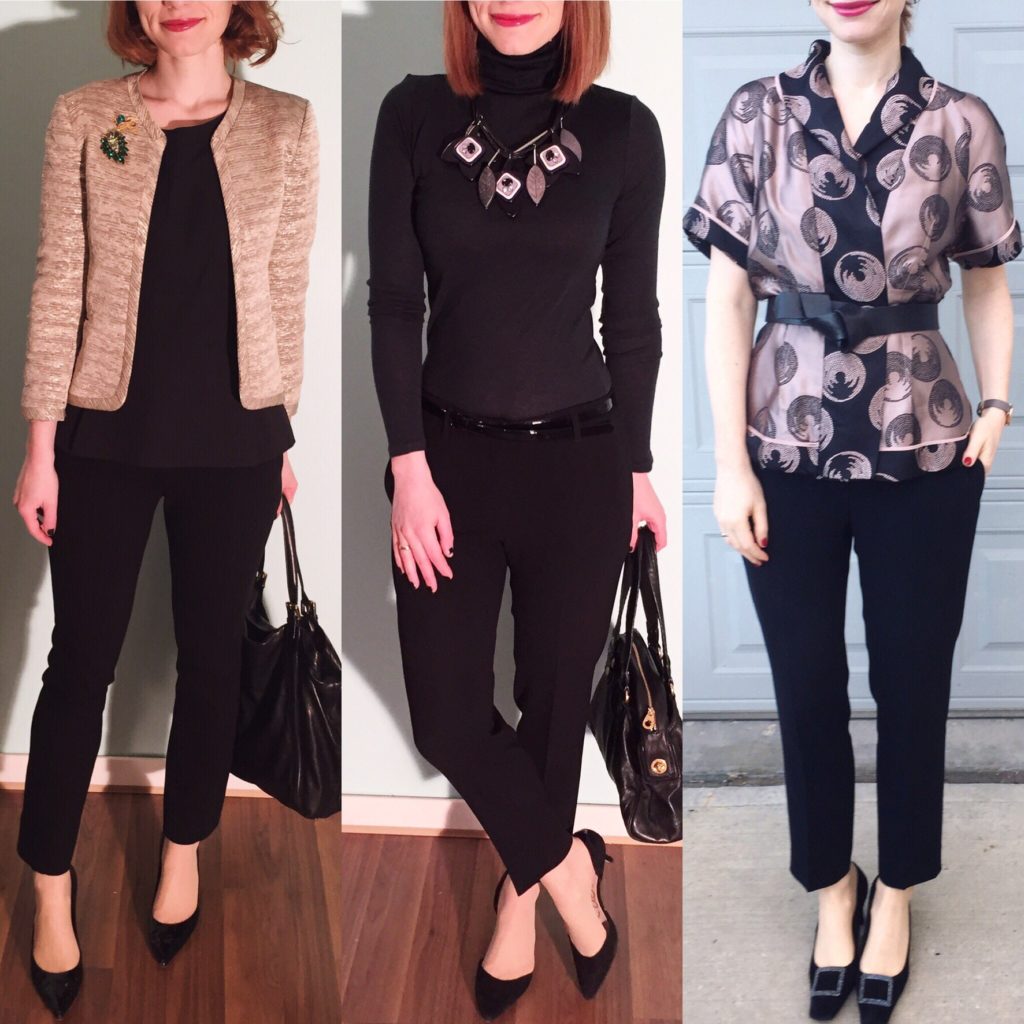 I also found some statement pieces for my work wardrobe, like this Wilfred cropped jacket ($$25/3 wears) and BCBG kimono-style coat ($4/3 wears). Neither is a piece I can wear every day, but both of them can make a plain outfit look extra special. In fact, one of my favourite "looks" this year has been the "black column" + statement piece combo — and both of these pieces are perfect for that formula.
Speaking of the "black column", my black Club Monaco turtleneck ($38/5 wears) is going to be giving my black crew-neck sweater a run for its money in 2017. I bought it (and its green and plum counterparts) in the latter part of December, but I have already worn it/them multiple times. Definitely a core wardrobe item, and great quality for the price point. As the rest of this post attests, I have bought very few things at regular retail stores this year, but I am happy I made an exception in this case.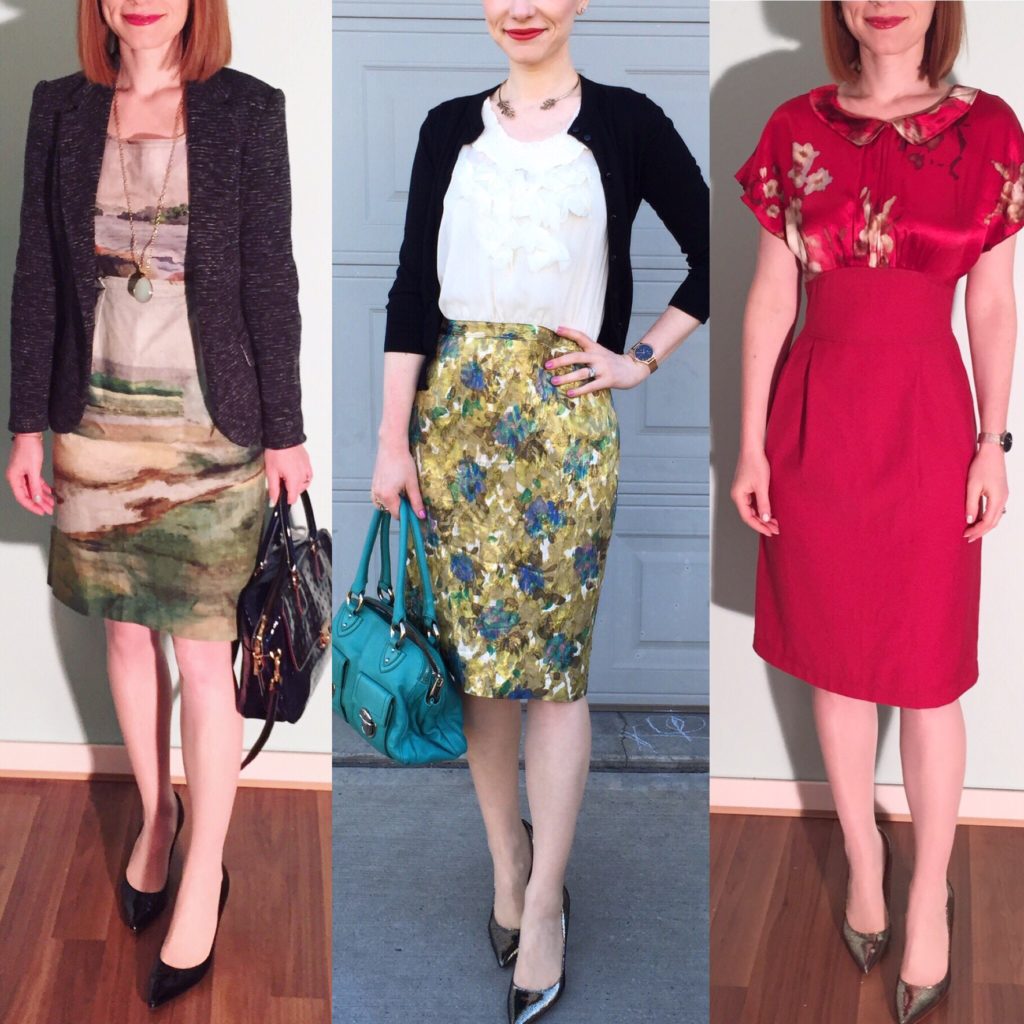 You guys know my weakness for dresses, so it will come as no surprise that I added a few (ahem) to my wardobe in 2016 including the "piece of art" Odille ($40/2 wears); the "go for gold" Moulinette Soeurs ($60/5 wears); and the "perfect fit" Allison Wonderland ($8/1 wear). I have a lot of dresses (double ahem) in my closet, and while I try to get them all into a regular rotation, these are definitely favourites. As these show, I rarely go for dresses of the "backdrop" variety; I gravitate towards statement dresses, especially those with memorable prints, so remixing them in new and interesting ways can be difficult. That, however, is largely a blogger problem (keeping that content fresh and all); in real life, there is nothing like a statement dress to perk up a blah Monday. My two cents, at least.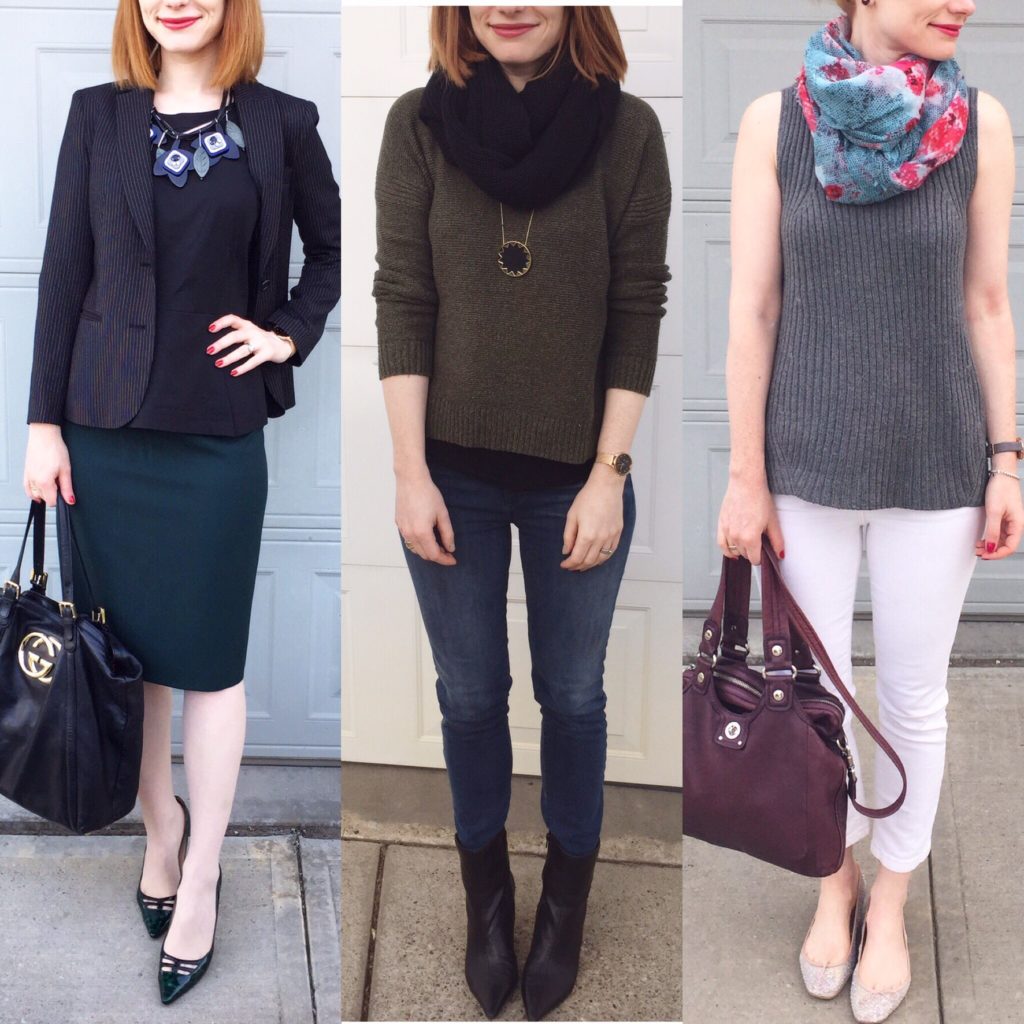 With that said, I also have favourites that are the opposite of statement pieces. Take this black Theory peplum top ($5/10 wears): kinda unassuming, and pretty much the perfect building block for work outfits. The peplum is not very peplum-y, but adds a nice bit of definition at the waist. The neckline is high and serves as a good backdrop for statement jewelry, which is another weakness of mine. Last but not least, the material has some elastane in it, which makes it hella comfy without going into T-shirt territory.
This Madewell sweater ($7/7 wears) has been one of my fave casual wardrobe additions; I love the colour, texture and fit. It rivals my grey Joe Fresh sleeveless sweater (pic on the right) for versatility. [Note: I was convinced the Joe Fresh sweater was a 2015 buy, but it turns out I was wrong. I bought it in early 2016 ($29/21 wears). If I had a do-over on this post, I would probably pick it over the green sweater as a fave, but it would be a close call.]
Who knew white jeans would make the fave list this year? Well, consider me a convert — I'm crazy about them. I do wish these Pilcros ($12/8 wears) were just regular cropped skinnies instead of cropped flares, but it's a minor quibble. They fit nicely and are a good weight/thickness — a small miracle for white denim.
Lastly, a couple more dresses. But of course! And, fittingly, two choices at opposite ends of my style spectrum. The Club Monaco dress ($240/2 wears) was a splurge whose wisdom remains to be revealed, though I have adored wearing it thus far. I can unequivocally say that I have and will have no regrets about the Vanessa Virginia number on the right ($17/5 wears); it's just plain awesome — the melange of prints, the lace details, the comfort level.
An honourable mention goes to my Nicole Miller gown ($3.50/1 wear) which may or may not see the light of day again, but which made me feel like a million bucks for at least one, memorable evening.
Don't forget to come back tomorrow to check out my last "best of 2016" post!