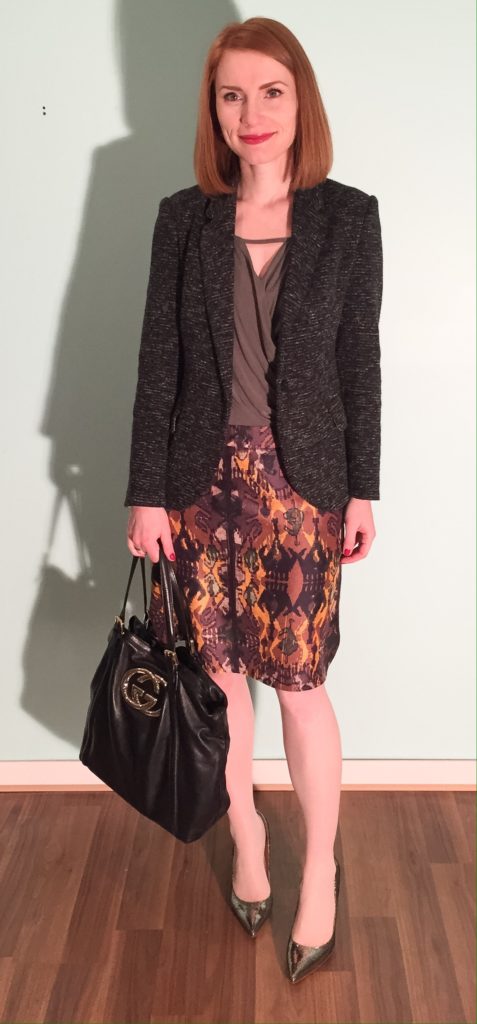 … but in the meantime, I will continue to dress like it's fall. Because when it's late, late November and the temperatures are just starting to dip below freezing, you take advantage of it. All the advantage. The Starks would approve, I'm sure.
This outfit is very fall-inspired, what with the colour scheme and the cozy layers. I've been meaning to wear this Deletta top for ages, and I'm glad that I finally did. The wrap neckline required a small tweak to make it office-appropriate; I pinned the flaps together just below the keyhole so that they would not gape when I bent down – easy peasy. As for the bottom half, I deployed my usual trick for keeping tops securely tucked into skirts: nylons. I know nylons are a divisive topic among office-dwellers (judging from reactions to the last post in which I talked about them, and from commentary on sites like Corporette), but I am firmly in the "nylons every day" camp. At this point, I think they transcend the issue of professionalism; for me, there are practical reasons for wearing them (such as the aforementioned "trick") although I'm perfectly willing to concede it's a YMMV situation.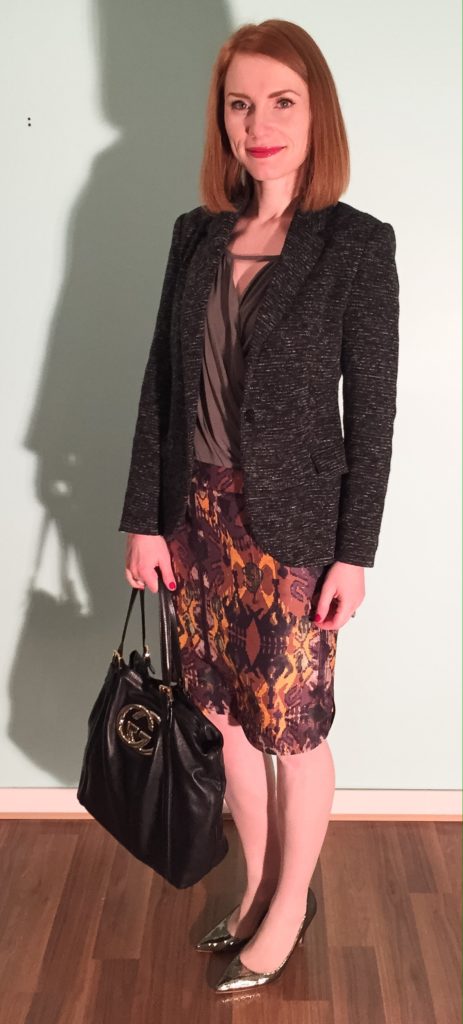 Moving on, I'm wearing my ubiquitous Cartonnier blazer because why not, and a very old Boss skirt I thrifted back in 2012 or so. It's one of the pieces I periodically question, but haven't taken the plunge to purge. I'm kinda bored with the print, but not enough to let it go; having invested some money in getting the skirt tailored after I lost weight, I feel like I need to hang on to it a bit longer than I would otherwise. First world problems, y'all.