Ready for a peek at my new closet?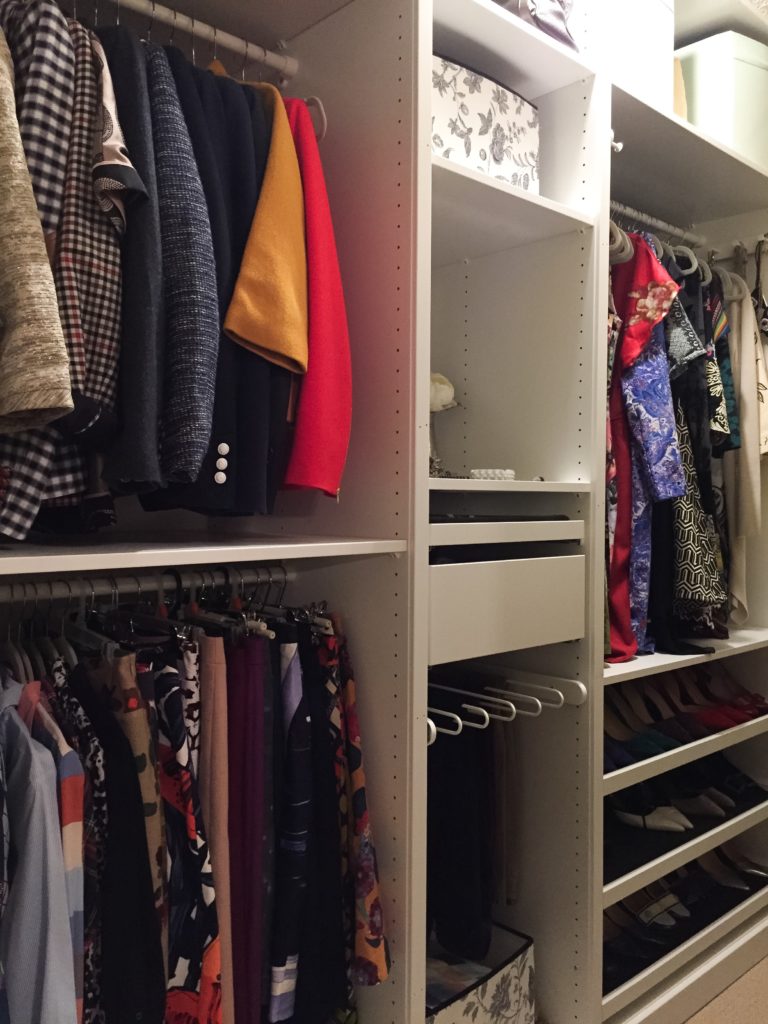 As I mentioned yesterday, my closet is entirely made up of IKEA pieces (the Pax and Komplement series) with custom trim added by my husband. The three units gave me plenty of storage options; so much so that we ended up nixing our original plan for a separate shoe rack/display, and adding 3 extra shelves to one of the units instead. This saved up a considerable amount of space, which is at a premium in my still-tiny (but infinitely better organized) closet. This left room for a few extra touches I quite enjoy. I'll come back to those in a moment. First, let's have a closer look at how everything is organized.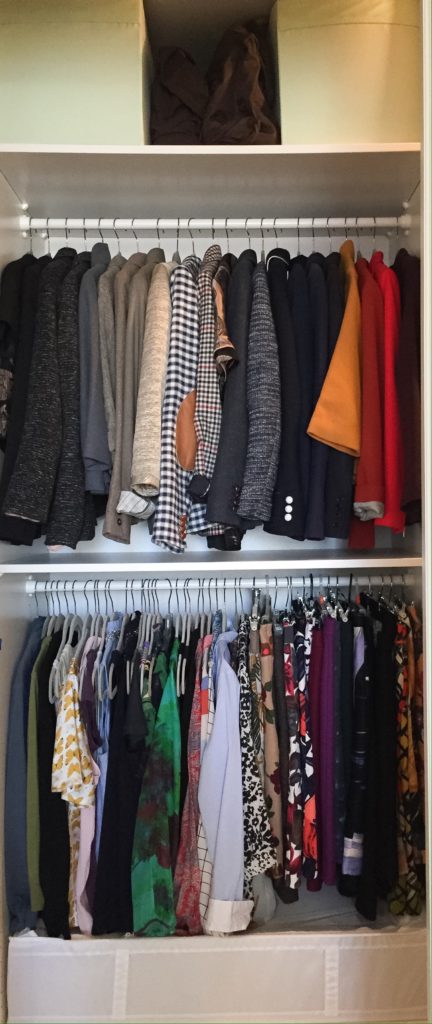 The top shelf in each unit is reserved for my bags, most of which are stored in large bins for convenience. I am debating getting shelf dividers instead. (I caved, and signed up for Amazon Prime at the end of December. My life has changed. Everything is a click and free two-day shipping away.) For now, this works. The rest of the first unit is taken up by my extensive blazer collection, along with cardigans, work tops, and skirts. My sweaters and casual tops are stored in three small baskets in another unit in my bedroom (no change from before).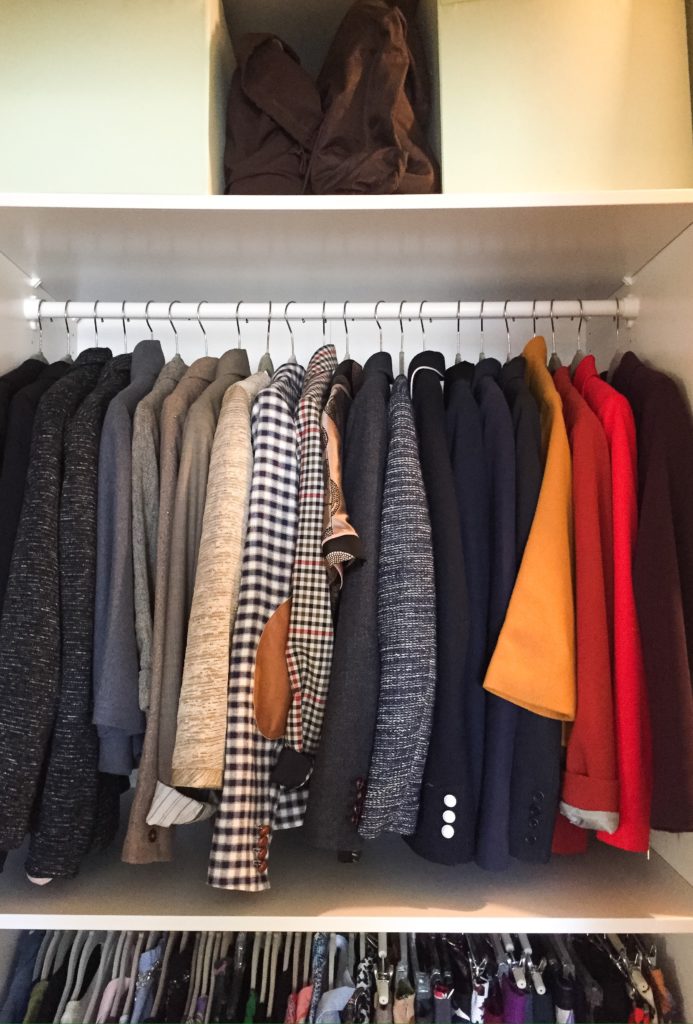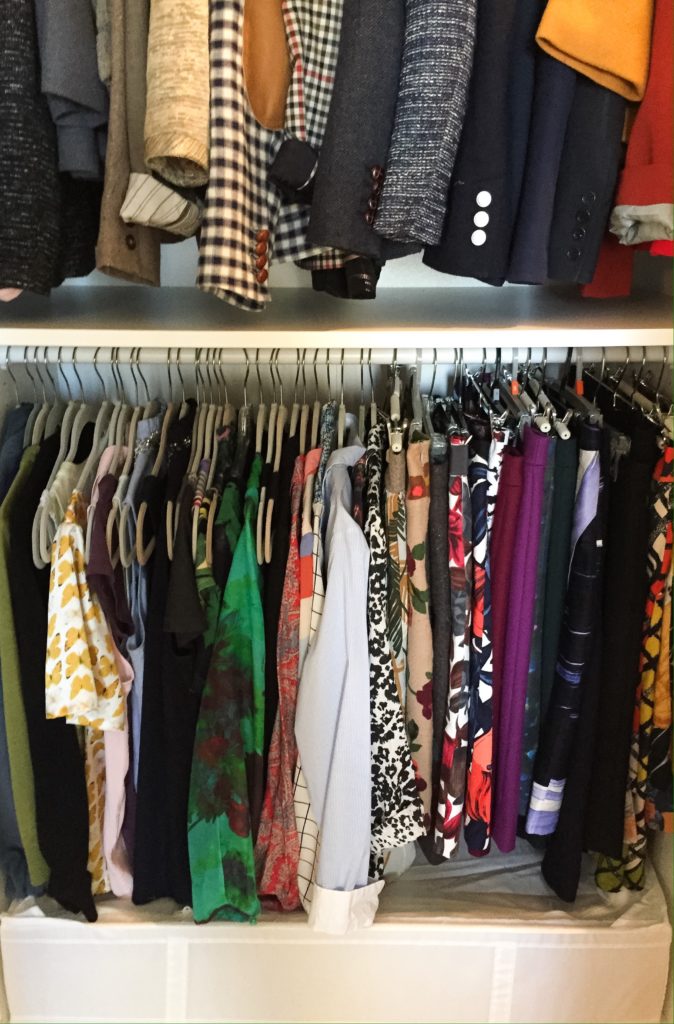 At the bottom of the unit, I have a large, zippered Skubb container that's holding (a) my jeans and casual pants, (b) my tights; and (c) my loungewear. I have no idea if Marie Kondo would approve of my folding strategy, but it's quite effective.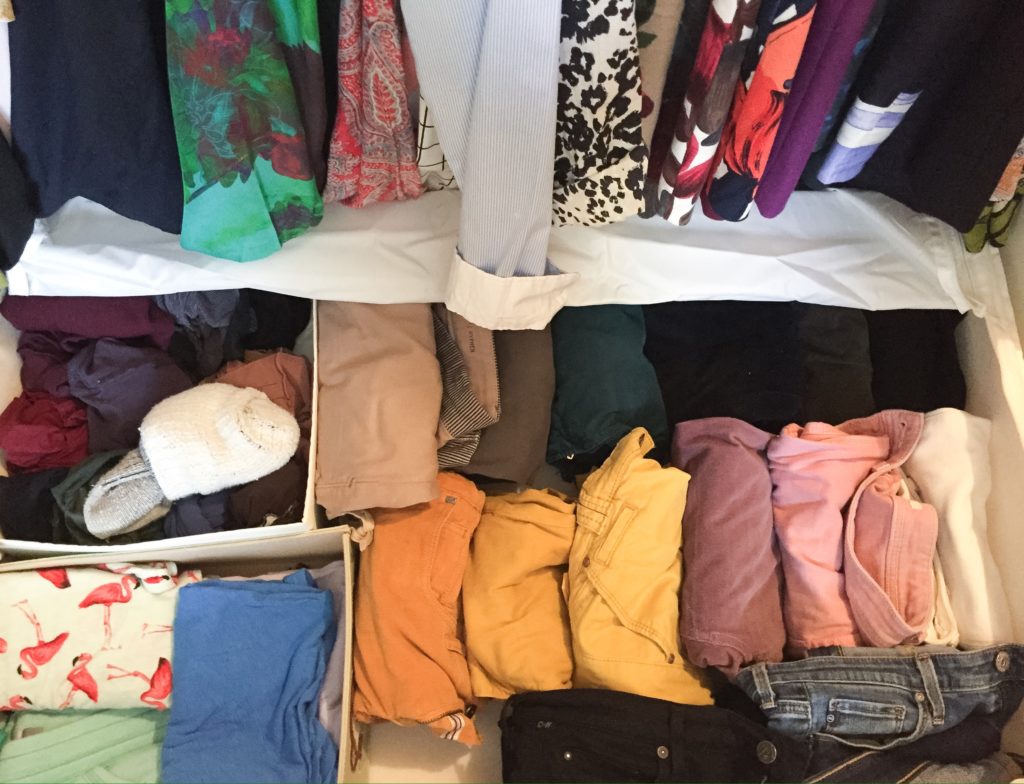 The middle unit is my favourite, if only because it holds all my vintage sparklies. But first, under the bag shelf, we have a smaller shelf which holds 2 boxes – one for my scarves, and one for belts and other miscellany. These units are 23 inches deep, and they offer a lot of space.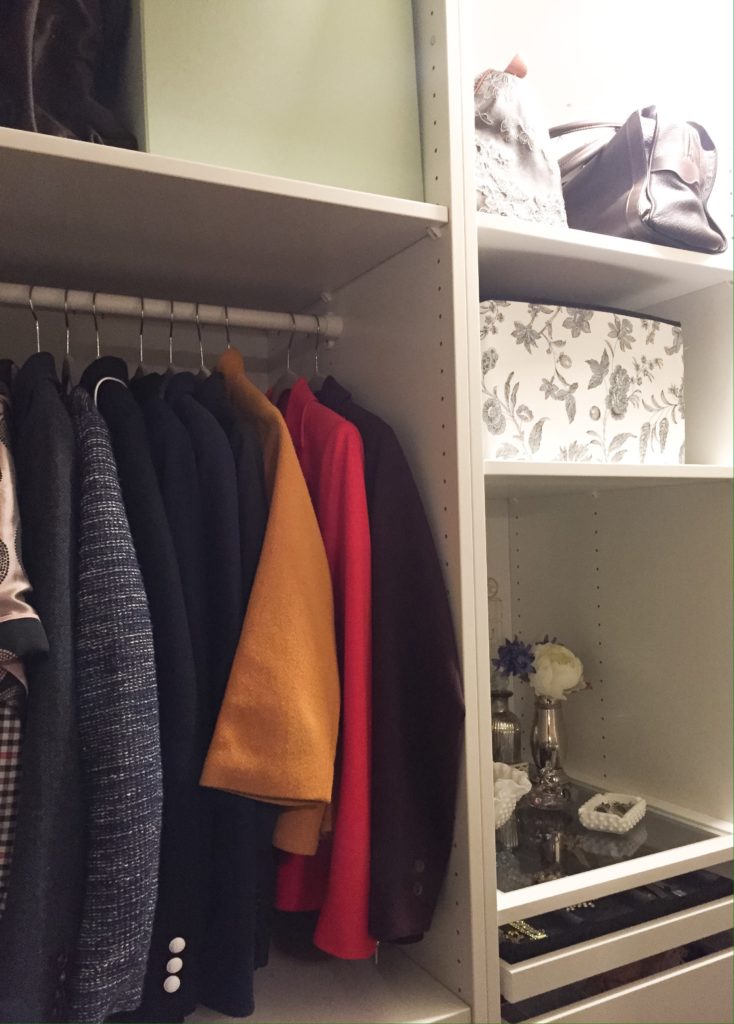 Moving on, my "display" shelf is mostly an excuse to show off my thrifted milkglass collection. The piece de resistance is the jewelry display shelf underneath, which is at least 70% of the reason why I wanted the Pax in the first place. It's awesome, and very sparkly.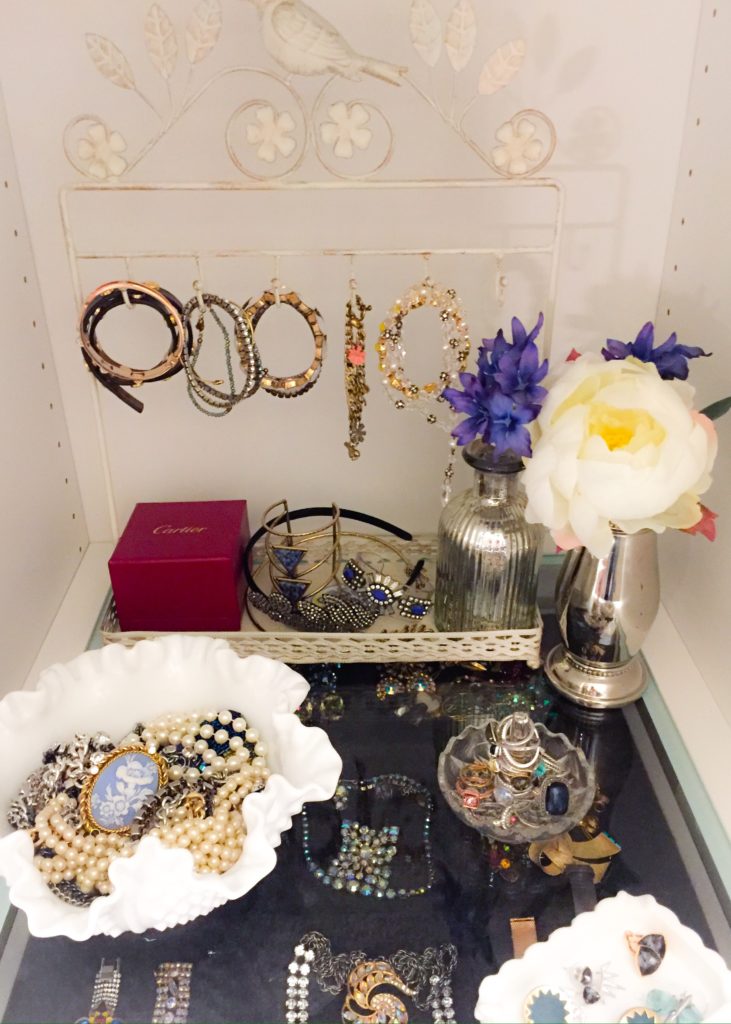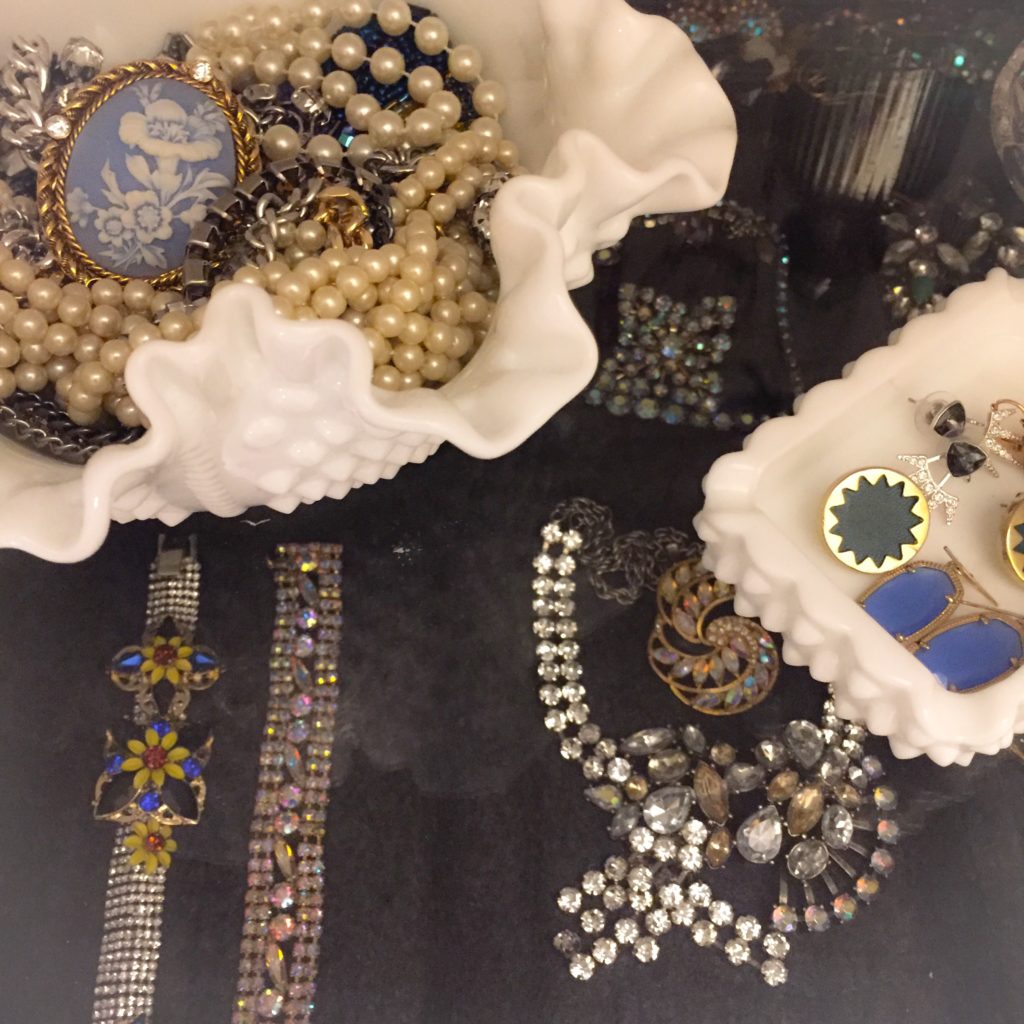 Below, we have a drawer for unmentionables (organized using more Skubb cubes), and then a rack for my dress pants. My husband decided to surprise me with the fancy version of the latter, which comes with "built in" hangers as opposed to a plain rack. I would say that each rail comfortably holds 2 pairs of pants (and you could probably squeeze 3, in a pinch), and there are 5 of them in total.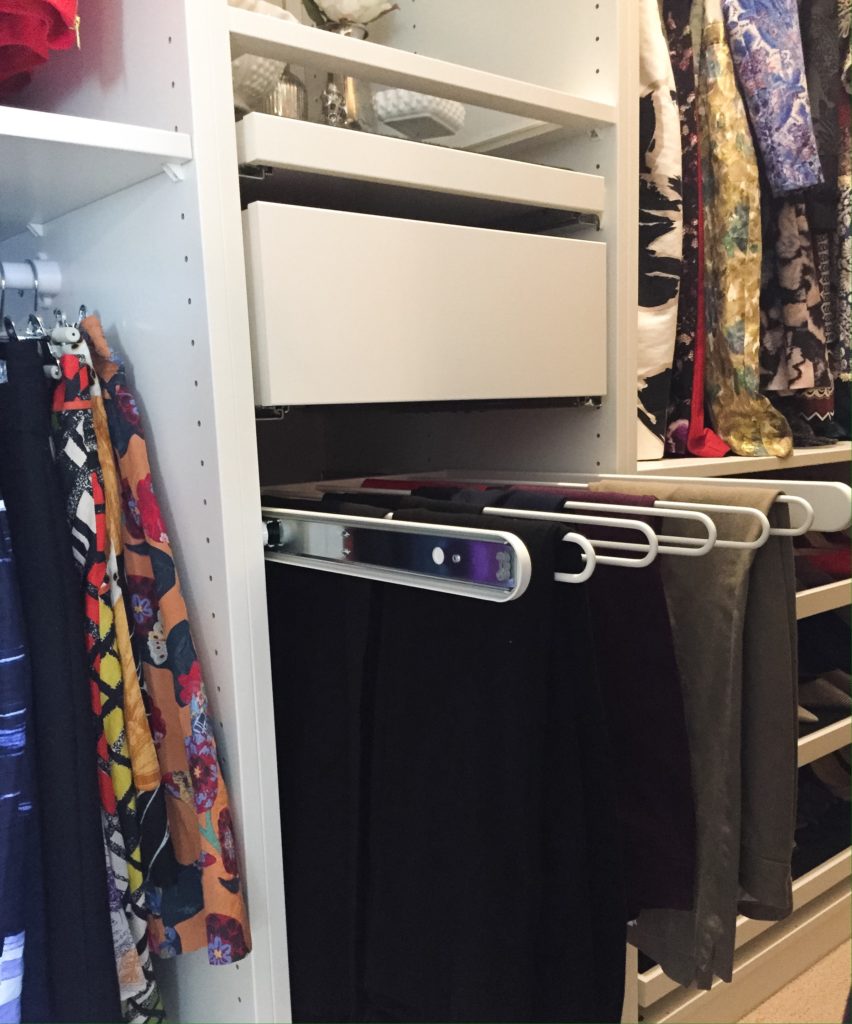 The last unit holds my work and casual dresses. (The special occasions ones are in the basement overflow closet.) We also installed two extra racks on the side, one for belts and one for longer necklaces.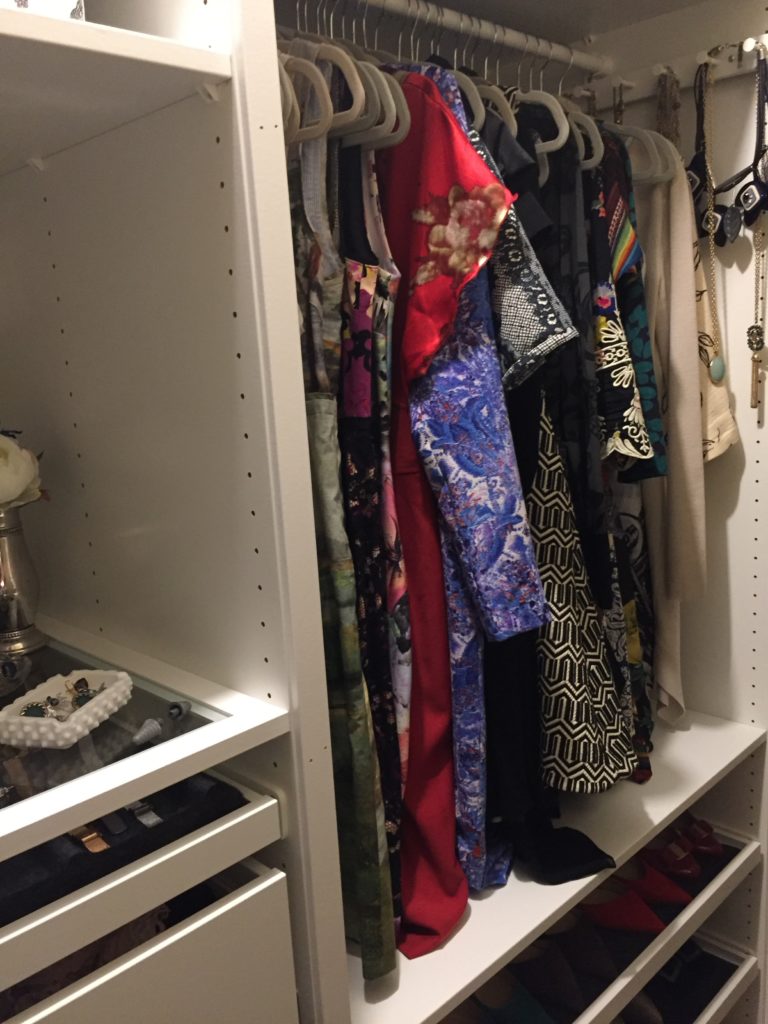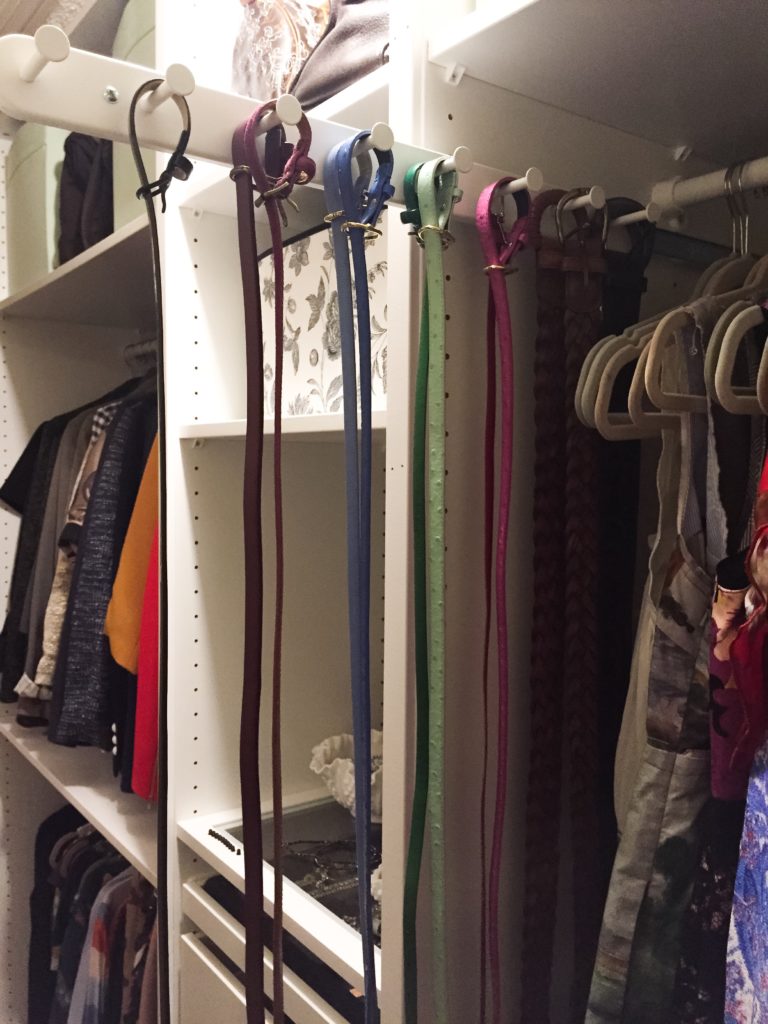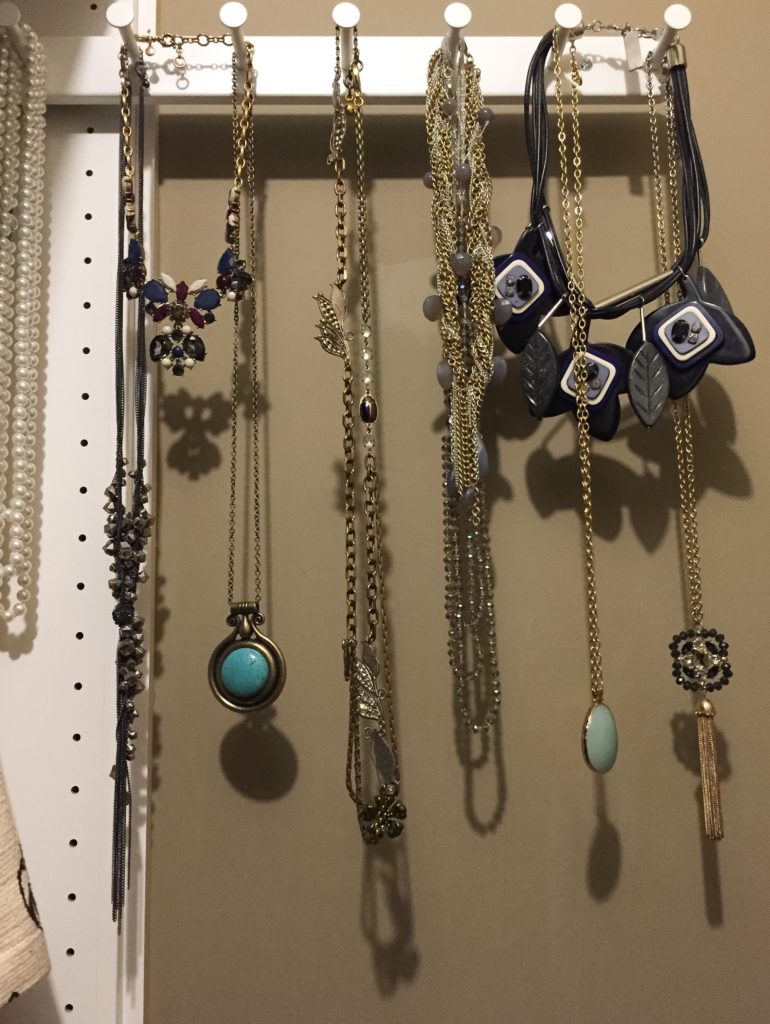 Finally, shoes time! We went with the fanciest option here (approx. $50 per shelf) because it looked to offer the greatest storage capacity. In total, each shelf can hold about 10 pairs of shoes. I did end up having to edit down my collection in the process of moving it into my new closet, and a few pairs, which I was unable to fit in OR part with, found their way to the downstairs closet.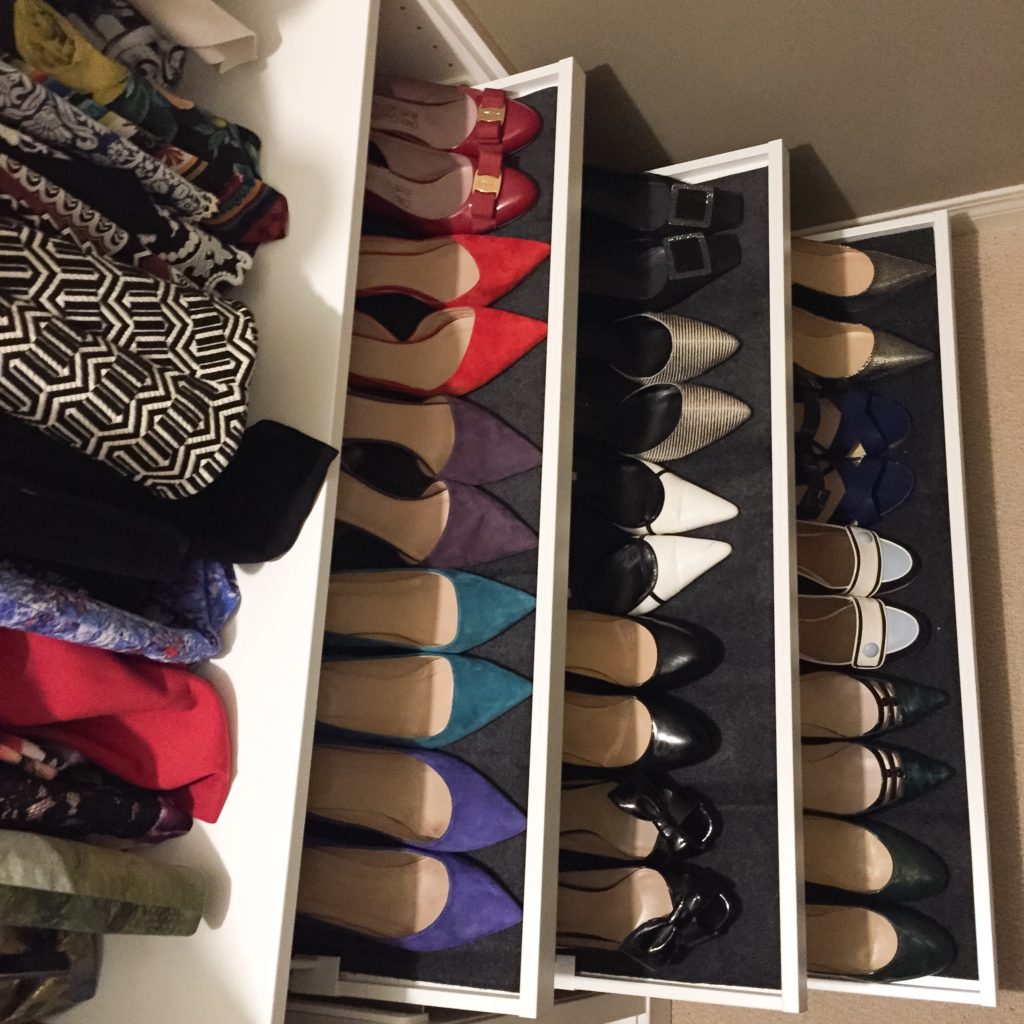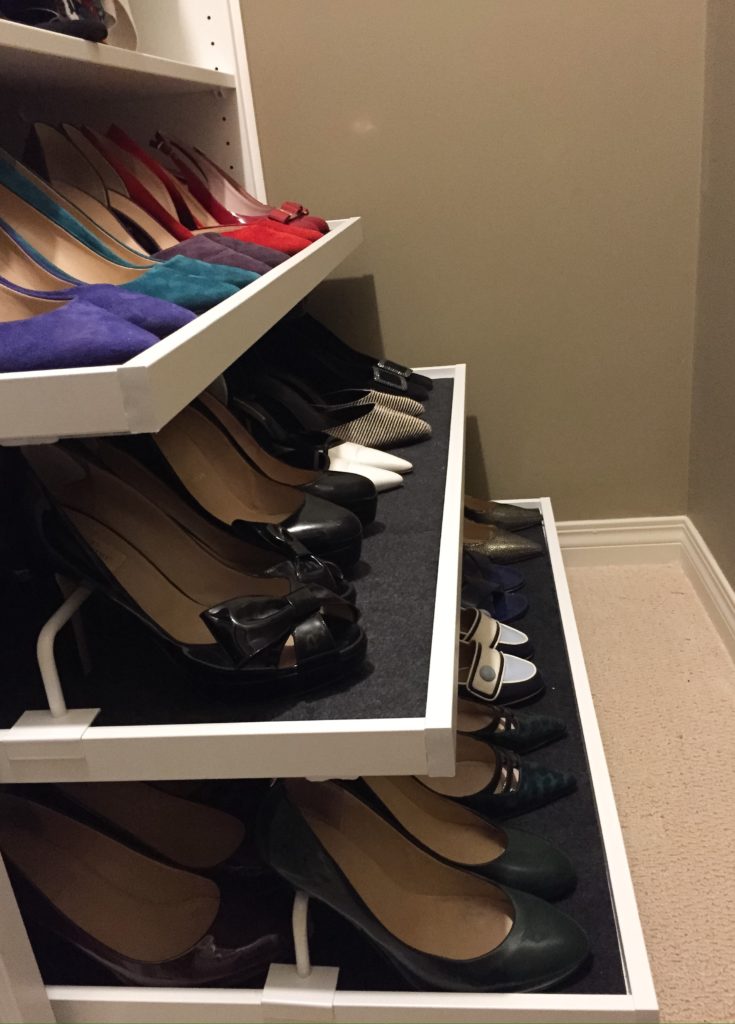 Because the Pax system is so nicely self-contained, I was left with 3 "blank" walls to play with. We re-installed my nail polish display case on one of them, and will be adding a ¾ length mirror on the opposite wall which is super helpful; the only other full-length mirror in the house is in the basement, which is not particularly useful when I'm getting dressed in the morning. Finally, I upgraded my cork-backed jewelry display case by hacking an IKEA picture frame; I did this one all by myself, and managed not to injure myself, and I am disproportionately proud of it, you guys.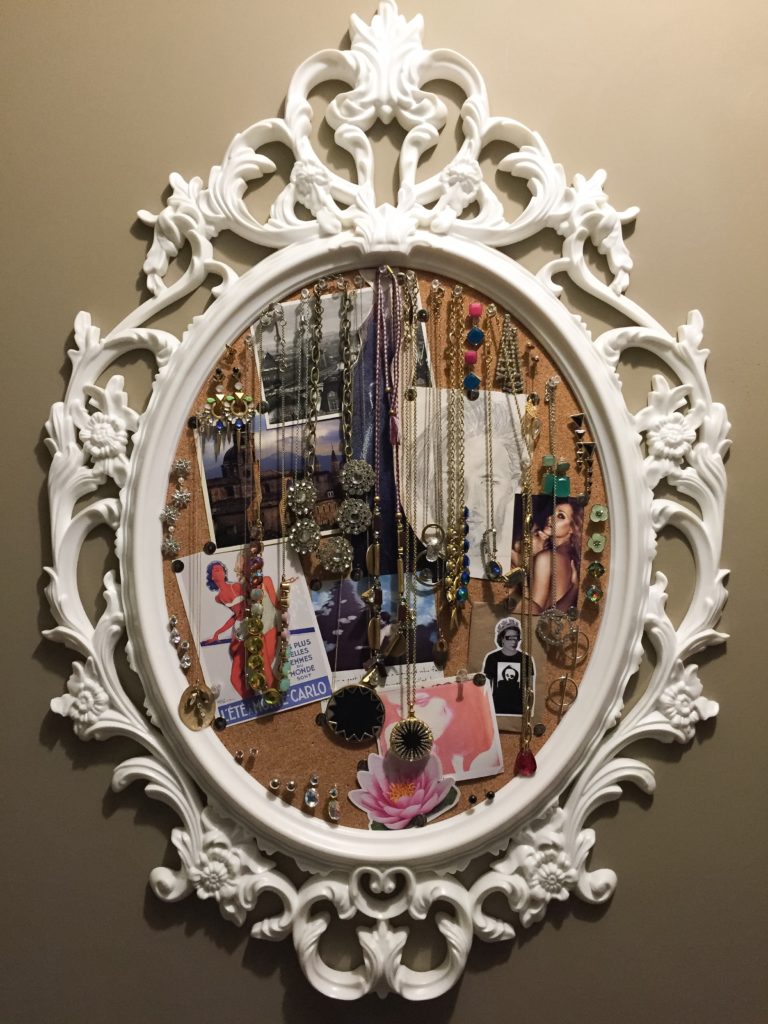 Lastly, we added three wall hooks (on the same wall as my jewelry display) to serve as a replacement for my beloved clothes valet, which no longer fits in my closet. I love being able to hang my outfits for the week together in one place, and this was a simple, space-saving solution.
Because things got moved around and re-organized, I also changed up my vanity table-top. Previously, I had used it to display my vintage brooch collection; now, it houses my Wedgwood collection, along with a few more milkglass pieces. It is less cluttered than before (believe it or not), which is a nice bonus.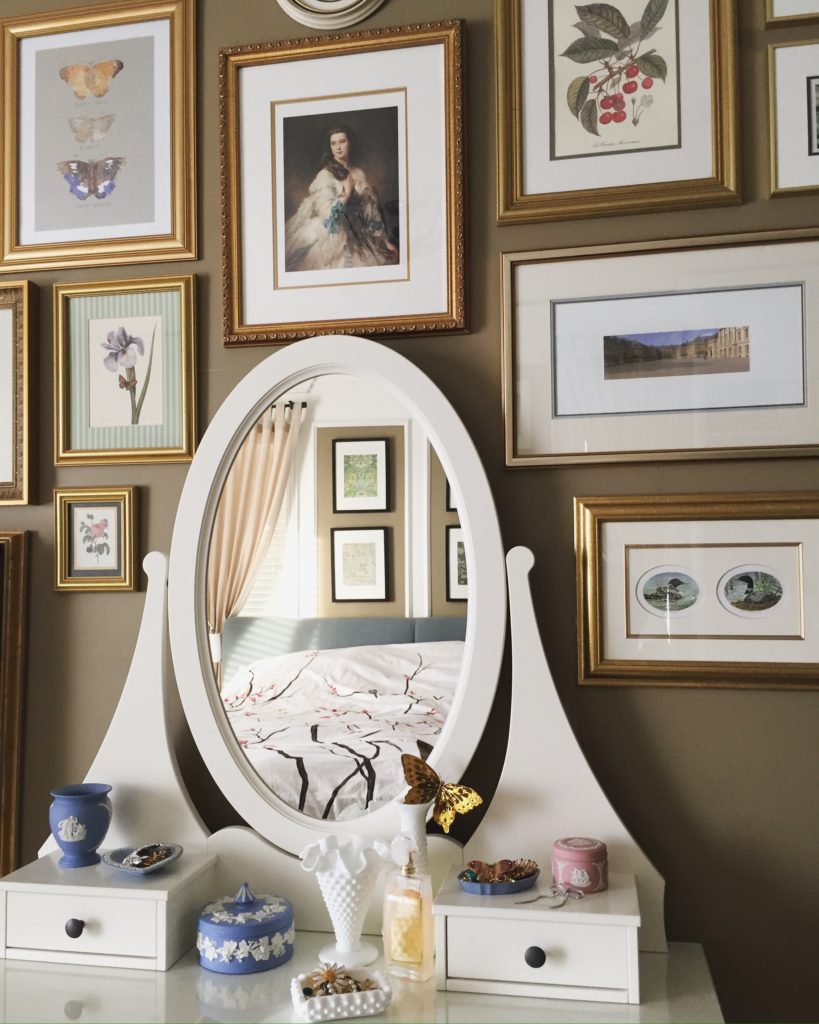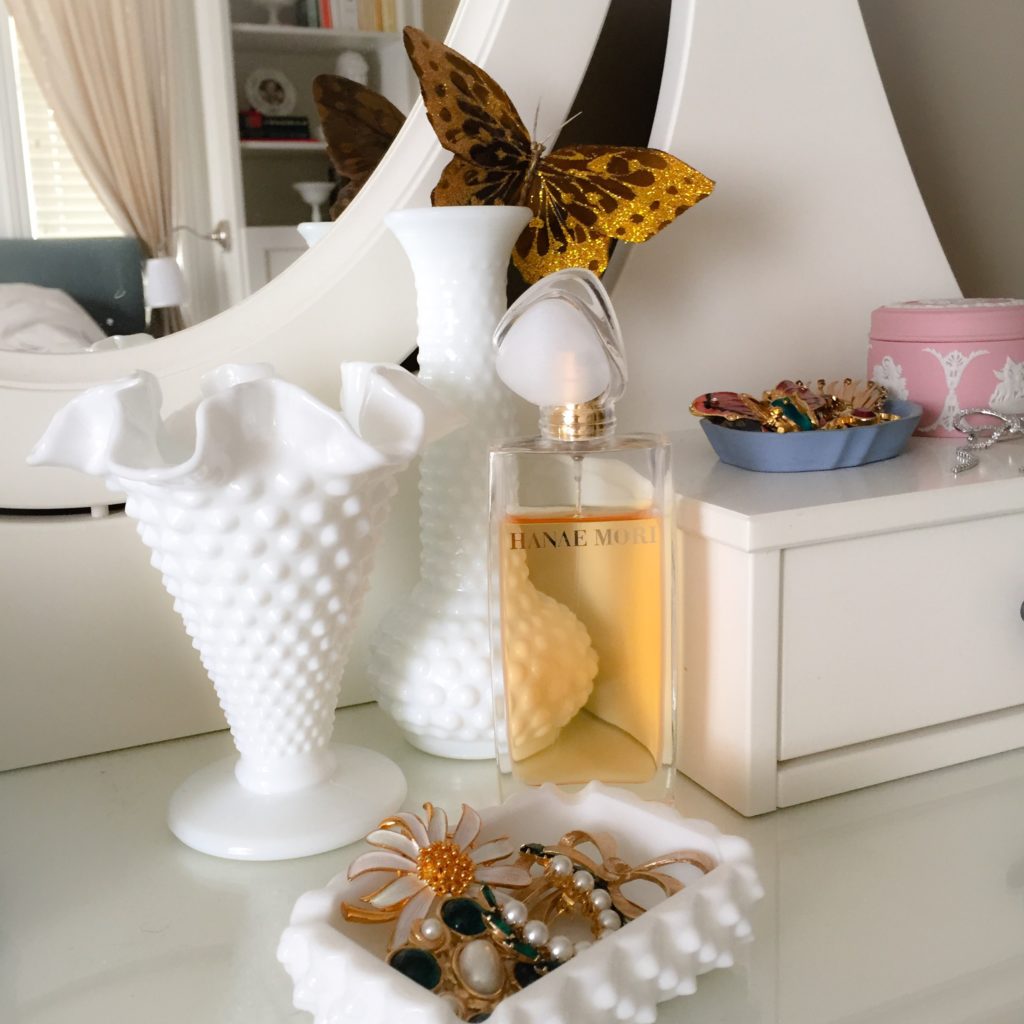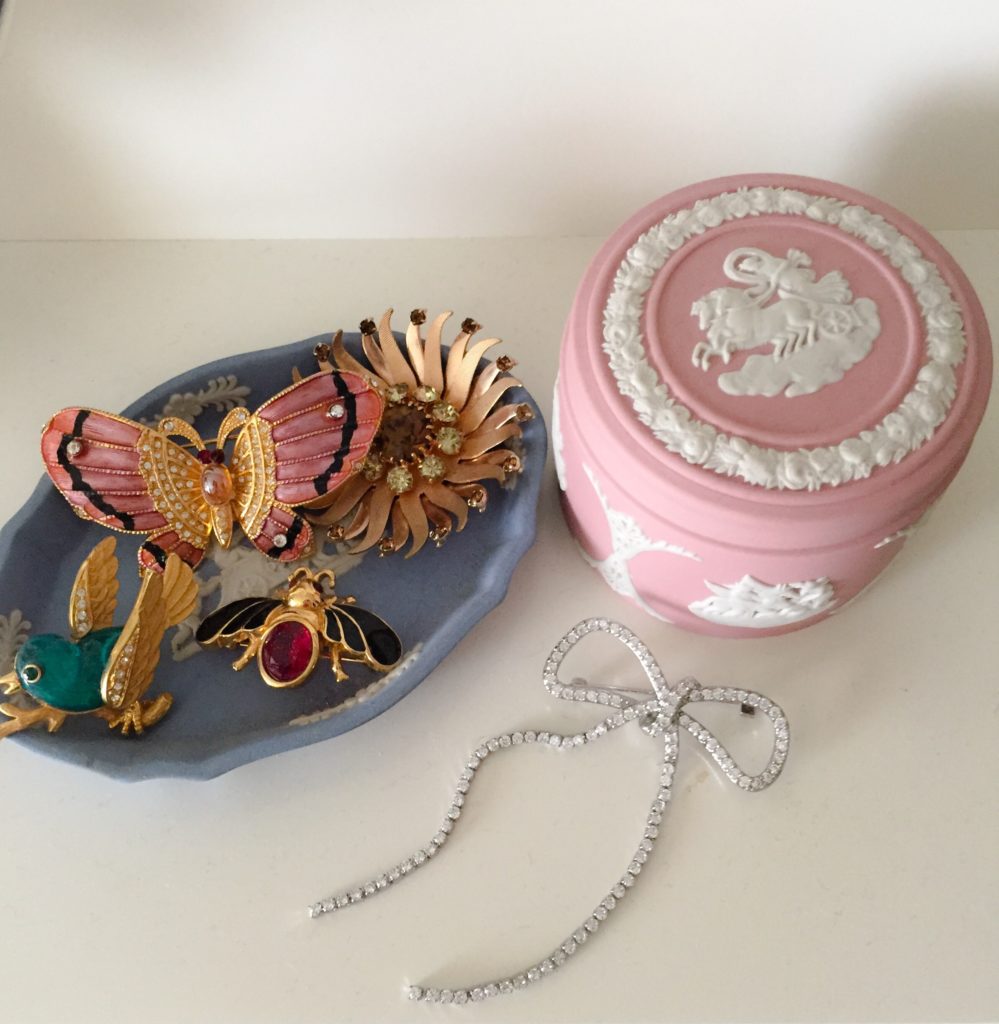 All told, the new closet cost came in at around $900. That does not include the future sliding door my husband plans to install. We probably could have swung the whole project for closer to $600, but I decided to splurge on a bunch of extra features, and my husband insisted that everything had to be trimmed out properly. (Wood is expensive, who knew?) I think the results are great, and the closet 100% more functional (and prettier) than before. No regrets … needless to say, I love my new closet.
And it has inspired me to cast a more critical eye to my wardrobe. Before, it was easy to shove in new pieces because my closet was something of a black hole; it didn't look that nice to begin with, so adding to the clutter made little difference. Now that it looks much more like a boutique display, I find that I am more inclined to be selective about what I put in it, and also more inclined to respect its inherent space constraints.
Which brings me to my wardrobe management philosophy for 2017.
As should be amply clear by now, I am not a minimalist by nature when it comes to clothes. But also, and perhaps more surprisingly, I am not really a maximalist either. An overflowing closet makes me no less anxious than a too-spare one. My happy place is a balance of classic staples and fun, statement pieces, and each of these categories has its own life cycle. I tend to hang on to my staples for years, because they form the foundations of my outfits; here, functionality and practicality overrule aesthetics, so these pieces are much less likely to fall victim to my desire for novelty. I'm pretty well-stocked up on staples at this point, so subject to finding some replacements for pieces that are coming to the end of their life span, I don't expect to see a lot of turnover this year.
The second category is where I struggle with wardrobe management. I love prints like they're never going out of style, but I am fickle in my desires. I get bored fairly easily, and I am easily attracted by new ones all the time. The key is matching up the rate of acquisition of new pieces, and removal of old ones. Since I plan to do most if not all of my shopping second-hand this year (same as last year), the constant turnover does not pose financial or ethical problems for me, but I do need to work on my hoarding tendencies. I've never been very good at enforcing the "one in, one out" rule, but it's never too late to start, right?