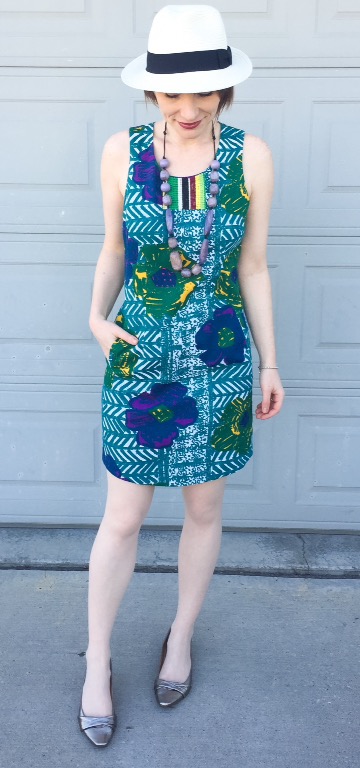 Can you believe I almost didn't buy this dress last year? It's so cute; I'm glad I came to my senses. And it's the embodiment of summer in dress form, dontcha think? This is far preppier a look than my usual weekend style, but I enjoy the relative simplicity of it. I say "relative" because there is an awful lot going on here, visually. Practically speaking, though, it's the easiest of outfits. Put dress on, you're done. It doesn't really need any accessories — what with the print and the embroidery and all — but I added the necklace because I had just bought it and was excited to wear it. It adds a touch of boho-ness, which I like.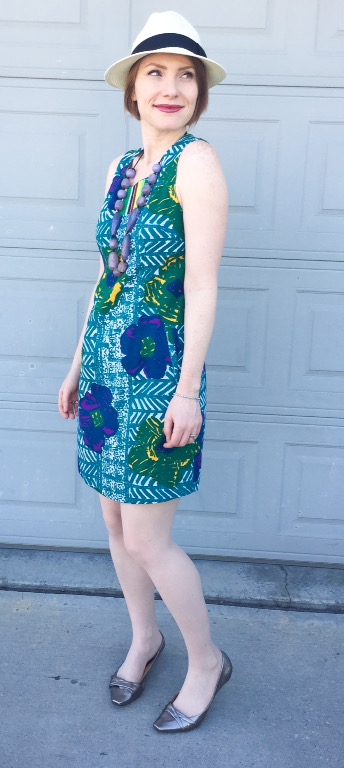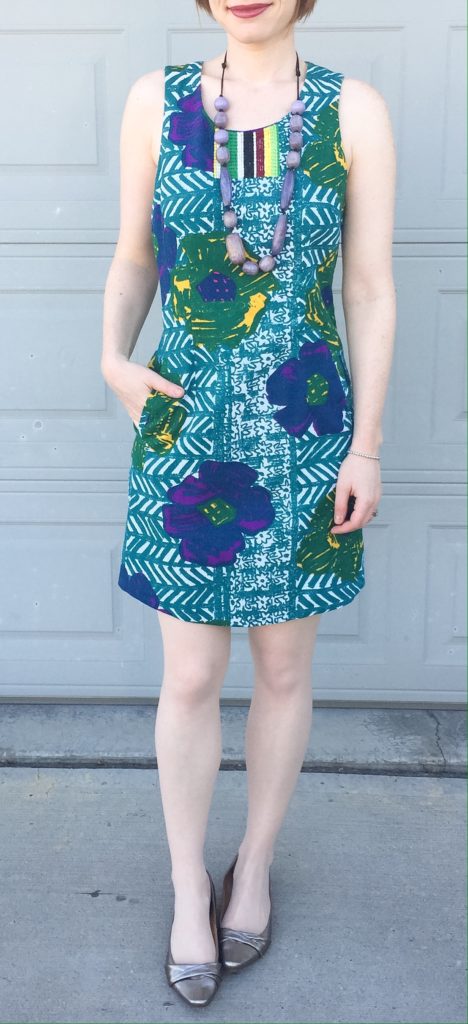 The hat was also technically new, although you've seen it plenty of times before. My beloved Panana took a beating on our trip to Mexico earlier this year, so it was time to get a replacement. Luckily, Aritzia stocks these hats every year, and thankfully, the price is still a reasonable $28 (plus tax). I love this hat, and wear it constantly in the summer; I would highly recommend it if you're in the market for some sun coverage. Between this and my trusty Biore sunscreen, I am well covered for my (admittedly, rare) outings into the "wild".
Speaking of Aritzia, I used the hat-buying trip as an opportunity have a bit of a browse around. Once again, I was unable to find my favourite style of T. Babaton trousers, and I am starting to think that they've been discontinued. The Cohen style looks like the closest thing, but it's not the same. Bummer. That disappointment aside, I was pretty shocked at the prices I saw. I know a lot of younger women favour the brand and I couldn't help asking myself: how can they afford it? I would struggle to justify paying the full retail prices, and even the stuff on sale didn't strike me as inexpensive — and I'm a 30-something with a good chunk of disposable income. It reminded me very much of Anthropologie, a brand I only started buying once I was able to get it secondhand. From what I can tell (judging from the pieces I have thrifted), the quality does not line up with the prices Aritzia is asking (nor is there a ethical fashion aspect as far as I am aware), but their retail strategy must be working nonetheless. Is there something about Aritzia that I'm missing?