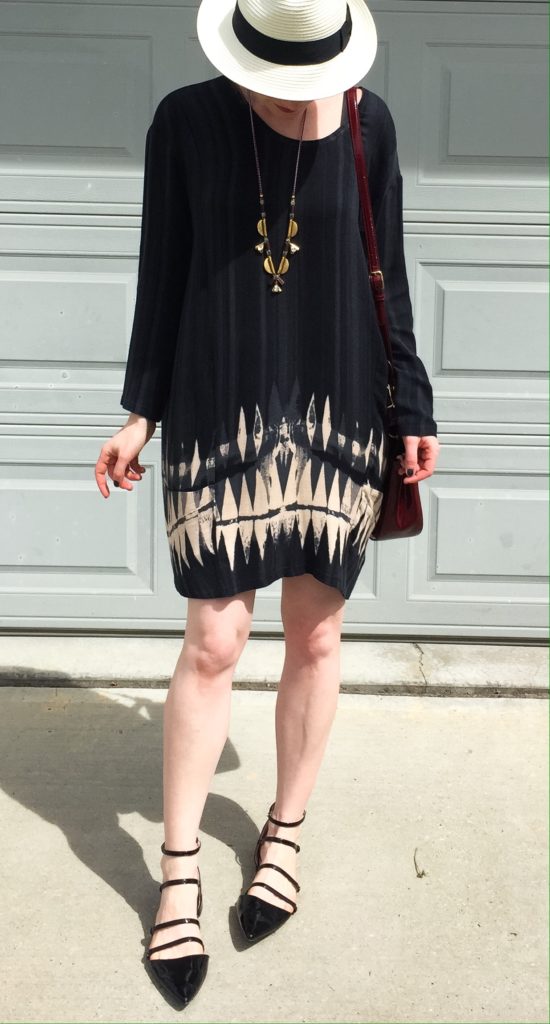 It seems like every year I find a shapeless, potato sack-like summer dress that becomes my go-to for "lazy" weekending. (When I say lazy, I'm referring to the dressing up part, because my weekends are generally anything but chill. My kids love to keep me on my toes, bless them.) Anyone remember this number? This year's iteration is even better, because it has no waist to speak of. It does have a cool shape, though, which makes it at least look like I made an effort.
Everything else is old, or at least feels like it's been kicking around in my closet forever. Take the bag, for example. It's probably only a month old, but I've worn it [runs to check her Stylebook app] 13 times already. So it's fair to call it "old hat", much like my, erm, actual hat. Ditto for the Zara shoes; I bought them 2 years ago in Vancouver and they are still (a) going strong; (ii) trending. I get compliments on them every time I wear them. Not bad for fast fashion. The necklace is at least 2 years old as well, and it's a piece I still love for its cool, boho vibe — not your typical J. Crew statement necklace.
So, in summary — everything old is new again, and I'm #sorrynotsorry for a pretty unshoppable post. However, as always, eBay may end up being your best friend if you want to track down any of these pieces. Who doesn't love a good potato sack?