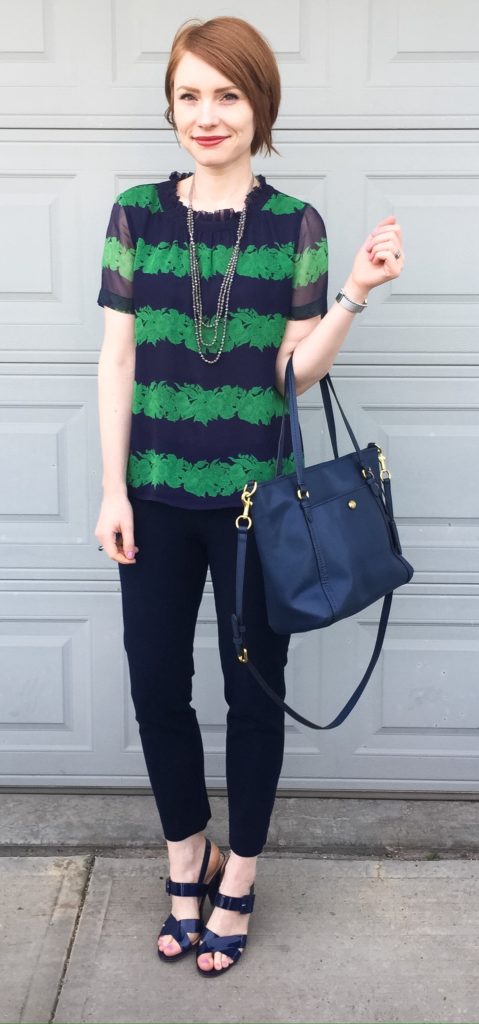 I forget the original retail name of this J. Crew print, so I`ve taken to calling it the "ivy top". Hence, the terrible blog post title. If word association is any indication, my mind generally moves along very well-trodden paths. Back to the top, for a minute. I am somewhat torn about it. There are many, many things I like about it, but I am not crazy about the colour scheme and print. I like the ivy bits, but I could take or leave the stripe arrangement. And I am starting to think that navy, as a neutral, is not really my jam. It feels wrong to say that because navy is supposed to look great with my hair colour, but I just feel "meh" about it. In most cases, I end up thinking it would look much better if it was black … which defeats the purpose of it being navy and all.
On the other hand, I`m not sure I am quite ready to part with this top. I love the neckline (the delicate ruffle is the kind of detail I adore — pretty but subtle) and the semi-sheer sleeves. It seems wasteful to get rid of a perfectly lovely silk top.
On the other, other hand (anyone got a spare I could borrow for this exercise?) I struggle to mix and match this top; other than navy bottoms (pants or skirt), jeans, or its matching print skirt, what else is there? Since navy is not one of my go-to neutrals, I rarely pull the top into rotation. Hmm.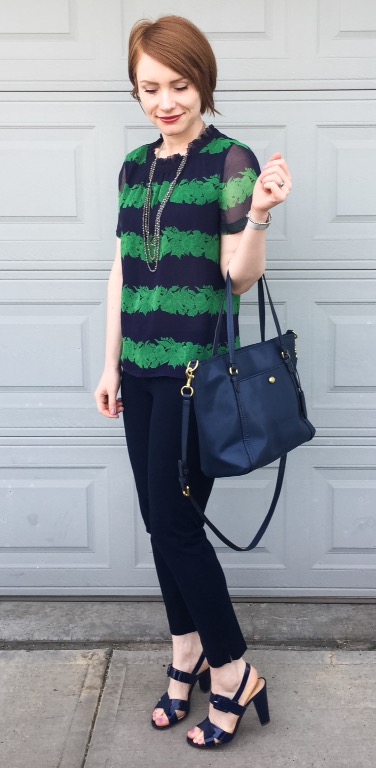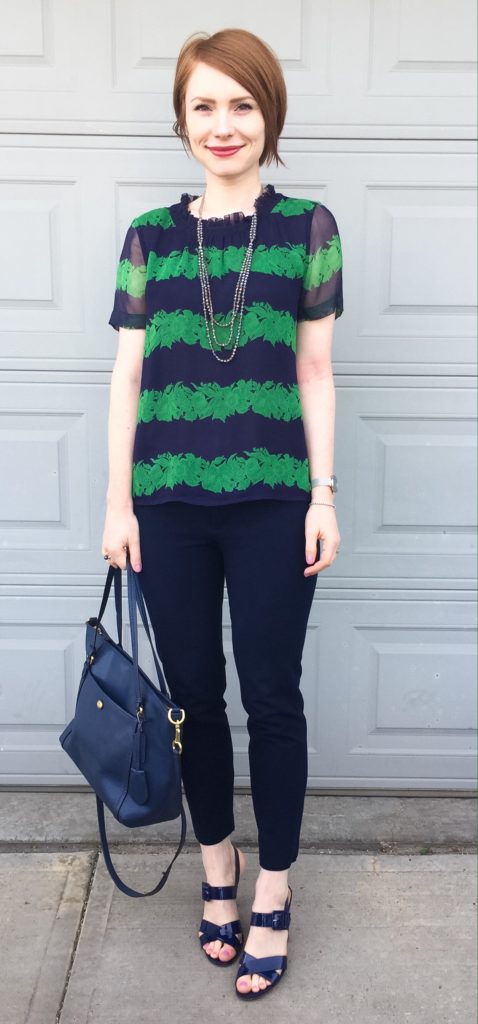 Leaving that dilemma aside, let me add a quick word on these J. Crew sandals. I don`t typically wear high heeled sandals … or any sandals at all. I hate baring my feet as a general rule. I do have a pair of flat, strappy sandals I wear a lot during the summer, but that is exclusively reserved for weekends. I went ahead and thrifted these sandals because (a) they were navy (and, despite my lukewarmishness towards navy, I love a good navy shoe); and (b) they looked quite polished for sandals (it`s all relative). Also, they were brand new, which I figured would help with re-sale if I decided that the experiment of "bare toes at the office" did not go, erm, smoothly.
Well, as it happens, life had other plans for me, and these sandals, since I didn`t end up wearing this outfit to the office. I did wear them for a good 6 hours, though, so here is my mini review. The heel is relatively high, but not painfully so. In fact, despite all the straps, I did not experience any rubbing or digging. I will note that I spent most of those 6 hours sitting down, rather than standing, which probably helped. They are definitely not "walk a mile and dance a jig" kind of shoes, but workable for an office-dweller like me. I just have to work up the courage to actually, you know, wear them at the office.