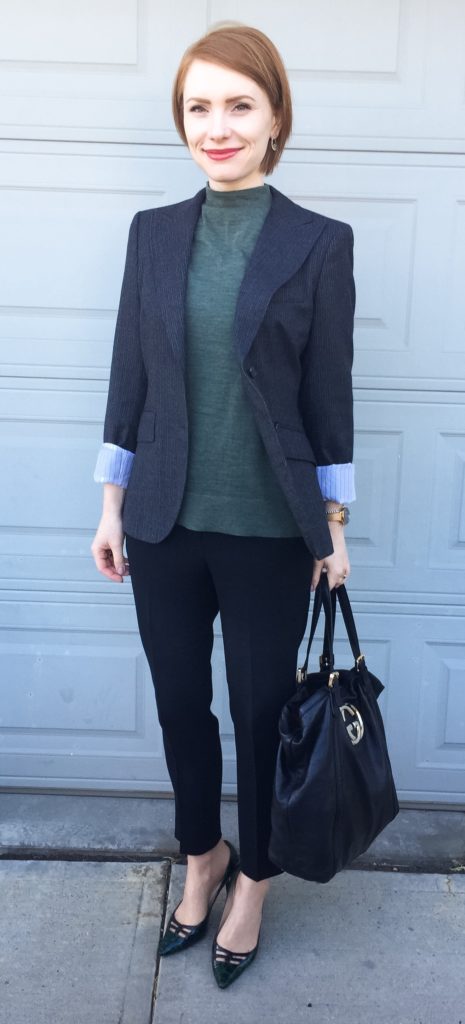 The title says it all: pretty simple. But I felt so comfortable wearing this, you guys. I felt polished but understated, which is slowly becoming my preferred sartorial "message". I've said this before: separating my love of colours from my personal style has not always been easy. I love colour, and I even love wearing bold colours, but not necessarily in the way that I used to. But after wearing outfits like this one, it's hard to deny what the heart wants.
The colour here is obviously muted, but can I just mention how much I love the green of this sweater? The label called it "thistle", which I also love. (I have an odd fondness for thistles.) Though I very rarely buy clothes at regular retail stores, I couldn't resist this Selected Femme piece at Saks Off Fifth. It's not a brand I knew before, but it's something I'd definitely look for at thrift stores in the future. The funnel-like neck (wider than a mock turtleneck) is so chic, and gives it a bit of that effortless Euro appeal I'm always chasing.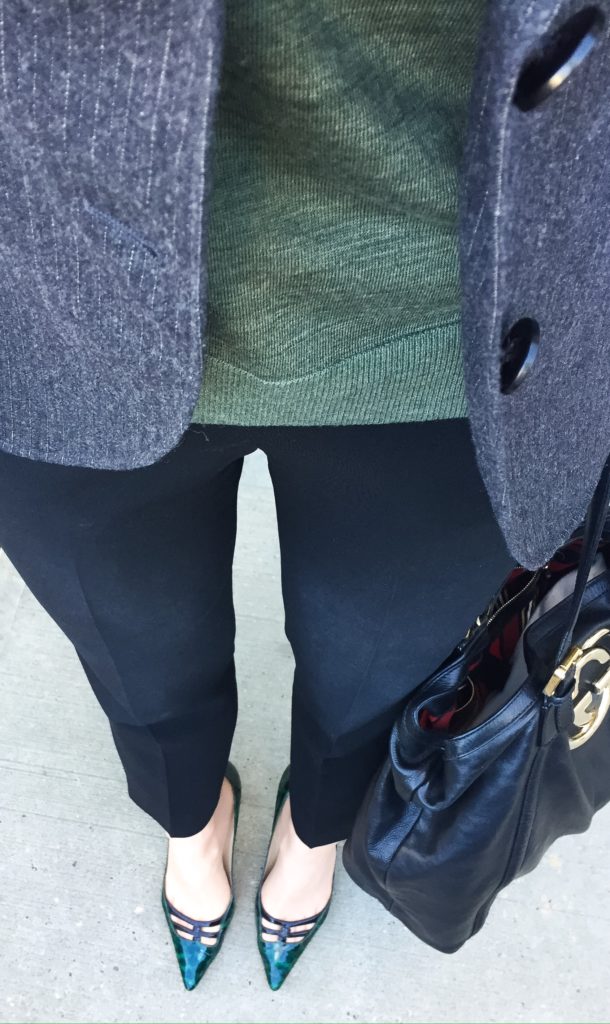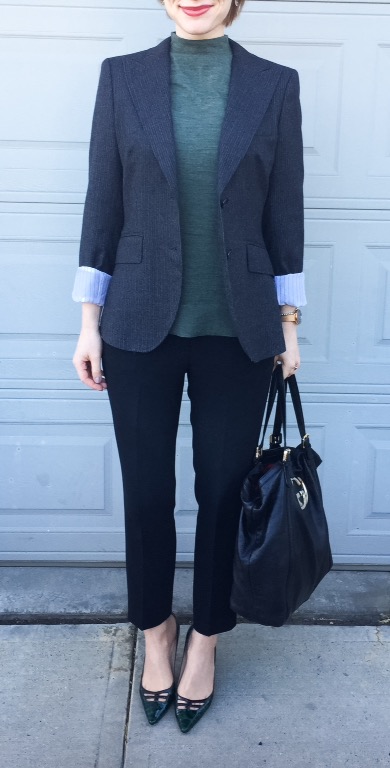 Speaking of colour, a funny story. I recently discovered that I experience Autonomous Sensory Meridian Response (ASMR) — and fell into the, hands down, strangest internet rabbit hole ever, but that's another story. I have been experiencing ASMR for as long as I can remember, but I had not realized, until that point, that it was a "thing" or that only some people experience it. That got me thinking about other everyday sensory experiences that one might have without realizing that they are unusual. While I am not a synesthete (though I think that would be super cool), I do have really strong emotional/physical reactions to colours. The reactions are very shade-specific; certain reds feel suffocating/oppressive to me, for example, while others are cheerful. Salmon pink makes me feel irritated, while fuchsia makes me feel excited. Some blues are soothing, others are depressing. I am thinking of making of list of the feelings associated with each of my favourite colours, so I can see if I can manipulate my mood by strategically deploying them in my outfits.
Does anyone else associated colours with certain moods or feelings? Any synesthetes in the crowd? I'd love to hear about your experiences.