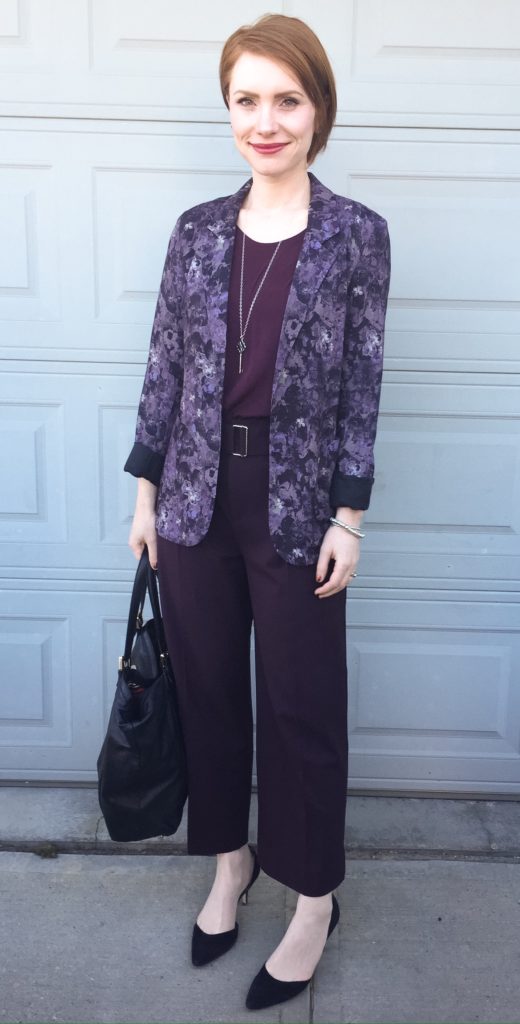 Can it be called monochrome if it involves a floral print? I guess that's a rhetorical question; Imma go ahead and file this under "purple", which may be more generalization than truth. What's for sure is this is another Peak Adina outfit. I like the slightly offbeat proportions, and the fact that it's undeniably feminine without being at all girly. I note, with some concern — she says, tongue firmly in cheek — that it features pants, just like the last outfit I tagged as most representative of my current sartorial aspirations. Since my love-hate relationship with pants is well-documented on this blog, what does that mean?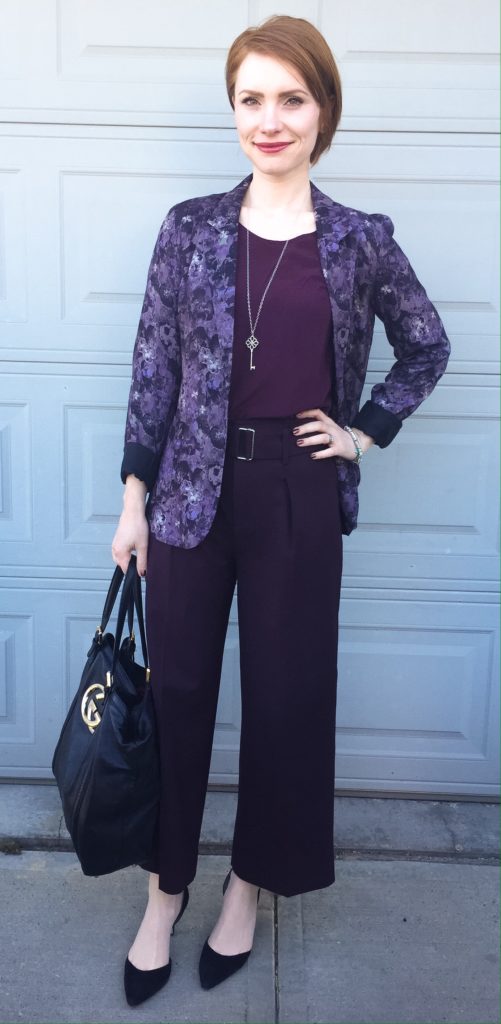 Best as I can tell, it means that I'm still figuring out how to translate my new interest in unusual and/or architectural silhouettes to dresses and skirt outfits. For example, while I love sheath dresses and pencil skirts, it's too easy to default to my old trusted outfit formulas when I wear these pieces; those resulting outfits, while certainly figure-flattering and suitable to my lifestyle, don't excite me all that much anymore.
Here are some dress/skirt details to which I find myself drawn these days: (knife and regular) pleats, paperbag waists, tulip skirts, two-piece dresses (aka dresses that look like separates, with the top part "untucked", but which are attached — is there a term for this style??). Some of the details can be found on pieces I already own, and I am by no means rushing out to replace everything else. It's just taking me a while to figure out how to remix my favourite pieces in new ways that let me explore some new sartorial territory. And what could be more fun?
Another thing I want to explore these days is playing with volume and texture, rather than colour combinations and print mixes as in the past. This outfit is a good example of that, too. Who says monochrome has to be boring?