The Difficult Skirt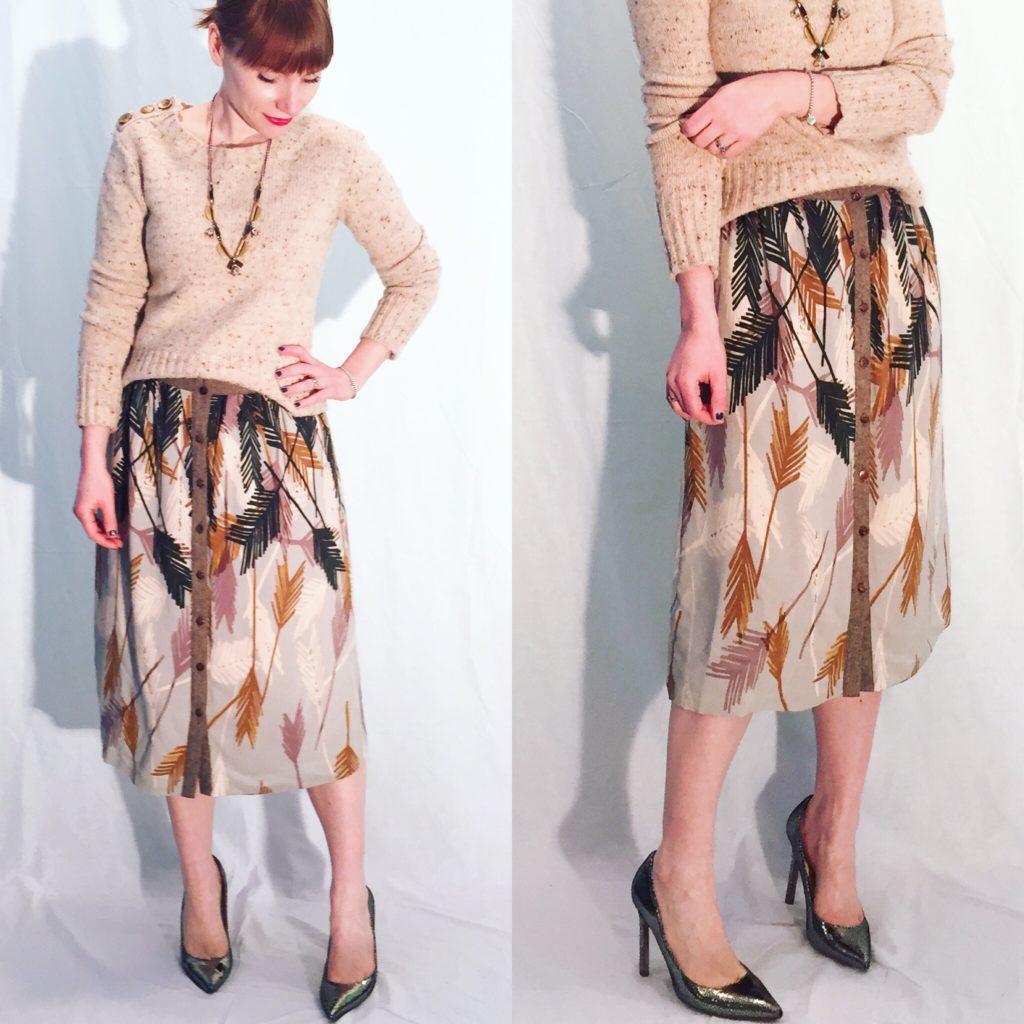 I love clothing that has personality; this skirt has a lot of personality, which is (a) great, but also (b) difficult to work with. Its dimensions and style are very normcore-ish, but the print is quite ethereal. Since I struggle with disparate style influences, I get this skirt – sometimes, you just can't decide what you want to be. But … well, the struggle to make it all work somehow. It's real. So, in practice, I never like outfits featuring this skirt as much as I want to like them, because I always feel like the execution could be better. Like, I am convinced there is some other garment out there that will make this skirt's idiosyncrasies make sense, know what I mean? Maybe there isn't, though … ahem, I digress. I feel like this outfit was a solid effort. The cropped, chunky sweater certainly has the right silhouette to balance the skirt. I also think this looked better in person than it photographs so … yeah, solid effort.
[Note: I realized that I actually wore this on Jan 31 as there was a bit of a last-minute switcheroo. Still counting it here.]
Blackout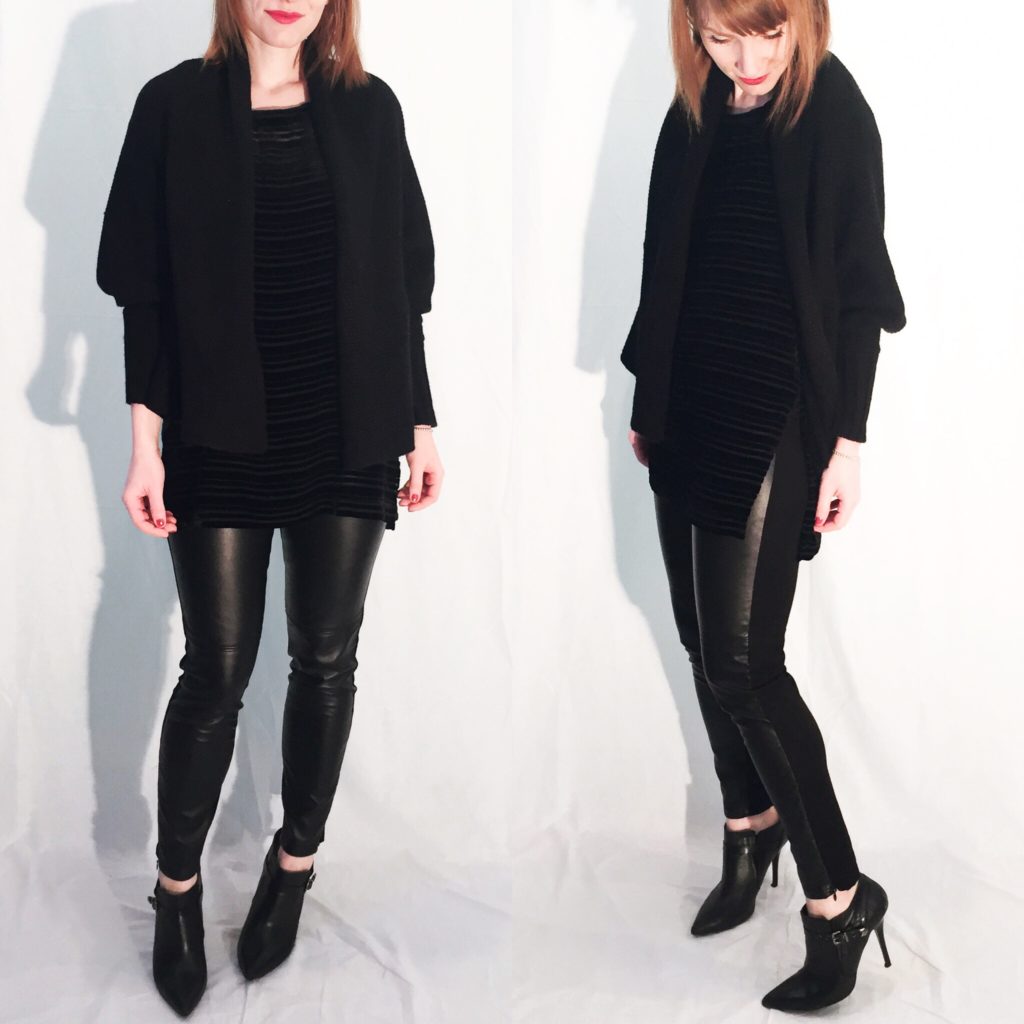 I wasn't initially going to keep this velvet striped, semi-sheer Eileen Fisher top, but then I came to my senses. I'm becoming a huge EF fan, and this top can be dressed up or, as in this case, down. I love playing with texture in a monochromatic outfit, and there's a whole lot of that going on here: velvet, wool, leather. A little bit rock 'n roll, a whole lot of comfort.
Heart on My Sleeve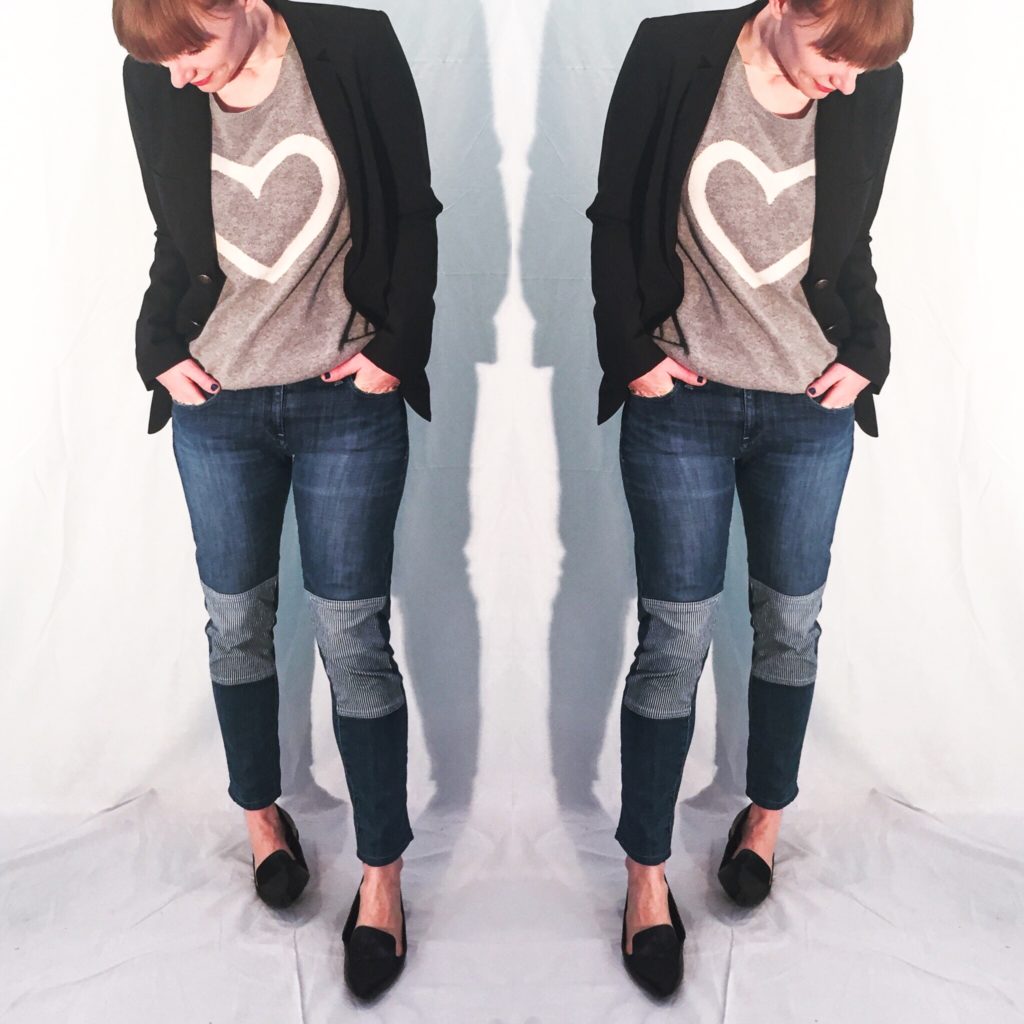 … or, rather, my chest?! That doesn't really make sense. Moving on. I was pretty sure I wouldn't keep this Love Moschino sweater, so of course I'm having second thoughts and wondering if I should keep it. Do I need it? Almost certainly not, but there is always room in my closet for an extra cute sweater, ok? Given how many now reside in said closet, I really should try this formula of blazer+sweater+jeans more often – it's menswear inspired, which is very hip* right now, but in a vague enough way that I feel I can pull it off without looking like I'm trying too hard, and perfect for winter days at the office. Speaking of which, I need to try this type of combo with trousers as well; why limit a successful formula to Fridays only?
* Is "hip" the word we're using these days? Asking for an old.
The Glorious Potato Sack, Part MMXIIXVQYZzfqpkqisbbdx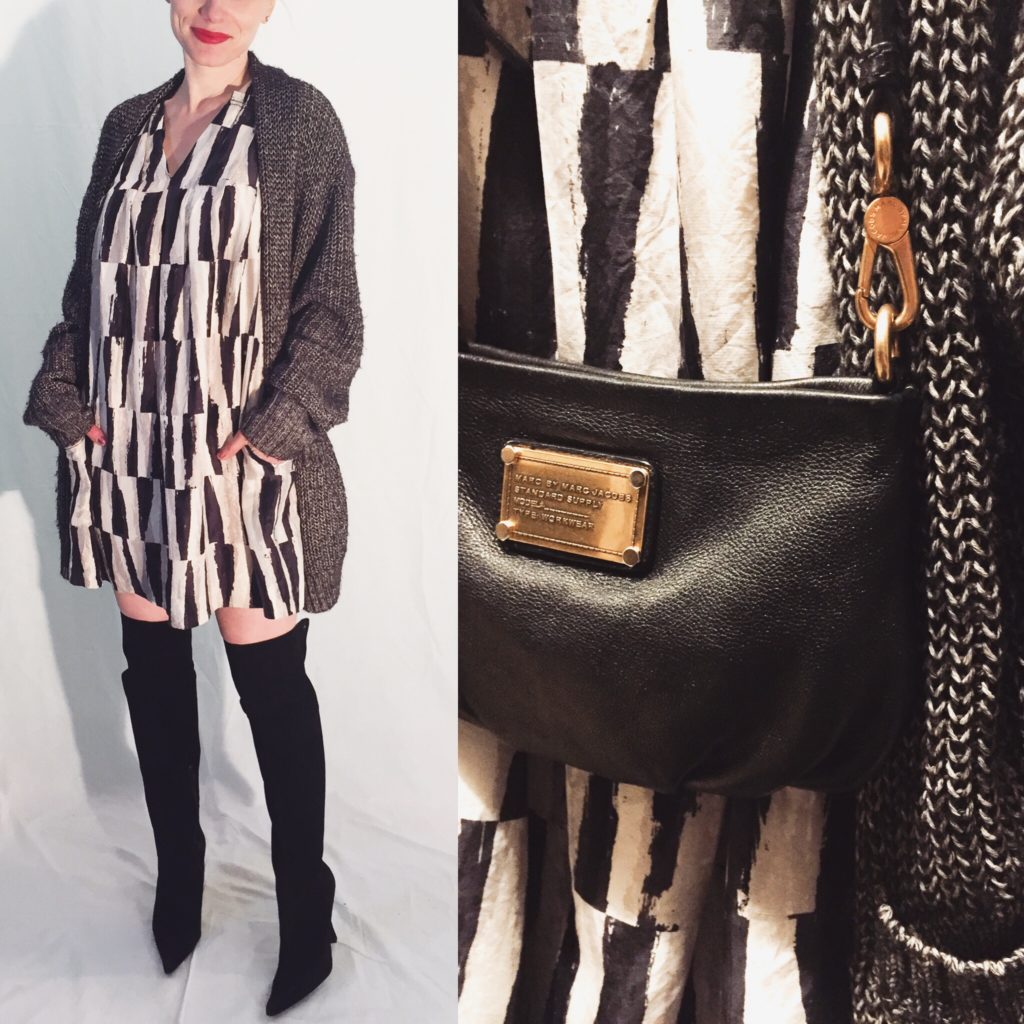 I mean, there will never be a potato sack dress that I won't, even just briefly, consider buying. This one I bought without the slightest hesitation because it's a fancy brand I've never seen before at the thrift store: Pringle of Scotland. Better known for their knits, but whatever – thrifters can't be choosers, my friends. Especially when a potato sack is involved. Hashtag: Achilles heel. You all know my other weakness – psst, chunky knits – so this outfit will not come as a surprise. I doubled down on the volume at the top, and balanced it out with OTK boots. The result may be no one's idea of outfit inspiration, but I loved every bit and minute of it, in the most liberating, DGAF way ever.