What I Wore: March 21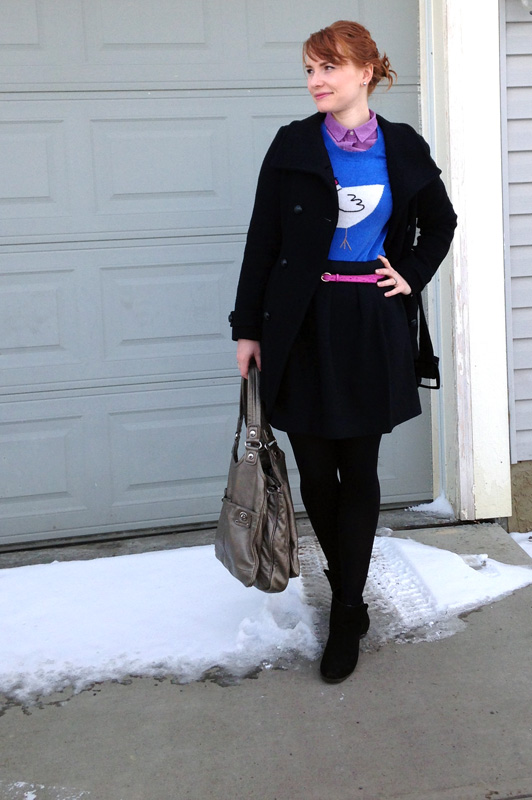 Spring equinox, my butt! See that fresh snow on the driveway? What's up with that, Mother Nature?
Continuing my months-long tradition of refusing to dress for the weather, I wore this. I swear it's at least 47% cuter without the coat on, but I have my endurance limits and taking this photo outside sans coat was not in cards. Sorry, peeps! I'm also thinking, though, that the outfit would also have been at least 15% better if I'd worn a plain blue chambray shirt, instead of this pink one; or maybe just a tee-shirt. Sometimes I over-think things.
The black skirt I'm wearing is from Land's End; I used to think they sold "old lady clothes" but they actually have a lot of cute stuff, especially basics. Or maybe I've moved closer to "old lady" territory. Either way, the quality is good (on par or better than J. Crew, based on my admittedly limited experience) and the prices are also reasonable, especially on sale. Shipping is free if you spend $50+. And you can always get some cash back if you use eBates to order. Back to my skirt, for a second; I ordered it before buying my J. Crew Factory black mini, because I wasn't convinced the latter would fit me well. While I like the Land's End version (and the quality is great), I actually ended up preferring the cut of the J. Crew skirt (less poofy, lower waist). I hate having two near identical pieces in my closet, but at least we're talking about a wardrobe staple and not, say, sequinned floral palazzo pants. Because you know something like that would not be out of the realm of possible for me.