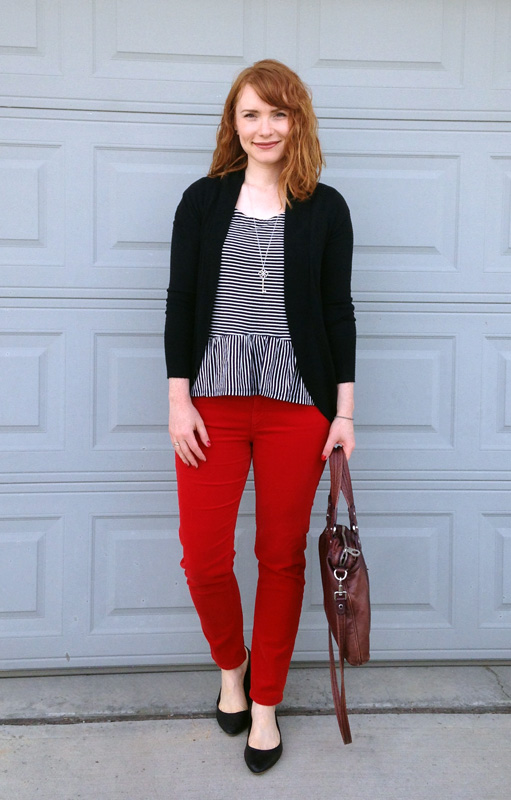 I won't lie: finding these AG Stevie cords at a consignment store was extremely gratifying. I luuuuurve these pants, but I just can't bring myself to pay what Anthropologie wants me to pay for them. This is why second-hand shopping is da bomb – I can eat my cake, and not rue the calories. (Or, you know, buy the pants and not bust my budget. #analogyfail) Red pants might not seem like the wisest wardrobe investment, but they can make an outfit when mixed with a simple colour palette or, better yet, stripes. Red + stripes = always a classic.
And here's another style epiphany: I think I might just feel more comfortable in streamlined, simple-verging-on-boring outfits like this one. Yes, your erstwhile magpie, lover-of-all-grandma-floral-prints, accessory addict just wrote that. Can you believe it? Perhaps in my dotage I can finally give those Frenchwomen a run for their minimalist chic money.
Better late than never.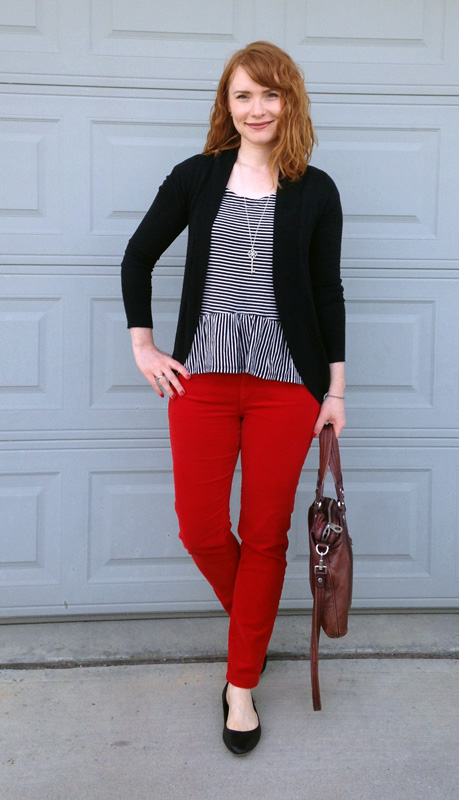 Note: I just realized that I posted back-to-back outfits featuring the same top. Not my intention, you guys. I'm pretty sure I didn't wear this top on consecutive days, but anything's possible. Let's call this one a … mini remix challenge. Yeah, let's go with that.