'Tis the season for all things Christmassy, and I need you to know that I know that. I do. And I love Christmas. I do. Just … maybe not as much as your average blogger, if my blog feed is anything to go by. I don't do a lot of home decorating, I have an old plastic tree, and I try to avoid cooking as much as possible. Most of all, I've grown to hate gift shopping. All of the people in my life, with the exception of the kids, are difficult to shop for; they exhaust my resourcefulness, and leave me with no desire or ideas for putting together gift guides for your edification. And, let's face it, you don't need my gift ideas anyway.
So, how can I bring some seasonal flavour to the blog? How about a walk down memory lane with the ghosts of Christmas parties past?
By way of background, let me start by saying that this year marks my 6th work Christmas party at my current firm. The event is always a classy affair at Edmonton's ritziest joint, which makes it a perfect opportunity for dressing up. Alas, I always seem to end up wearing boring, expected black. Or pretty darn close to always.
Black is safe, of course, which is why I wore a plain, black Elie Tahari dress for my first Christmas party. This was in the pre-blog days, so I don't have a full length picture of my outfit, but you can see the dress in the middle photo. I used a ginormous necklace as a bit of visual interest. (For the record, my cleavage looks more scandalous here than it really was. Honest.) Three years later, I re-wore the dress, substituting a different necklace (a nod to that year's party theme, "Bollywood"). No one noticed.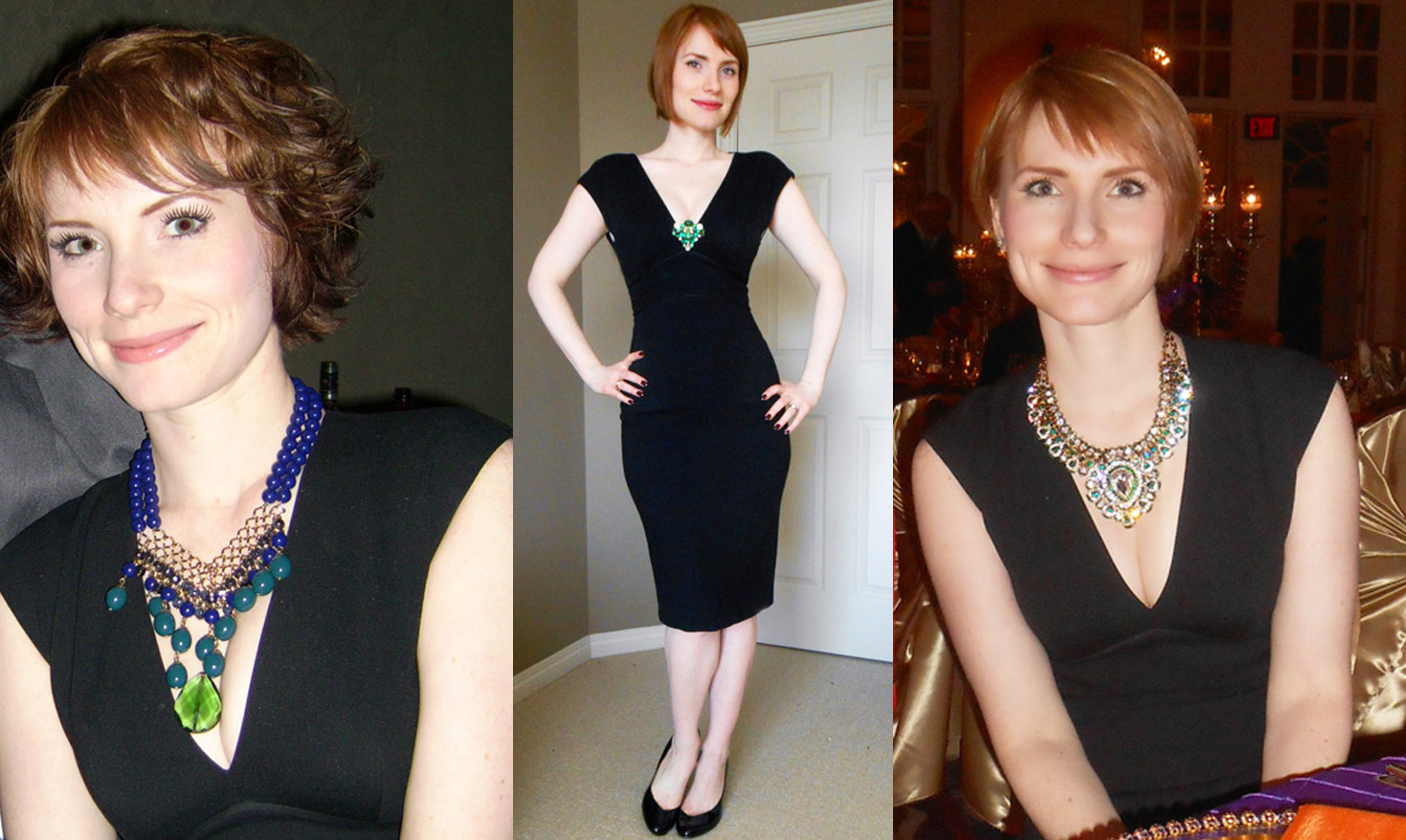 For my second Christmas party, I tried to get a little more fashiony, with red lips and a DIY-ed necklace. The dress was a literal last minute find – and how rare is it to actually find something at the last minute, amirite? The silhouette combined with the mushroomy colour made it feel like a fashion risk. Go figure.

Ok, this was my least favourite Christmas party outfit ever. EVER. The party theme was Mad Men, and in principle, this should have worked wonderfully. But the dreaded first-time mom pixie cut was a drag, and I just ended up feeling dowdy. Let's blame this one on postpartum hormones.

After wearing black again in 2012 (see above), I was all set for … more black last year. I had planned on wearing this dress, but then found this cream Tibi number. Y'all probably remember the story. The party theme was "Winter Wonderland", so it seemed appropriate. I didn't hate this outfit.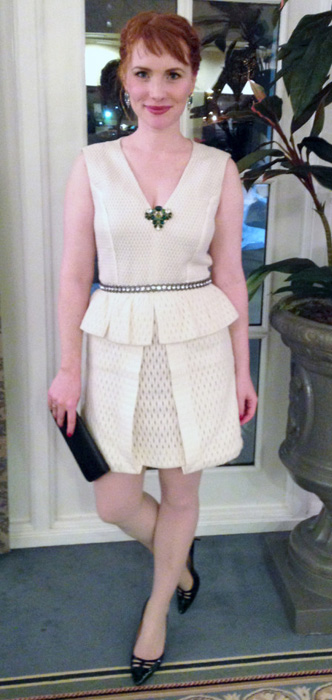 Which brings us to 2014, and this year's theme: Alice in Wonderland. Now, if you know anything about me, you know that I have a little bit of an obsession with AiW. So you can imagine how excited I was when I got the invite. I can't wait to see how the organizers put it all together – it's sure to look (and taste) amazing. However, picking an outfit was not easy; in fact, the theme made it harder, because Alice gives me all the ideas, and my budget is, like, "lol, nope". Sigh. Stay tuned next week to see how it worked out.
And I hope you have a fabulous (and chic) holiday season!