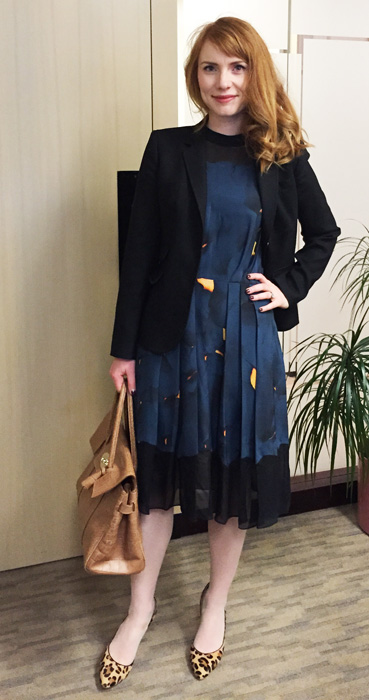 I feel like I'm cheating a little bit with this post, because my outfit is more or less a straight repeat – minus the shoes. I basically wrote this post because of the shoes. Now, I have to confess that my choice to pair leopard print with this dress was not original; I was inspired by one of the stock photos of this dress I found online. Does it work? Ye …eeees. I think that, from a purely aesthetic perspective, it's a nice, unexpected pairing. For my office, though, it may be a little bit too edgy, shall we say.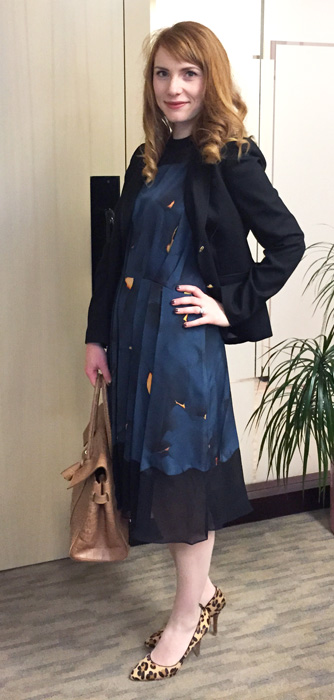 Nobody at work commented on the shoe-dress combo, mostly (I think) because everyone is still quite taken of this dress. Each one of my bosses has, at this point, commented on how nice it is. Some people might argue that, in a conservative professional environment, this is a double-edged sword; that having your clothes noticed and commented on – even in a positive way – detracts from your professional standing or whatever. I … don't agree. I mean, I wouldn't want my work attire to raise eyebrows, but I'm confident enough in my abilities (and my professional reputation) to not be afraid that a little flair in my wardrobe choices will undermine my perceived competence.
And, hey, I did wear a black blazer. That's the epitome of corporate chic, right? Right.