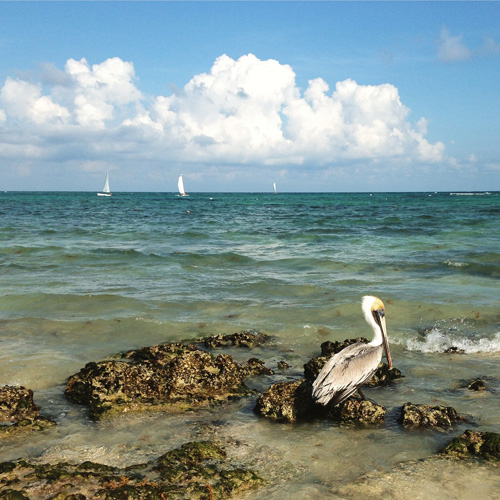 You've already seen a bunch of the outfits I wore on my Mexico vacation, but I figured I'd do a proper "capsule" recap so you could see how I fared overall. While I ended up wearing almost all of the pieces I brought with me, I spent the majority of my time in my swimsuits and either my thrifted tie dye schmatta dress or my cover-up. No surprises there, really. I always seem to forget how casual most resorts tend to be; the shorts-and-tee outfit on the right (below) was a "dressy" daytime outfit. Running around after the kids gave me one more reason to stick to the simple & comfortable.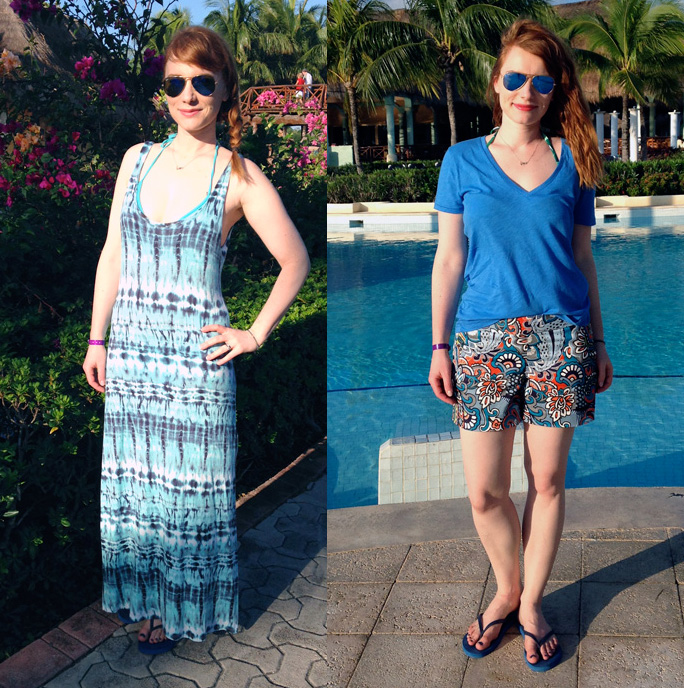 Speaking of shorts, I wore this pair an awful lot:
I also wore them in the evenings, fancy like so: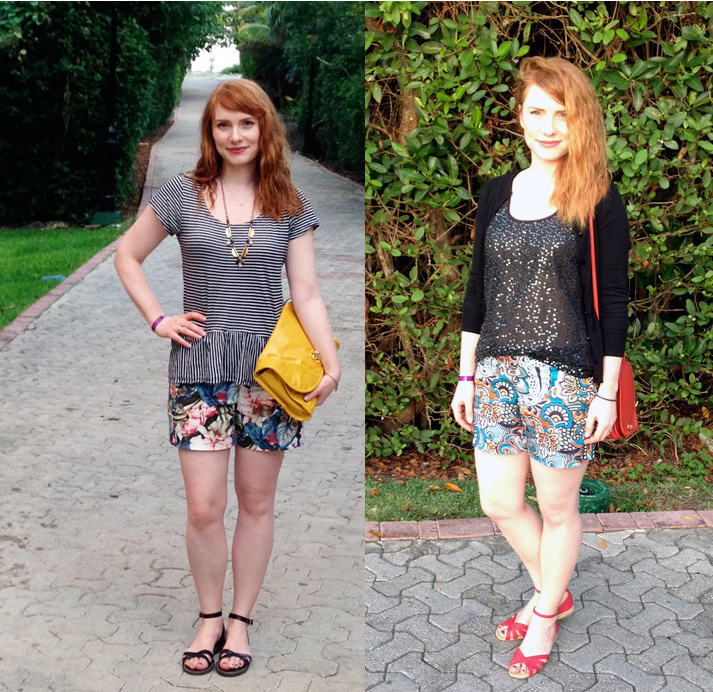 Or what passes for fancy at a resort, ahem. And on that note: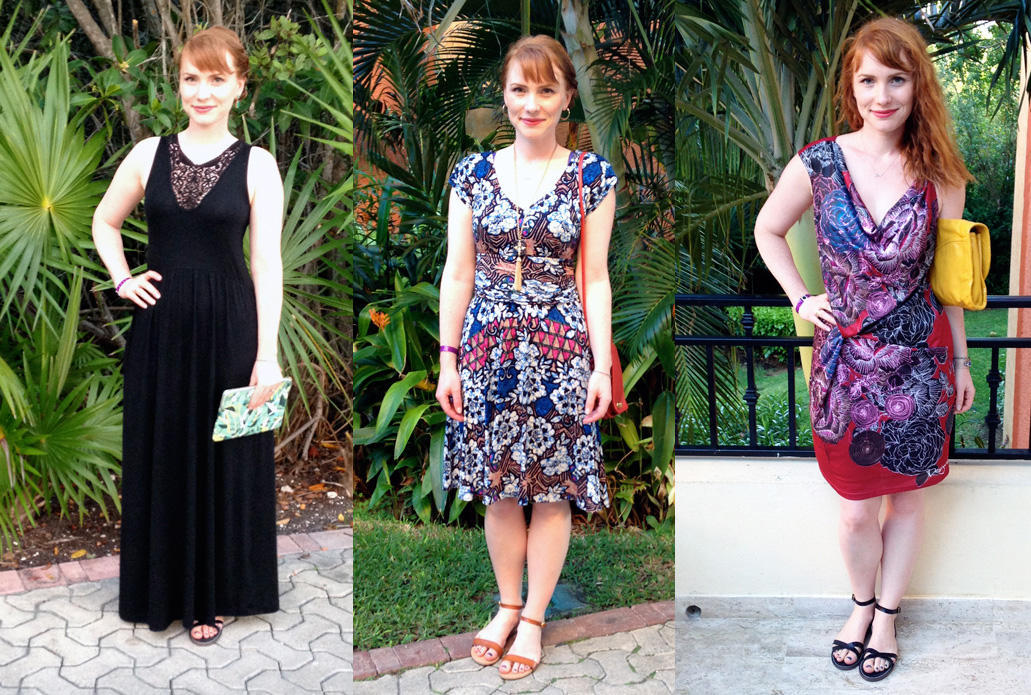 I was mocked mercilessly by my family the entire trip for taking outfit photos, but that was not the worst indignity my blogger ego suffered; I was also ruthlessly photo-bombed, and entirely upstaged on the regular. Behold:
Luka wasn't the only one in the photo-bombing game, however: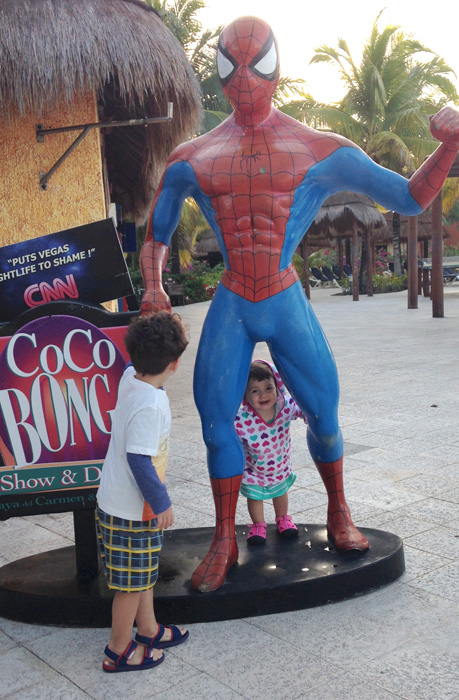 My kids are certified grade A hams … and I wouldn't have it any other way: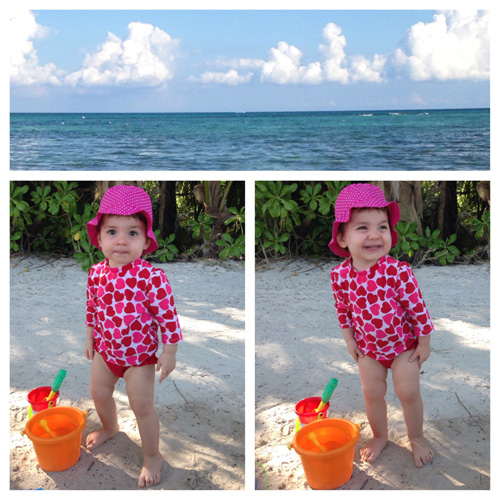 Oh, right, this is a style blog. Ahem. Moving on.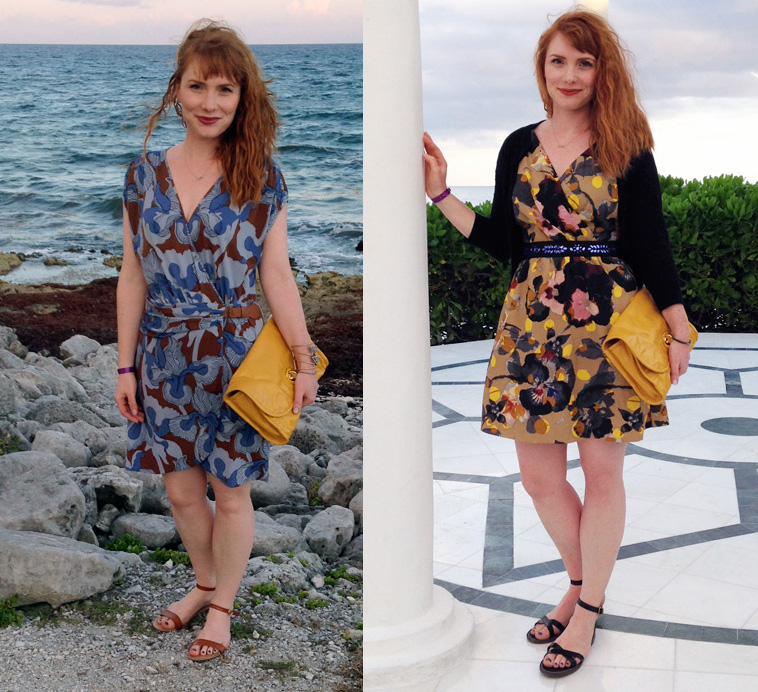 All of these were on the overdressed side of the scale, but I didn't care because – hello, pretty summer frocks! It's been too long, my lovelies. Summer can't come soon enough.
All in all, I was pretty happy with the things I packed. There were only a few items I never wore, which I sort of expected anyway. My workout gear never got unpacked; the resort had beautiful and extensive grounds, and everything (our rooms, the lobby, the buffet, the beach, the pools) was spread out, so we walked a lot. Let's just say, I was not devastated that I didn't get/have to work out. The weather was unseasonably warm for the first half of our trip, so I didn't need any toppers in the evenings; the last few days, I wore my black cardigan for dinner – the other cardigan and my denim jacket could have been left at home. Still, you can't predict the weather, and better safe than sorry, etc. The only piece that was truly useless was my pair of jelly pumps. Heels just weren't going to happen on this trip. See above re walking a lot, and running after kids. I should have known better.
What got the most wear? As I mentioned above, my tie dye dress and beach cover-up were almost daily wears. I also wore my floral print shorts, and black maxi dress more than a few times. Oh, and my black J. Crew Factory sandals and Old Navy flip flops – I probably didn't need to pack any other footwear, to be honest. And that's all I got, folks. Nothing really groundbreaking in this post, but I did manage to sneak in a few photos of my kids, and you got an eyeful of my pasty appendages, so … um, there's that. We're all winners here.