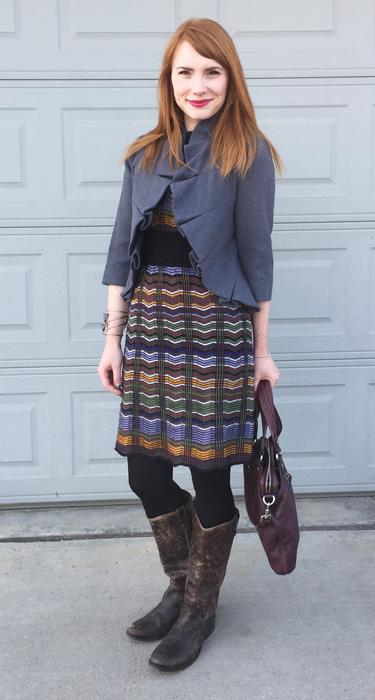 Unlike most of the photos I've taken outside in the last 4-5 months, I was not freezing my buns off for this one. It was warm! And I wore a jacket that doesn't even close up! With 3/4 length sleeves! Oh, the joy! All the exclamation marks!
Seriously, though, I was super excited to go coat-less on this occasion, and even more so to give this Anthropologie jacket a spin. It's been in my closet for years, though for much of that time in a sort of purgatory. It's a gorgeous-looking jacket, to be sure, but not particularly easy to remix. And itchy (for me). And then it became too small. And so it sat in a bag in the back of my closet for the better part of two years, because I couldn't quite bear to part with it. (It was one of the first pieces I ever bought at Anthropologie, and we all know that I have weird emotional attachments to the inanimate objects hanging in my closet.)
Having lost some weight recently, I decided it was time to give the jacket one more try – and then let it go if I still wasn't feeling it. And while I like how this outfit turned out, I'm still not feeling the jacket. In fact, I love this entire outfit … just not on me. I still gravitate towards the whole boho vibe for my casual wear, but this particular jacket + dress combo just doesn't feel very "me". And I'm ok with that. It's time to let go. (Both pieces will be up on the Shop My Closet page soon, in case you're interested.)
Has spring got you thinking about a closet clean-out? How do you decide when it's time to let something go?