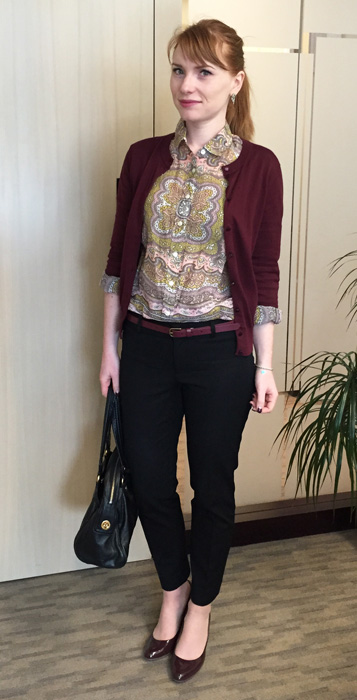 OK, let me start by stating the obvious (?): there is nothing horribly wrong with this outfit. Nevertheless, I didn't really enjoy wearing it, and the culprit was the shirt. It's fine; nothing horribly wrong with it either. But to borrow a phrase from Marie Kondo, it doesn't spark joy for me. So I'm letting it go.
Getting rid of clothes has often been a fraught process for me in the past, but I've been increasingly feeling the need to let go of "dead weight" in my life – both in my physical environment and in the emotional realm. I was grappling with just this issue when I came across a couple of posts from Gretchen and Adrien on Marie Kondo and The Life-Changing Magic of Tidying Up, and they resonated like crazy. So, going forward, if I ever end up with an outfit that feels "meh", I'm going to figure out the reason, and let go of whatever element is not working for me anymore. Hopefully, that process will help me work through lot of the guilt I associate with "wasted" clothes. If simplifying your life (or your closet) is one of your goals for 2015, I encourage you to check out Gretchen's and Adrien's posts (linked above), and consider how you might apply the same or similar principles to help you figure out what sparks joy in your heart.
One thing that definitely sparks joy in mine? This cotton candy pink wool coat.