By now, it is no secret that I love bags. If we were to judge the matter by my spending patterns, it wouldn't even be a close call – I spend exponentially more on bags than any other items in my wardrobe. As far as preferences, I'm an oddball kind of bag snob; I love certain brands, but not indiscriminately – if I don't love the look of the bag, I won't buy it just because of the label (and there are plenty of ugly expensive bags out there, let me tell you). At the same time, there are certain bags whose aesthetic merit is enhanced by the brand cachet, and I'm not immune to that. [Case in point: my vintage Chanel double flap. I like it just fine, but if it didn't have the iconic appeal that it does, I would probably sell it.] Like any bag collector lover out there, I keep a mental list of must-have dream bags – Holy Grail bags, for the not overly religious – that I hope to own one day, budget permitting.

One of the very first bags to make it on that list – in fact, perhaps the very one that started my love affair with bags – was the YSL Muse Two.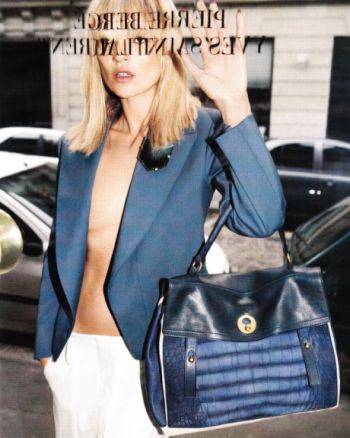 I remember seeing it in a fashion magazine back in 2008 or early 2009, and being absolutely smitten with it. I even cut it out and pasted it into my fashion scrapbook. [I may or may not have drawn hearts all around it. Don't judge; this was before Pinterest and Instagram, kids.] At the time, I was just starting to get interested in clothes, and beginning to think about personal style. My wardrobe has completely changed since then (although, interestingly, I still like a lot of the things in that old fashion scrapbook), but my love for the Muse Two has remained steady. For 6 years, I've kept an eye out for it in local consignment stores and Kijiji, hoping to find it for a price my wallet could bear. It wasn't meant to be.
Recently, I've been thinking a lot about refining and, at the same time, simplifying my style and my approach to getting dressed. I want to get that "wow" feeling every time I put on an outfit. I want each one to spark joy. And that has meant carefully reviewing each individual piece in my closet – including my bags. I've been letting go of a few, but also thinking about ones that were missing from my closet. ("Missing" might seem like a wildly inappropriate choice of words considering how many bags I still have, but I'm speaking as a collector here, so I hope you'll indulge me.) After all this time, I still adored the look of the Muse Two. It's a combination of two of my favourite bag styles: the schoolgirl messenger (think Mulberry Alexa, minus the cross-body strap) and the classic satchel (think Mulberry Bayswater, and any of my other Holy Grail bags). It has a beautiful, distinctive closure, but is otherwise completely devoid of identifying logos. It's just … perfect.
Luckily, having made the decision to hunt it down once and for all, eBay came through for me – again. The version I had originally "pinned" in my scrapbook (blue ostrich) is still selling for an unconscionable amount, but I was able to find a leather/nubuck tri-color version (the same one that Kate is holding in the ad above, I think) in good condition for a reasonable price. I hesitated over the fact that the seller was from Japan, but its feedback looked good, which was encouraging; I also recalled (from my Purse Forum days) that people had generally positive experiences with Japanese re-sellers of luxury goods, encountering fewer issues like counterfeit items being passed as authentic, misleading or inaccurate descriptions, and so on. So I took the plunge … and was extremely pleased with the result. My bag arrived incredibly quickly – 3 days! From Japan! And the shipping was free! – and was just as described. She is a beauty: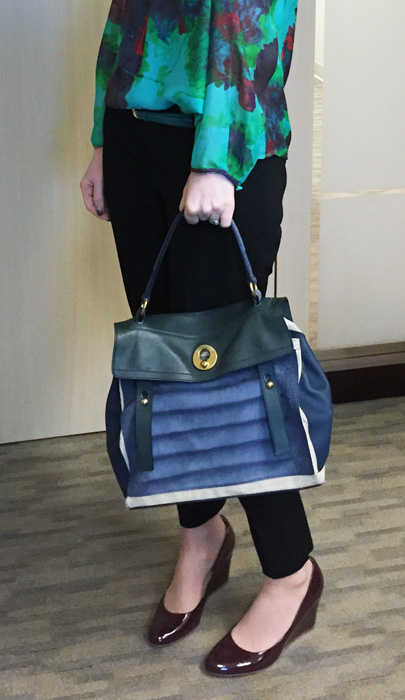 I thought it might be helpful to do a quick review, just in the off chance that any of you happen to be thinking about buying one, and especially since, lovely as she is, the Muse Two has its … quirks.
First, let me say it again: I adore the look of this bag. This is entirely subjective, so I don't expect you to agree with me, but please keep it in mind because it does influence my overall impressions of the bag. So, looks-wise, I give it a 10 out of 10. Quality-wise, it's also pretty good – I would say 8.5 out of 10. The leather is superb and, as I mentioned, I love the look of the hardware. Here is something I had not realized before getting the bag, though, not having done much research on it beyond Googling and drooling over photos of it: my version is essentially a canvas bag, with leather pieces attached to the front, back, and sides. The back piece comes over the top, creating the flap.
What that means is that the inside of the bag, including the middle compartment/pocket, is made out of canvas, as are the external seams/edges. And what that means is that the bag is quite floppy. It is not completely unstructured, but it's not as solid as it appears from photos. On the plus side, this means that the bag is lighter than it would have been, were it made entirely out of leather. The main drawback is that things tend to shift about inside the bag much more, because the dividing pocket is floppy. This is not a huge issue for me, but it could be a problem for someone looking for a very structured bag. I don't think the canvas makes it less sturdy overall; this bag is 6 years old or so, and still looks great (very little wear on the canvas corners). However, that's also a factor to consider if you tend to be "harder" on your bags.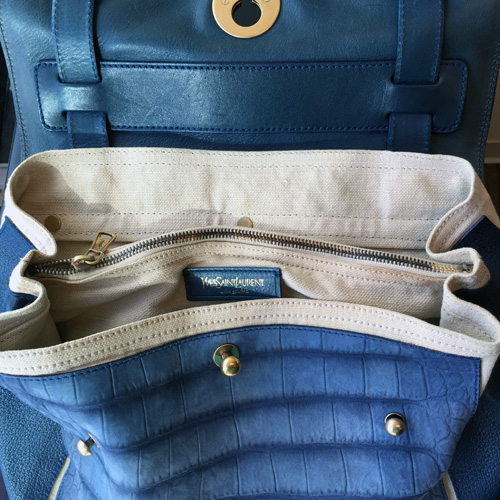 In terms of functionality, I wouldn't rate the bag more than a 7.5, and that is partially influenced by my love of its looks. The problem is that beautiful closure; combined with the top handle and the general floppiness of the bag, it makes it very difficult to open and close the bag – and absolutely imperative that you do so. If you don't close the bag (and, really, you need to be closing all 3 snaps, not just the main one), it gapes right open, making it nearly impossible to carry without spilling something. Closing it is difficult to do "on the run" because of said floppiness. Basically, I try to minimize the need to open and close it as much as possible. I can see how that would get annoying for some people, quickly. I don't mind it very much, but I've got those love goggles on, you know what I mean?
In other respects, the bag has good functionality. The handle has a decent drop; it can be easily worn over the shoulder if you're not wearing a bulky layer, like a winter coat. (It does have a tendency to slide down when I'm wearing my coat, but I tend to carry it in my hand in any event.) I believe I have the medium, and it's a good size for anyone who likes roomier bags. For reference, I'm 5'7 and I feel like it's a very height-appropriate size for me (although I think it looks bigger than it is in photos, for some reason).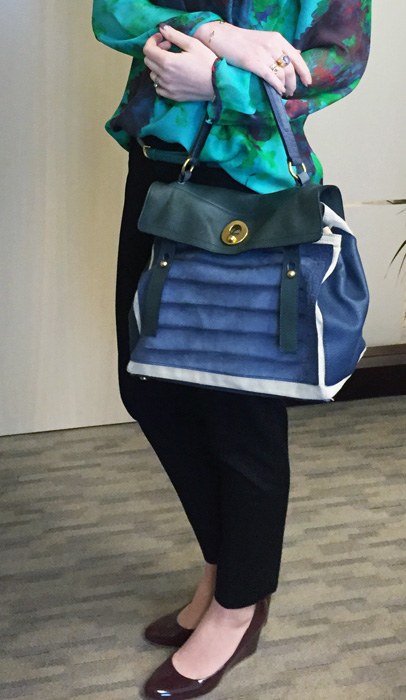 Long (yikes) story short, here is mah new bag – I luvs it. The end.
Oh, one more thing: if you found this review helpful, and would be interested in knowing more about any of my other bags, shoot me a comment and I will think about doing a semi-regular series on bag reviews. Just a thought.