Buying the YSL Muse II recently reignited my love affair with luxe bags. For the past couple of years, my focus has been more on practical bags; with 2 small kids, and a year spent on maternity leave, this made all the sense. I'm now back in the land of the grown-ups (aka work), and doing that whole adulting-my-wardrobe thing. Beautiful bags are a sensible vice to pick up again, no?
Side note: I love when designers give people names to their bags, because I can then write about them as though they're, well, real people rather than inanimate objects. Anthropomorphizing my bags? Of course I do.
The story of how Sofia came into my life starts off with one of those meet-cute situations you typically get in rom-coms. I was hanging out at Upper Crust one afternoon (post-Red Pony Consignment visit), and noticed a stylish older woman carrying a beautiful bag. [To be perfectly honest, I noticed the bag first.] She was wearing an outfit that looked deceptively simple in the way that all really expensive clothes look simple: classic blazer, cuffed jeans, sleek pumps … and that beautiful bag. Black leather, classic Birkin-like style, no conspicuous logos. It was the hardware that gave it away, and then only to a fellow bag lover like me.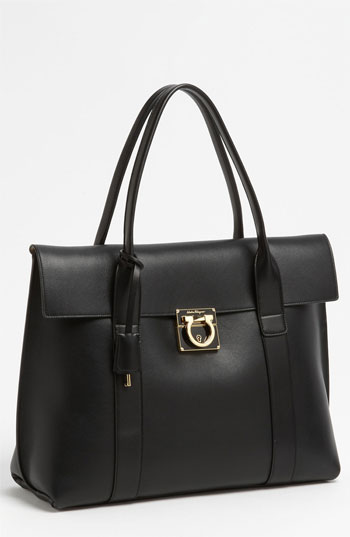 Believe it or not, I'm actually quite shy, so I did not dare do more than steal glances, as discreetly as possible, at the bag. (I actually really wanted to compliment the woman, on her outfit as well as her bag, but felt like I'd be overstepping some unspoken boundaries. Why is it so easy to tell people on the internet all manner of things, but infinitely harder in person?) But, as soon as I could, I jumped on Google to put a name to my new infatuation. Well, it turns out her name is Sookie, of the House Ferragamo. (Sorry, I still have GoT on the brain.) She certainly shares some lady-like genes with the Fiamma bag, which has been on my radar since last year. What can I say, I have a bag "type". In fact, the Sookie is also very reminiscent of the Mulberry Bayswater currently residing in my closet. That realization somewhat dampened my enthusiasm for the Sookie … and seeing its current eBay prices dampened it fully.
But then!
One of the first listings in my eBay search for "Ferragamo bag" was this beauty: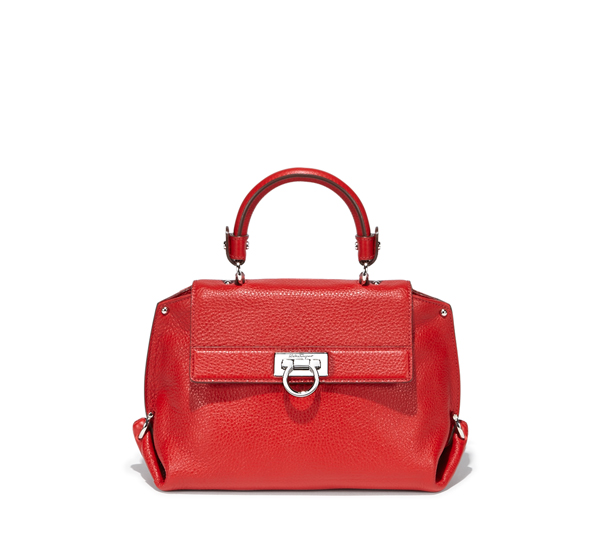 I've been looking for a red bag ever since I sold my MbMJ Teri tote last year, and I loved the look of this one. And the price was, if not downright attractive, then certainly palatable. I spent the next couple of days "researching" the Sofia … and by that, I mean reading up the Purse Forum threads on it. The consensus gave Sofia high marks for looks and quality, although there were divergent opinions on functionality. Having quickly adjusted to life with my high maintenance Muse II, I was not deterred by the drawbacks of a top handle bag. And the rest is history, as they say.
A few words on where my Sofia came from: eBay, natch. I bought her from another Japanese seller, and she arrived via regular shipping a whopping 4 days later. (I did not have to pay any duties.) The condition was described as "A" in the listing, and it is certainly almost "like new". She did not come with a cross-body strap (the listing did not indicate otherwise, so this was not unexpected), and I am looking into whether I can buy one separately, as I think it will increase its wearability.
On to the review!
Looks-wise, the Sofia is another 10/10 for me. As is amply clear by now, I am very partial to satchels, and this is a modern take on a classic design. Simple but elegant. The hardware is distinctive if you are familiar with the Ferragamo gancini, but is otherwise fairly understated. The brand name is inscribed on the front lock, but you have to peer very closely to see it. It's definitely a bag that won't go out of style any time soon.
Quality-wise, the Sofia is a 9/10, at least so far. The leather looks and feels gorgeous – thick and sturdy, without being too stiff. This is definitely a structured bag, although not a rigid one. The only place where it loses a point, for me, is the fabric lining. I prefer a suede or leather lining, just for the luxe factor, and this silk jacquard version is just meh.
So, function. As compared to the YSL Muse II, which is a similar top-handle satchel, the Sofia is easier to use. Because it's a more structured bag, it is easier to open and close the bag – top handle-notwithstanding – while on the go. Not super easy, but easier. I've read that some people find the opening somewhat on the smaller side, but I think it's appropriate for the size of the bag (more on that in a moment). There is one external, zippered pocket on the back, which is a great feature – I keep my phone here for easy access, but it can probably fit a few small essentials. There is the usual complement of inner pockets, including a small zippered one, but nothing out of the ordinary.
The top handle is small. I can wear it on the crook of my arm, but putting it on my shoulder is not really feasible. I usually carry it in my hand, so this doesn't bother me too much. As I mentioned, the bag normally comes with a longer strap, and I'm looking into getting one – I think it's going to be very useful.
As far as I know, the Sofia comes in 3 sizes, and mine is the small. For me, it doesn't seem like a truly small bag. I have not seen the medium or large in person to be able to compare, but this is a fairly roomy "dressy" bag (aka not a "hauler"). You won't be able to fit your lunch in here, but I can squeeze my large wallet, make-up bag, keys, phone, and a small book without problem. I have outfit photos with the Sofia coming up, which will allow you to gauge its size, but I think it looks height-appropriate on me (and I am about 5'7 for reference).
Finally, cost. As I mentioned, minus the unavailable long strap, my Sofia is in almost new condition. She normally retails for about USD$1,400, although she's currently listed on sale for $973 on the Ferragamo website. Mine cost CDN$630, and after applying a PayPal balance, I ended up paying about $430 out of pocket. That price makes it a pretty good deal, not just in relation to the original retail cost – which, ultimately, doesn't necessarily mean much – but also in relation to what you get, design- and quality-wise, from the Sofia.
Hope you enjoy another installment of the Adina-buys-yet-another-bag chronicles, and if you have any questions about the Sofia, hit me up in the comments.