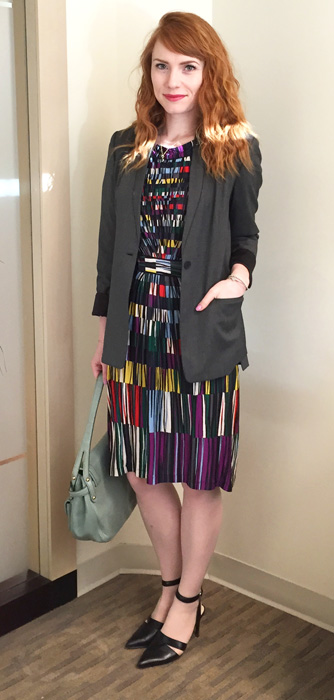 You've seen this dress a bunch of times before. Ditto for the blazer. And the shoes. And the bag. You could call this outfit the sartorial equivalent of comfort food: quick 'n easy to pull together, but guaranteed to hit the sweet spot.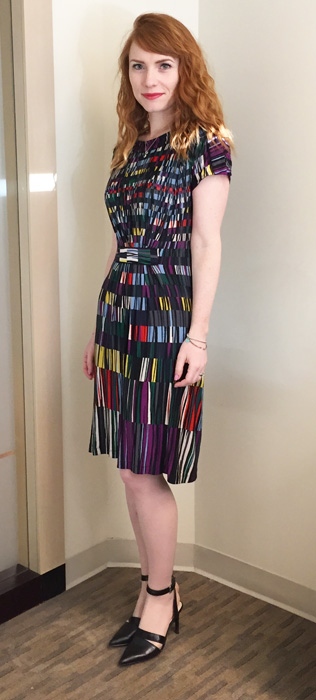 The dress is ancient, but does occasionally pop up on eBay, and I encourage you to hunt it down, because it's stupidly easy to accessorize. The abstract print is fun, but not overwhelming. The fabric is some kind of synthetic jersey that drapes nicely, doesn't wrinkle, feels comfortable, and doesn't create static. I mean, it doesn't really get better than that. Oh, and real flattering to boot.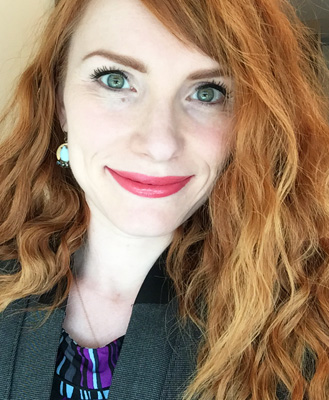 For anyone keeping track of these things at home, the cost-per-wear of this entire outfit (minus the shoes, which were a gift from my husband) is currently a hair over $30. I've never really thought about this before, but I feel like an outfit CPW that's under $25 can be one metric of a well managed wardrobe. I don't know why, but that feels like a "good" number for me. Maybe that's an arbitrary number. Maybe there are better metrics out there. As always, I'd love to hear your thoughts.