I have been on a bag-buying bender lately – again! sigh – so I've been trying to keep my shopping to a minimum in other regards. Oh, who are we kidding? Mostly, I've just been too busy to shop. But I have snuck in a couple of shopping trips because, let's face it: ain't no better stress relief in my world than a little retail therapy. I didn't actually end up buying anything on any of those occasions, but I did take some more crappy changing room selfies, so I figured I'd share those joys with you, dear readers.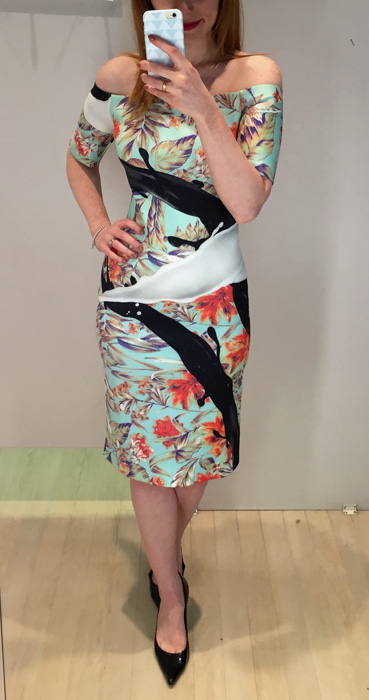 Oh, if only my life was glamorous enough to require a dress like this in my closet. Since that's not the case, I ooh-ed and aah-ed in the changing room and left it behind. *sniff* Perhaps we shall meet again on the clearance aisle, my love.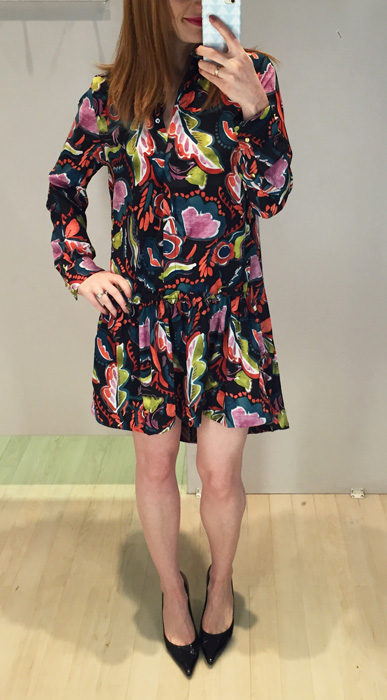 Cute idea, cute print, too bad it was the shiniest, cheapest feeling polyester. Something about the colour palette reminds me of Prada, but I still prefer my similarly cut Joe Fresh dress (whose quality is also better, IMO).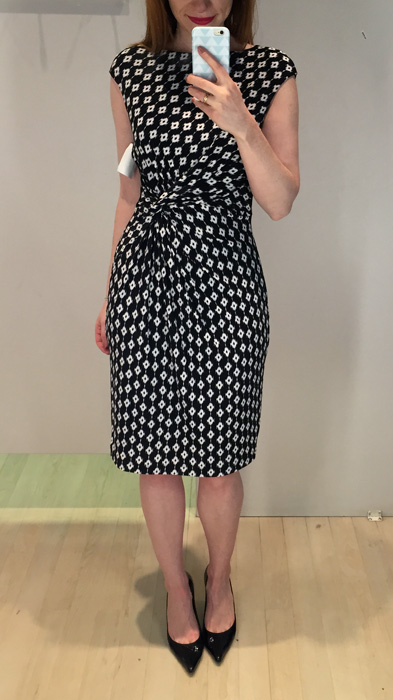 If this had been $20 cheaper, I would have bought it, no question. Even though I don't really need another work dress, I can never pass up a cheapie jersey dress. Ralph Lauren makes some of the most flattering ones, for sure. This was already on sale, but if it makes it to another cut, I'm probably going to buy it.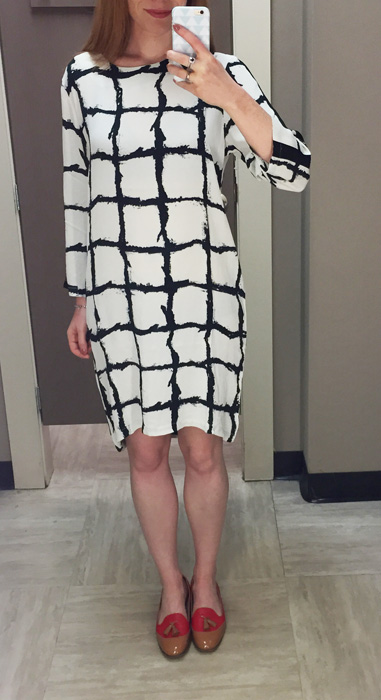 I loved this dress, you guys. Loved it. But, uh … in principle. It was too sheer (see the colour of my underwear sheer, which may not be apparent in this photo), and the material (100% viscose) felt really cheap. The brand didn't ring any bells with me, so I don't really get the price, at all.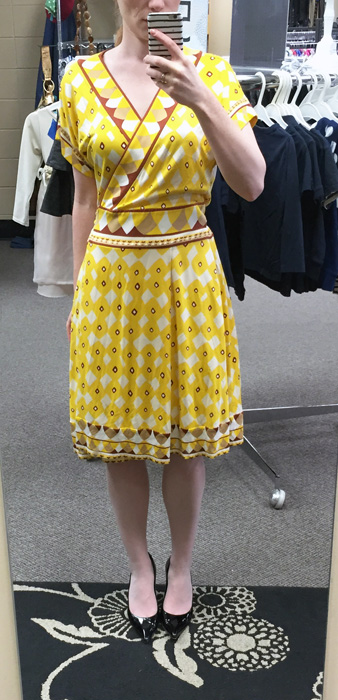 Another heartbreak. I had to break my "no DVF dress left behind" policy and, in fact, leave this pretty number behind. It was only $25, but also about 3 sizes too big. If you're a size 10-12 (the tag says 14, but I say it runs smallish), run to My Favourite Aunt's today because it may still be there; I believe they clear out the clearance rack on Fridays, though, so be quick, my friends.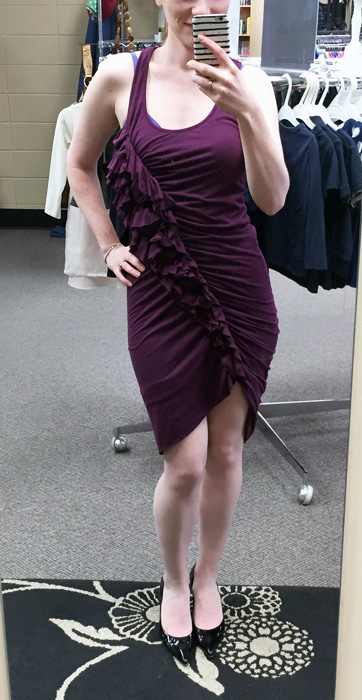 As my friends said … maybe if I was still in my 20s. And had a much more exciting life. Alas. I would love to have an Elizabeth & James piece in my closet, especially for $15, but sadly this piece wasn't it.
I saved the LOLs till last to make your slogging through this post worth your while. I think I can safely say "mission accomplished". This skirt was an interesting concept … in theory. But in reality, I'm not sure who it's intended for – a conservative politician's really, really tall wife? I have no idea.
And that concludes another round of changing room selfies. I hope the retail gods were more generous with you. Hit me up with all your amazing finds in the comments.