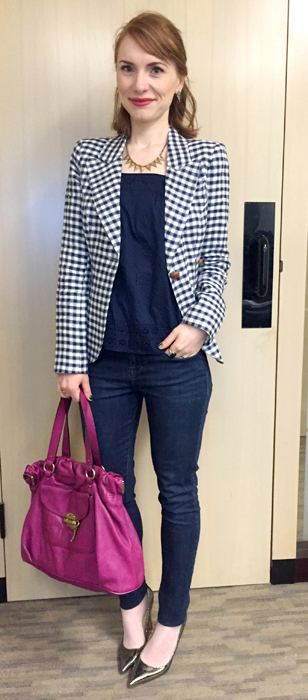 Last week turned into a perfect storm of splurging. The Mulberry bag I bought on eBay finally arrived (from England), the day after I spent the last of my Xmas gift card on this new Smythe blazer at Blu's. It all felt very … decadent. The Smythe was an impulse buy, but I'm a sucker for elbow patches (and these are real leather, as are the buttons), and the fit is fantastic. This blazer was made in Canada, so I feel good about that. Assuming the quality is as good as its reputation promises, I should be wearing this piece for many years.
The Mulberry is the Audrina style, which I have been hunting for ages. I fell in love with it because of the hardware on the pocket closure, which is an unusual pin-lock style. Yeah, I'm weird about bag hardware. Anyway, it just so happened that I finally found the Audrina on eBay (it's an older style and seems pretty rare) in this beautiful cerise colour … which I had been coveting separately. (Everyone needs a pink bag in their closet, right?) The size is bang-on for my personal preference, and the bag as a whole is very practical. Consider this a mini review, with raves all around.
Of course, the day I wore this outfit, the rain came down with a vengeance, hence these crappy office photos. But trust that this outfit was hella cute, and won me a bunch of compliments. Treating myself, indeed.