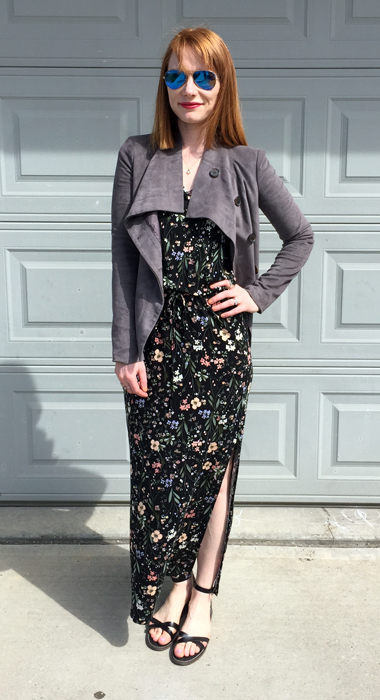 I rarely buy clothes at retail, which is in part a function of (but also a reason for) never going to the mall anymore. But I still go grocery shopping, and since I shop at Superstore, I can't help but have an occasional gander at Joe Fresh's fresh new offerings. This dress somehow jumped into my cart one day. I don't know how that happened, you guys. I blame the cute, vaguely 90s floral print. It's quite comfy, drawstring waist notwithstanding, and I can see it becoming a summer weekend staple.
Here, I decided to pair it with my new (thrifted) BCBG faux suede waterfall jacket … mostly because I just wanted to take the jacket out for a "spin". (Also, because the bluish/purplish grey colour matches one of the colours in the floral print, and my matchy heart can't resist.) I love the draping in the front, and the hi-low situation. Here's a better view: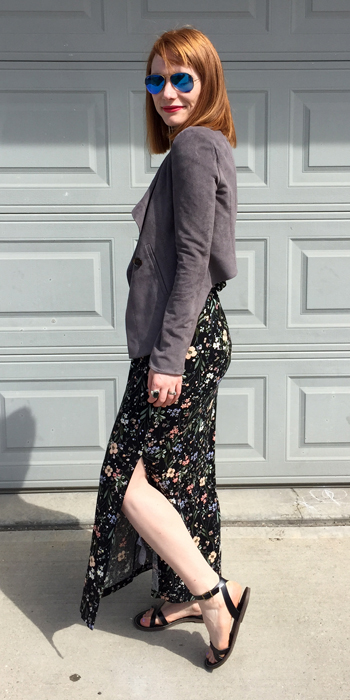 I forgot to mention the dress has a side slit. Seriously, it's a 90s revival up in here. Last I saw it, the dress was just over $20 after applying a 25% off promotion. Worth checking out if you're feeling nostalgic about the decade that gave us THE best teen movies ever. Also, Buffy the Vampire Slayer. I could go on, but I'll stop because my old nerd is showing. But join me in the comments if you feel like reminiscing.