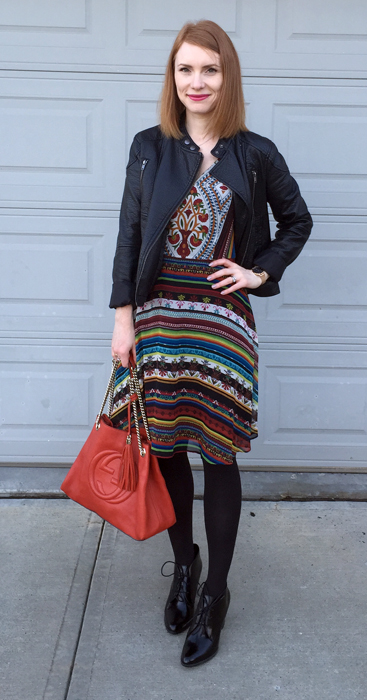 After delays and setbacks, my husband and I finally got to run off to Calgary for what was supposed to be a 3-day, adults-only getaway. There's been a lot going on lately, and I won't lie — I needed this break, BADLY. And, naturally, I was pumped to get dressed without having to worry about being kid-activity-friendly. I thrifted this Gabby Skye dress last time I was in Calgary, and have been "saving" it for a fun occasion ever since. Since the weather was looking rather glum when we left Edmonton, I switched out the flats I had planned to wear for my new Clark's booties (and tights). I wore this on the drive to Calgary, and then lunch, shopping, and a return visit to the Glenbow Museum. I felt cute and comfortable, which is always nice. The shoes, in particular, were a pleasant surprise – comfortable even after a fair bit of walking.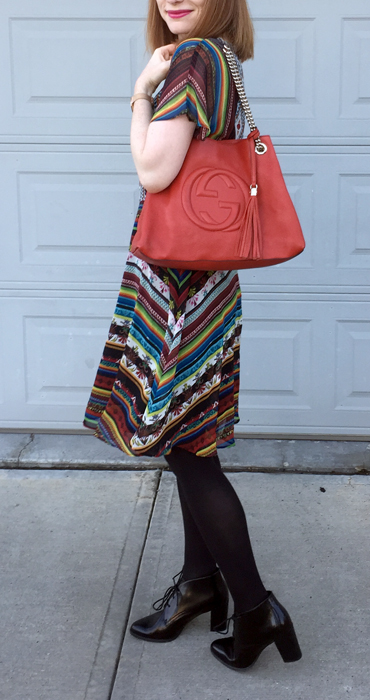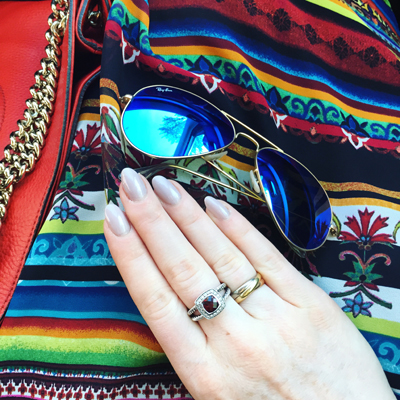 We visited the Glenbow Museum earlier this year with the kids, and I won't lie by saying that a big reason why I wanted to make this adult-only roadtrip happen was to be able to go back and enjoy it in a more leisurely fashion. The Glenbow is the closely thing to the Victoria & Albert Museum (my favourite) I've ever visited on this side of the Commonwealth. The exhibits are so, so great – starting with the phenomenal Paul Hardy Kaleidoscopic Animalia exhibit: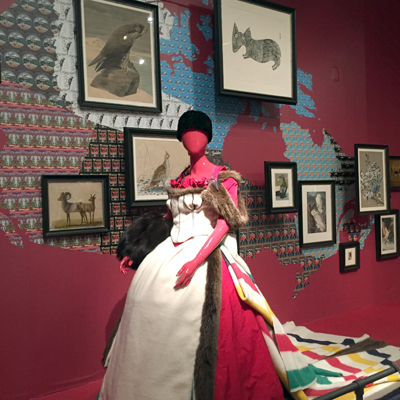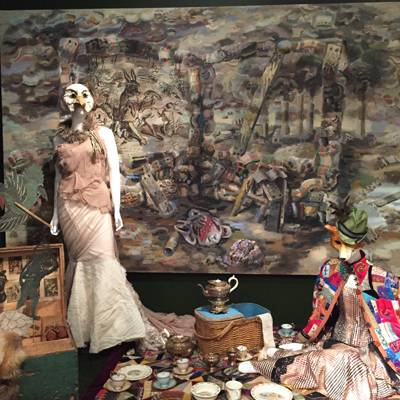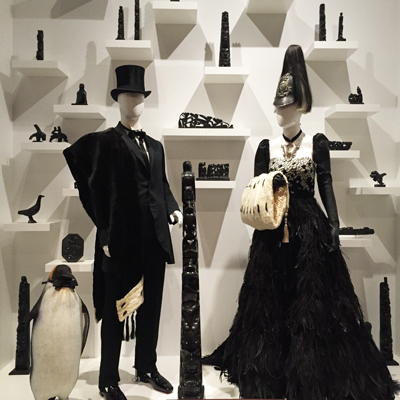 After the museum, we wandered down Stephen Avenue and stopped in for some patio refreshments and people watching. The weather was pleasantly warm, and we found a nicely shaded spot, so it was lovely. We finished off the night with friends and some delicious pizza at famed local spot Tom's House of Pizza.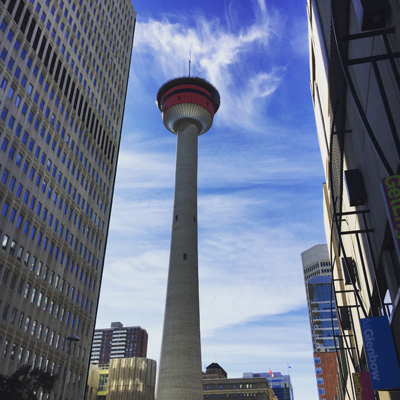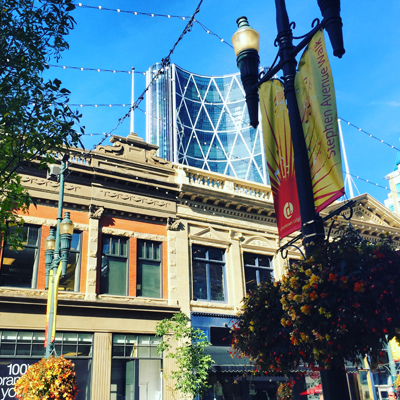 On the second day, we headed out to the mountains – mostly because I needed to replenish my stock of the best fudge ever from a shop in Canmore. Because my husband was still not feeling 100%, we decided to avoid any strenuous hiking … or any hiking at all, really. Which was fine by me because I was there for the eating part anyway. Did I mention the fudge? Also, there are some terrific restaurants in Canmore. We basically spent the afternoon walking from one eating hole to the next. It was very relaxing. We also made a detour on the way to see Elbow Falls.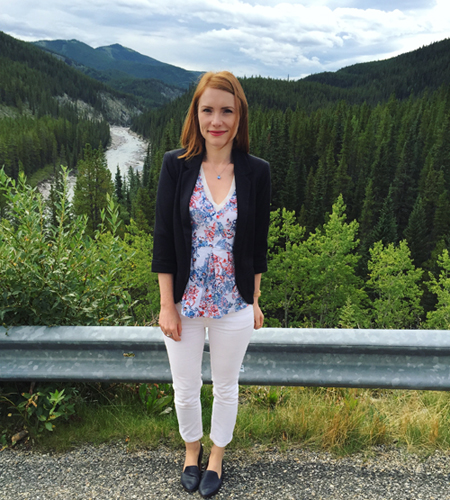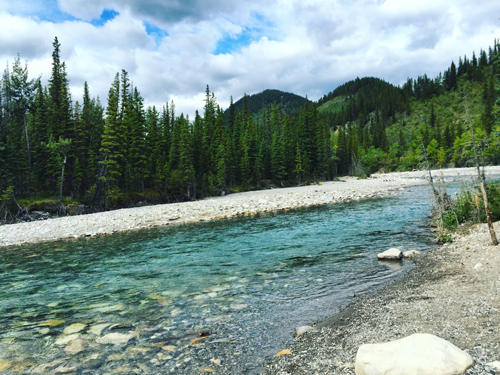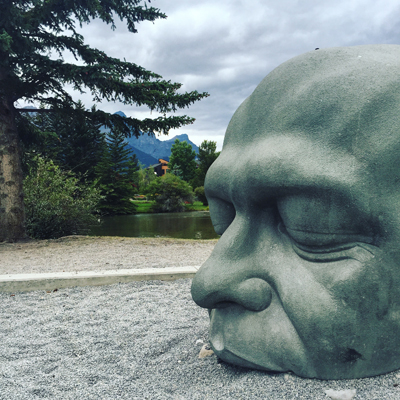 Later that day, we ended up driving back home because we got the news that one of kids had come down with a cold (and fever). I was sad to miss out on the extra alone time with my husband, but it was nice to see the kids and give them extra snuggles. As much as I look forward to these little trips without them, I end up spending a good chunk of the time wishing they were with us. What can I say, they're kinda amazing.
Of course, since I'm fresh out of clothes, I did check out a few thrift stores earlier in our trip.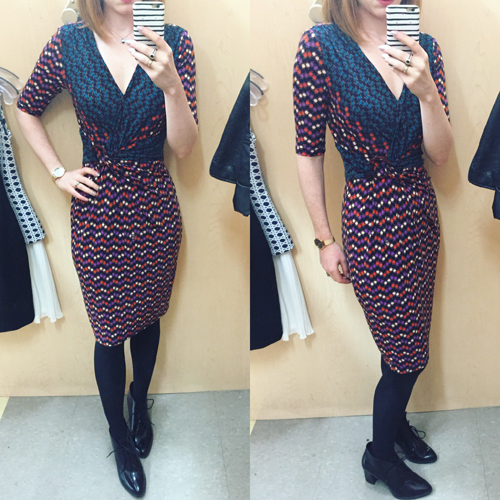 This dress was so close, you guys. A few years ago, I would have bought it without hesitation. It fit perfectly, buuuuut … the print was a little too much for me, now. I left it behind for someone else to discover and love.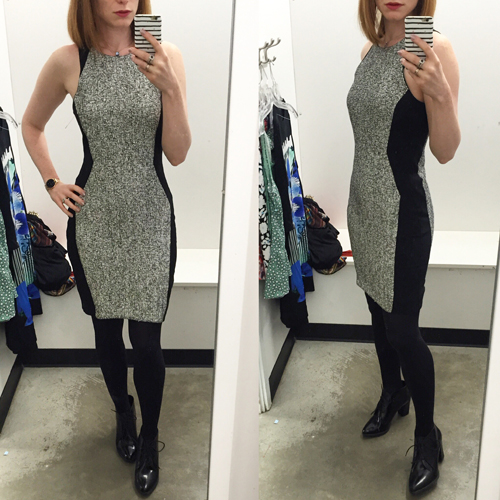 This Rag & Bone dress, on the other hand, I couldn't resist. It's only the second time I've seen the brand at the thrift store, and I've been curious to try it. This dress is a bit more form-fitting and shorter than I like to wear at the office, so I'll probably save it for date night, but we'll see if it works … or if it ends up being a failed experiment blog shop listing.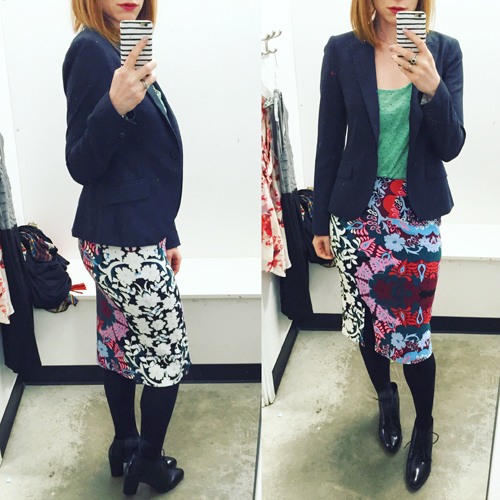 These pieces are definite keepers. The Theory blazer is a perfect fit, and I've been looking for a classic cut navy blazer for a while. (My navy peplum blazer is great, but it's definitely more of a statement piece than a wardrobe workhorse.) The Maeve skirt has that quirky Anthro aesthetic that's still my kryptonite but it's also a work-friendly silhouette, so it was an auto-buy. The top has a cute, contrasting panel/peplum detail, which you can't see in the photo, and it's probably too young for me, but for $5 I decided I had to #leavenoAnthrobehind.
On the way back to Edmonton, we drove through Olds, where I spotted this adorable thrift store … which was sadly closed. Next time!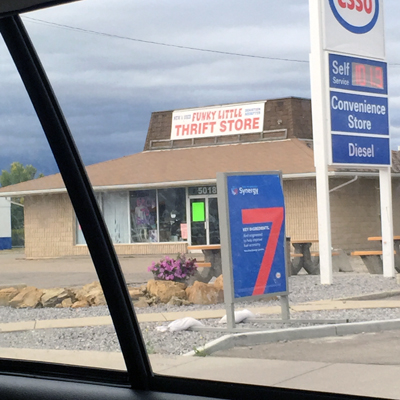 See you next summer, Calgary!
Weekly serial reminder: New chapter is up now! Go check it out here.