I encore-ed this dress a few weeks ago because it's my favourite kind of weekend wear — easy and cute. I threw a colourful coat on top, because when you're going all out, you have to go ALLLLL the way. The coat is more blue-leaning in real life, but photographs quite purple, so can split the difference and call it blurple. Or not. It sounds kinda terrible, now that I think about it.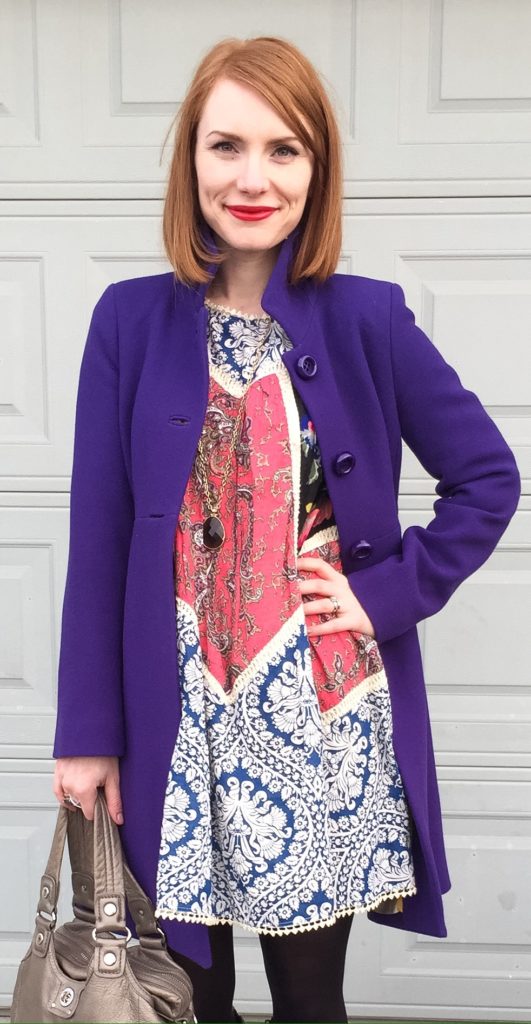 I was also very excited to take my newly thrifted Hush Puppies boots out for a spin, but ended up regretting my elan by the end of the night. Admittedly, I did quite a bit of walking that day (we took the kids to see the Festival of Trees at the Shaw conference centre), which is perhaps unfair to a new pair of shoes (these looked brand new), but the result was not good at all. They were fine for the first hour or so, and then things went downhill rapidly; they were painful by the second hour, and downright excruciating after that. So much so that I ended up re-donating them the very next day. It was a huge disappointment, and one of my few complete thrifting misfires this year. Wah, wah.
At least the rest of the outfit gave me no troubles. You can count on a swing dress to be comfortable in all circumstances. And thank goodness for that!
[A new chapter of A Temporary Engagement is up today — check it out here.]