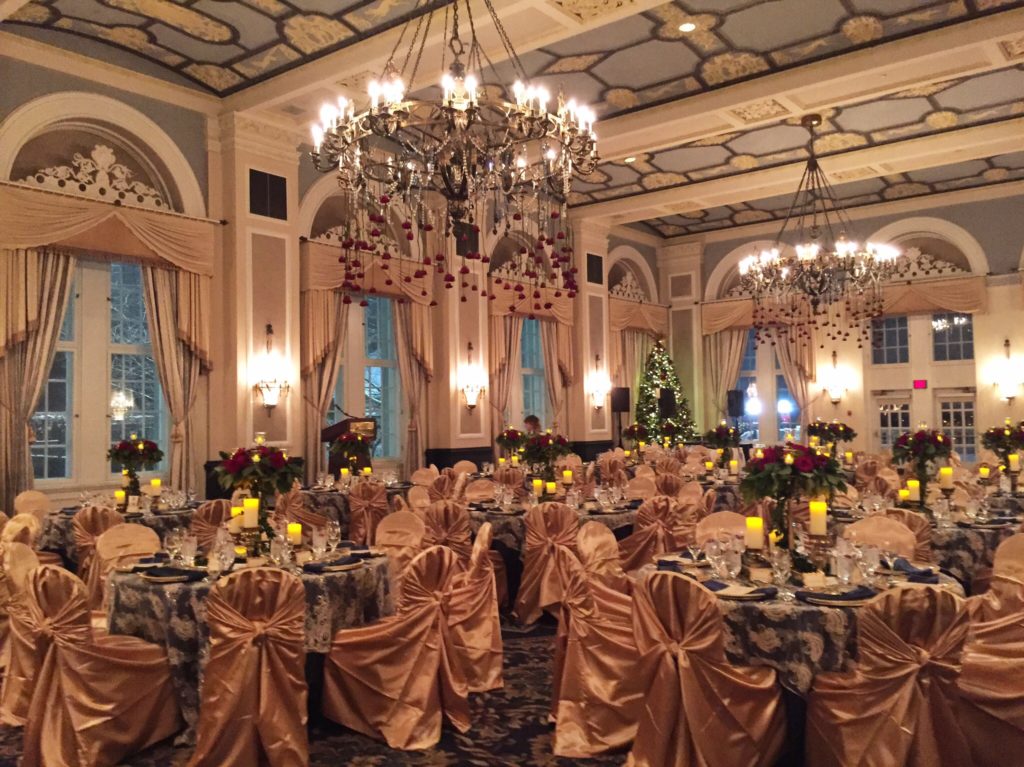 As I mentioned in my last post, I did manage to get to the ball, ermm, office Christmas party this year, notwithstanding my eleventh hour dress disaster. And, yes, I did feel rather like a princess. Perhaps even the Belle of the ball. Definitely a Beauty, not a Beast. OK, I will stop with the theme puns now.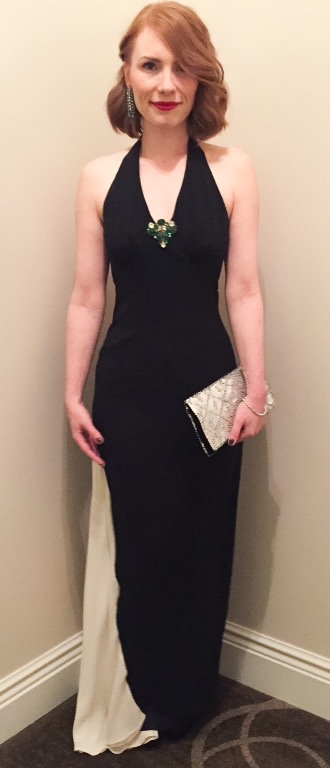 I am still marveling at the fact that this dress cost me less than the price of a latte. It fit like a glove, and all that it took was adjusting the clasp on the back of the halter. The threads holding the clasp in place had come loose, so when I went to fix it (no tailor this time!) I simply moved it back an inch on either side so the straps would be more snug. The dress was otherwise in impeccable condition, and made out of a double layer of natural silk (non-shiny) that had a good weight and beautiful flow. It seemed to glide and fall away perfectly, and was absolutely THE most comfortable evening dress I have ever worn — no shape-wear required. I was left wondering if it was cut on the bias or something (vaguely recalling some of my fashion history reading), because it seemed incredible that a dress that is so lightweight and body-con would ever look this good with practically no effort on my part. I don't know the answer, but it's a wonderful mystery all the same.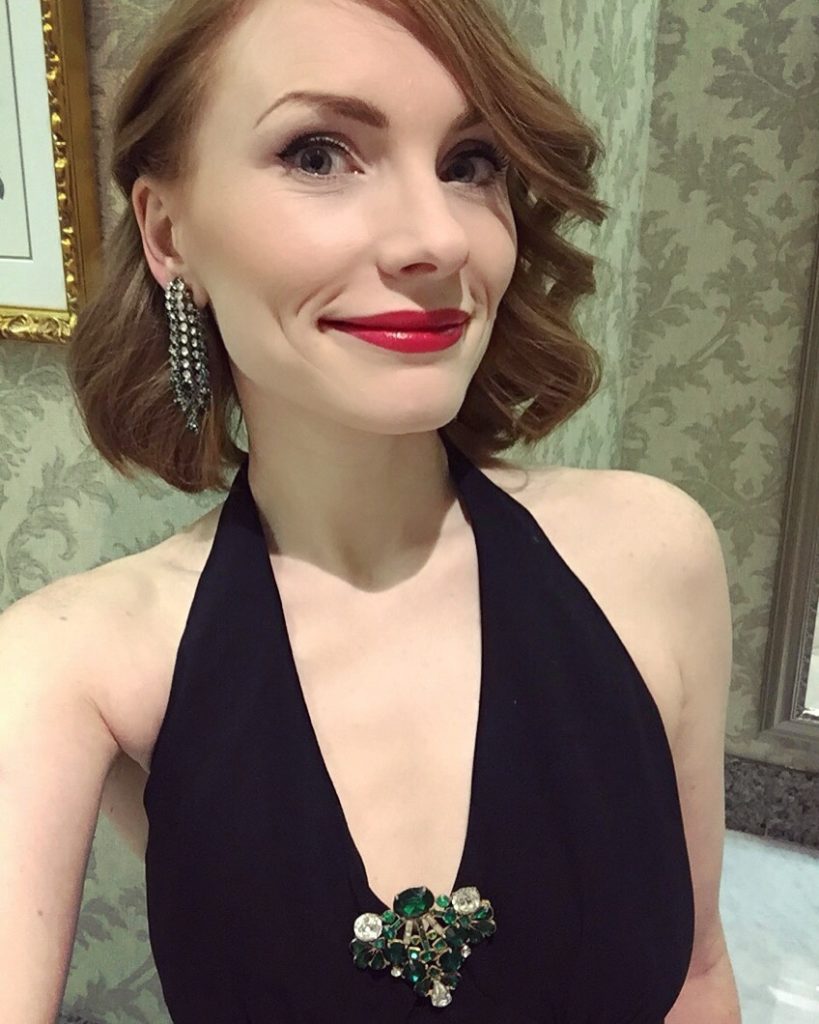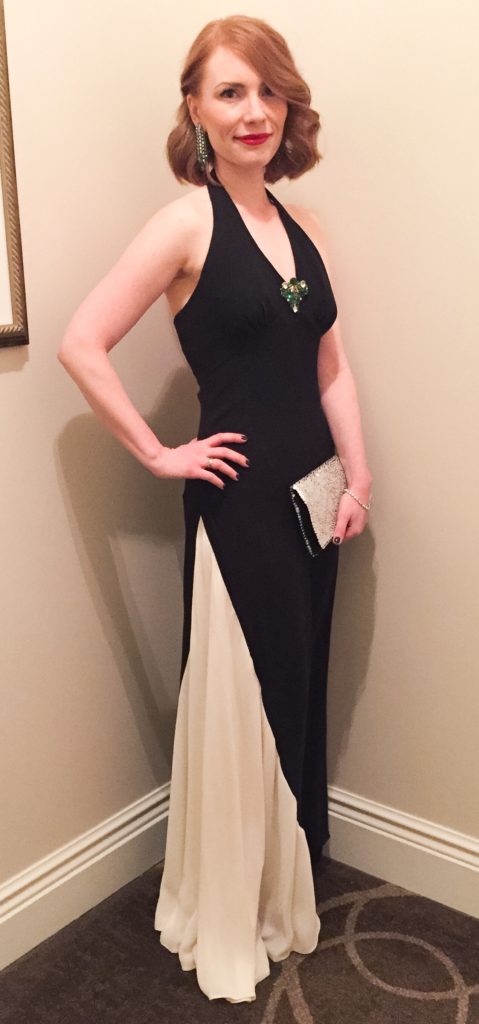 I paired it with my vintage Art Deco-inspired brooch, which seemed like a perfect complement to the V-neckline. I'm not a fan of halter necklines, precisely because they can be tricky to accessorize, but I think I found a good solution since the brooch also helped preserve some modesty. (I used it to hold the bottom of the halter together so it would not gape.) Amazingly, I found the waterfall-like earrings, sporting a similar Art Deco vibe, the day before the party at Swish boutique. I have gotten to know the owner, Angela, a little bit over the last few months, and in addition to having the best stories (seriously, just ask her!), she is a whizz at helping a person find unique and perfect accessories like these earrings. I finished off the outfit with my grandmother's vintage sequin-encrusted clutch, which was one of my favourite (and forbidden) dress-up accessories as a child and is one of my treasured possessions now as an adult.
I also want to talk about my Louboutins. I know some of you were unconvinced when I bought them, and I get it; I wasn't sure how useful they would be either. They were my first choice for this outfit simply because they are my only pair of shoes tall enough for the length of this dress. Even so, I brought a back-up pair of (lower) heels with me, just in case the Loubs proved unwearable. And you know what? I feel like I owe my apologies to Mr. Louboutin for doubting his creation. I ended up wearing them all night, for over 7 hours in total (most of which were spent on my feet). I even danced in them, briefly. (Long dress plus high heels plus holiday libations are not a good combo on a dance floor, so I wisely decided to go back to socializing.) After a few minutes of getting used to walking in them — the placement of the heel seems different to me than in other shoes — they were not uncomfortable until about the 5 hour mark, which is a pretty good run for most heeled shoes in my experience. By the end of the night, I was definitely happy to take them off, but I think overall, they held up well. I doubt I will wear them for anything except extra fancy occasions like this one, but I'm happy that I will actually get some mileage out of them after all.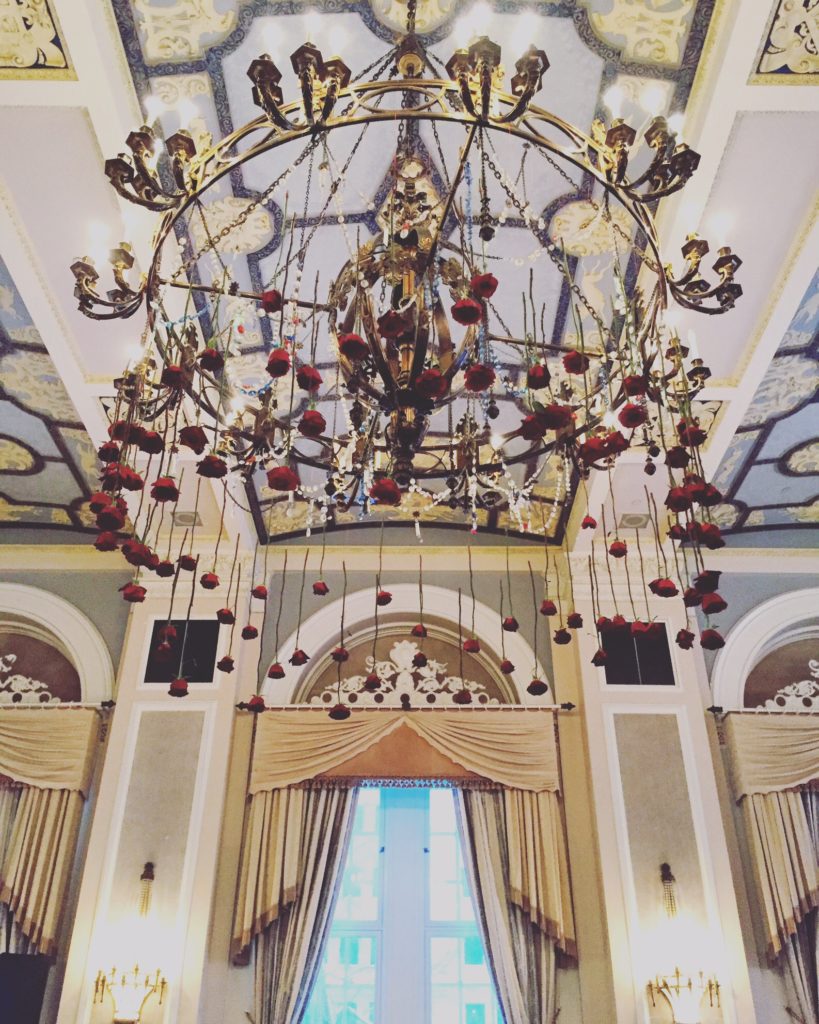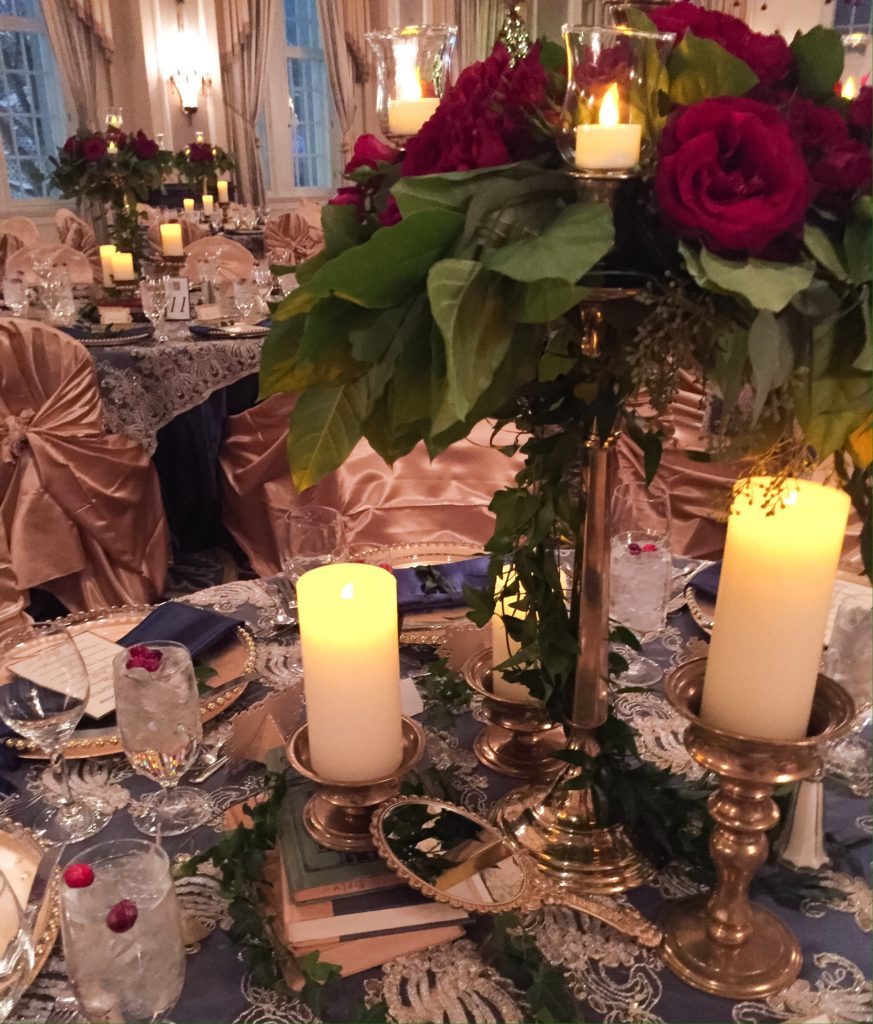 Can we take a moment and appreciate the decor at the party? It's like you're waiting for the dancing crockery to come out any minute, right? Disney doesn't have anything on us.