Sometimes, I feel like my borderline-obsessive planning is simply an invitation to the universe to mess with me. Does anyone else feel like that, or shall I go ahead and add the label "paranoid" to my bio? Actually, don't answer that. All I've got to say is that, at times, despite my best efforts, things simply don't work out the way I expect. This year, in particular, has felt like an extended exercise in things-not-working-out-as-planned, so I suppose I should not have been surprised by yet another curveball late in the game.
Thankfully, this one was of the inconsequential variety … which is not to say that I didn't sulk about it for a day or two. Much like my three-year old, I have a lot to learn about going with the flow, I guess.
This all started with my office Christmas party. For newer readers, by way of background: every year, my firm hosts an extra fancy Christmas party at an extra fancy hotel. There is a different theme every year, but the dress code is always "black tie(ish)". (I did a post on my past Christmas party outfits a couple of years ago, where you can see my past efforts, successes and failures both.) For the past two years, I have been on the organizing "committee" (really, there are two of us), so I've been putting extra thought and effort into my outfit. People don't typically "dress to the theme" at these parties, but I like to give a subtle nod to it if I can. For this year's theme, we chose Beauty and the Beast. Red roses, naturally, formed a big part of the décor. In the circumstances, it seemed fortuitous when I found a dark red velvet dress (with rosebud-like folds on the off-the-shoulder straps) during one of my thrifting stops earlier in the fall. I generally only wear fancy cocktail dresses at my office Christmas party, and where else but at this particular Christmas party, would a dress of this description be so wonderfully fitting? In short, it was fate.
As it happened, I also found the perfect accessories for this dress shortly thereafter: a necklace from the antique mall, and sky-high Louboutins from Value Village. It was going to be the perfect outfit … all for under $100.
Take a look: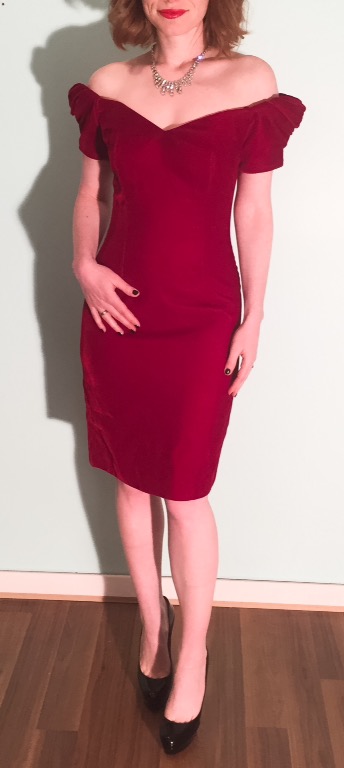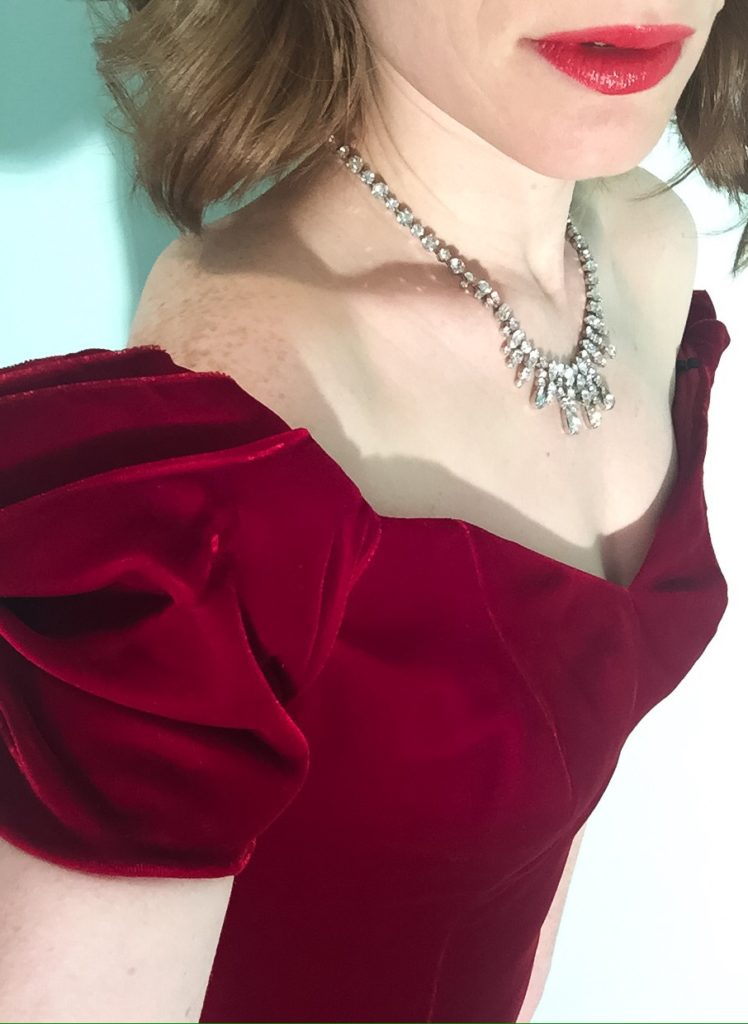 It would have been so great, wouldn't it? Sigh. If you remember the intro, you will have figured out that this was not the outfit I actually wore to the Christmas party. Why? Because sometimes the best laid plans get derailed by an errant hot iron.
See, the dress was vintage and while in generally amazing shape, it had a small tear in the fabric near the back zipper. Since the fabric was velvet, I decided to play it safe and take it to the tailor rather than attempt the repair myself. Velvet is tricky, after all. Oh, the irony. The tailor was able to repair the tear just fine … then proceeded to iron over her handiwork for some unknown reason. If you know anything about velvet, you probably know what happens when you apply a hot iron to it. The tailor should have known; moreover, the care label attached to the dress clearly stated DO NOT IRON.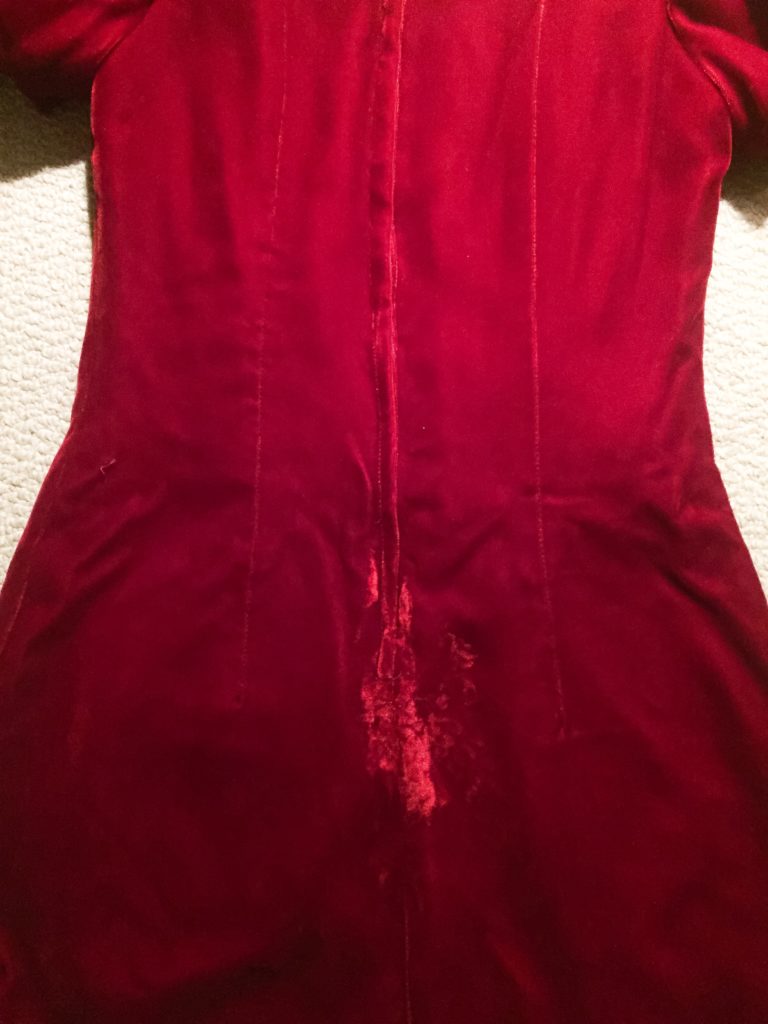 Had the damage been done in some more unobtrusive spot, I might have taken my chances with it. As it was, I couldn't wear it. Not at my fancy Christmas party, and probably nowhere else – save maybe a future Halloween party. I was so, so bummed out – mainly because this was a vintage dress I could never replace, and an occasion I could not duplicate. So, even though the tailor (who was very apologetic) offered me compensation, it did not bring me much cheer.
Of course, in the end, I rallied – found another dress, went to the ball, no fairy godmother required. I was still sad about the ruined dress, however; I hated the idea of getting rid of it, or keeping it in some dark corner of my closet, unworn. It seemed like such a waste of a beautiful thing. I don't know why it bothered me so much; in an age of fast fashion and disposable everything, I suppose my feelings about that dress could seem odd and anachronistic. Still, it felt like we had unfinished business, the dress and I … and that's why I decided to write this post, and take photos of the outfit that never was. And you know what? I feel better now. So long, beautiful dress.