One of the things I love most about thrifting is the fact that, much as with Forrest Gump's chocolate box, you never what you're going to get. Sometimes the selection is delightful; other times, it's delightfully kooky. Or just ever so slightly not "you". Or, sigh, the wrong size. One thing's for sure — thrifting is never boring.
Don't believe me? Let's take a look.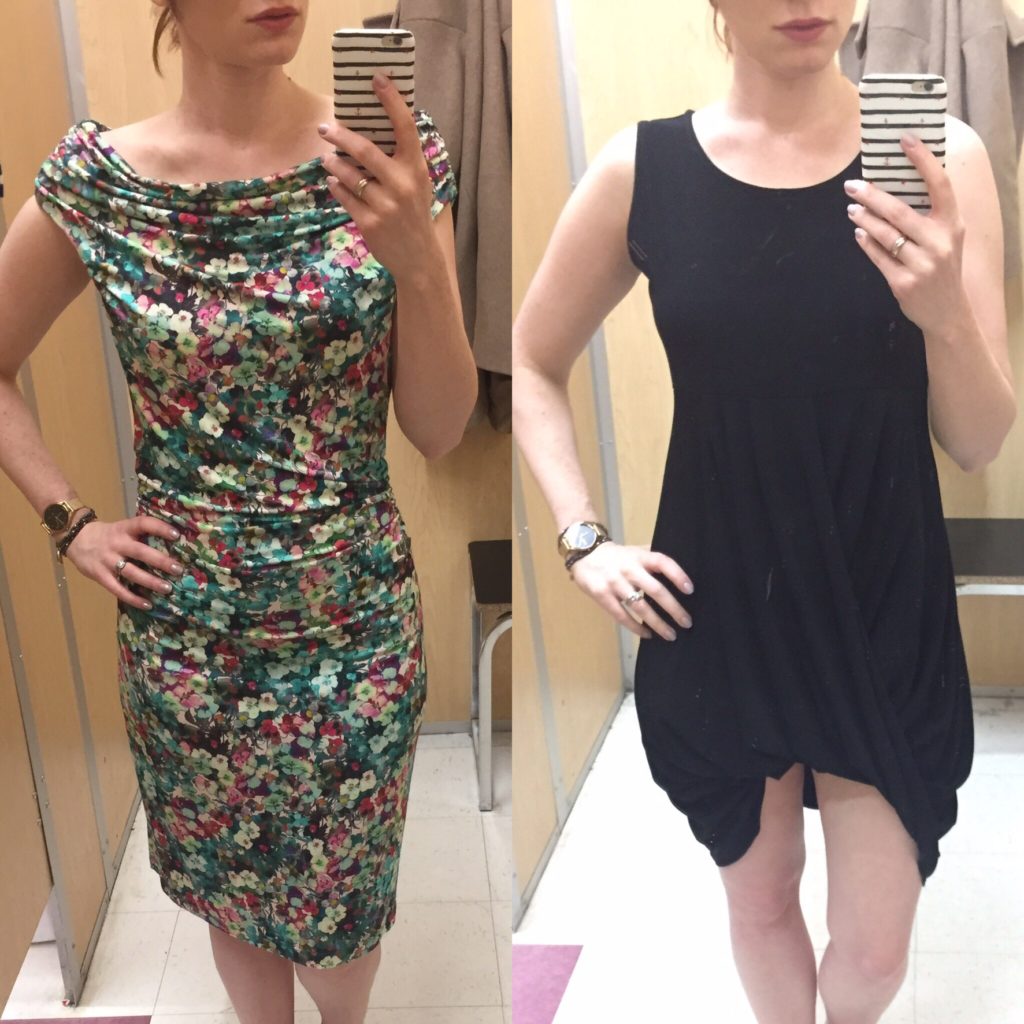 The dress on the right spoke to my floral-loving heart, but it was too big and also impractical. I'd have nowhere to wear it, sadly. The Joseph Ribkoff dress on the right was just comical. I have no idea what that style is supposed to be; all I know is that it was nearly indecent on me. You can't quite appreciate just how "nearly" from the angle of this photo — and that's a good thing.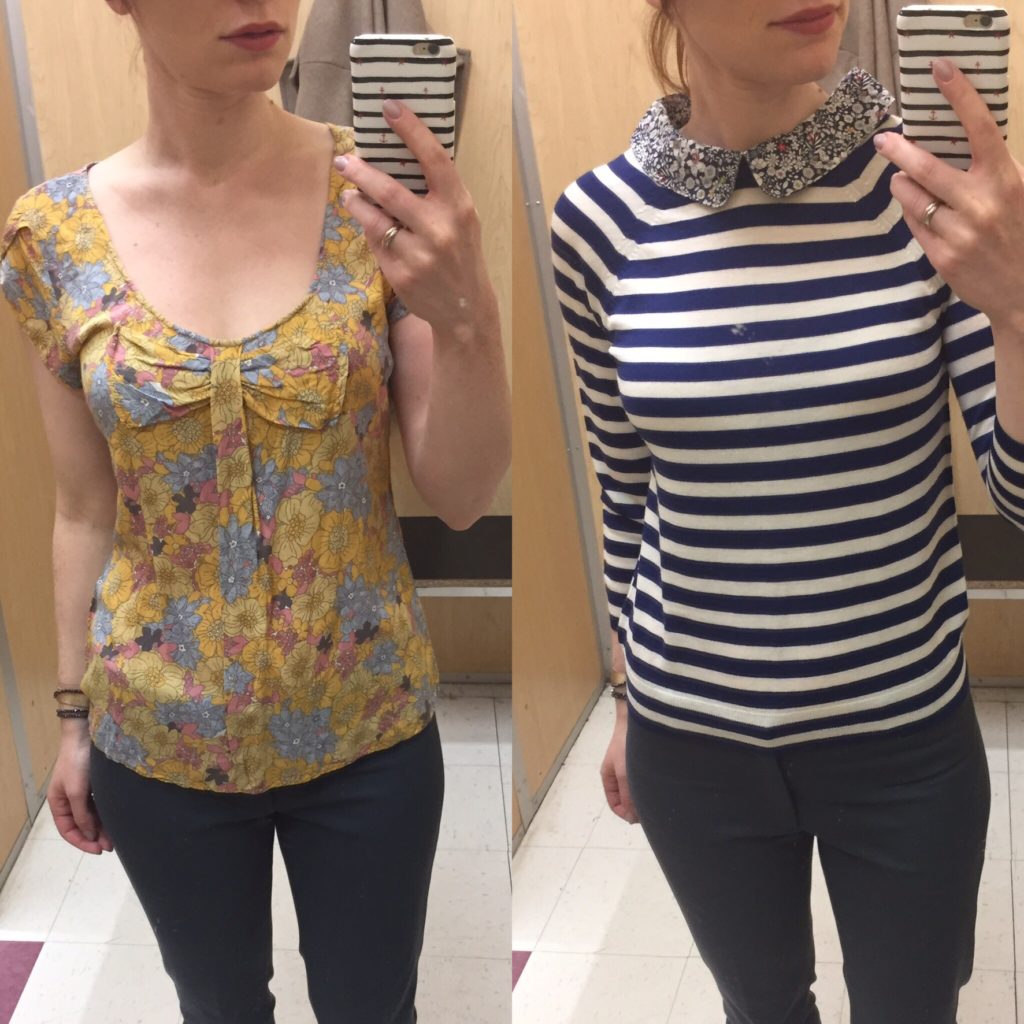 I have a No Anthro Left Behind policy, but sometimes I break it. The Tulle top on the left is not within my current style wheelhouse. The striped J. Crew sweater on the other hand? Come to mama! The collar is the same Liberty print as one of my old blazers.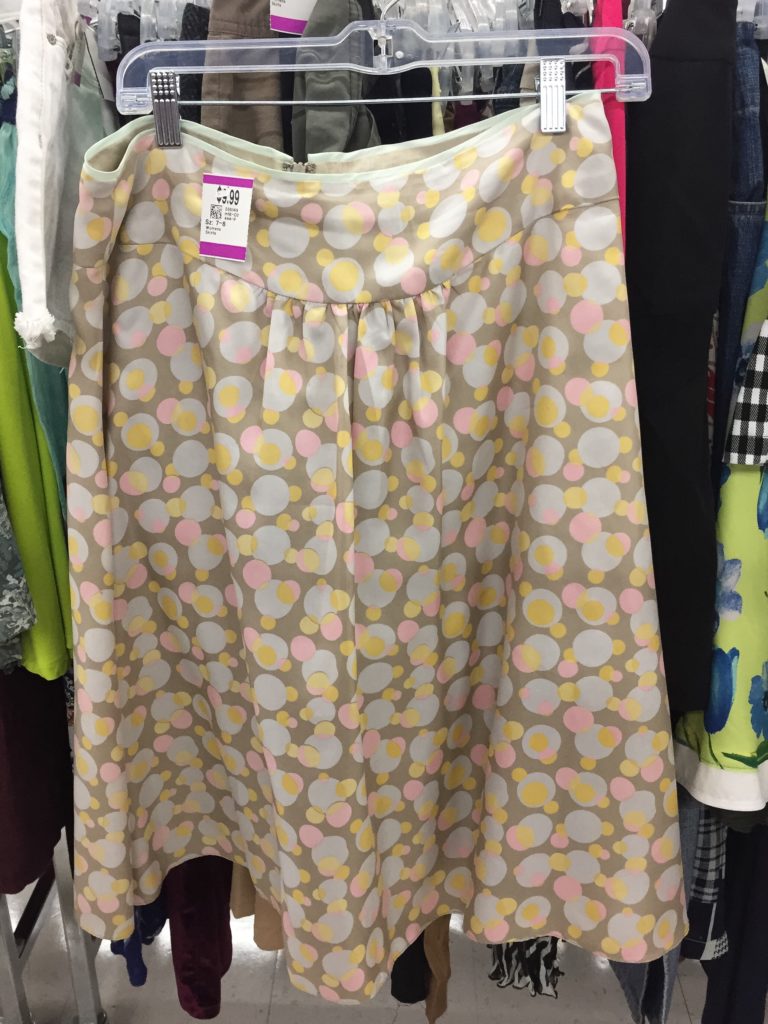 This Pink Tartan skirt was very "early 2000s" in my eyes. Like, I can see Carrie Bradshaw or perhaps Charlotte York wearing this. Probably Charlotte. I've been on a SATC nostalgic kick lately, in case you're wondering. Not enough to buy this skirt, mind you.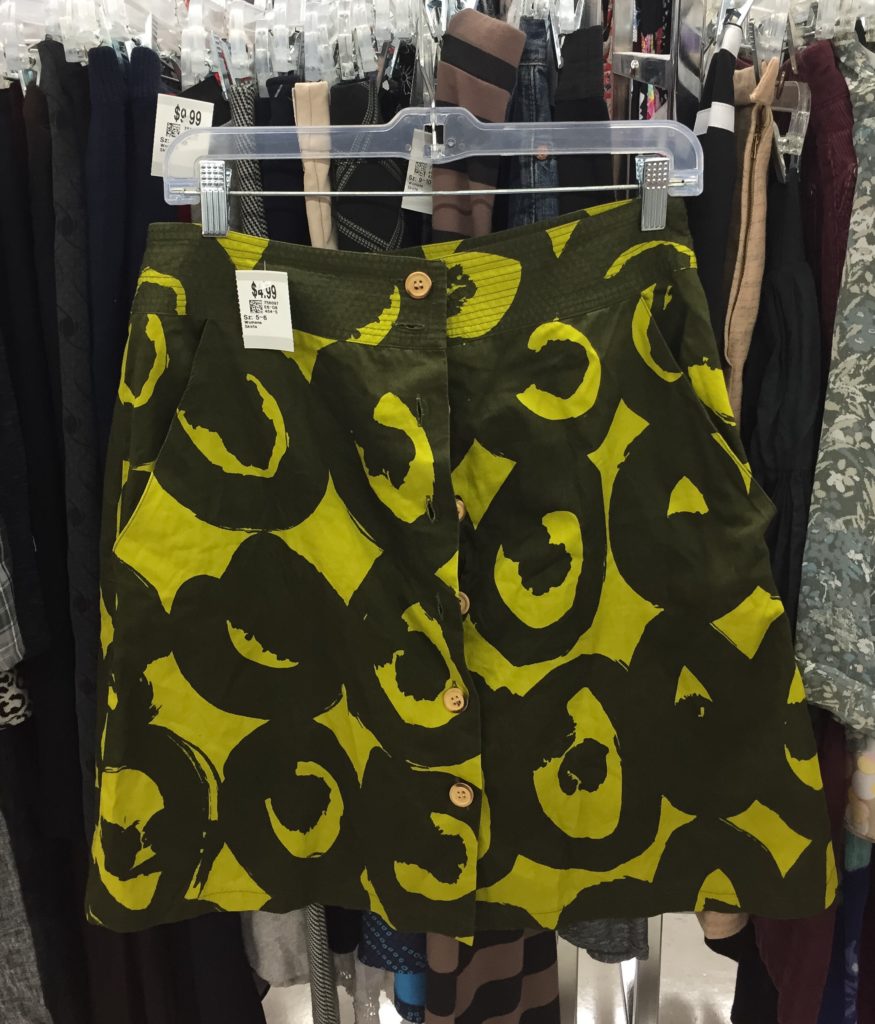 I would love to own a Marimekko piece, but this skirt wasn't it. In the past, I would have bought it just for the label (it's the first Marimekko piece I've ever seen locally), but I resisted the temptation. Someone else will love it more than I would, I'm sure.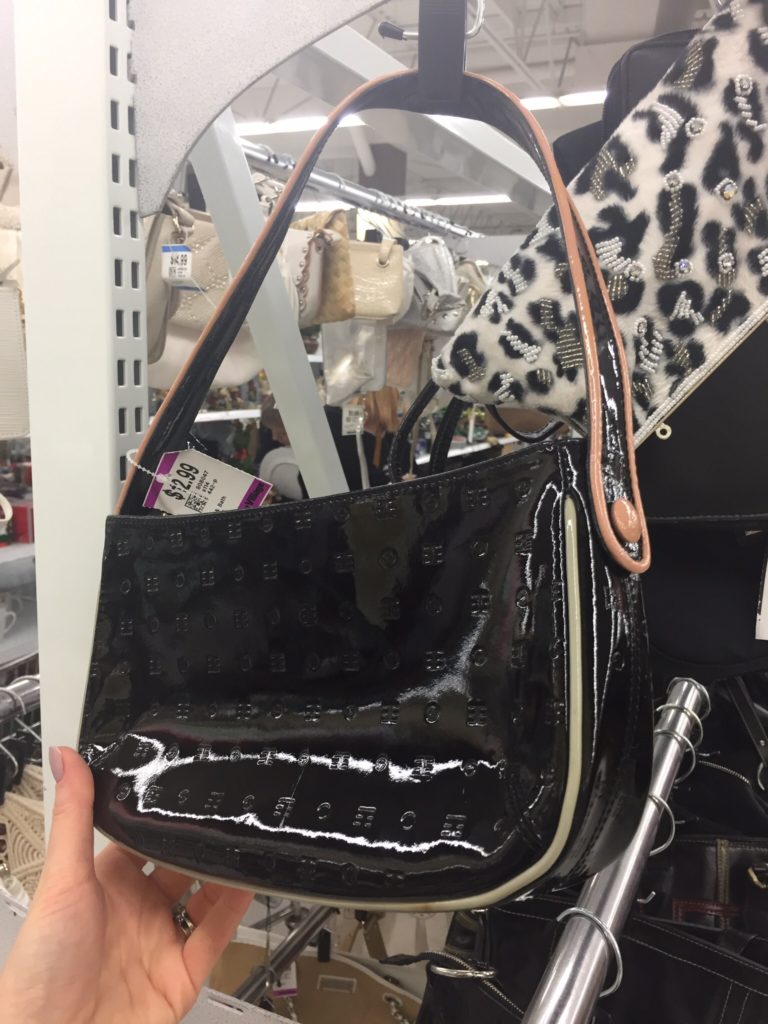 I love Arcadia bags, but I don't like small bags, so this was a no go for me. I hope it found a good home.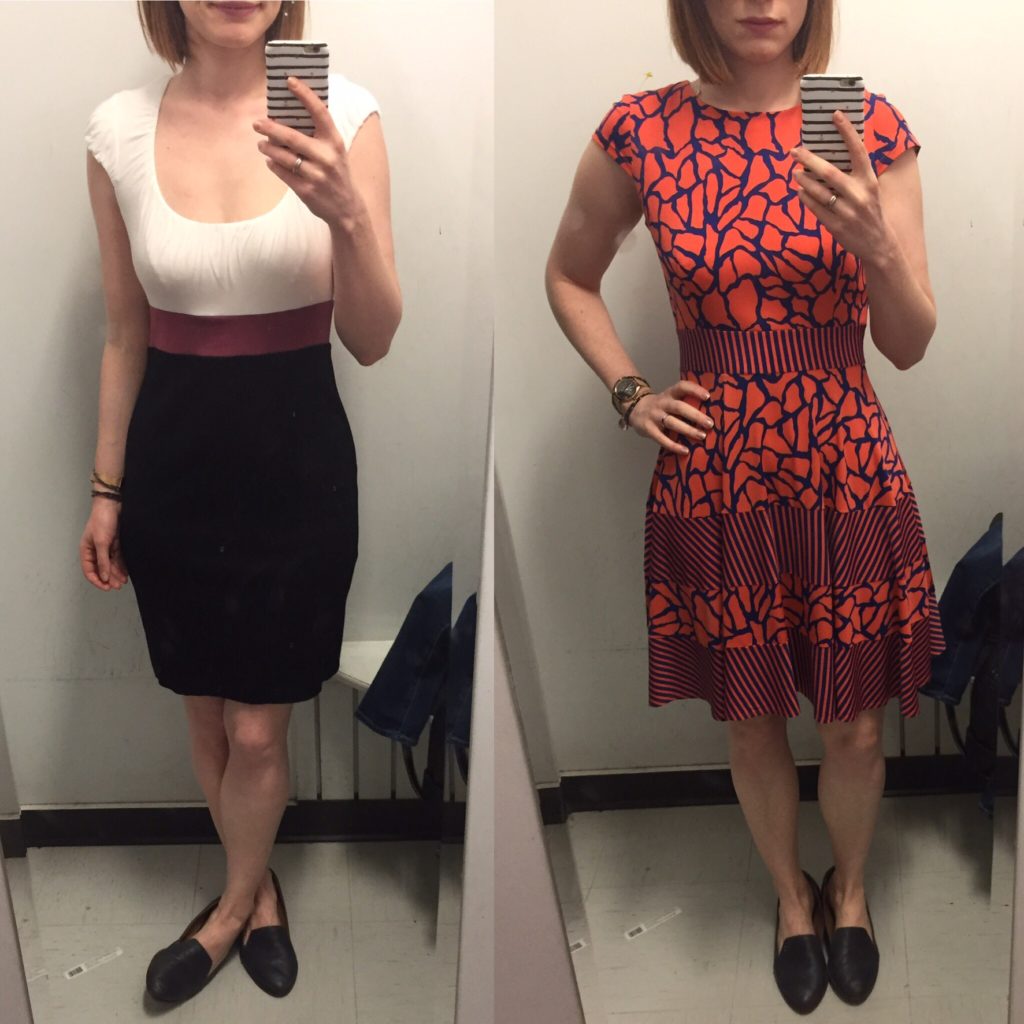 Ditto for these two dresses. The Bailey 44 one was too body-con (and the material disappointingly thin), while the Gabby Skye one (though cute) was simply not my style.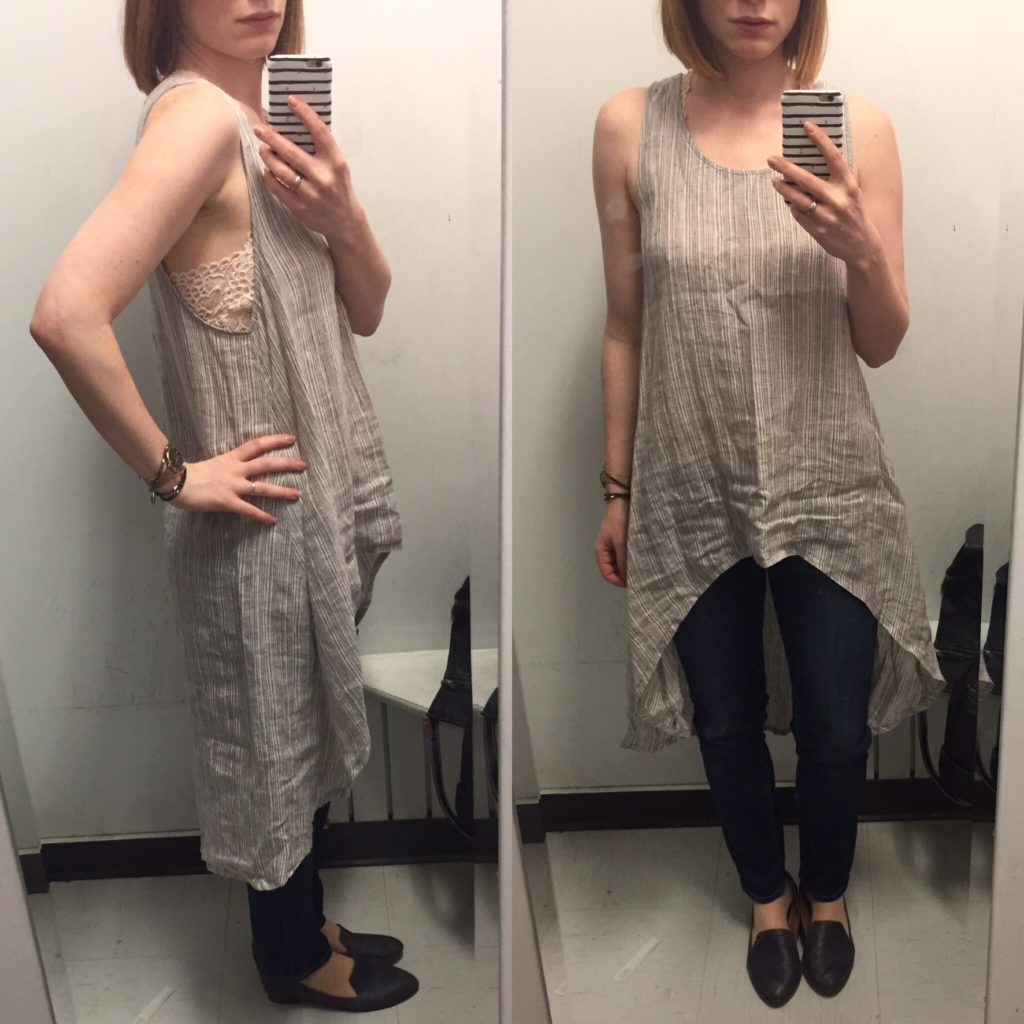 I don't know what this was supposed to be, but I kinda loved it. I also realized that I could never actually pull it off in real life, so I didn't even attempt this particular style experiment.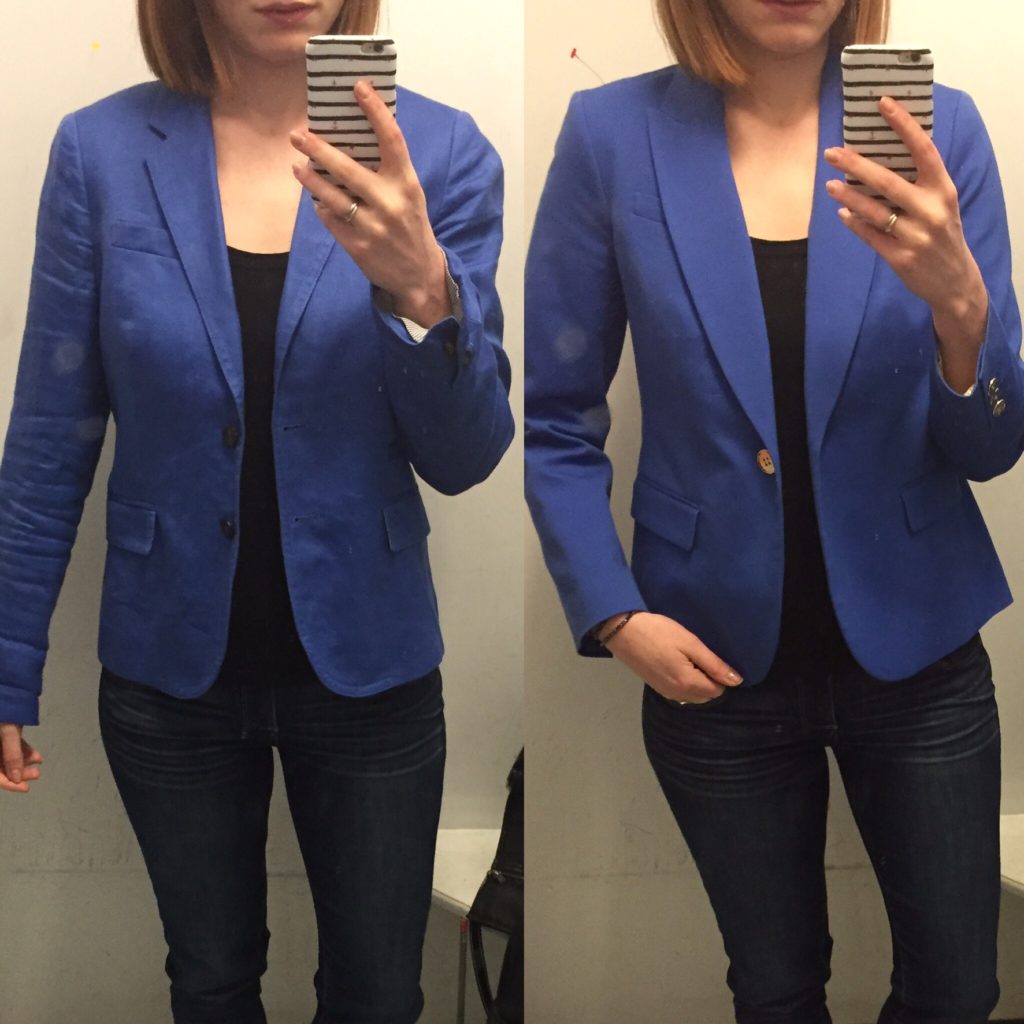 The battle of the blue blazers! I bought neither, but the colour was awesome.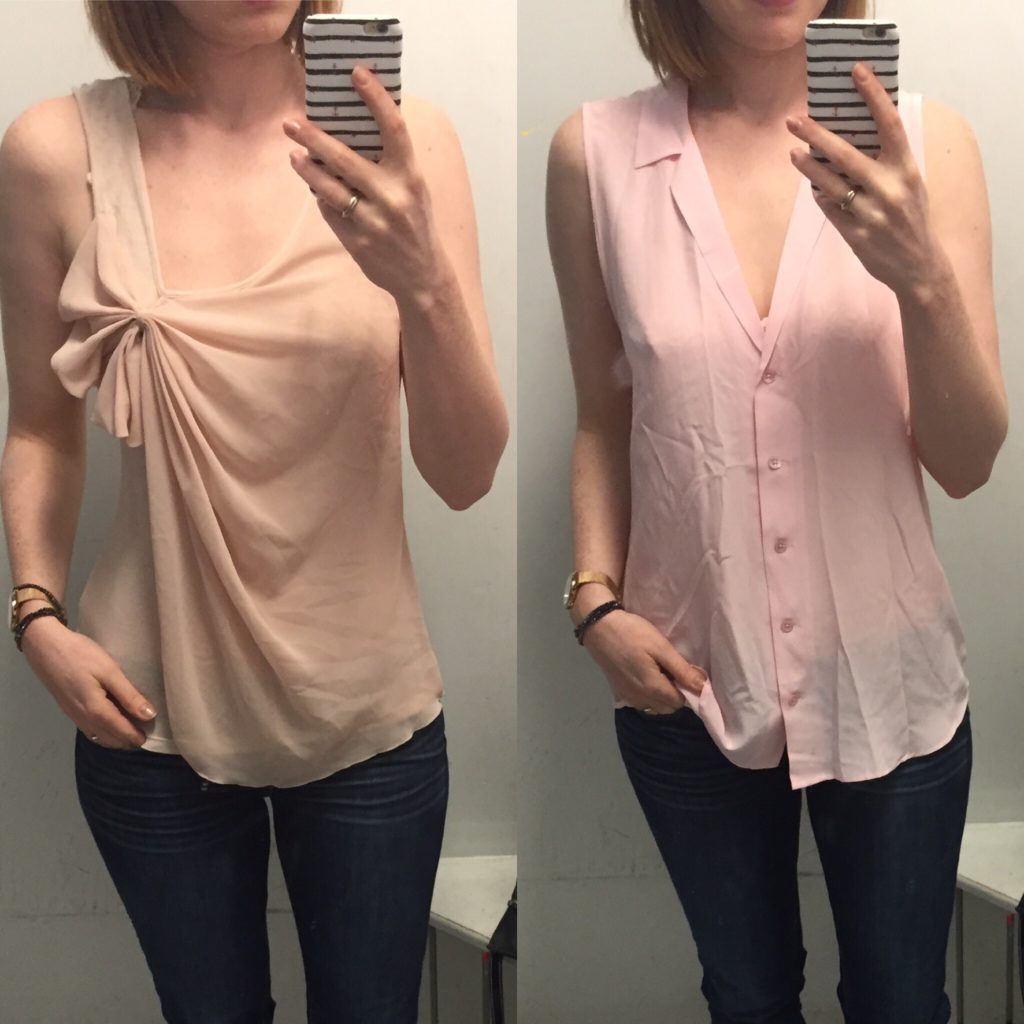 The Deletta top on the left washed me out completely, but I couldn't pass up the new-with-tags-for-$3 Equipment blouse on the right. Can you blame me? No.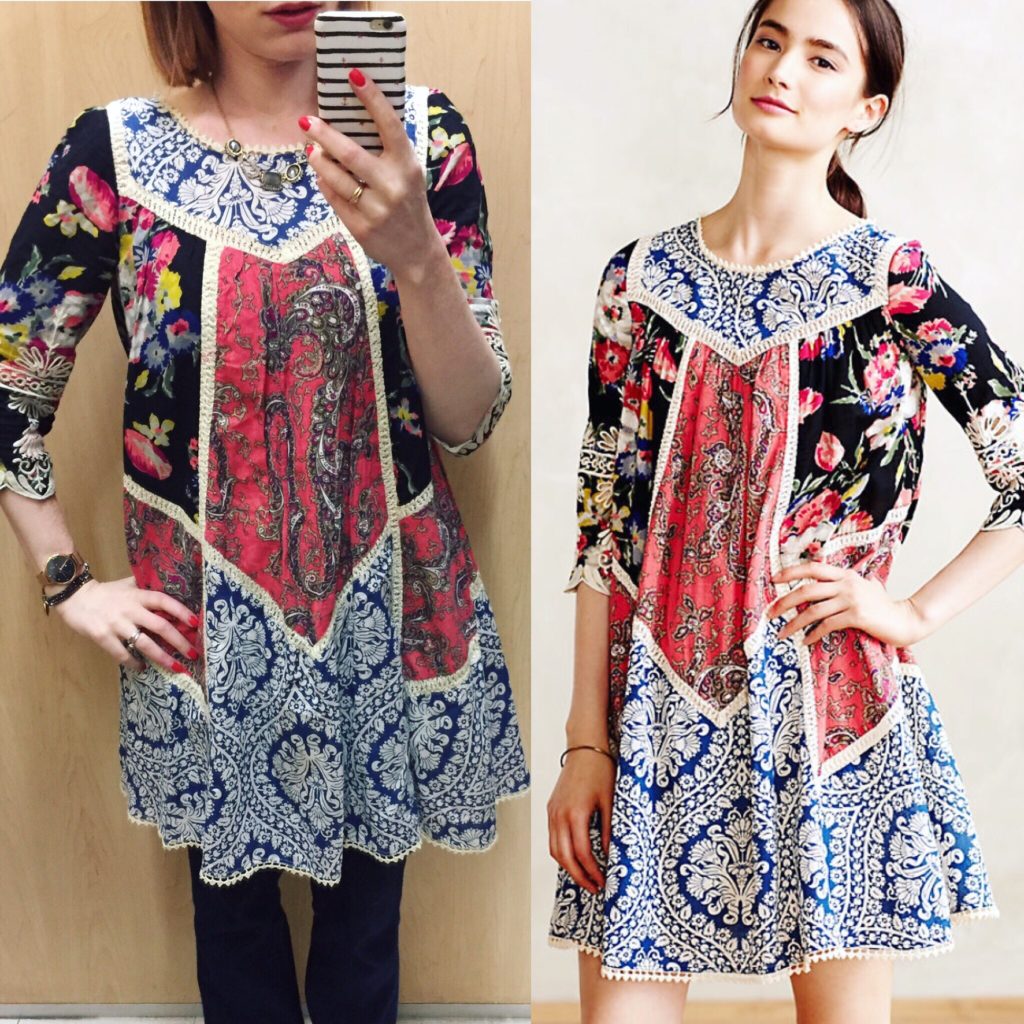 I love this dress, shapeless sack though it is. The sleeve detail, in particular, is amazeballs.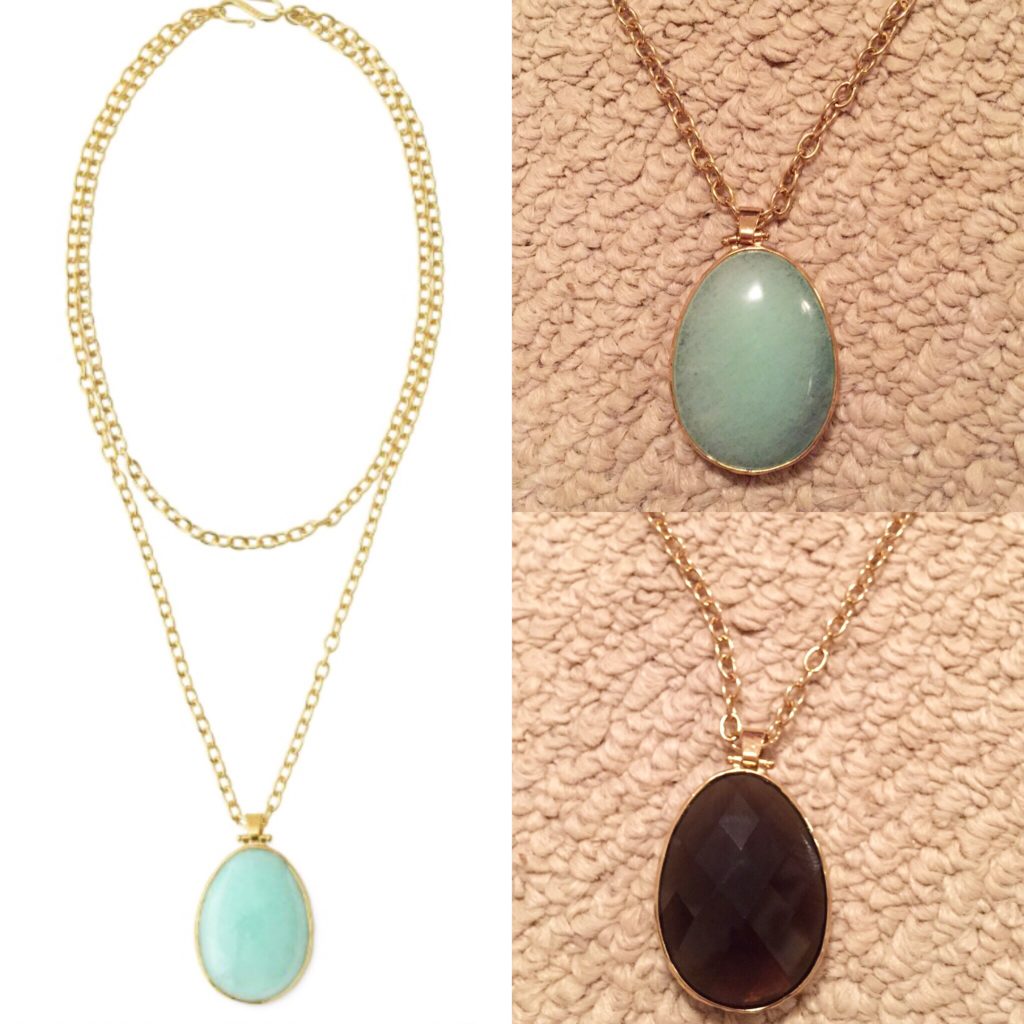 This necklace is awesome too. I rarely find nice contemporary jewelry at local thrift stores, so this was a pleasant surprise.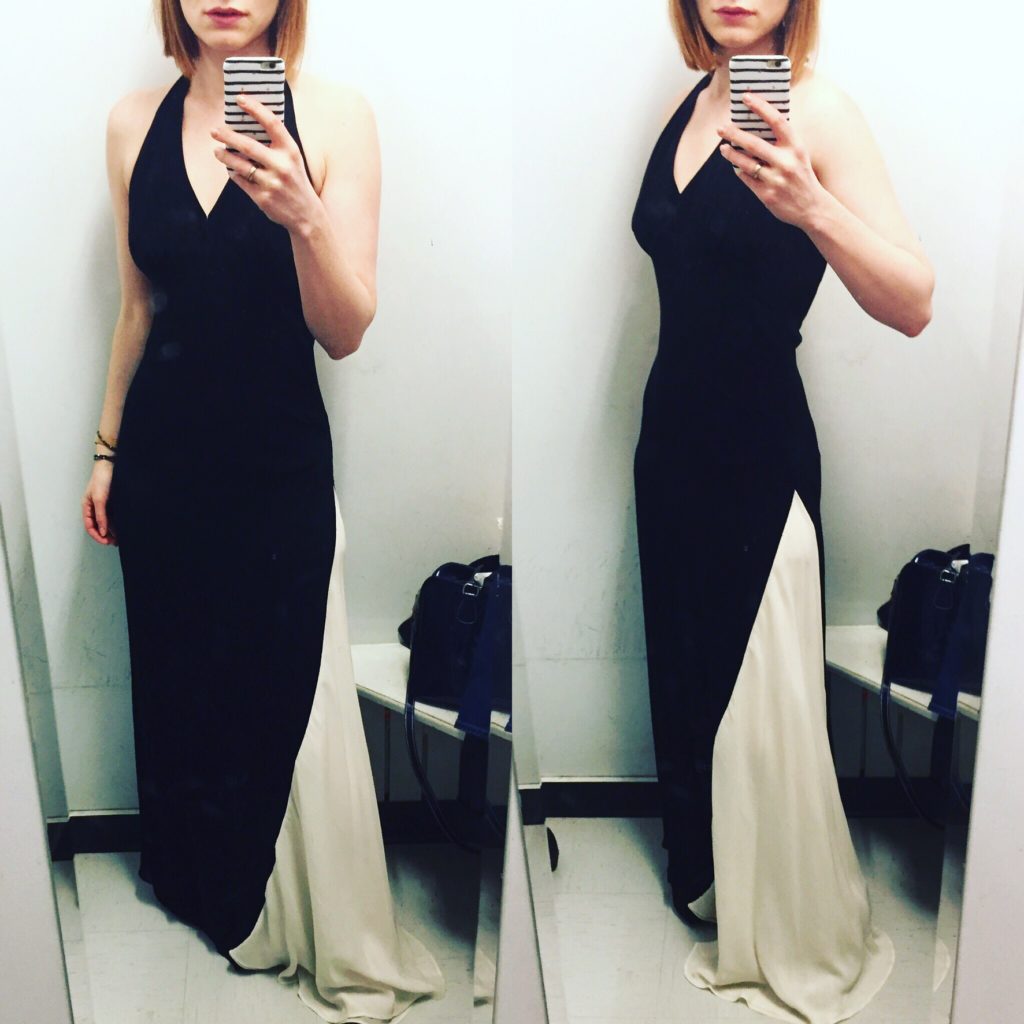 Talk about a stunner. This beautiful, 100% silk dress was in perfect condition except for the clasp at the back of the halter neck. An easy fix for a dress that cost me less than $5 in the end.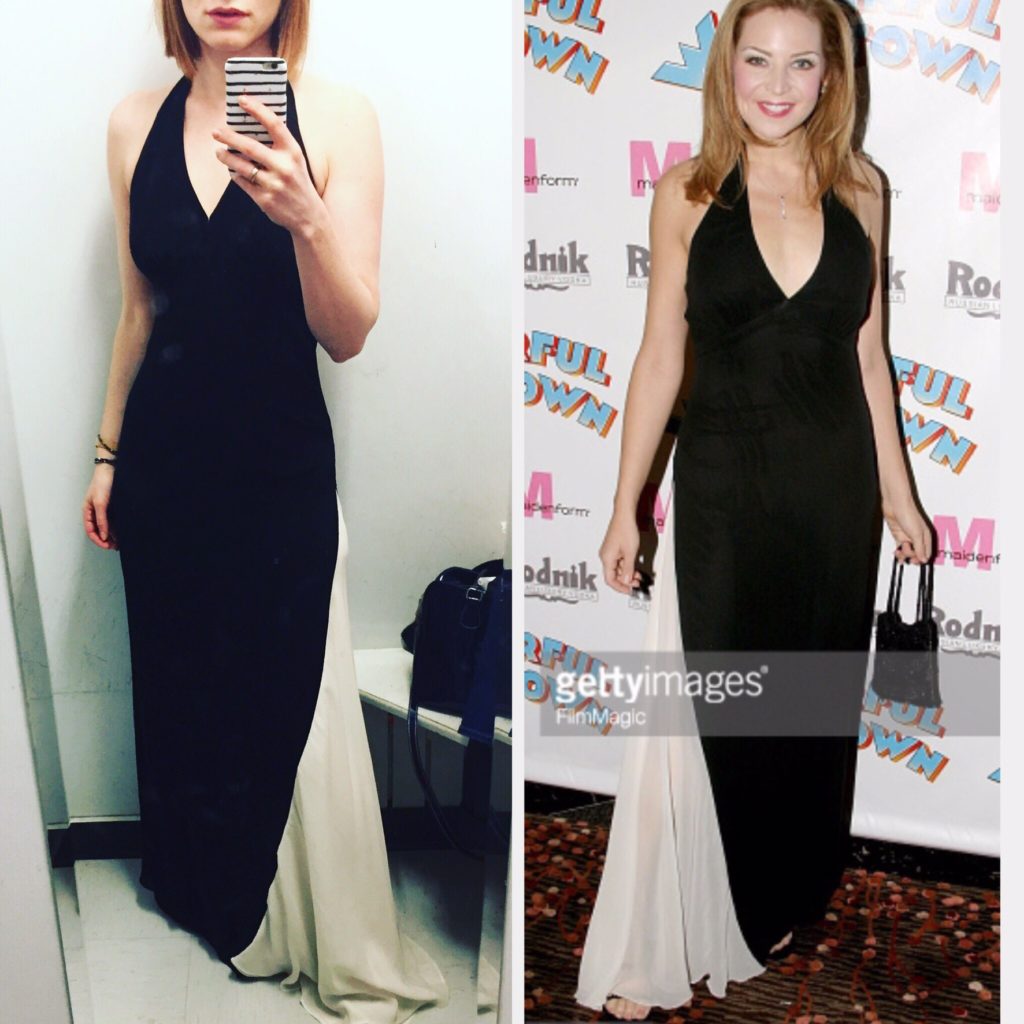 Did I mention that Jennifer Westfeldt once wore the same dress on the red carpet? Clearly, we're twins.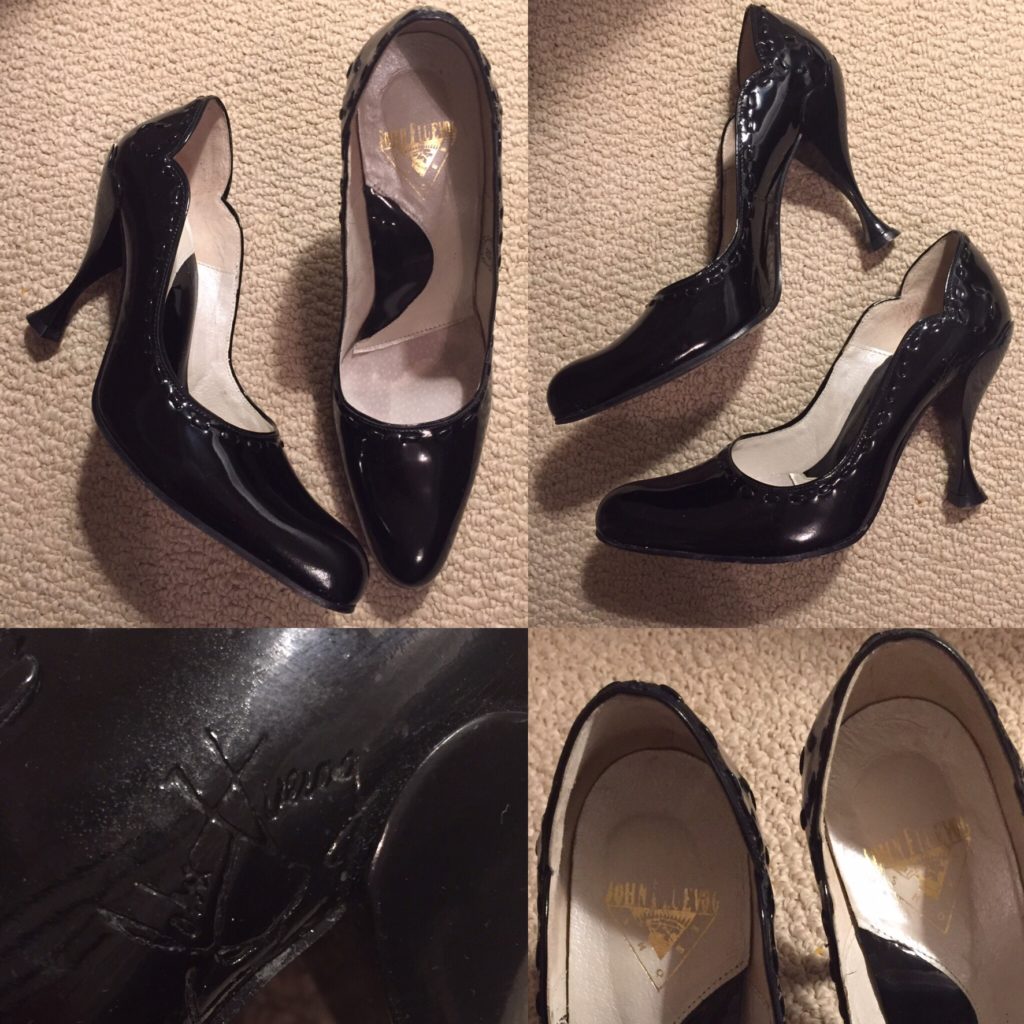 I'm not usually a fan of Fluevog shoes but I liked the quirky-but-not-overly-so heels on this pair. They were also in like-new condition and hella cheap (under $10 if I recall correctly), so I made an exception.
OK, enough from me, your turn: tell me all about your recent thrift finds.
[Heads up for Edmonton peeps: Nicole and I will be doing our Tuesday Night Thrift thing again next week, December 6 (location TBD but will be announced on Instagram). Come join us if you're free and want to try your hand at a little thrifting action. Hijinks are almost always guaranteed.]