I have been getting better and better every year about not over-packing for my travels, be they for work or pleasure. That trend continued with this trip. I wore all of the pieces that I packed, and had only a couple of regrets which I'll share in a moment. The nice thing about Palm Springs, and what made choosing a travel capsule a cinch, is the weather; in June, you know exactly what you're going to get every day: hot, hot weather. I took one jacket, one pair of jeans, and one light sweater with me for the flight, because I get cold easily on airplanes; the rest of the "capsule" was otherwise made up of the most summery clothes I could muster. Light layers pack easily, so I left home with a half-empty suitcase (which included some of my husband's stuff as well). Were it not for my toiletries (and space for potential vacation shopping), I could have done this 4-day vacation out of a carry on.
Let's have a look at my vacation OOTDs.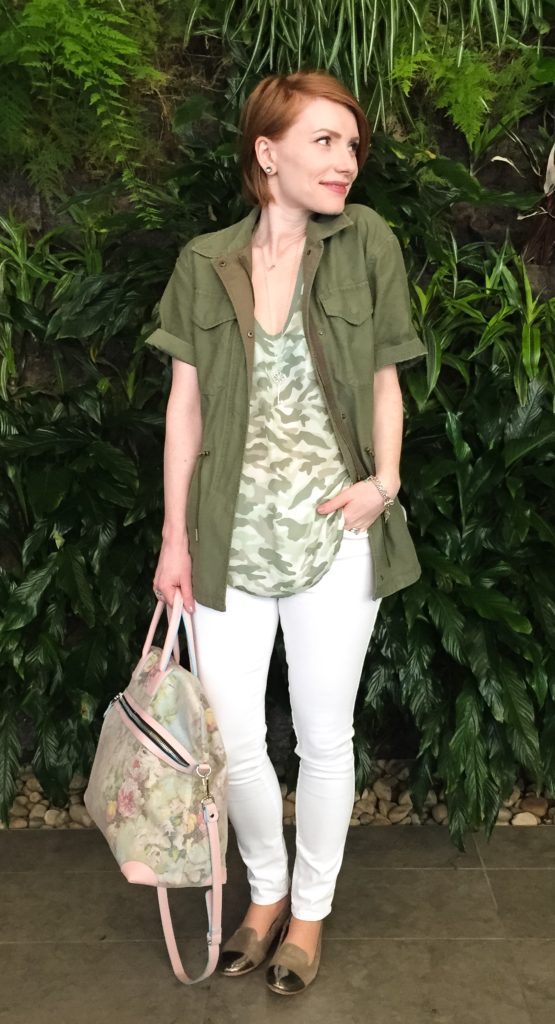 This was my plane outfit #1. White jeans on a plane? You may well wonder; my husband did. But here's the thing; I was traveling without kids, which is half the battle. Also, I really wanted to wear my new Frame skinnies, and they go well with this Joie tank which is light and airy and perfect for hot weather. I figured that white would be better than regular denim or black jeans once I landed in the desert. I layered a black sweater over the top on the plane, because I don't mess around.
I brought along these AGL loafers because my feet also get cold on the plane; I didn't expect to wear them during my vacation, and I was right, but they were a good choice for the flight.
Rather than pack a regular purse plus a carry-on, I used this funky carpet bag-like holdall. It's bigger than a tote, and smaller than my usual carry-on suitcase. It fits a ton of stuff in there; the downside is that it can easily turn into a "black hole" which is not great when you're fishing for your passport. I don't know what brand it is because it doesn't have a visible logo, and I bought it from my fave consignment store. It was something like $35 and it looks like it's going to hold up really well. Definitely a keeper.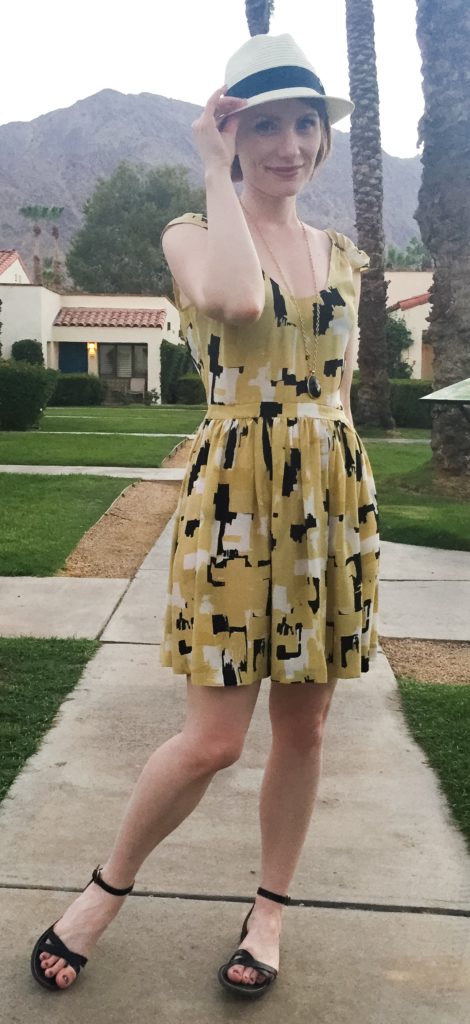 I wore this outfit on our first evening in Palm Springs, for dinner and a trip to the Night Market. Of all the dresses I packed, this one was best suited to the climate. It's the most lightweight silk, which is perfect when the temperature is 100 degrees Fahrenheit at 10PM. The sandals are my trusty pair I take on every "hot" vacation; they are indestructible and super comfortable. I wore them every single day.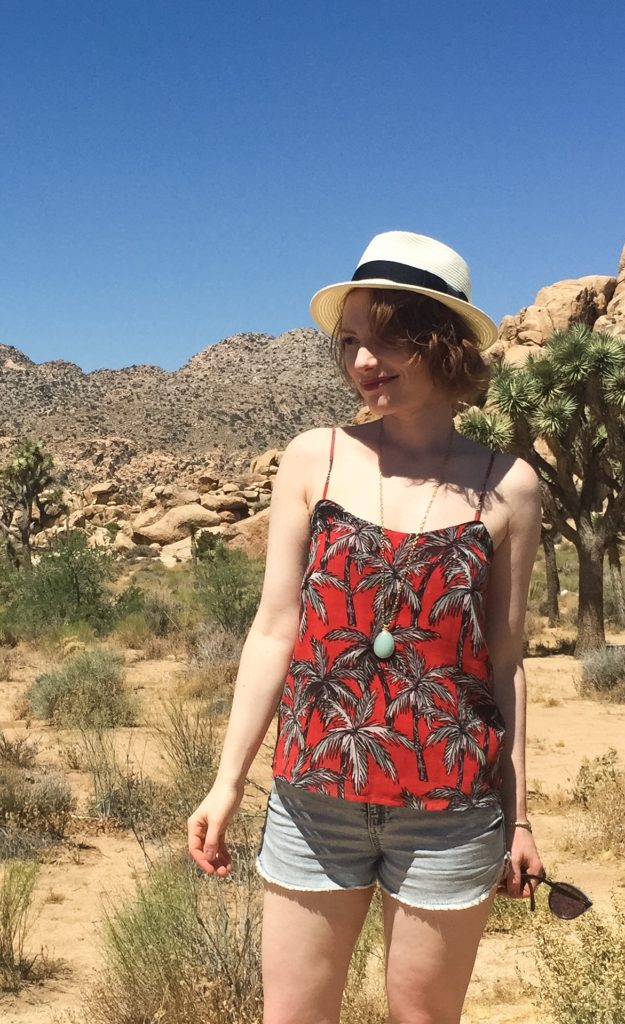 This was my "day" outfit for Day #2, when we hit the Joshua Tree National Park. Not a great outfit for hiking or outdoor adventures, but I knew that we would be doing most of our sightseeing from the car so I just wanted to be comfortable and as cool as possible. And by "cool", I mean "not hot" of course. I'm not sure that acid washed denim cut-offs are cool by any other definition. They were actually a last minute addition to my suitcase (as an alternative to wearing the white jeans from the plane), but I'm glad they came with me. Palm Springs is too hot for pants. Hashtag: kidding not kidding.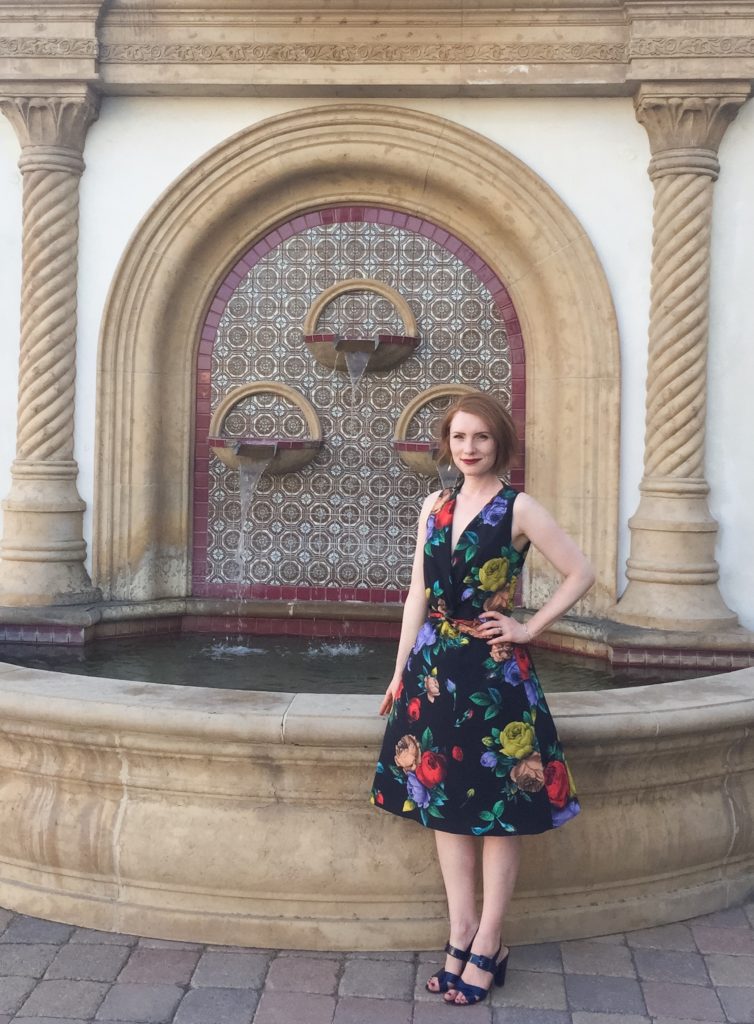 I wore this on the evening of Day #2, when we went for a stroll in Old Town La Quinta. The dress is one of my faves, and its vibe suited the location, but it was a wrong pick for sure. The dress itself is silk, but the lining is polyester. Black polyester. I might as well have been wearing a garbage bag for all of the sweating that I did. No bueno. The sandals were also a mistake. One, they are too high to be comfortable for extended walking. Two, they were too dressy.
Palm Springs is hella casual. I had never been to California before, so this was something of a revelation to me. Like, it makes sense because of the climate, but still — so, so casual. I stood out a mile away in this outfit. And that is even *after* I took off all of my accessories. That's the other thing I learned: no need to bring accessories like necklaces, etc. Didn't end up wearing most of the ones I brought, because no one else was wearing any.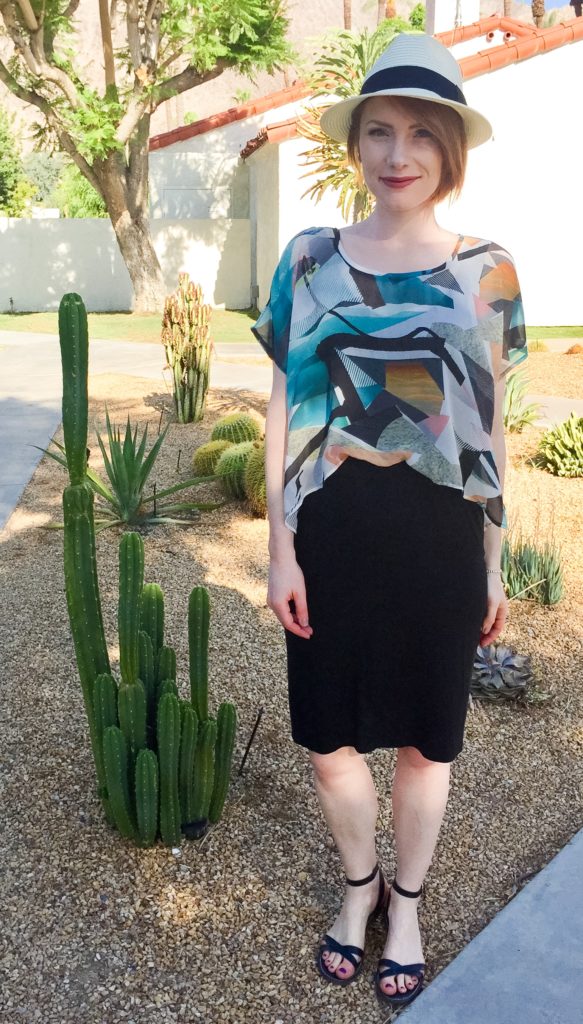 Day #3 outfit. I wore this when we went to see the Salton Sea, and it was perfect for a long car ride.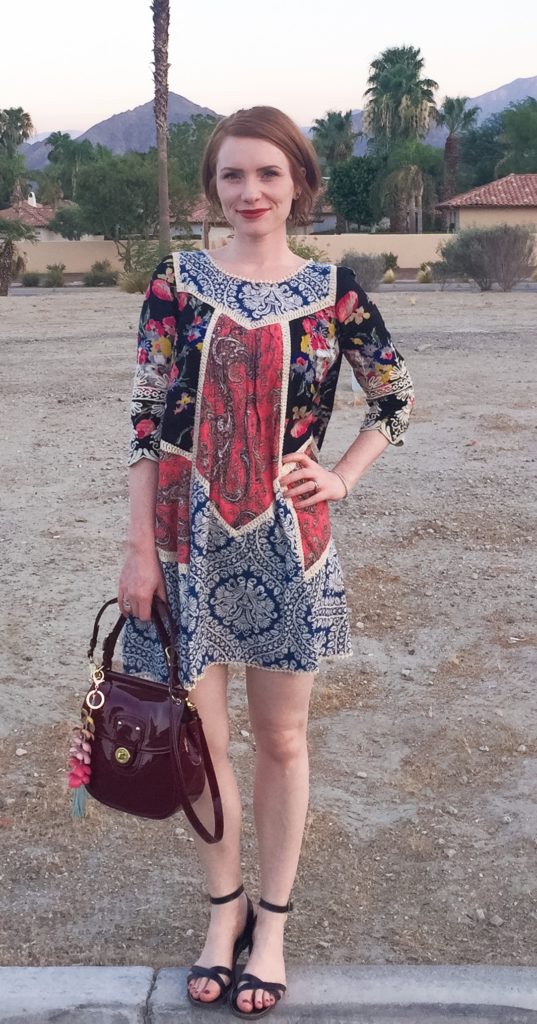 Day #3 evening outfit. Yes, this dress has sleeves, but it's made from cotton, so it was OK for the weather. Being a loose fit, it's pretty airy. Let's close in on the bag for a moment because …
… how cute is that key chain/bag charm thingie? I bought it at the Anthropologie store on El Paseo (the fancy shopping strip in the Palm Springs area) and had to immediately attach it to my trusty Coach bag (the only bag I brought with me). I'm not a huge fan of bag charms but I couldn't resist this one.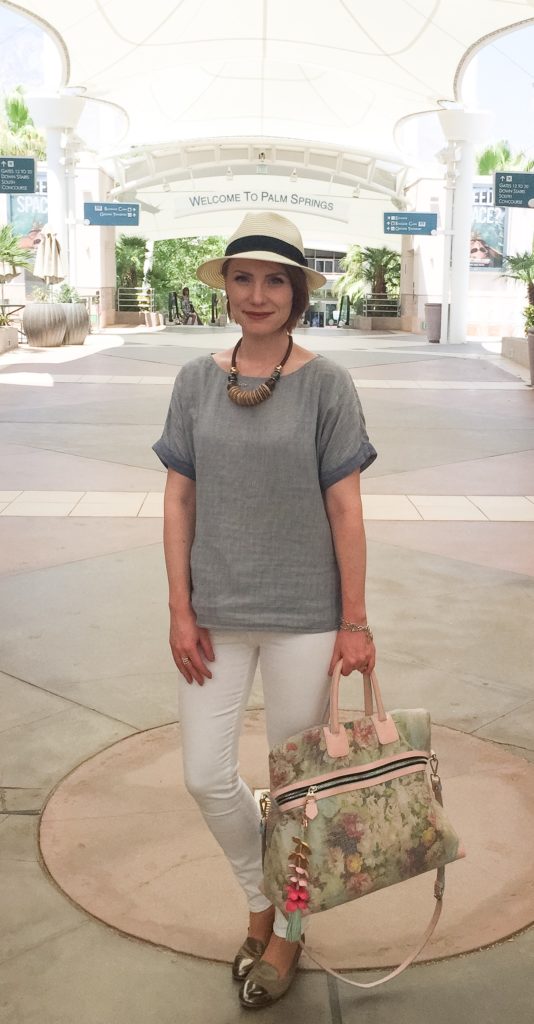 Last we have my second plane outfit. Again, I wore a black sweater over the top during the flight itself and after landing at home. The weather in Edmonton was nice, but +26 feels a little on the chilly side after +45. It's all relative, you know? I added the necklace only because I had brought it with me all that way and had not worn it yet. The Palm Springs airport was pretty deserted so my accessorizing did not draw any attention, hah.
Now, you might say that this isn't much of a "capsule" since I more or less wore something different every day, twice a day. But there was reason behind the madness. One, I used the same shoes and bag throughout the trip, which cuts down on packing substantially. As I mentioned, I wish I hadn't bothered with the high heeled sandals; I could have done the whole trip with 2 pairs of shoes, and even that's only because I needed closed-toe flats for the flight (damn my poor peripheral blood circulation!). Two, I packed a LOT of one-piece outfits, AKA dresses. Summer dresses take up practically no space, so packing 5 of them was no big deal. It also meant that I could wear something fresh every day and not worry about sweat and laundering. [There was one extra dress I wore on Day #2 when we drove out to the outlet malls, but I didn't take a photo of it.]
Things I packed that are not pictured above: 2 bikinis, one cover-up (which I didn't really need because the pools were a 2 minute walk from our room), PJs, and various unmentionables.
Come back tomorrow for my final post on Palm Springs, in which I'll be tackling where I shopped and what I bought.