What I Wore: Getting My Nails Did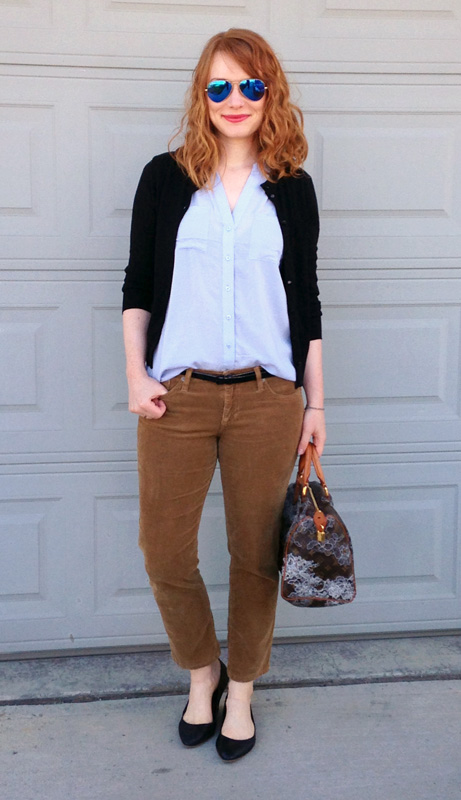 So, this is a tweaked version of this outfit (oh, and this one too); I guess I'm feeling nostalgic about the 30 x 30 challenge already. (No. No, I'm not.) The titular blue and cognac should be fairly self-evident, but what about the lace, you ask? See, it's all about the bag: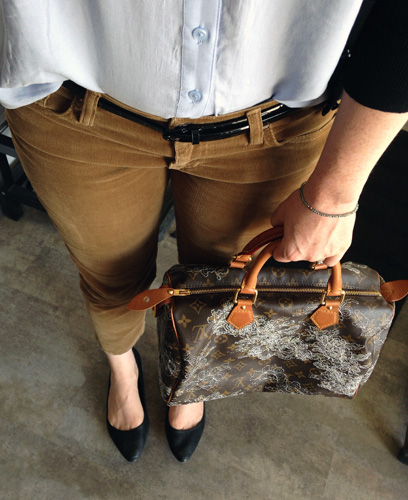 This Dentelle Speedy was my very first high end designer bag. I found it on Kijiji 4 or 5 years ago, and my husband bought it for me for Christmas that year. (I had it authenticated on TPF, which I recommend that anyone purchasing an expensive designer bag in the secondhand market should do.) My favourite thing about it is the lace; it's not only pretty, but it serves to obscure the famous LV monogram. I know many feel differently, but I don't abhor the monogram per se; nevertheless, it's an attention-grabber and these days I prefer my bags to be a little more understated. I seem to recall that the Dentelle line was inspired by Marie Antoinette (or the movie directed by Sofia Coppola, at any rate), which tickles my inner history buff.
Tl;dr – I have a bag. Also, am wearing clothes. Look, see?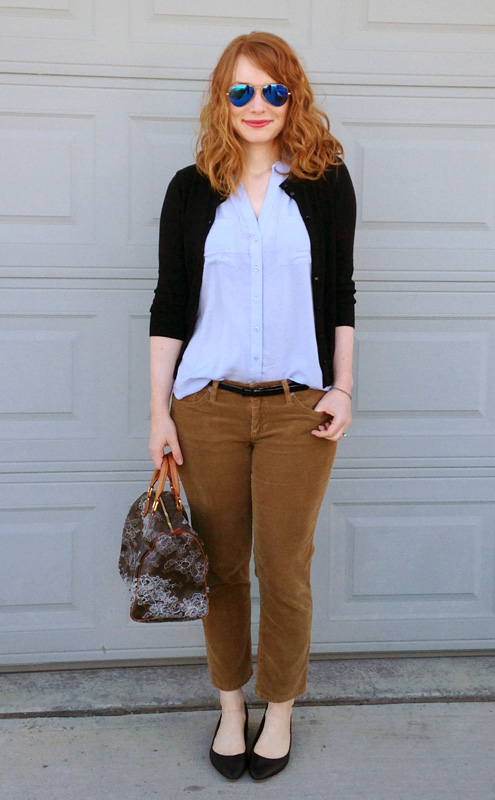 Hey, do you have a coupla minutes for a quick 'n dirty beauty review? It's gonna be quick and picture-less because, while I'm too lazy to photograph my eyeballs (surprisingly difficult, by the way), I feel like this is important information you need to have. So, remember my new favourite mascara, the L'Oreal Voluminous Butterfly? Still loving it. And because I love it so, I decided to try the new Voluminous Miss Manga version, thinking it might be the next, even bigger, better thing.
Nope. I hate the Miss Manga brush with the mass of a thousand black holes. It's horribly, almost comically floppy. I'm not sure how I missed that from the advertising, but I did. I thought it was bendable but, like, bend-and-lock-in-place bendable. But no. It's like putting on mascara with a wet noodle. Not my thang. If you're looking for a noodly mascara brush, are you ever in luck though. The formula itself is excellent, on par with the Butterfly version. (Maybe just ever so slightly goopier, though this may be a function of the brush applicator, which gives less separation/definition than the comb-like applicator of the Butterfly.) I have no issues with it, just the brush. This, people, is important stuff you need to know.
Ok, I'm done now.