I CANNOT BELIEVE IT'S ALMOST SEPTEMBER ALREADY!!!
Yes, all caps and three exclamations marks are totally necessary. A year of maternity leave just went … poof! Like Keyser Soze, it is gone. But we're here to talk about August, which was pretty cool. It's my birthday month, after all. I will never be too old to get excited about birthdays – or, rather, birthday presents. Consider this your warning that this is going to be a longish post.
In addition to my birthday loot, I also (finally) got around to picking up some work gear. Including pants, blessed be the consignment gods. The numbers shake out thusly: 11 items for a total of $288 (original retail approx. $1,493), plus 7 gifts.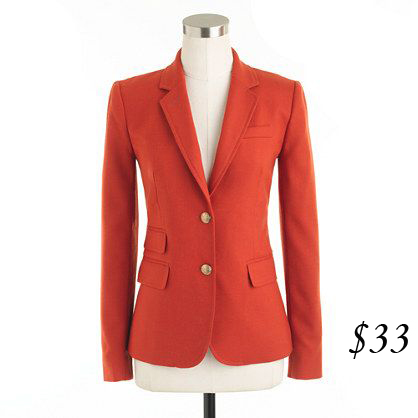 I really liked the black schoolboy blazer I picked up last month, so when I came across this version in a consignment store, I figured it was worth … asking my husband if it was too much orange for this ginger. For better or worse, he said no, so the blazer came home with me. A blazer is never remiss in my work wardrobe, and we'll see if I'm up to the challenge of styling this one.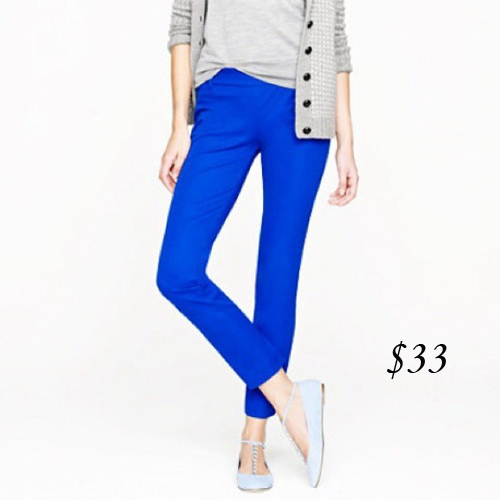 Finally, some work pants. Granted, they're bright – and I mean bright – blue, but I love the cut of the Minnie, and these looked really nice in the magical mirrors at Red Pony, so … sold.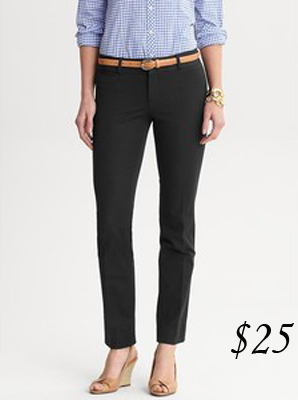 Lots of people love the Sloan cut, essentially BR's version of the Minnie. I stumbled onto a black pair, in my size, at the consignment store, which is a minor miracle. (Good black pants are a consignment holy grail of mine. They're just ridiculously hard to find, unless you like those extra bottom-flappy ones.) So I bought them, even though they are a titch baggy behind the knees – a complaint you've heard from me before. I might get them tailored if this ends up bugging me.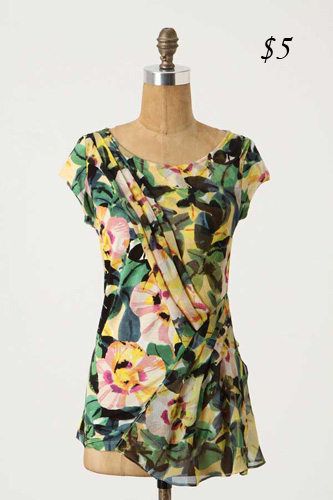 It's been a good month for thrifting Anthro pieces (see also below). Go figure. I ain't complaining.
Obligatory impulse buy. Surely you are not surprised. Florals, you know. But, also, I dig the colour scheme – all that mustard and olive green – and I think it's going to look great with other pieces in my closet. Plus, I found it on the same day as the next item, and it seemed like these two were just meant to be together. In my closet.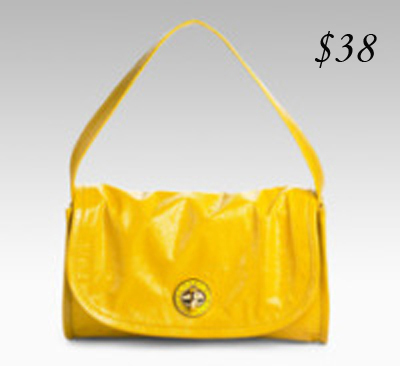 See what I mean? I've been casually looking for a mustard yellow bag to eventually replace my rapidly-falling-apart 3.1 Phillip Lim for Target bag since the beginning of the year. Do you know how hard it is to find a nice looking, leather bag in mustard yellow? Like, super hard. This MbMJ is pretty basic, style-wise, but the colour is lovely. I eyed it a few times, first when the price tag said $149, later when it said $99, and later still when it said $75. I hesitated … and it paid off. I didn't think it would ever hit the half-off, final sale rack, since most people pull their unsold designer stuff before it goes on clearance. Lucky me! (Googling the bag, I realized that the strap is actually detachable, and the bag can be used as an over-sized clutch, hence its name. Bonus.)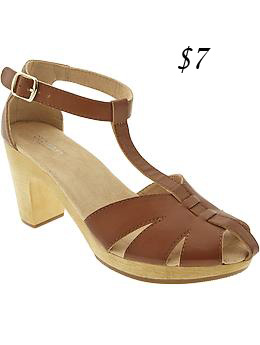 I couldn't resist these Swedish Hasbeens lookalikes. Nicole looked too adorable wearing hers. When they rang up at a whopping $7, you bet yo'self I did a little happy dance.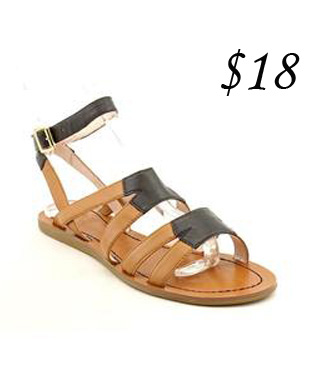 This was me being proactive, and scooping up my next summer's Jesus sandals on mega sale.
This was me caving in, and buying the only semi-decent pair of yellow sandals I have seen. All. Summer. Long. Apparently, mustard yellow shoes (like bags) are some kind of unicorn, so I had to settle for citron yellow. Also, the quality of this pair isn't great (I hate the faux suede material, it's a magnet for dirt, which abounds wherever toddlers dwell), but for the price, they'll do until I find something better.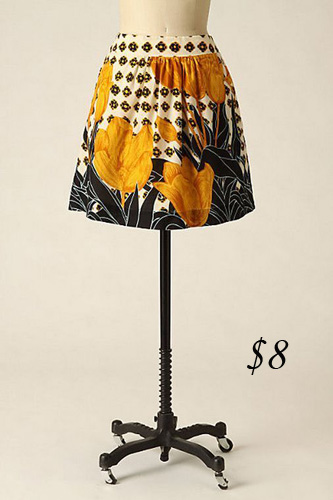 I kept running into this skirt on eBay time and time again (not surprising when you spend a lot of time searching for "Anthro" + "florals"), and never quite deciding if I liked it enough to buy it. When I stumbled upon it at a local thrift store, the decision was made. I'm just glad Value Village hasn't figured out Anthro brands yet, otherwise this skirt would have set me back $20 or more. (That's me, tsk-tsk-ing VV's current pricing approach. Love ya, but come on, VV!) I have to add – this has quickly become my favourite skirt of the summer.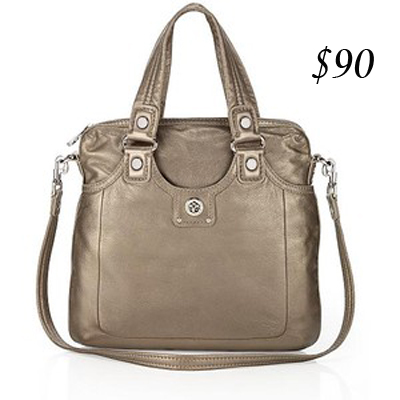 All the glorious details are here.
Presents time!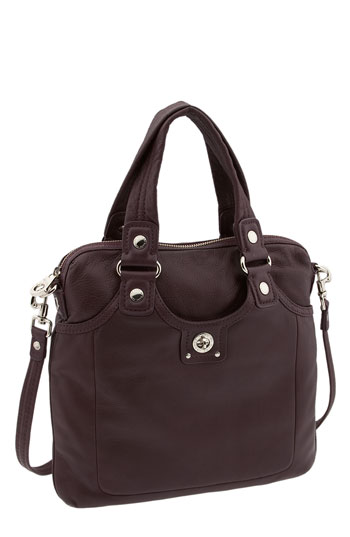 Yeah, I know. I KNOW. But, uh, listen: I was really sad about how my supposed-to-be-burgundy Mag bag turned out to be not-burgundy, and I had a lead on an actually-burgundy-scout's-honour version, and my husband felt sorry for me/was all out of gift ideas, and … here I am. With two Mag bags. In my further defence, they are definitely not the same colour. And the Mag is, like, my favourite bag ever. I rest my case.
Moving on.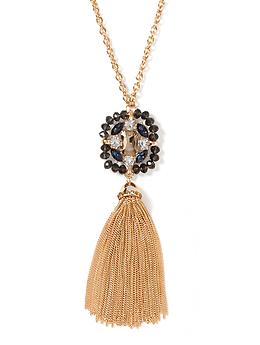 Tassel necklace quest complete. Thanks, mom & dad!
I also got a bunch of birthday money and, of course, I couldn't wait to spend it. You are not surprised. I started with these: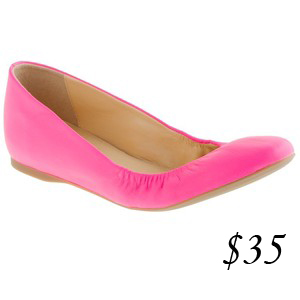 I'm a big fan of my Factory Anyas, so I've been wanting to try the retail Ceces for a while. At this price (secondhand but new), I couldn't resist – even if the colour is a little bit wild. Oh well, who doesn't need a bit of neon pink in their closet? Perhaps not a 34-year old? Pshaw!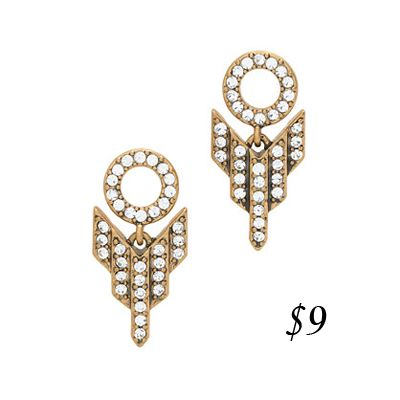 These earrings were just too cute (and hella inexpensive) to pass up. I love me some art deco-inspired joolz. I also got the matching necklace ($13), this Gap Factory maxi dress ($28), and this Free People tunic ($25). And I still have a little bit of birthday loot left! And gift cards! Hurray!
As always, I'm linking up with Fran and the other budgeting bloggers, so head on over here for more shopping recap fun. And then come back and tell me whether you were as profligate as me this month.