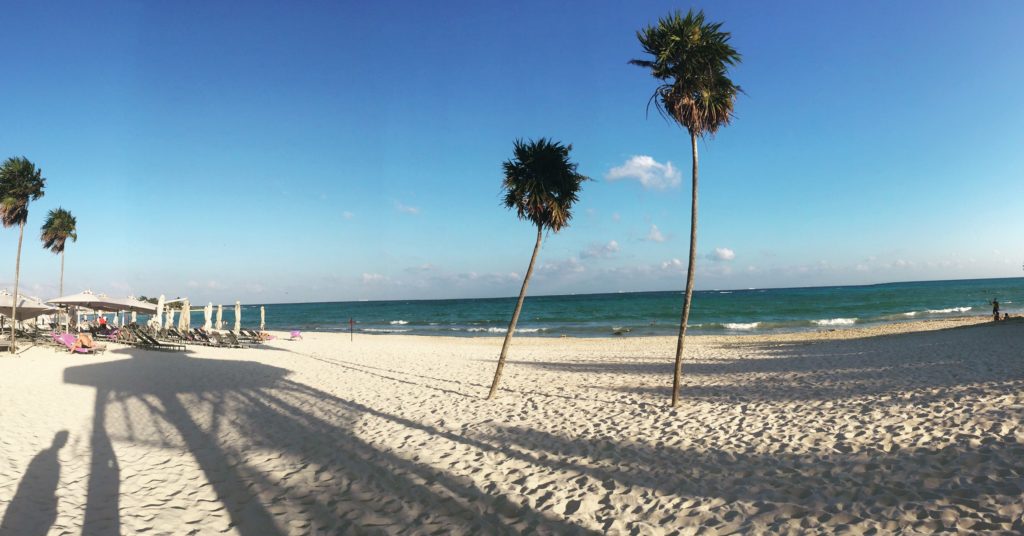 If you follow me on Instagram, then you know that I spent last week in sunny, warm, beautiful Playa del Carmen on the Mayan Riviera. This was my seventh trip to Mexico, and fourth to the Mayan Riviera, and it was one of my favourites, thanks in large part to the resort (the Paradisus Playa del Carmen La Esmeralda), which was fantastic. Since we were travelling with our kids (and another couple and their kids), we upgraded our all-inclusive package to the Family Concierge option, which came with a ton of extra perks that the kids loved (and for which we were grateful), like a personal butler (!!), in-room video games, and nightly turndown service with kid-friendly treats. We all had such a good time, and plenty of luck too — the weather was phenomenal all week, and the kids (narrowly) avoided any serious injuries despite their best efforts in that direction. We had such a good time, in fact, that adjusting back to real life at home has been a struggle this week. Post-all inclusive vacation buffet withdrawal is real, my friends.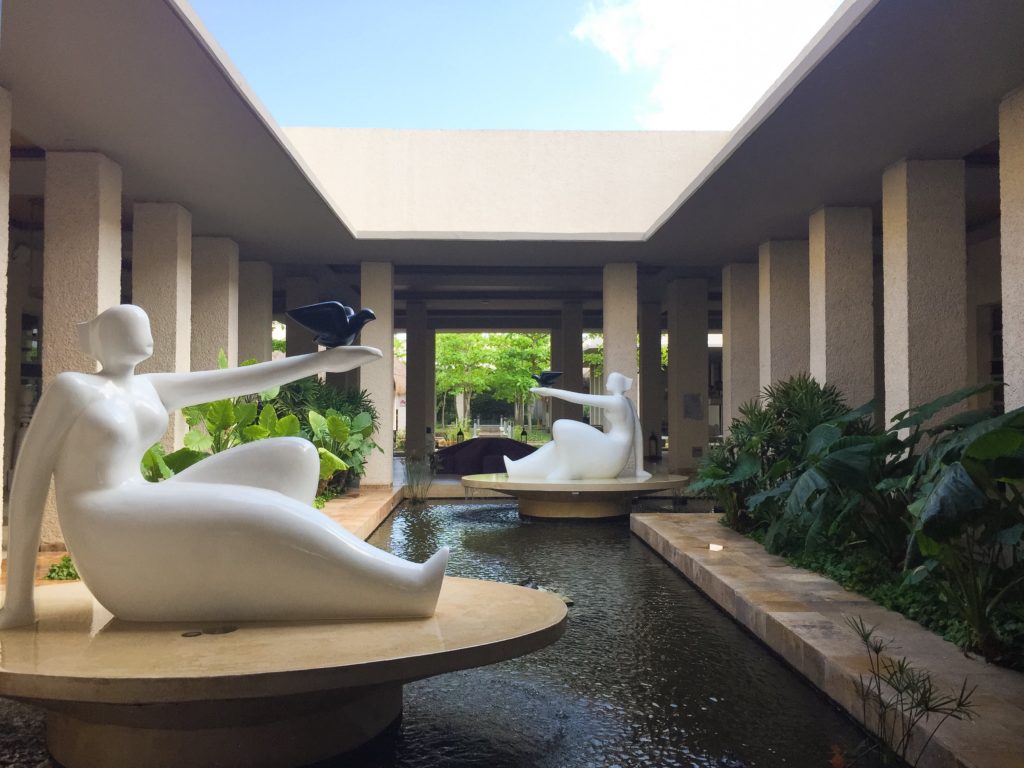 But enough about that, let's talk about clothes. I won't bore you with the details of my packing, but suffice it to say that my focus was entirely on comfort and practicality. I basically lived in various maxi dresses (plus a couple of pairs of shorts and T-shirts) for a week. Except for my swimwear (more on that in a minute), everything was super old and, in fact, largely rescued from the "swap" pile at the 11th hour. These were all dresses I had previously "grown out of" (style-wise) but which turned out to be perfect for beach/resort wear. I thought I was being smart in chucking them, since they don't fit my current everyday style, but now I've decided to keep them; I might only need them every 2-3 years, but they're a natural micro-capsule and require only minimal storage space. Lesson learned.
Based on past experience, I knew I would need a set of clothes for the day (beach/pool loungewear) and one for the evening (dinner wear). In this case, since we were traveling with kids, I didn't bother packing anything too fancy for the latter. I'll talk about what I wore in the evenings in another post, so today I'll focus on the daytime stuff.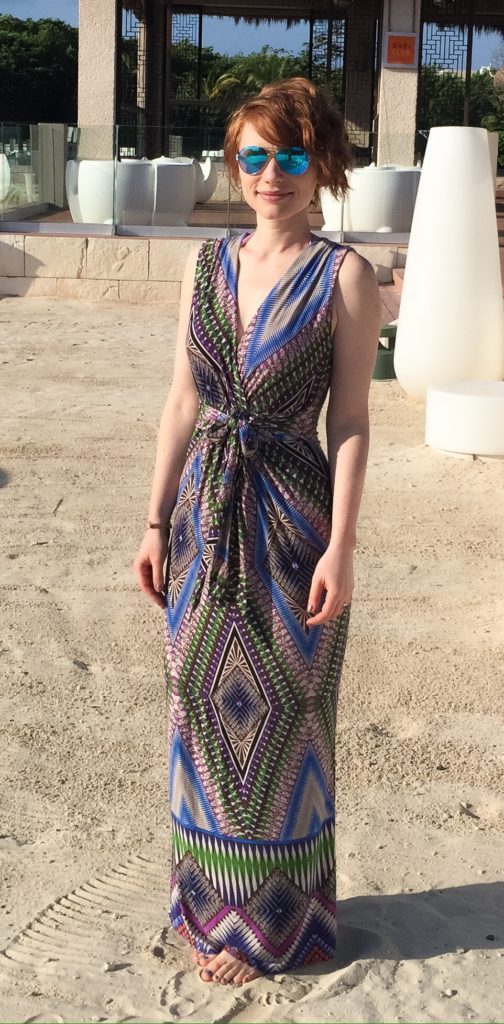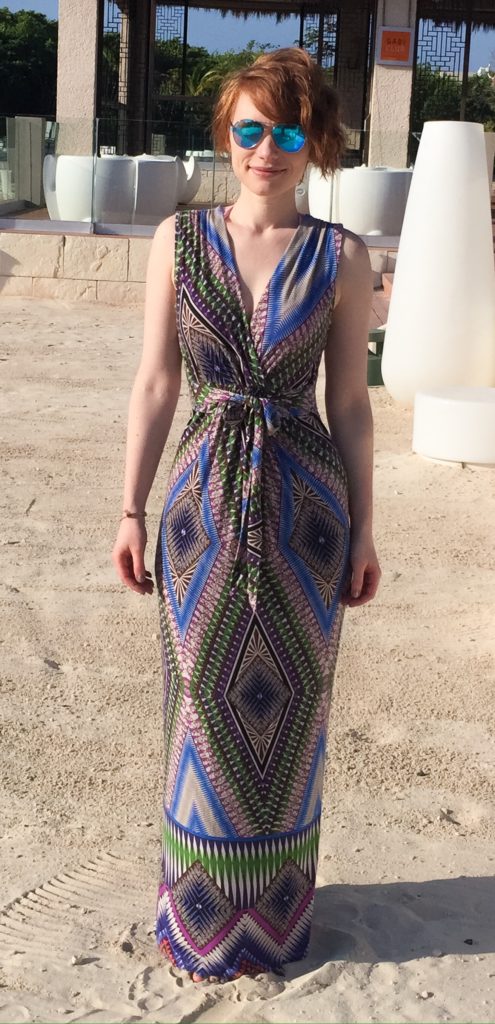 This was one of two beach cover-ups I packed, and I wore it 4 out of the 7 days we spent at the resort. I probably could have worn it every day, since I didn't end up getting it wet, but it was nice to have the two options. I like this type of dress as a cover-up because it's easy to slip on and off, and the fabric is lightweight but wrinkle-proof. I can roll this into a ball at the bottom of my beach bag, and throw sand all over it, and it will still look fine the next day. As I mentioned above, the style is definitely a bit more boho than I'd normally wear but style wasn't at the top of my priority list for this trip. [Most of the other women I saw at the resort also appeared to have prioritized casual comfort, which meant that I never felt under-dressed or out of place. There was one exception — a woman I saw on a couple of occasions who looked incredibly chic. I briefly wondered if she was a fashion blogger I should have recognized.]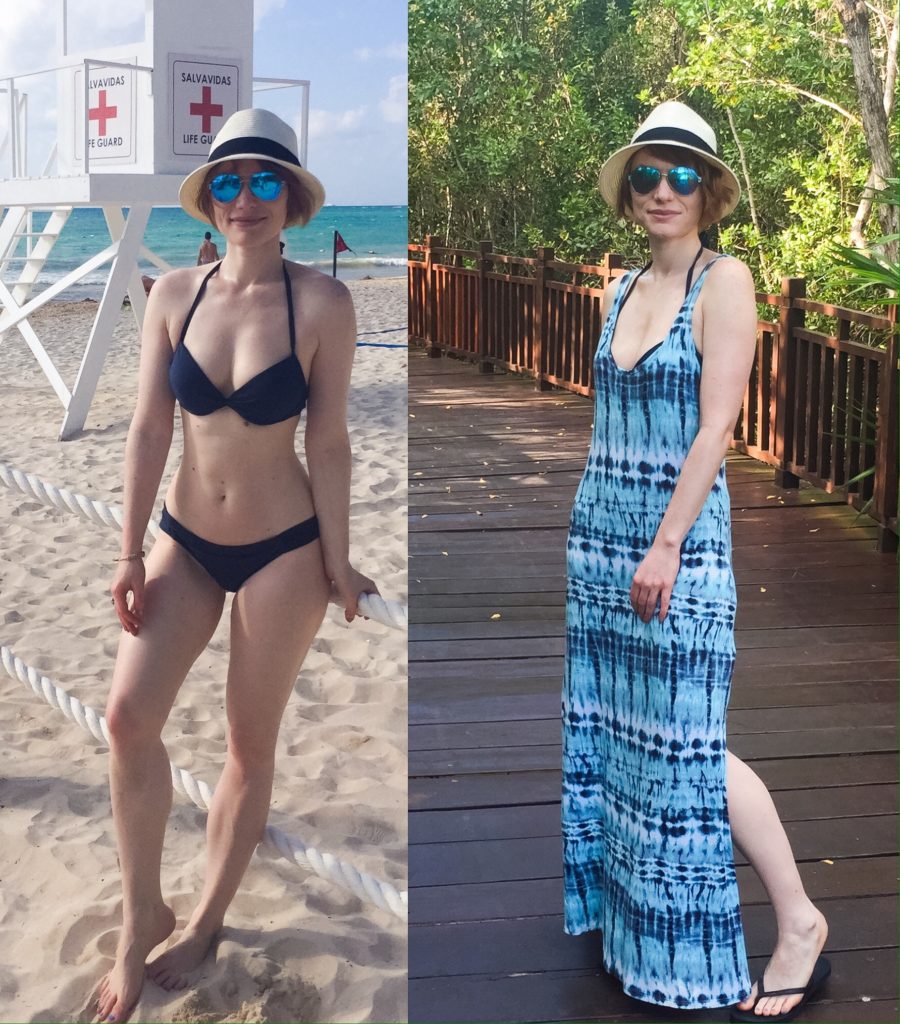 I brought a bunch of swimwear options with me, but I only ended up wearing two of them: this Hot Water bikini in two colorways. They were fantastic — comfortable and flattering both on the top and bottom (which, on a small-chested pear shape, is no easy feat). I bought these bikinis at Winners on the eve of the trip, and they were a bargain at only $25 apiece. I only found them in the navy (above) and pink (below); otherwise, I would have bought them in other colours as well. I loved the pink the most, but wore the navy more often because it looked better against my, ahem, pasty porcelain complexion.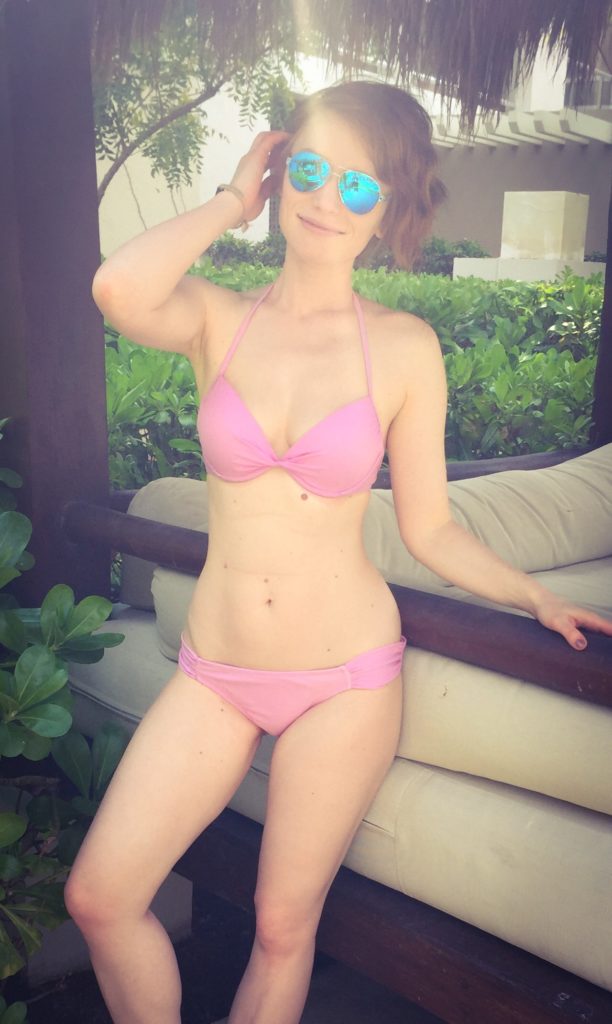 As you can see in the pictures above, my other must-have accessories were my $4 Old Navy flip-flops and my straw Panama hat from Aritzia. The hat I wore every day, from morning until early evening when the sun set. Together with my Biore sunscreen (applied twice a day, face only), it did a great job of keeping my face sunburn-free. After suffering the indignities of being exposed to salt and pool water, and then jammed into my carry-on luggage, it's now rather worse for wear than before, but I am hopeful that it will regain its shape in time. If not, this is one piece I would definitely re-buy in a heartbeat. (I think Aritzia sells these every summer, and I believe for under $40.) As a pale-skinned redhead, finding a stylish sun hat has been a game changer, and this trip only confirmed it.
Stay tuned tomorrow for part 2 of my vacation recap.