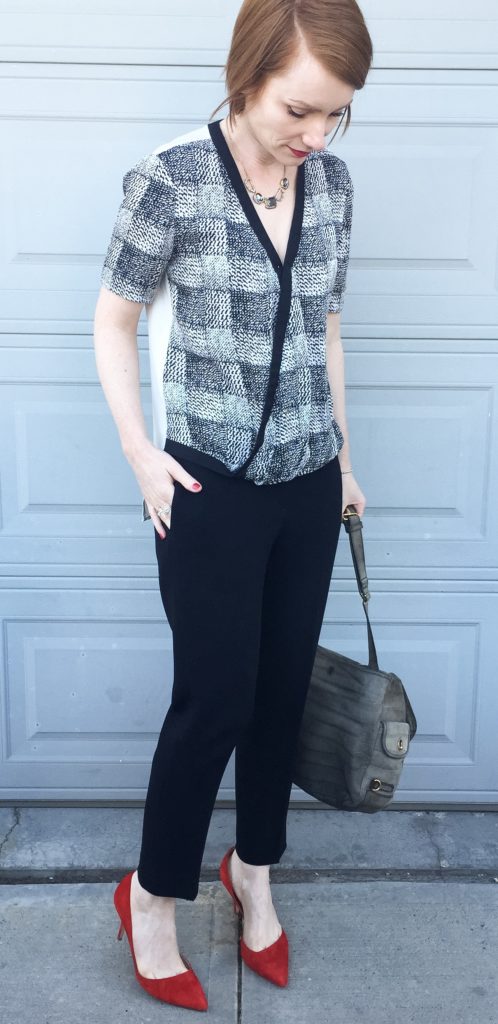 This is a really simple outfit, but it doesn't matter because my blouse is all kinds of funky. The print? Funky. The neckline? Funky. (Also, I pinned it with a safety pin because it was basically open all the way to my navel. Funky but highly impractical.) The contrast back? Funky.
The blouse is Derek Lam 10 Crosby, and I got it at My Favourite Aunt's for $25. Prices like that are what I love about MFA; that, and the great selection. I've been going to this store for the better part of a decade, and it continues to be, in my opinion, the best consignment store in Edmonton. They have a good mix of mall brands and designer labels, and very budget-friendly prices, and they are quite picky about what they will and won't accept so there isn't any "dross" to sort through. This is not a sponsored plug, by the way … although, if MFA wants to throw a sponsorship my way, CALL ME.
I love me a good black-and-white outfit, but I also can't resist throwing a red accent into that mix. I haven't been wearing my red shoes much lately, so I thought this was a good time to rectify that. It was a fortuitous decision too, because everyone loved them and I love getting a compliment or three.