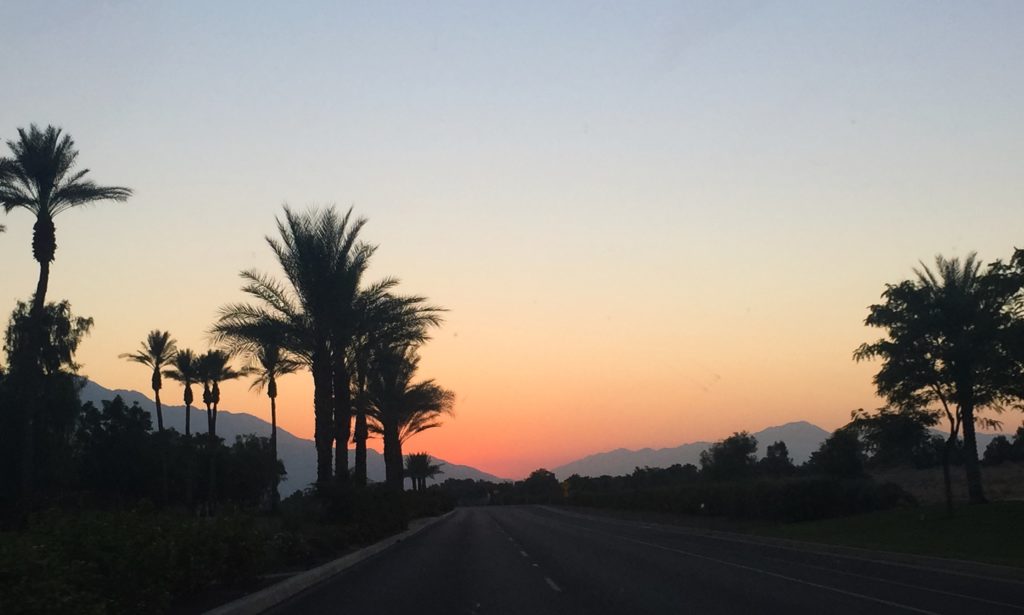 First Impressions
It's hot. "Hot" has a slightly different meaning at home, where it's typically capped off at around 35 degrees Celsius. In Palm Springs, we got down to 35 sometime after 10PM … maybe. Since it was a dry heat, I didn't mind it too much. The evenings and mornings, in particular, were lovely because I was never cold. I hate sunny mornings that give you the chills as soon as you step foot outside. Not a problem in Palm Springs, no matter how much of an early riser one might be. On the other hand, we never spent more than half an hour or so outside at any given time, pool-time excepted. Air conditioning is a wonderful thing.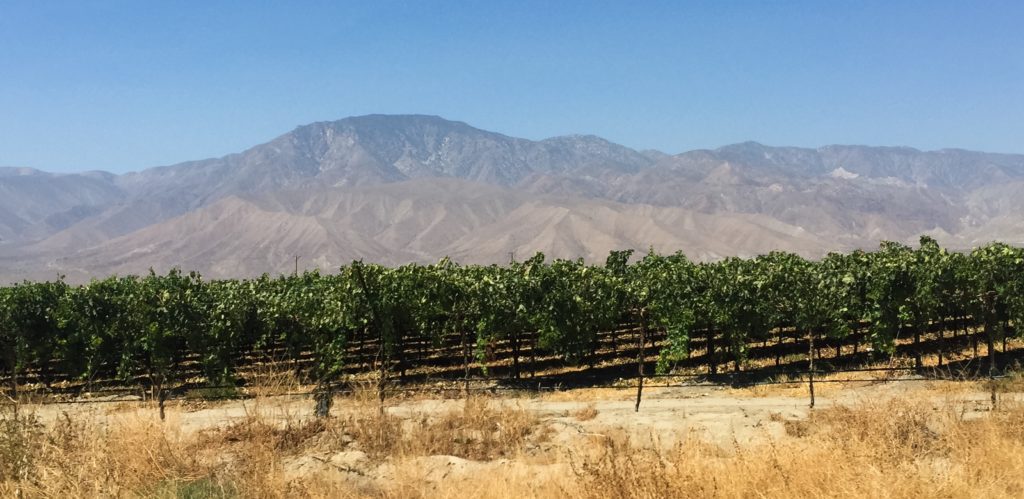 It's also arid. I had never been to a desert before, so I found the terrain really fascinating. Edmonton is a very green city in the summer (and our Rockies are also heavily forested), so it was strange to see so much bare rock everywhere. The landscape made me feel like I was in a different world, which is actually a nice thing on vacation in my books.
As we did our exploring, I came to appreciate the differences in the landscape to the north and south of Palm Springs. I saw so many cool things just driving the highways to and fro our various destinations — vineyards, palm tree farms (is that a thing? I'm not sure what they are cultivating them for), tomato fields, humungous cacti, and of course … wind farms.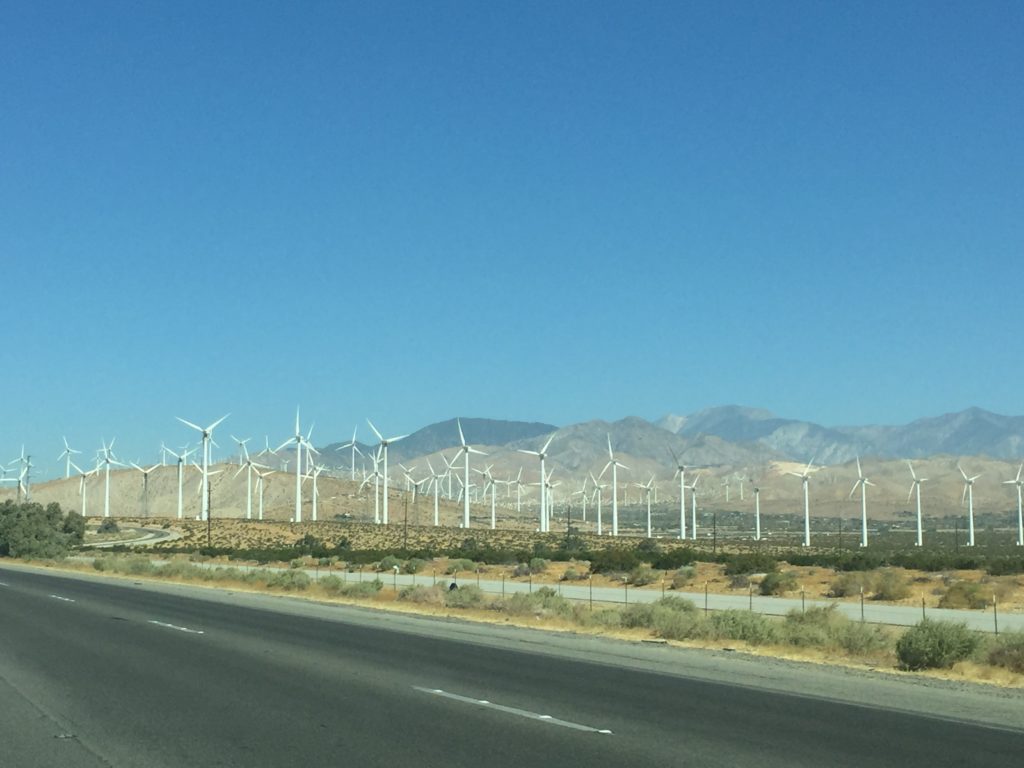 I am not exaggerating when I say that I was obsessed with these wind farms. I actually squealed the first time I saw them, and I took a bazillion photos and videos as we drove past them (three times!). They make the landscape extra surreal, and I love them.
Resort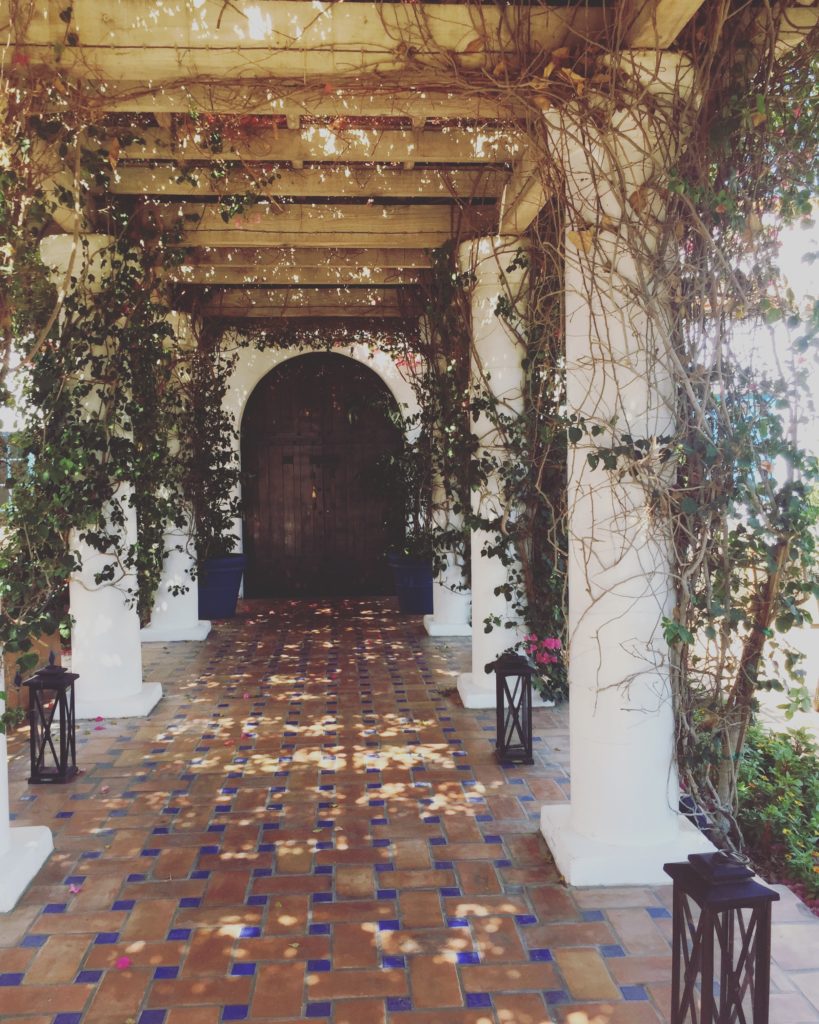 We stayed at La Quinta Resort & Spa in La Quinta, which is south of Palm Springs and just north of Indio in the Coachella Valley. More on the location in a moment. The resort itself has beautiful grounds, designed around a Spanish-influenced aesthetic. The rooms are clustered in foursomes, and are of the "casita" variety, which I like because it's easy to get in and out and they feel more like a real house than a hotel room.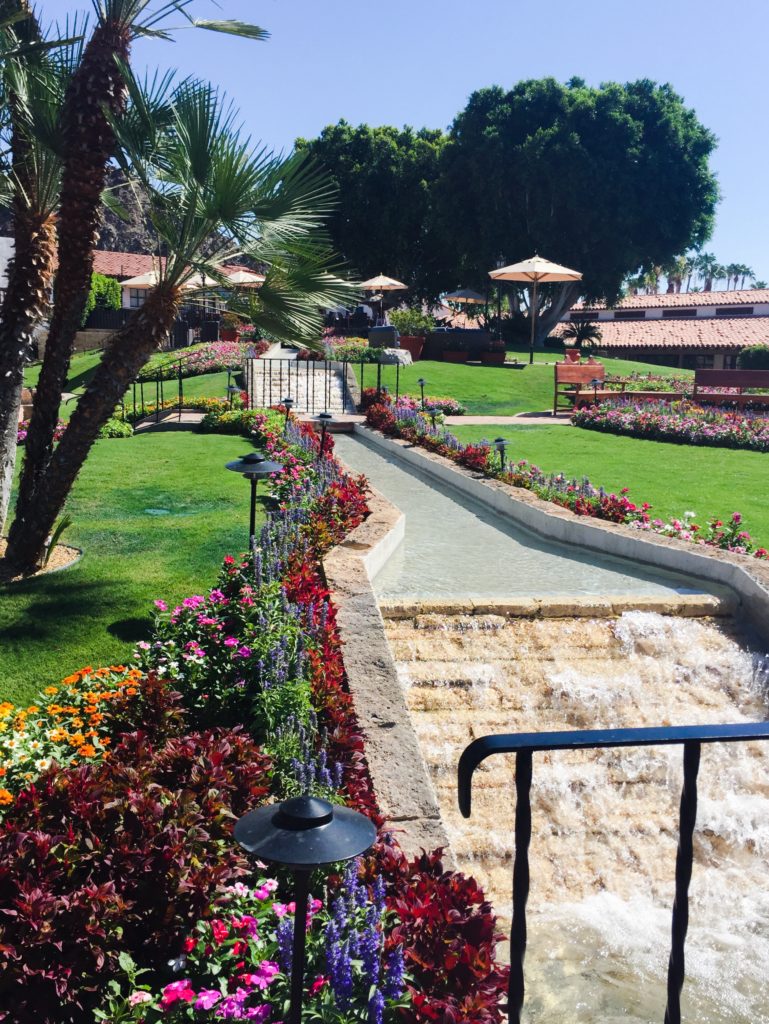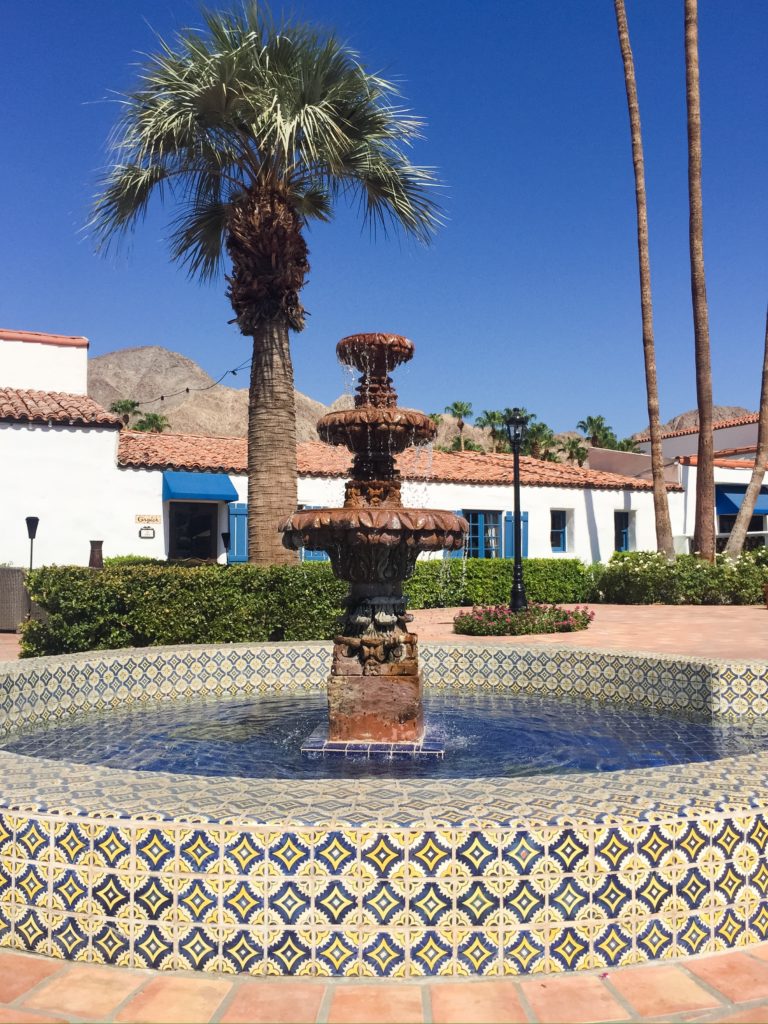 The décor was cute but a bit tired, and the bathrooms were teeny-tiny for a 4 star resort. These are things I would normally have overlooked and not even mentioned, because the rooms were clean and the bed satisfied my personal preferences (firm-ish mattress, non-poufy pillow) and those are things I value more. However, there were other issues with the resort that were rather aggravating. First, it boasts over 40 pools, but they are all small. This was not a problem when we first arrived because it was off-season and the resort was pretty empty. However, that weekend happened to be the 4th of July long weekend, so by the second day, the resort filled right up. Each of the three nearest pools by our room became insanely over-crowded, even late in the evening. There was basically no room to do anything in them except to stand awkwardly next to a stranger.
Since we did quite a bit of sight-seeing, and only spent the early mornings and late afternoons at the resort, even the swimming pool issue might not have been a deal-breaker; at 8AM, the pool was empty and the weather perfectly lovely for a swim, which was good enough for me. My biggest problem was the parking situation. Once the resort filled up, there was absolutely no place to park anywhere close to our room. I was told by staff that some guests brought 2 or 3 cars with them, and that the resort did not have a policy of reserving one stall per room. So, for 2 days, we had to park a good distance from our room, and hike back and forth every time we had to go anywhere which was, in my opinion, unacceptable. The fact that valet parking was being offered was no consolation; we didn't want to deal with the hassle with trudging to the valet area every time we needed our car, which was even further away. And it was even more irritating that the concierge with whom we spoke was all like, "LOL, y u mad?"
Now, to be honest, I was ready to leave a scathing review for the resort as soon as I got back. I even rage-tweeted and everything. But then an issue arose on our last day, and the hotel staff went above and beyond to fix it for us, and that made me reconsider. So I will end with this: I am not sure I would recommend staying at this resort during the winter season when it's likely to be packed, unless you keep in mind my caveats about amenities like the pools and parking and don't mind. However, it is a beautiful place and the staff (with the exception of that one concierge) are absolutely lovely so I am also not not-recommending it.
La Quinta
I booked our resort based on the photos (and the price) rather than its location; I had never been to Palm Springs before, so I had no idea about what would be the best place to stay, geographically speaking. "Palm Springs" is actually made up of a number of small communities, including Palm Springs (proper), Cathedral City, Rancho Mirage, Palm Desert, Indian Wells, and La Quinta. Of the lot, La Quinta is the furthest away from the airport, but if you're renting a car (greatly recommended unless you're planning to stay put on the resort the whole time), that's not an issue. Getting around from one community to the other was super easy thanks to Highway 111. A lot of good restaurants and shopping are clustered around Highway 111, so driving back and forth made for good reconnoitering.
I liked staying in La Quinta, which allowed us to explore the Old Town. Again, it has a strong Spanish influence to its architecture. Sadly, I didn't take very many photos, but you can get a flavour from the one above. I was obsessed with all of the fountains! The Old Town was fairly quiet when we visited (during the day and at night) because June is off-season. But there are a few boutiques, and some good restaurants to explore there if you are so inclined. There wasn't much nightlife to speak of, at least in the Old Town. Everything seem to shut down by 10PM. Since we are old people, this did not make a big difference to us, but it's something to keep in mind if you like more "action".
Joshua Tree National Park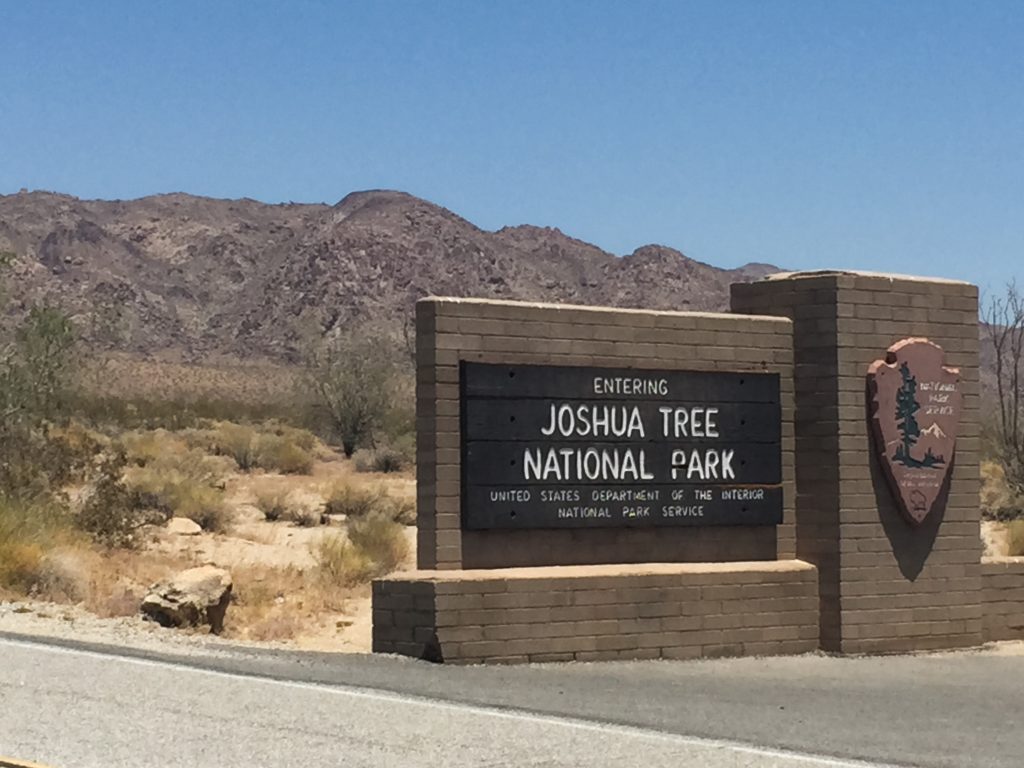 Joshua Tree National Park was at the top of our "must see" list for this vacation. It did not disappoint! We traversed the entire park (from the Yucca Valley side to the Cottonwood side), but only explored Hidden Valley on foot. The heat was too much for us, hiking-wise. I loved it, and took a bazillion of photos. You're lucky you're only getting 4.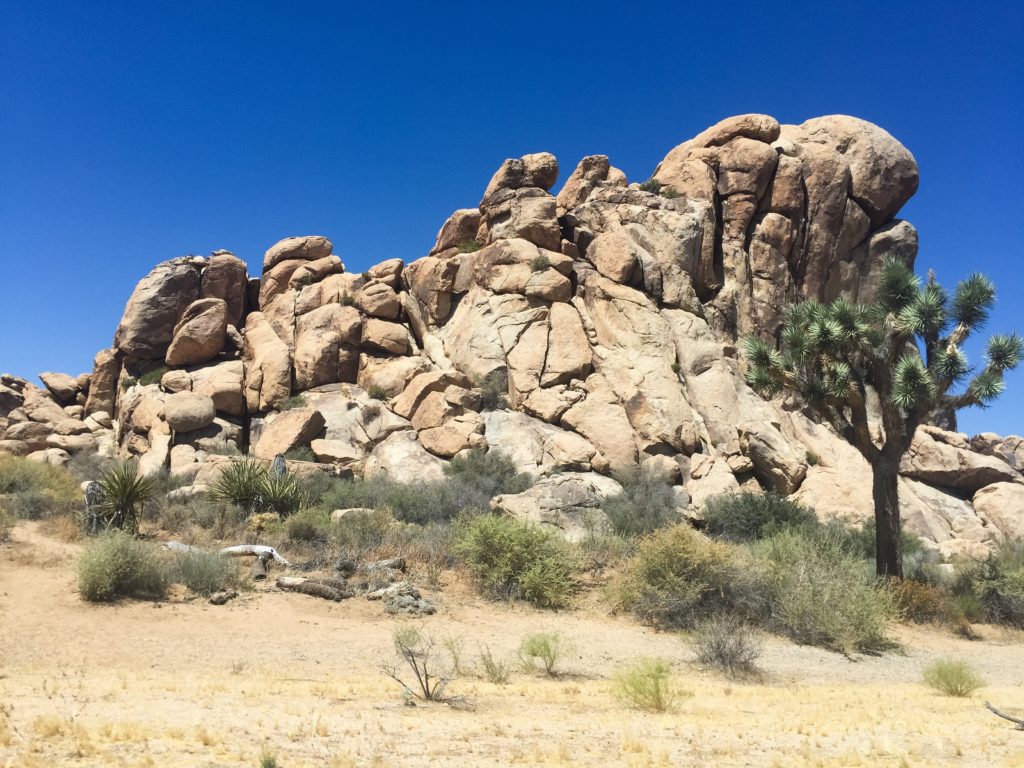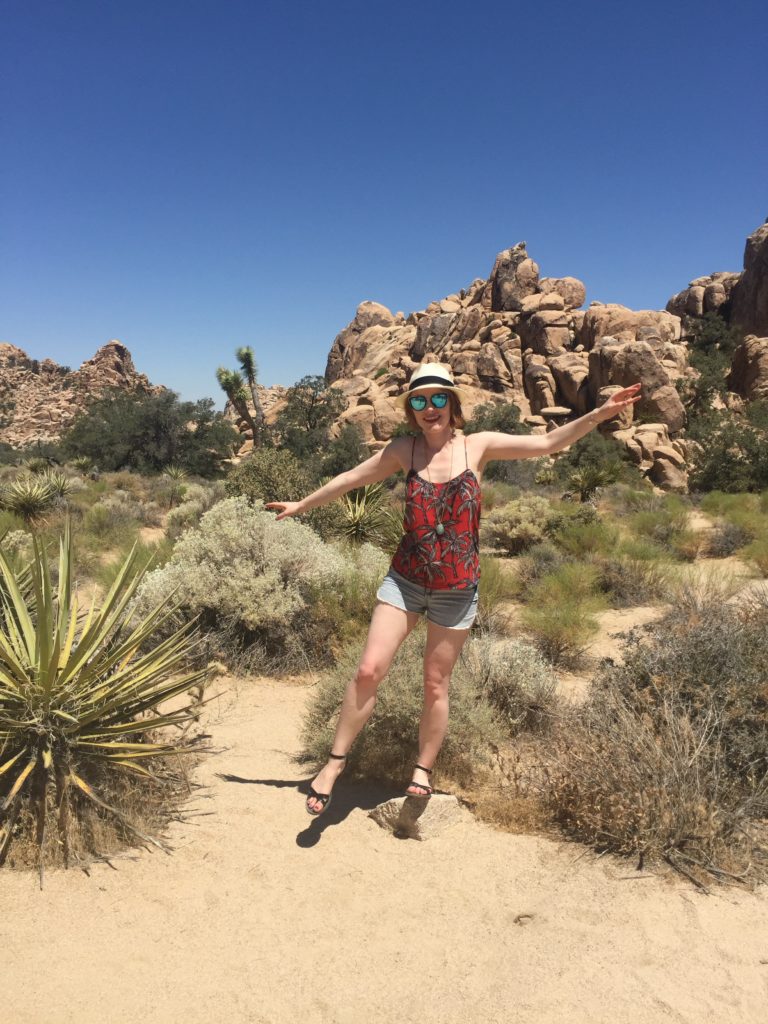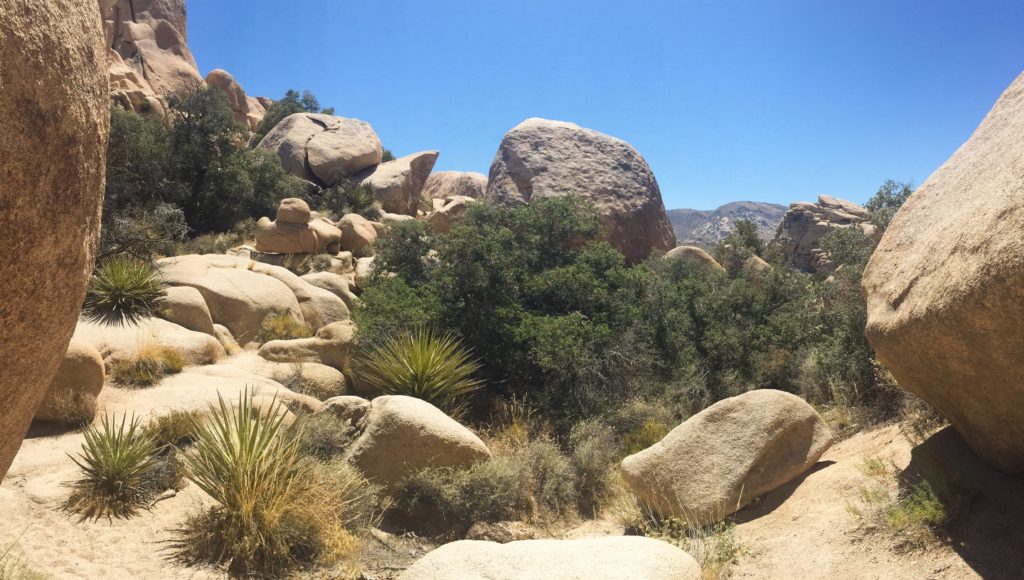 This experience made me seriously consider starting a quest to see all of the major US national parks. Since I have yet to see all of the Canadian ones, it's probably too ambitious a plan, but a girl can dream.
The Salton Sea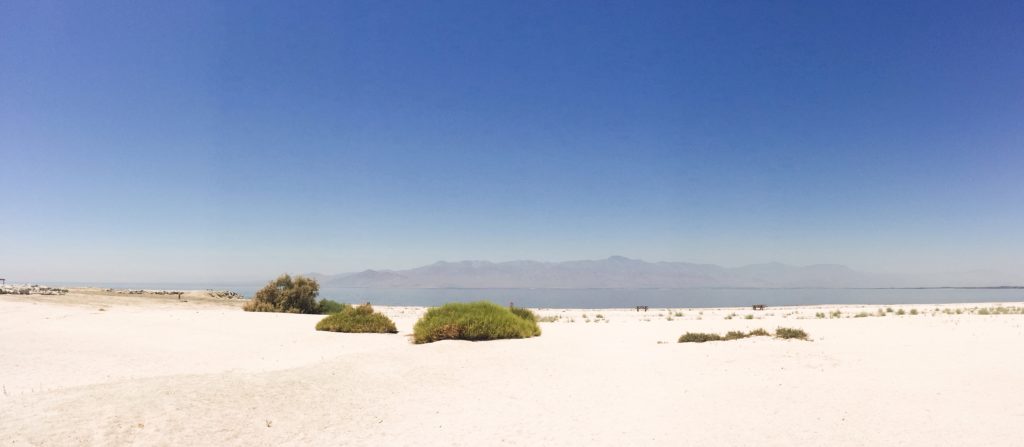 My husband has been low-key obsessed with the Salton Sea for a while now, so I told him that of course we had to go see it because, even though it meant a ton more driving for him, we had to seize our opportunity. Who knows if and when we will be this close to it again? I'm really glad we went because I enjoyed seeing it as well. It has a bizarre and fascinating history, and the landscape is otherworldly. The Salton Sea is the largest man-made lake in the US. It came to be largely as the result of an engineering error, gained notoriety in the 50s and 60s as a playground of the rich and famous, and has since become an ecological disaster. I highly recommend watching the Plagues & Pleasures of the Salton Sea on YouTube; it's a good primer on everything you need to know about this place.
The beach area is periodically the gravesite for massive fish die-offs; some of the carcasses were on display when we went there (and I think the "sand" itself contains more than a bit of ground-up fish skeletons), but we did not experience the overwhelming stench that people warned us about. I found it less smelly than, say, the ocean in Vancouver. It is preternaturally quiet, however. There were hardly any tourists at the visitors centre on the North Shore, and we saw only 2 locals in the entire time we spent driving through the ghosts towns on both sides of the lake.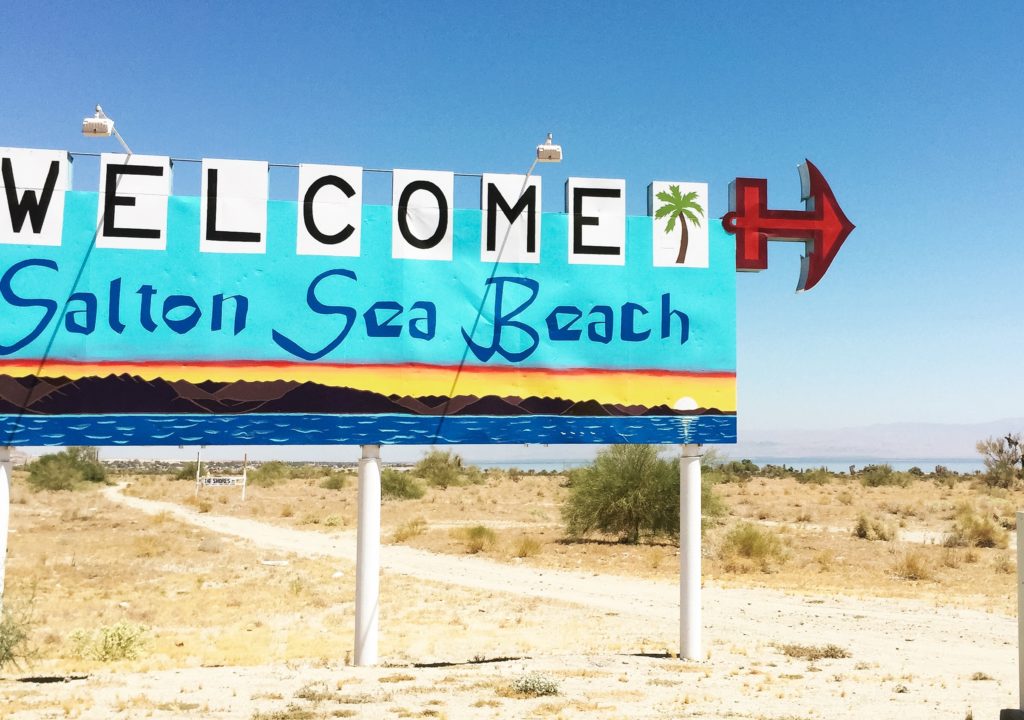 We took a wrong turn on the highway outside of Indio, and ended up on the western shore of the Salton Sea, as opposed to the eastern one we had intended to visit. (The signage in California is terrible, people. Here, we don't have half of the tourist attractions, and there are signs for everything every damn kilometer. My husband didn't want to pay for GPS on our rental car, which made for some really fun times. Not.) This meant that we got to see Salton Sea Beach, a small community that has a really cool welcome sign and not a whole else going for it. It is not literally a ghost town, because people still live here, but it looks like one. And a rundown, shanty-like ghost town at that. It was sad to know that, at one time, this was a vibrant, fun community — and more so to know that some people are still haning on. I can't imagine living in a place like that, on the edge of a toxic lake, miles from anywhere.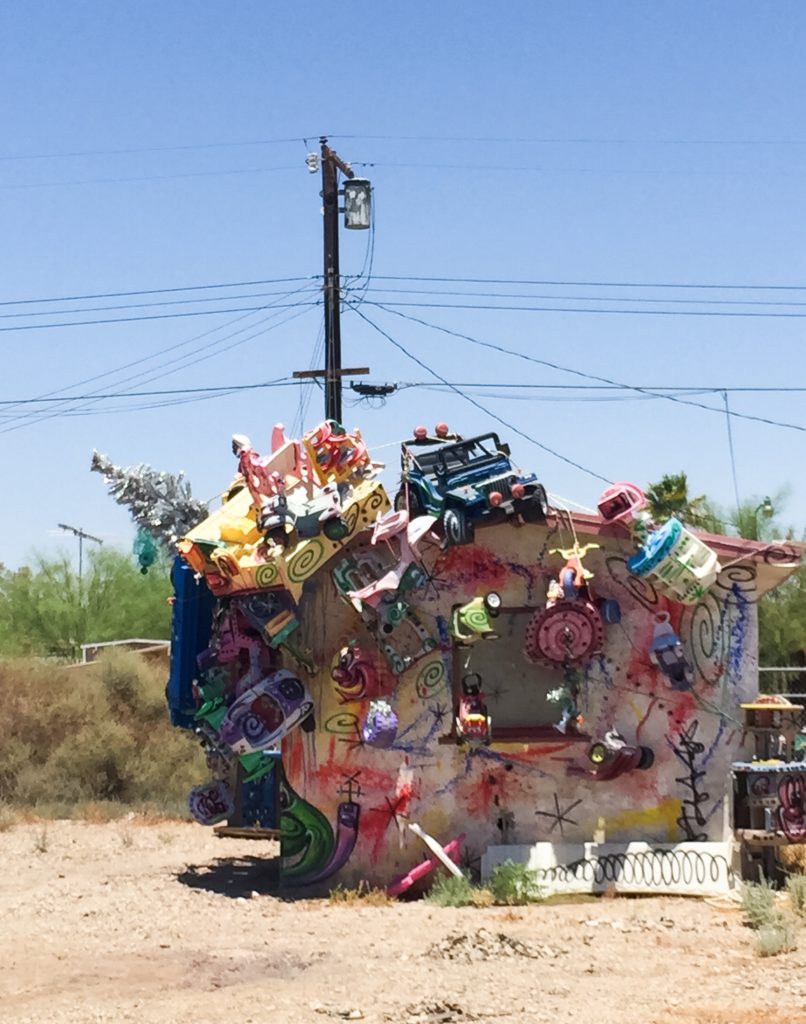 We eventually drove back and around to the other side of the lake, to check out the Salton Sea Recreation Area visitor centre, as well as Bombay Beach. The latter, in particular, was an interesting experience. It was just as deserted as Salton Sea Beach in terms of people, but it was easy to see that people live there and in fact, have created something of an art community. There are really cool art installations all over the place, like the one above. But the same sense of decay and faded glory is evident here. I wish we had had the chance to meet and speak with some residents, because I found their stories (as told in the documentary I mentioned above) to be fascinating, but I am also kinda glad that we didn't. I'm not sure if they enjoy having their town be "on display" for every Tom & Jane Tourist that comes along, and I would not have wanted them to feel like they were on display as well.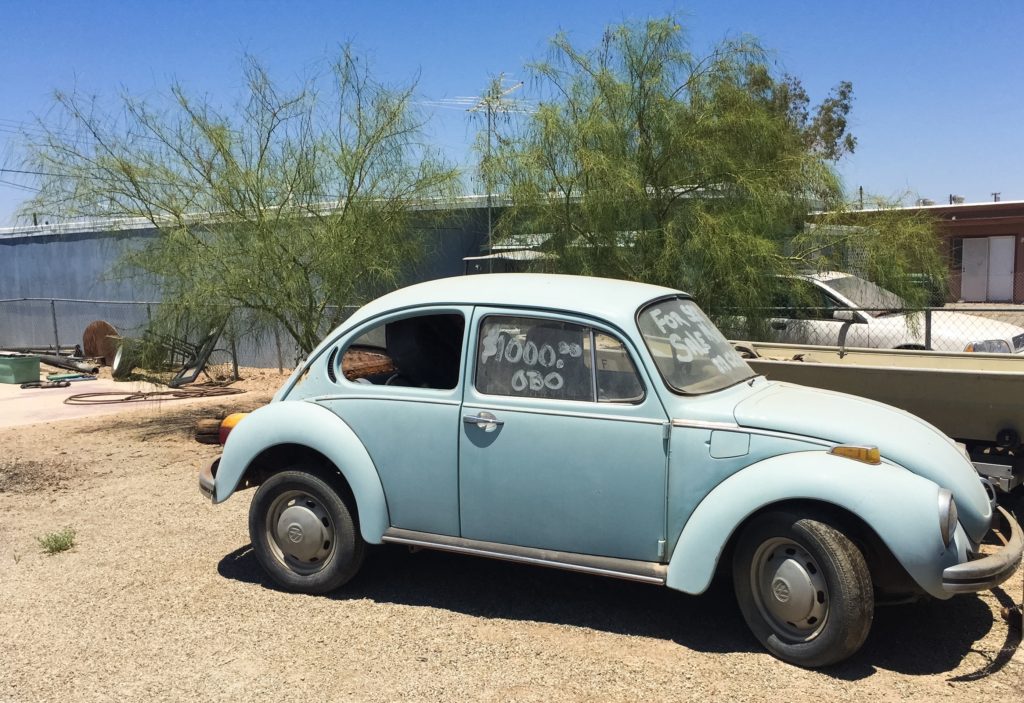 There were a ton of other things we wanted to see in the Palm Springs area, including the aviation museum, the Annenberg estate, and the art museum, but alas — time ran out. Although we had originally chosen Palm Springs as our vacation destination because it was supposed to be a "quiet" place with few distractions, we found it to be the opposite in the sense that we loved discovering its history and places. I wish we had gotten some more pool time, but I don't regret a minute of our adventures.