We haven't had any tales about home DIY (mis)adventures in a while around here, with good reason: there haven't been any. Now, don't go thinking that this is because we've become some sort of home reno geniuses in the meantime; we simply haven't had time to tackle any of the eleventy million projects scattered around the house. A small flood back in early 2012 set us back on our basement renos, which are still only about 80% done, 3 years later. Blame the kids – we do, frequently. But this is the year, you guys! The year our house stops looking like a dump construction zone, and starts looking like the abode of human grown-ups. Like any normal persons procrastinating on an actually necessary project (ahem, that damn basement), we decided to start the big makeover with a whole different one. To wit: our living/dining room.
And I decided to write about it here because we all need the laughs, yes?
The main floor of our house has your basic open concept layout that's ubiquitous in suburban "builder's specials". I've come to heartily dislike it, but that's another story. The way ours is designed, the living room is larger than it needs to be, while the dining area is laughably small. This has created problems in both areas; my husband and I decided to take a divide-and-conquer approach, and divvied up the work – I took the living room, he took the dining area. (Don't worry, we each had lots of input into the other's projects.) Today, let's take a look at how I did.
The main problem with the living room is that it's a big, long space that tends to dwarf whatever furniture you put in it. The problem is complicated by the fact that one side of it is broken up by the half-wall dividing it from the kitchen; suffice to say, it is impossible to center anything with the fireplace on the opposite side, which would otherwise make a natural focal point. For the last 5 years, our living room set-up was basically inspired by the way in which the previous owner had his stuff organized when we first saw the house – we just couldn't think of any better way to do it.
Because I forever fail at this blogging thing, of course I don't have any photos of the room, immediately pre-makeover. I do have some ancient photos from 2010 (pre-kids!), so here you go – the before: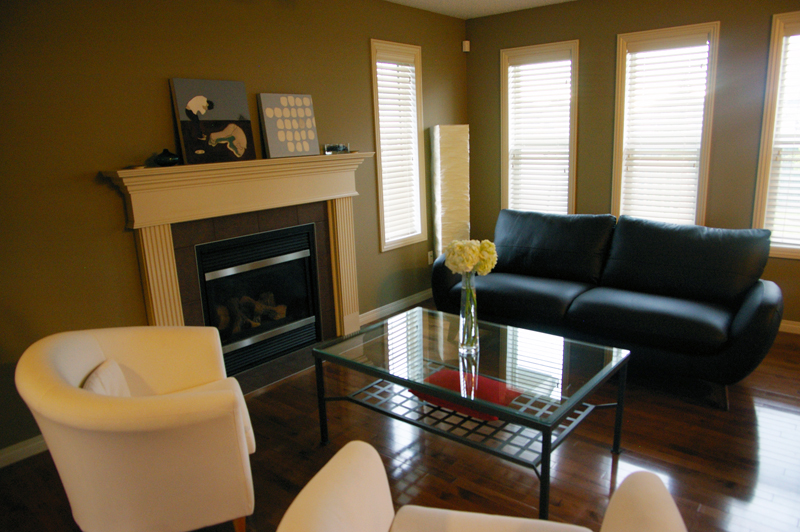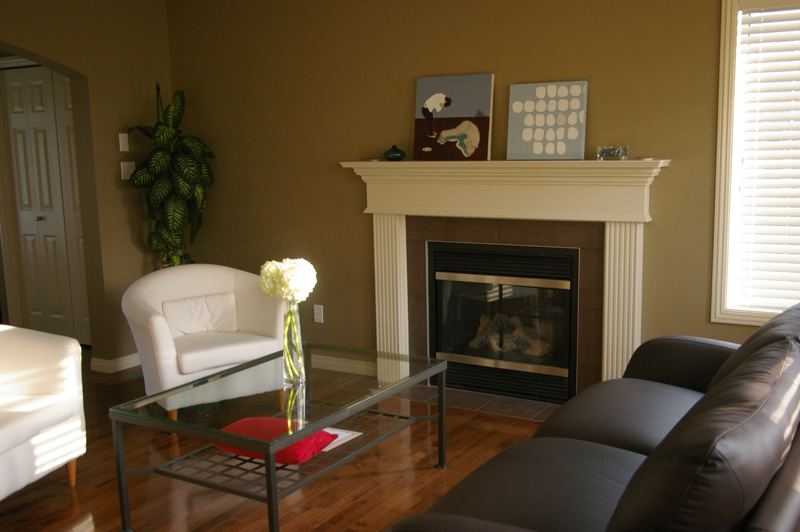 Let's take a minute to admire all that IKEA goodness. Immediately after we moved in, the leather couch was our only "adult" furniture – a wedding gift from my in-laws. Now, these pictures don't quite convey the full effect of the room, which was one of … emptiness, mostly. Bland, bland emptiness. Blandety bland. Anyway, not long after this photo was taken, we had a kid, and all thoughts about style and design went out the window. We did eventually upgrade the chairs and coffee table, and added a side table, china cabinet, and some wall art. But the basic layout remained more or less the same. (For the curious, the glass table got sold, and the white chairs moved into the basement. The plant died an inglorious death.)
Adding piles of kids' plastic crap toys, shockingly, did not improve the aesthetics of the living room, so by last December, I was completely over it. I wanted to have a living room that looked, well, the opposite of haphazardly assembled; one that made a statement – namely, that its owners graduated college over a decade before. When we started thinking about how we could accomplish this, the first thing we agreed on was the need for a new couch. There was nothing wrong with our old one; it actually had held up admirably well. But it just didn't look right in this space. We decided to relocate it to the basement, and start fresh. Almost immediately, I fell in love with this baby: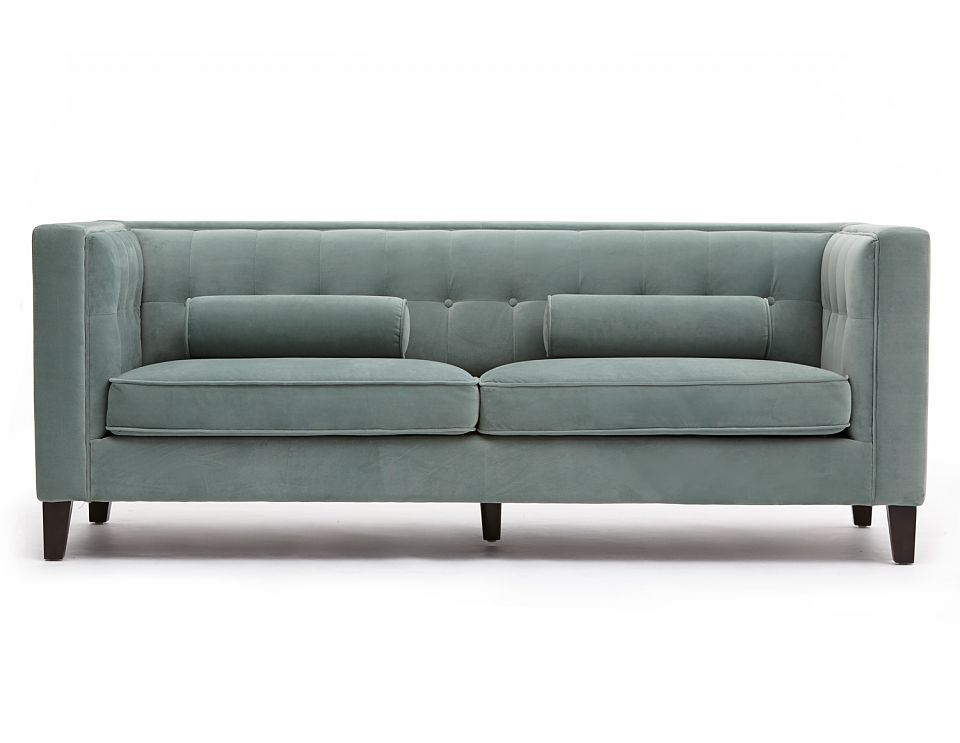 Luckily, my husband loved the colour as well, and this sofa was a go. We figured the old white chairs would work better with it than the updated models, so the latter joined the leather couch in the basement, and the former made their return to the living room. All easy peasy, right?
Well, not quite. When the sofa arrived, the real work began: figuring out where to put it. Size-wise, it was a perfect fit for the room. But remember that asymmetry I talked about? I didn't want to put the new sofa in the place of the old one, because it would just perpetuate the same less-than-ideal layout. But placing it along the wall facing the fireplace (the only other possibility) didn't seem like it would work either – it couldn't be centered properly without blocking access to our kitchen high bar. And this, my friends, is when I had a stroke of genius.
Yes, suspend your disbelief, because it's true.
I really liked how the couch looked nuzzled into the right-hand side corner of the room, off-centre from the fireplace. But this left one half of the room looking bare … what to do? Separate zones, of course! I brought down an extra armchair from the family room upstairs, and re-arranged all the other furniture we already had, and voila: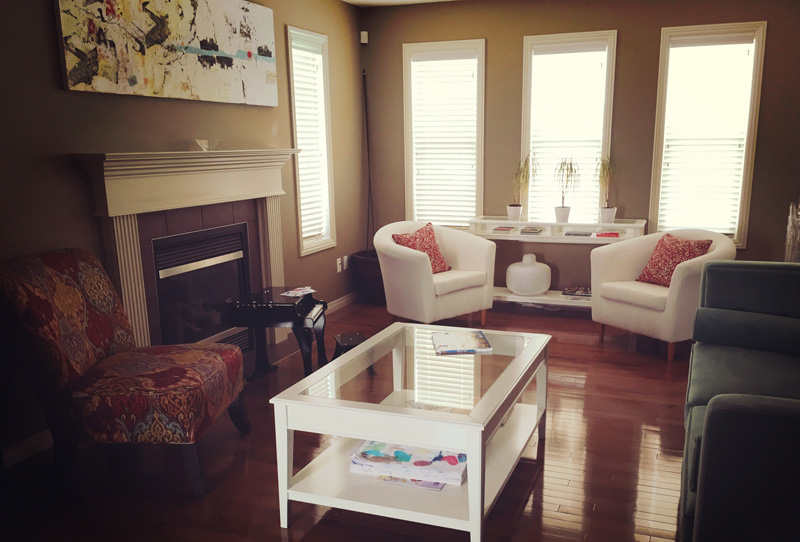 We loved how the room was taking shape, so we quickly drew up a list of finishing touches we still wanted to buy (the only thing we'd bought to this point was the couch): floor lamp, new lighting fixture above the fireplace (the old builder's cheapie can't be seen in the photo above), area rug, and some tchotchkes here and there to "style" the coffee and side tables. I also asked my husband to get rid of the old plant pot that remained as the only evidence of our brownthumb crimes (see corner). He also offered to stitch up the rip in my fancy armchair's upholstery (thanks, kiddo who shall not be named!), because he's awesome like that.
After a few more trips to Structube, HomeSense, and IKEA, our living room started to really come together. We ended up swapping out the colourful chair for a more sedately coloured rocking chair from the nursery/Teddy's room, which fits the colour palette of the room a little better. [Considering how expensive that rocking chair was, and how little use it got through two babyhoods, I'm glad it will finally be getting some love.] Here is how everything looks now: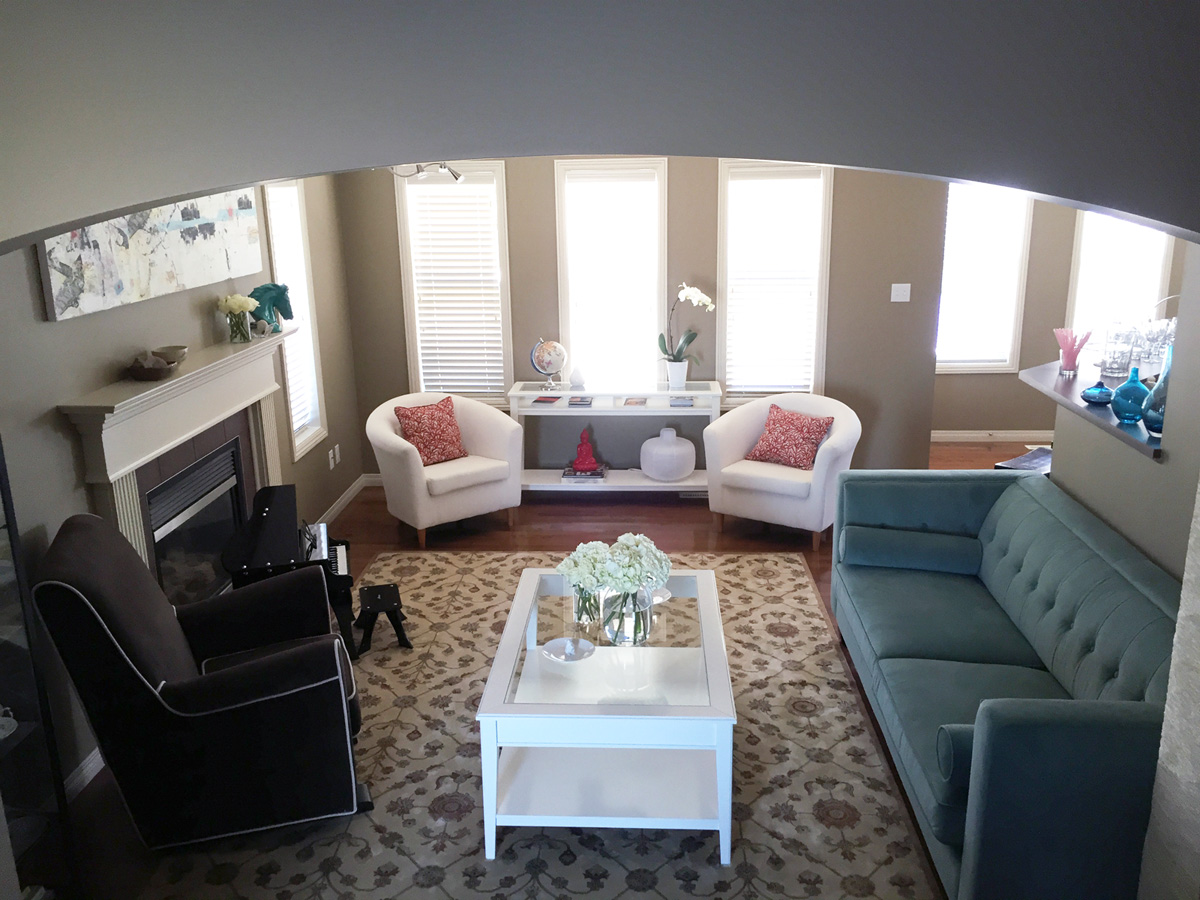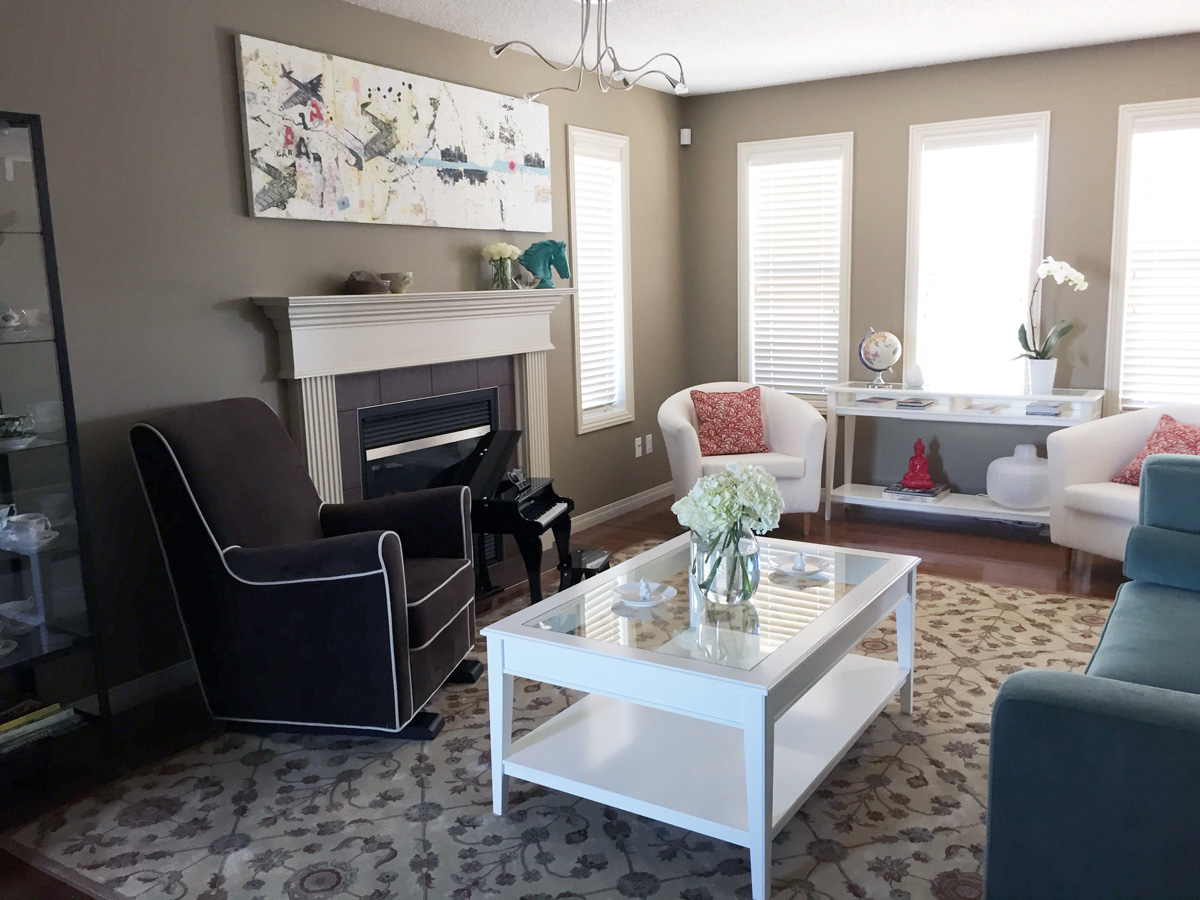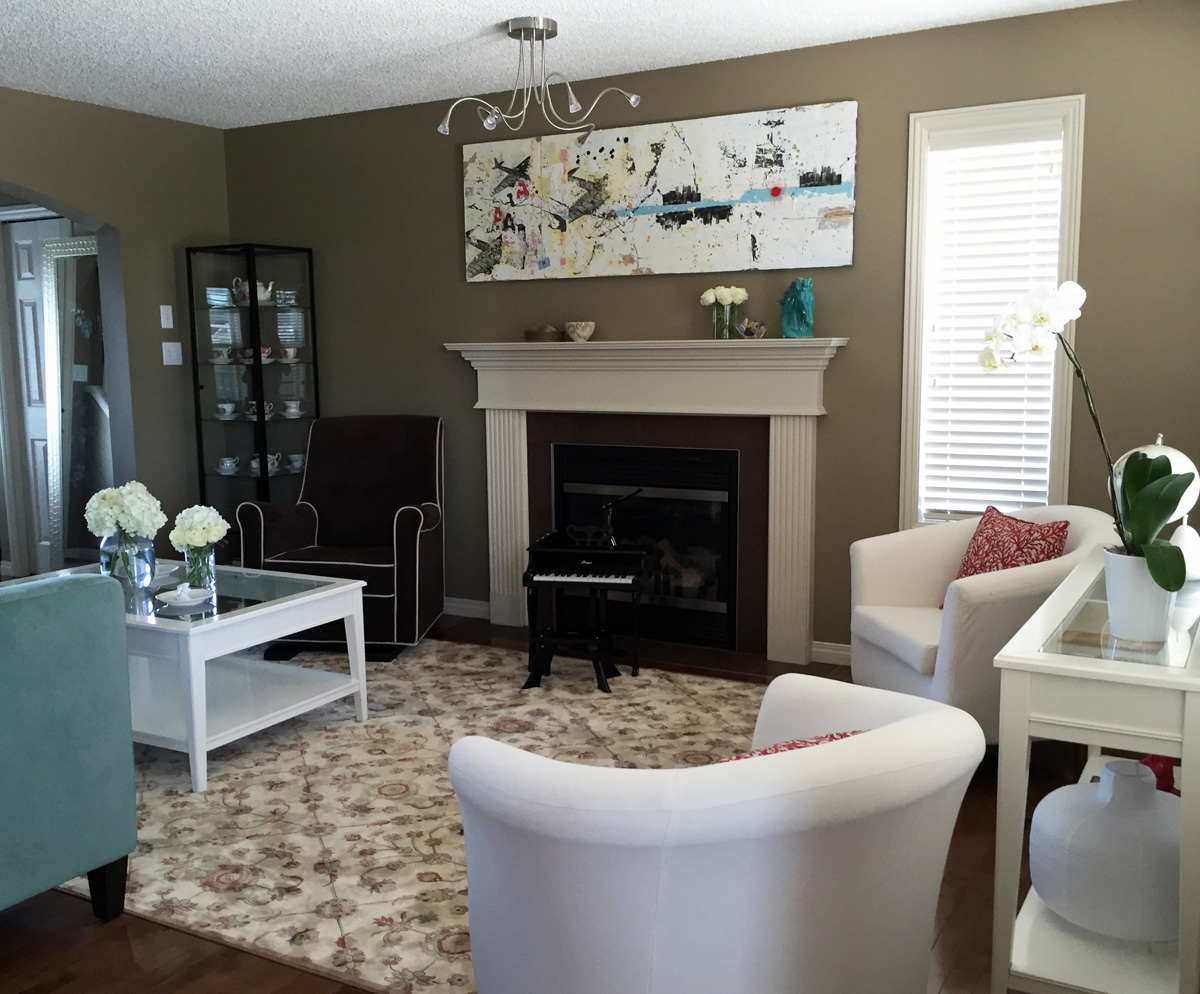 I absolutely love the carpet we got from HomeSense (and its very reasonable price), and so do the kids. Especially Luka. One of his favourite games at the moment involves talking off his socks and dancing/running/sliding around the carpet. I'm guessing the novelty of it will eventually wear off, but it's been an amusing spectacle. I should also mention that the addition of the carpet easily made the biggest impact in terms of "adulting" the room, and making it look less impersonal and bland.
Seating area #1: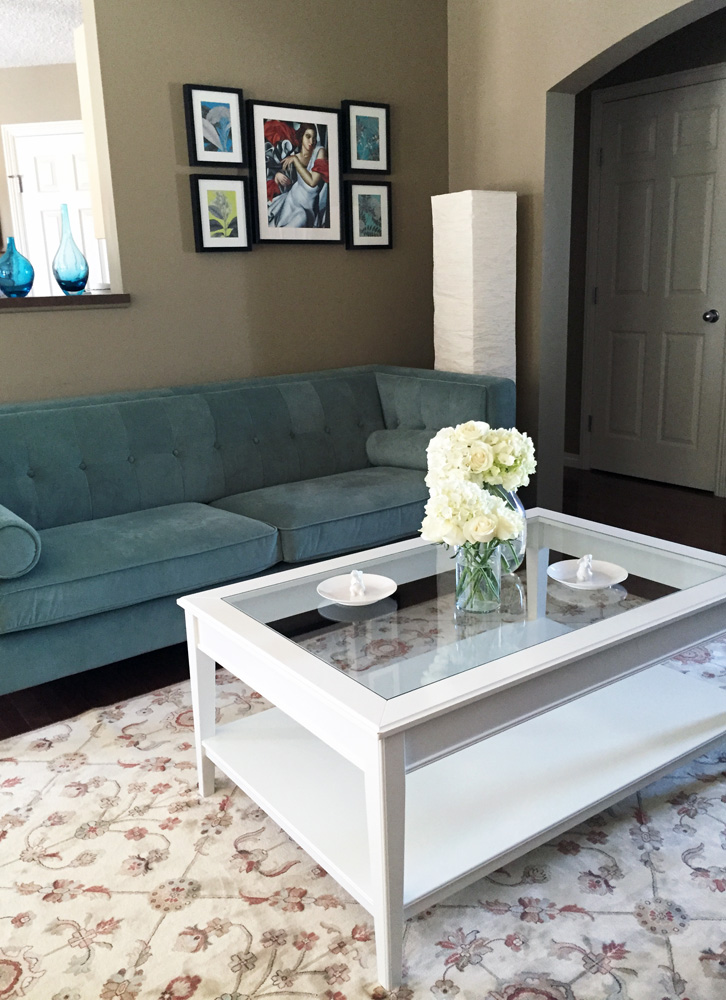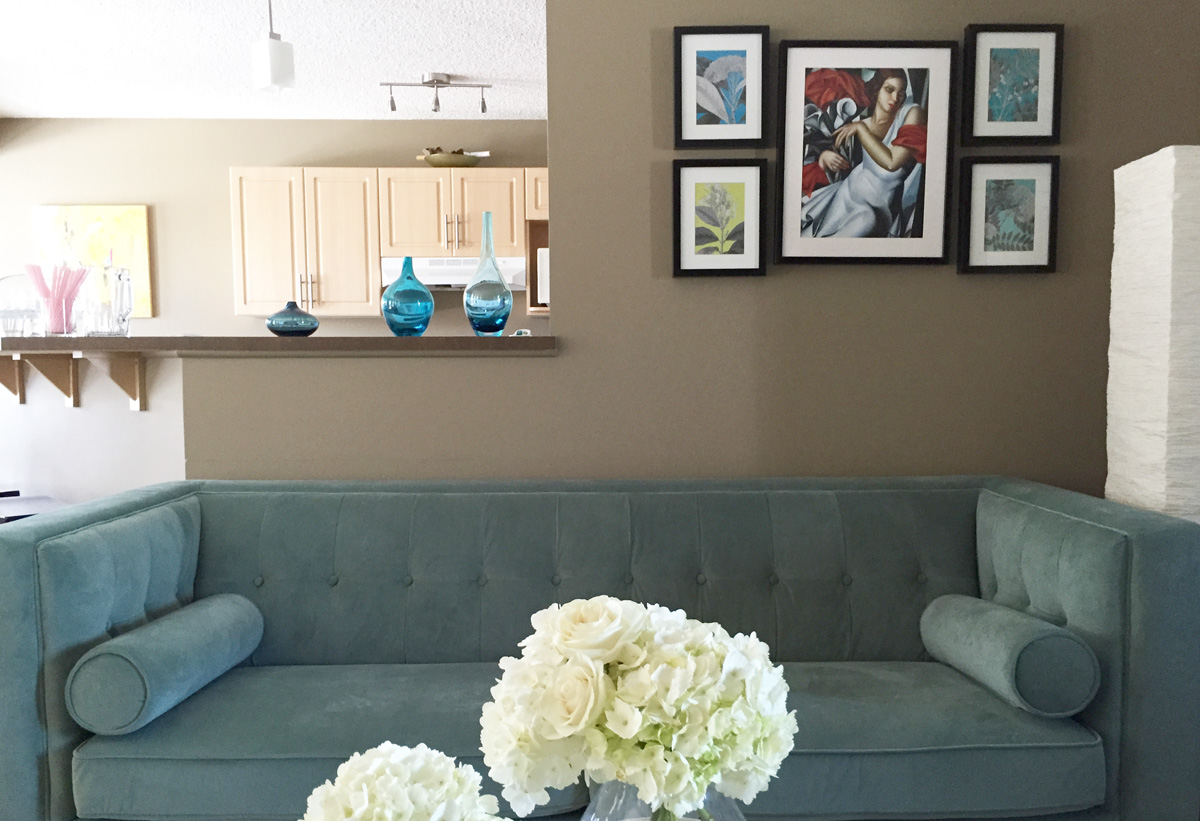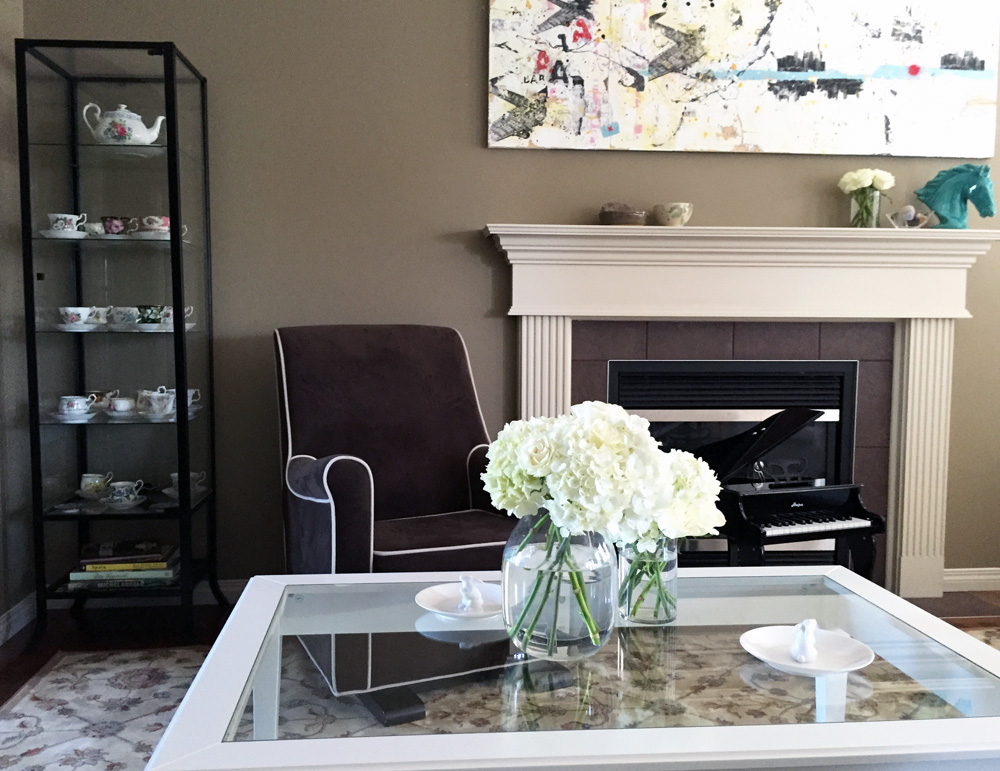 In the end, I didn't bother "styling" the coffee table, because the kids use it a lot for crafts and such. Rather than battle them for table-top supremacy, I just left the damn thing alone. For special occasions, I can add some flowers in a pretty vase and call it a day.
Seating area #2: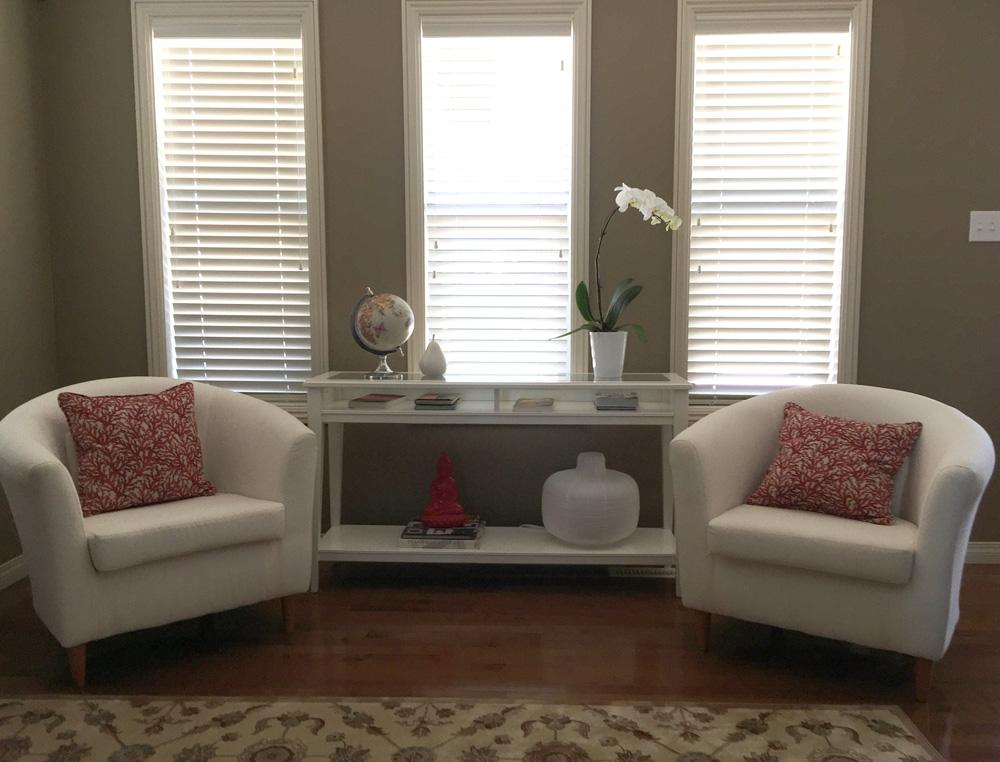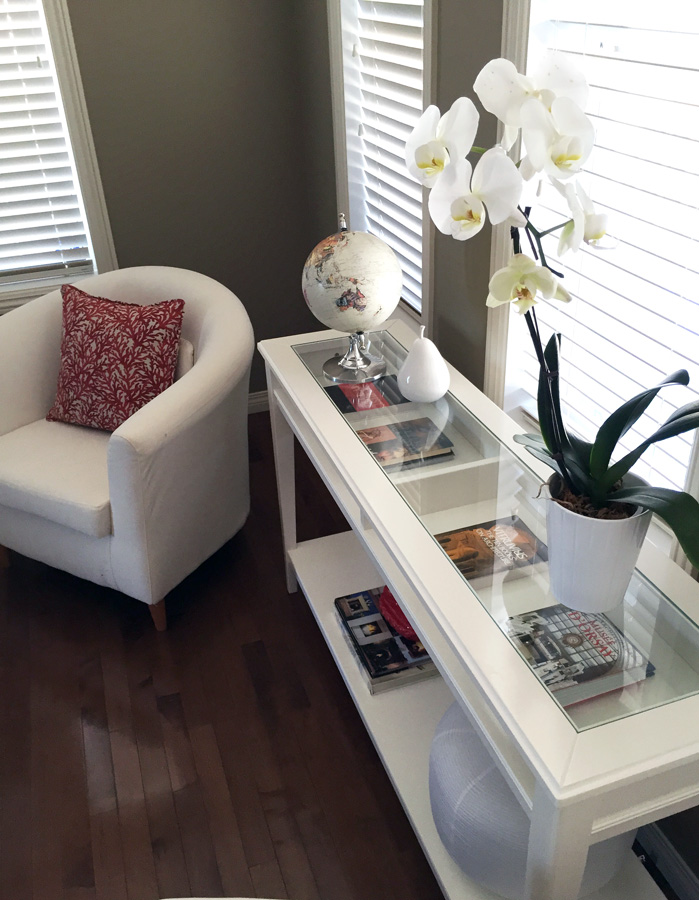 I have to admit that I really struggled with the accessories. I didn't want the living room to look like a Pinterest board come to life (i.e. super trendy), and I also wanted all the pieces to feel organic and not overly "styled". I'm not sure if I've succeeded (and I can imagine that there will be an evolution in the pieces we have anyway) but I do like how it all looks together. I debated about getting a big arrangement of faux orchids, but decided that the real thing (even if it's on a more modest scale) would always look nicer, not to mention more, well, organic. (Har har!)
Luka's contribution was the red Buddha figurine, which was his. He brought it down from his room to play with in the new space, and I loved how it looked there so much that I asked him if he would agree to relocate it permanently. Ok, some bribery may have been involved, but it was totally worth it. The only somewhat divisive item was the ceramic horse's head, which inexplicably caught my fancy at Winners. My husband was not immediately sold on it, but he eventually came around … to tolerating it.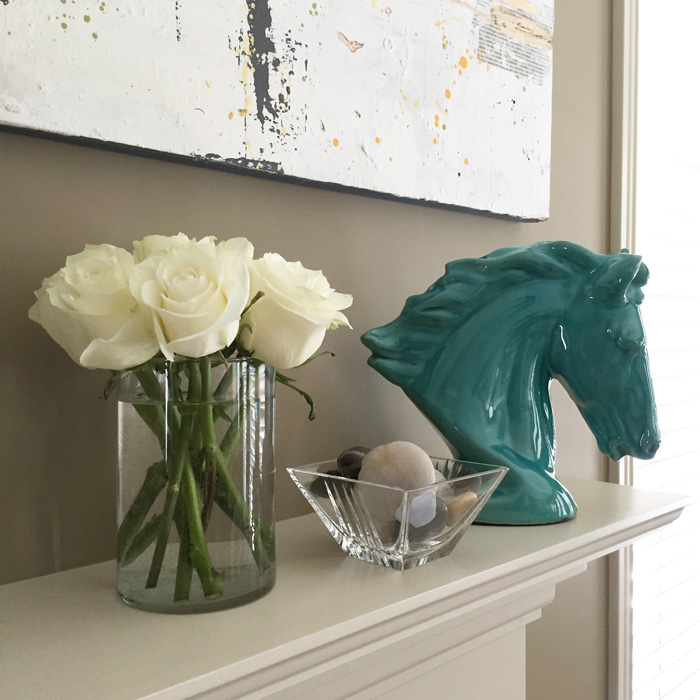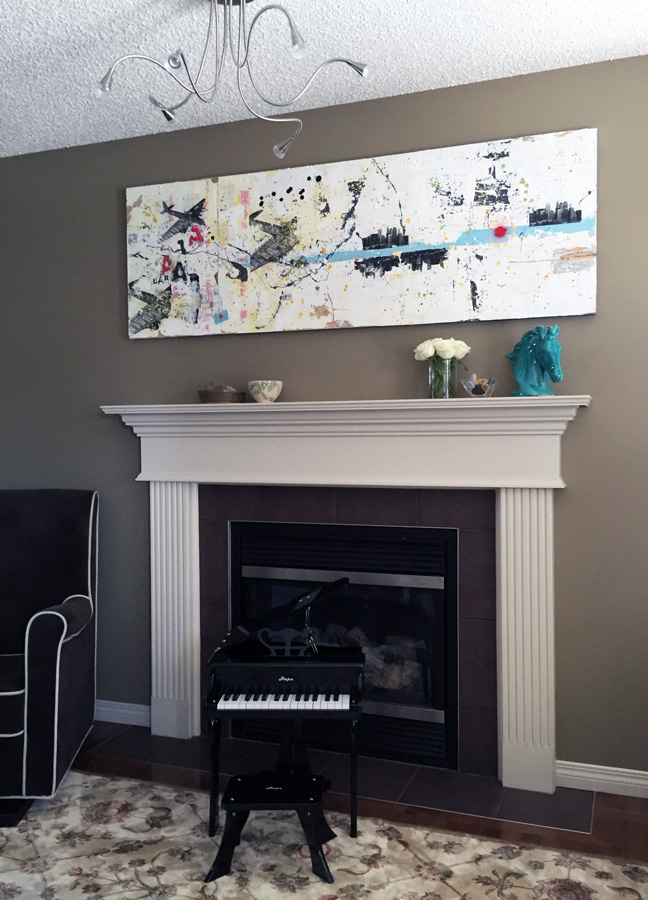 Things were looking pretty good, and there was just one thing still missing: my husband's favourite lamp. Now, to set the stage, I have to tell you that my husband has been bugging me to buy this lamp (or a version of it), for the past 5 years. He's a design nerd, and this is some sort of famous piece, yada yada. #philistinetalkinghere When we saw it, on sale, at Structube, I decided to make the guy happy and agree to its inclusion in my design space. It's going to take a bit of time for it to grow on me, but I will say that the quality of this particular iteration (Structube Arc model) seems really good for the price. It has a real marble base, and the whole thing looks more expensive than it was ($149).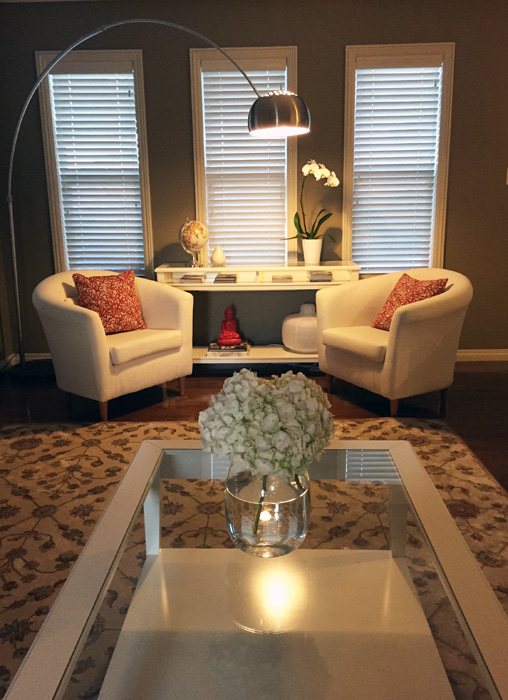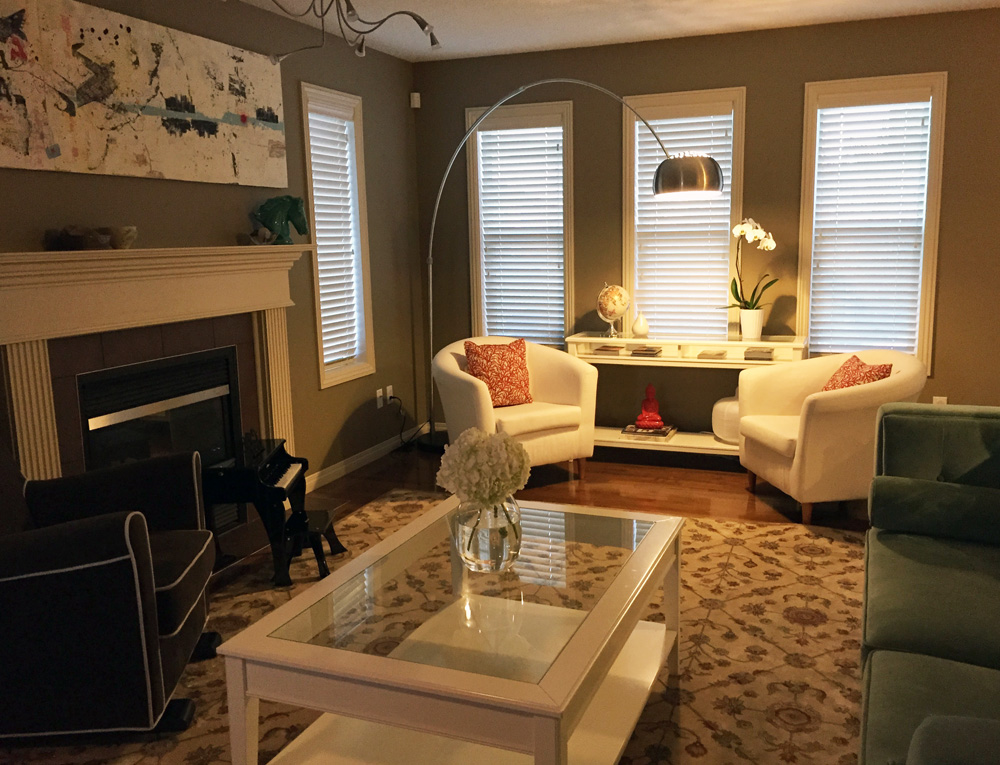 I'm still looking to add a few pieces to the mantel (I'm thinking about some vintage milkglass pieces, if the thrifting gods cooperate), but otherwise … I think we can call 'er done. Whew.
Stay tuned for the dining room reveal … one of these years.