As the saying goes: you're not a real fashun blogger until you've done a closet inventory. Or something like that.
It is time. Random and arbitrary decision having been made, I used the prospect of this post as much-needed impetus to actually organize my closet. Again. My closet goes through cycles of being organized, growing, getting weeded, growing again, and needing to be organized, again. It's been in dire straits since last fall, when my daughter was born, we "lost" the spare bedroom and, as a result, I had to concede a third of the master closet to my husband. Oh, the horrors!
(Before you ask, our previous arrangement was totally fair, because my husband had not only the spare bedroom closet, but also the garage as his storage domain. He doesn't have a lot of clothes, but he does have an enormous amount of tools, so this worked in his favour.)
I hate spending money on practical things, so closet organization has always been a haphazard thing in my world. After seeing Fran's closet inventory post, I finally did the grown-up thing and paid for decent hangers. To absolutely no surprise, they make a huge difference in the appearance of my closet.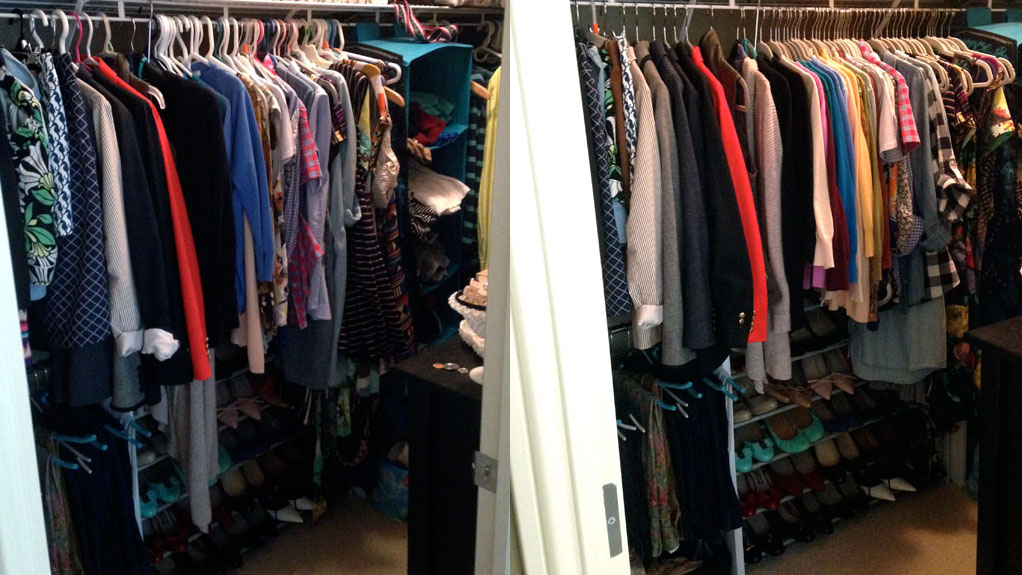 There is no difference between the before and after except for the hangers, but everything looks neater, and there is more space. I bought mine at HomeSense in packs of 25 for $17 each (roughly $0.70 per hanger, a decent deal … I think?).
I should mention that this is not my entire wardrobe. Most of my work clothes, plus special occasion dresses, are in an "overflow/out-of-season" closet in the basement. They used to all fit in the master closet … back when I had sole custody of it. I actually find it useful to segregate in-season and out-of-season clothes, though, so it all works out.
Here's where everything is: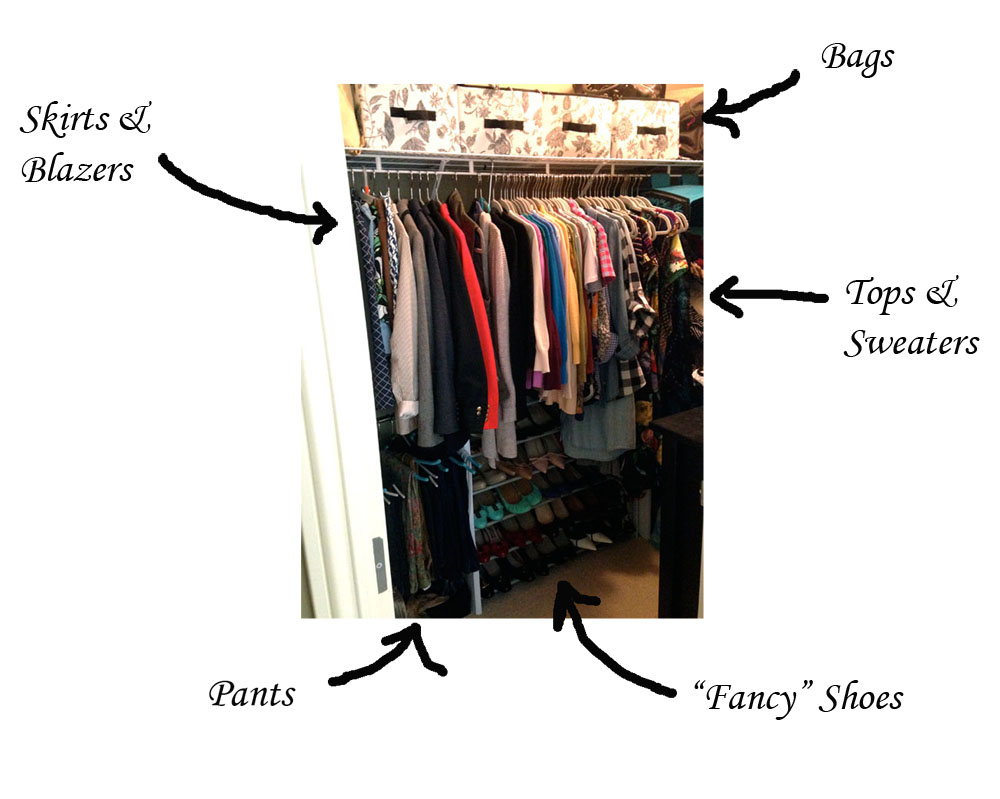 My t-shirts, sweaters, and scarves are actually in one of these IKEA folding shelving thingies, which you can't quite see – but trust it looks like this: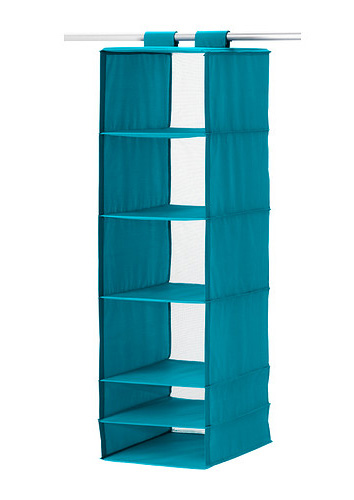 On the opposite wall is another IKEA wall-mounted unit, originally intended for shoe storage (I think), which I use for socks, tights, and unmentionables. It looks like this: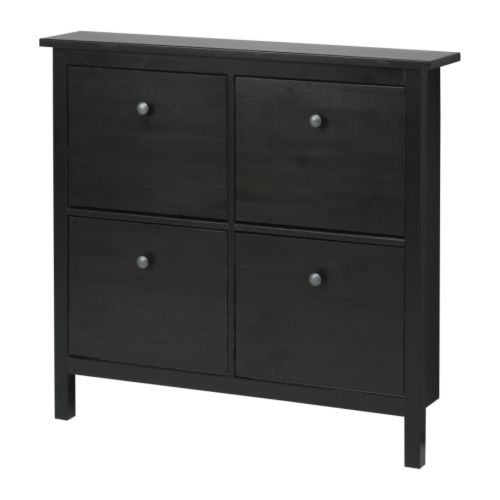 Above it is where most of my jewelry is laid out: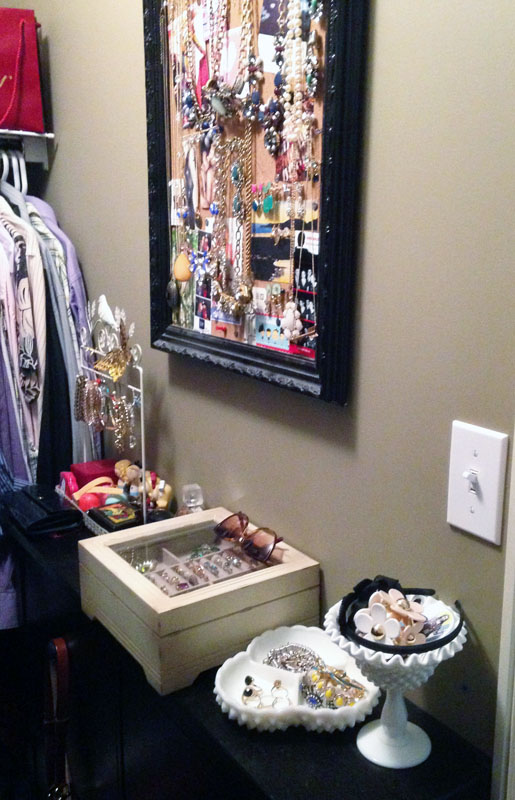 This part of the closet used to be overflowing – because, hello, I have a slight addiction to shiny things – but I recently caved and got one of these things: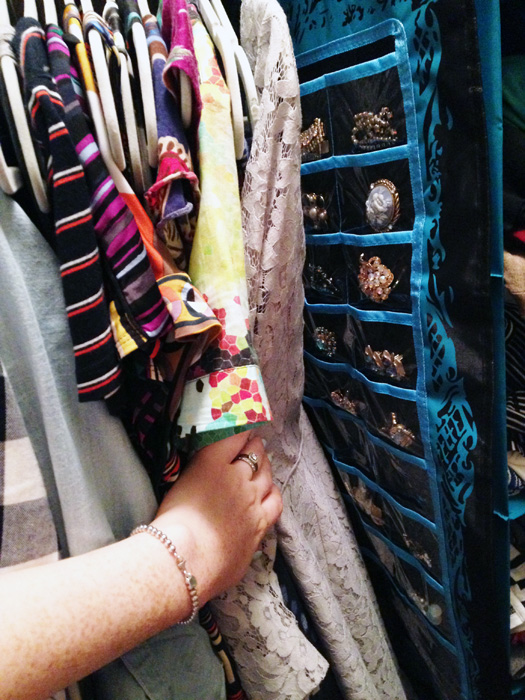 It helps a lot, even though I tend to forget what's in there, as the whole thing is tucked behind my dresses. Ahem. Last but not least, there is the nail polish rack behind the door. My husband made it (all those tools come in handy) and it's really awesome. I've drastically downsized my polish collection this year, so it now all fits on the wall rack. Yes, I used to have more. It's ok, I'll wait while your mind boggles.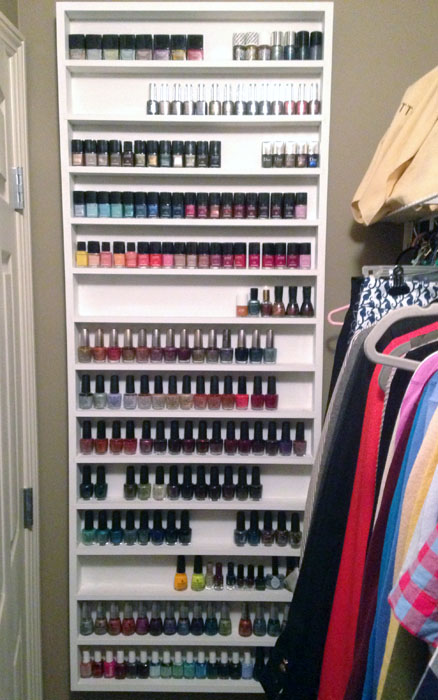 So, at this point you're probably wondering when I'll finally get to the inventory part. Fine. You want numbers, I've got numbers for ya. Behold:
Tops: 23
Shirts: 12
Sweaters & cardigans: 24
Pants & shorts: 17
Skirts: 17
Dresses: 36
Blazers & jackets: 14
Outerwear: 7
Shoes: 46
Bags: 24
TOTAL: 256 (186 without bags + shoes)*
Honestly … it could be worse. It probably is worse by the time you're reading this. For a person who writes a style blog (by definition, someone with more than a passing interest in clothes), I think it's not bad. You guys know I'm not a minimalist. I have a vague goal of keeping the overall number at about 150 (not including bags and shoes), but I'm not super committed to it. Obviously. I truly love what's in my closet right now, and other than a few seasonal pieces I'll likely need to replace next year, I don't see myself doing any major overhauls in the foreseeable future.
But never say never. There will always be more cute things to buy.