What I Wore: Non-Memorable Outing (I Already Forgot)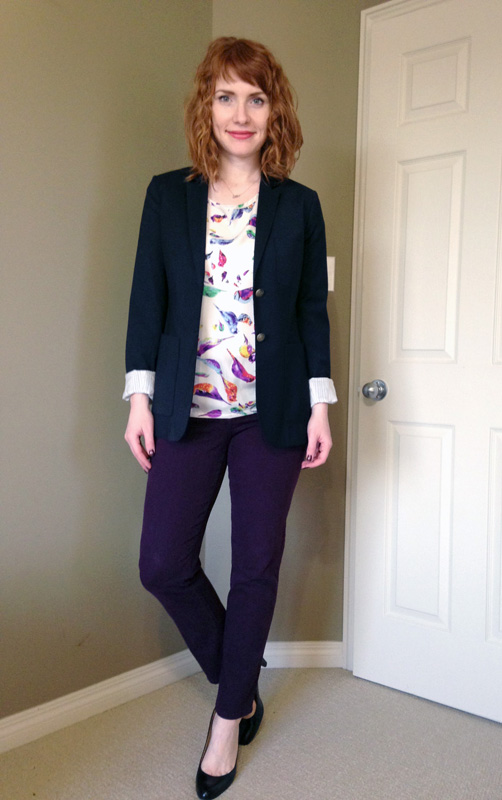 So, I bought this bird-print blouse on eBay for $5 (shipping included). It came from China, obviously. I bought it for the print, and the quality is what you would expect for a shirt that costs $5. And by that, I mean that it's on par with stuff you'd find at H&M, Forever 21, and the like. Staticky polyester. But hey, it was $5. And it was probably made in the same factory as clothes from the aforementioned brands. Do I feel guilty about feeding the cheap-fashion machine? Yep, a little bit.
On the other hand, I feel pretty good about the blazer. I missed out on a $25 Talula Exeter blazer at my local consigment shop because it was a size too small. Wah wah! I wanted the boyfriend-blazer look, but didn't fancy the price tag at Aritzia. Luckily, I stumbled on another one, in my size, on Kijiji. Always look on Kijiji, folks! I love a nice feel-good ending.
P.S. in case you're wondering, no, I haven't lost my mind. I wore those shoes for the photo only; but I figured that no one wants to see my oh-so-unattractive-but-practical winter footwear. Right? Right.