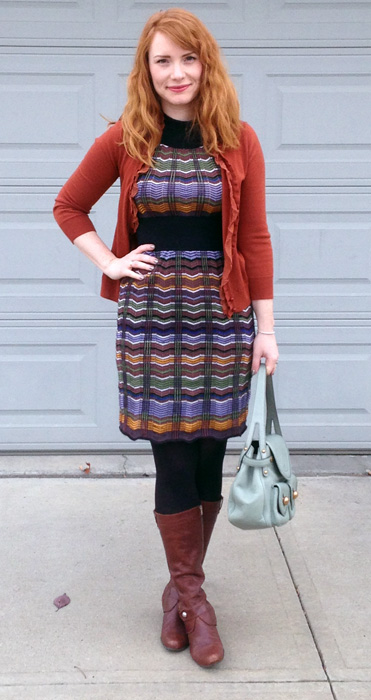 Missoni is one of those iconic brands that that tends to find its way onto your wishlist, but never on your actual buy list. Because, uh, it's stupid expensive. I recently got my chance to add it to my closet via a Kijiji swap. I had this pretty DVF wrap dress up for sale – because, let's face it, my size 4 days are long behind me – and someone contacted me to ask whether I'd be interested in a swap. I took a quick peek at her listings and … hello, classic Missoni knit dress!
Now, this is not a dress that's entirely within my style wheelhouse; it's probably a bit too far along the boho-chic spectrum for me, at least as far as everyday wear. However. It is a classic, and pretty much timeless in its own 70s-inspired way. A knit dress never goes amiss in this climate. And I do sometimes like to get my boho on, come the weekend. All in all, I figured it wouldn't make a bad swap for a dress I would never wear again, and wouldn't make very much money selling. A classic for a classic, as it were.
Plus, I was intrigued by the colour palette. I rarely wear brown, especially warm-toned browns, so I decided to take up the challenge. And I thought it would pair nicely with this rust brown cardigan that's been languishing in my closet.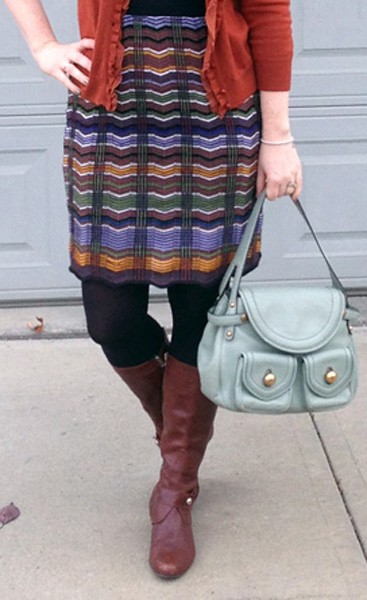 Please excuse my scuffed up boots. Just look at the pretty purse instead. And all the (clashing) shades of brown here.