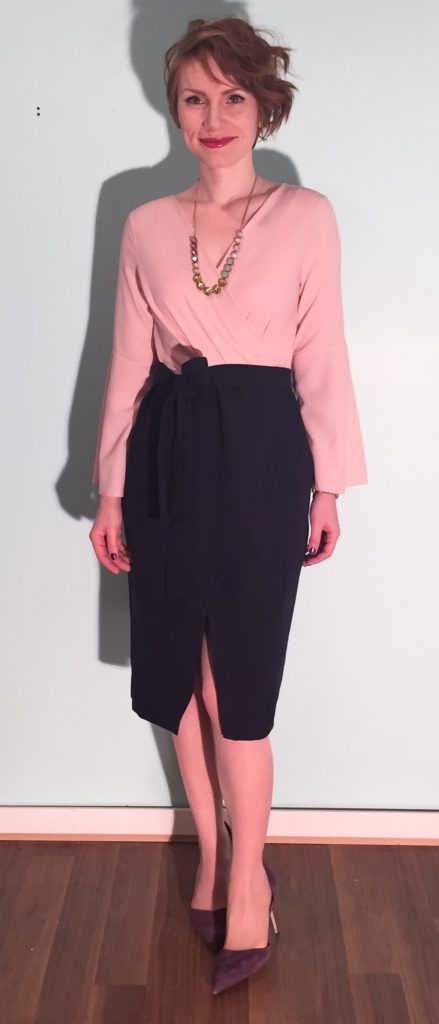 A while back, I somehow ended up on the Asos website, which is bad news bears … in the sense that there are a bazillion cute things listed there, and at least a half dozen that will seriously test your willpower. I make a concerted effort to avoid buying clothes at retail, but apparently my willpower has limits. This dress was my downfall; I love faux wrap, vaguely tulip-shaped skirts (I know that is hyper-specific preference, but there you have it) and I also love dresses that look like separates. The combination proved irresistible. I ordered the dress, and immediately prepared to regret it.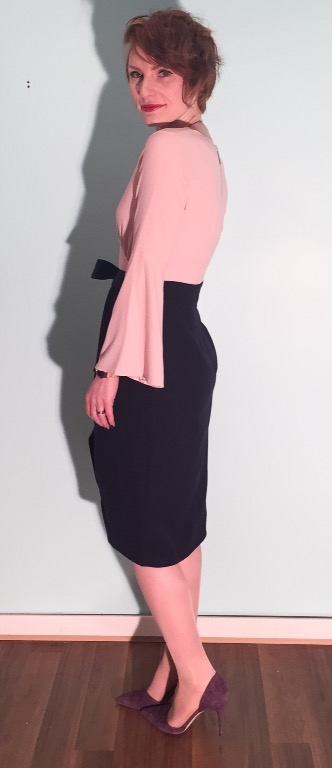 And did I?
A little, perhaps. Let me explain. I love the aesthetic of the dress, and the item I received looked exactly as advertised. I have a couple of small quibbles with the design, which I'll address in a minute. The quality … ah, therein lies the rub. First, some quick background: the dress was around $70CDN (less in US$), and the shipping was free. As I recall, the site did not charge me taxes on my purchase, and I was not required to pay customs even though the dress was shipped from the UK. I'm not sure how that worked, but I am certainly happy that it did. The quality is on par with the price, based on my experience with comparable price-point brands such as Zara. Which is to say … it's not great, but $70 doesn't buy you much these days at retail. I think my disappointment in this regard lies in the fact that I am now used to better quality and lower prices thanks to thrifting.
The dress is polyester, and doesn't feel like the expensive kind of polyester either. It wrinkles very easily, which makes it un-packable as far as I'm concerned (I can't be bothered with ironing when I'm traveling), but it also doesn't hold the wrinkle, if you know what I mean. Some materials are impossible to smooth out without practically burning, but this one ironed out no problem. The bodice is somewhat sheer, so I would definitely recommend wearing a camisole or tank underneath. I can't speak to how easily it launders. The instructions have it marked as machine-washable, but I am somewhat reluctant to test that. I will probably either hand wash it, or dry clean it at home.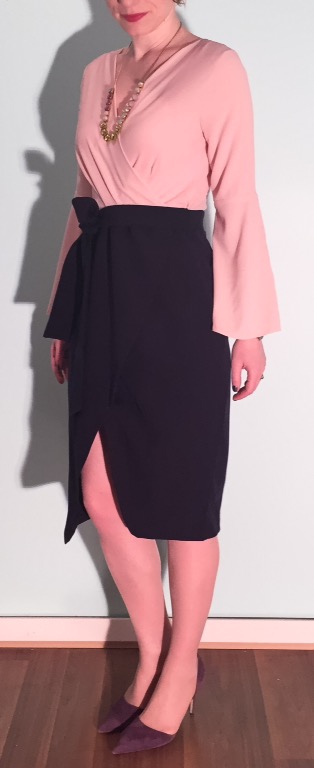 Back to the design. I have 3 quibbles. One, the slit in the skirt becomes somewhat scandalous from the side (especially for professional settings); we're talking visible mid-thigh. This is not an insurmountable issue; I pinned the opening closed with a safety pic so that, from the side, you could only see a few inches above the knee. On the flip side, the wrap neckline does not gape AT ALL, and is in fact very modest and work-appropriate. I have a small bust, so that may account for it, but this was a feature I was concerned about and I was pleasantly surprised to find it a non-issue. (It also helps to conceal my camisole, which is a different, clashing shade of pink.)
Two, there is an exposed zipper down the back. This doesn't bother me a great deal, but it does make the dress look less "luxe".
Three, there are no pockets. I keep trying to put my hands in the pockets, only to realize — time and again — that there aren't any. This is perhaps unsurprising given the price point, but it's kind of annoying nonetheless. Add pockets to your dresses, designers!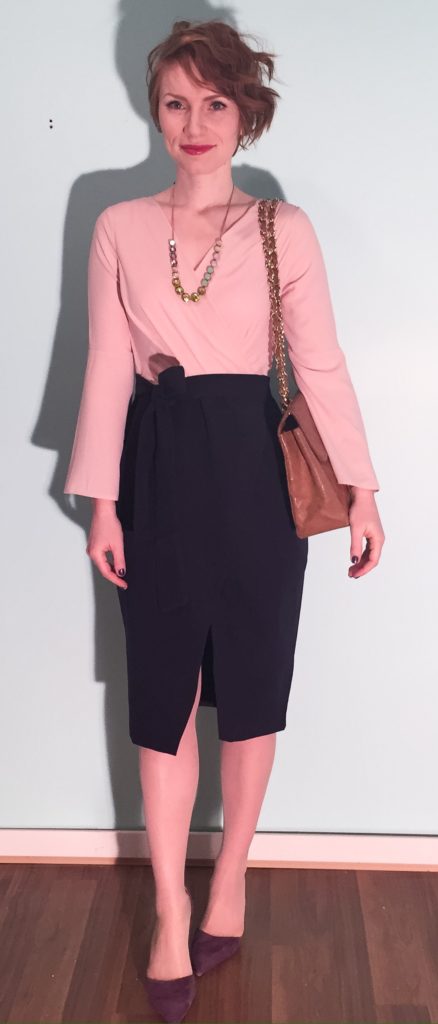 Finally, a word on sizing. The site was sold out of my "safe" dress size (US 6), and I was left to choose between the next smallest and next largest sizes. In most cases (with the exception of Ralph Lauren and DVF dresses), I am a size 4-6, usually the former; thankfully, in this case, I checked the Asos size chart and went with the 8 rather than the 4. Good thing. While the 6 would have probably fit, it would have been much more form-fitting and, hence, probably too "sexy" for the office. I'm thinking, in particular, of the fit across the bust and the hips (which would have made the skirt opening that much wider and harder to pin close).The size 4 would have certainly been too small, even at the waist where I have the most "wiggle" room in this dress. So, my advice is to size up — possibly by as much as 2 sizes — particularly if you have a larger bust and/or hips. Use the Asos size chart for reference.
Last word: I would like to buy the (quality) upgraded version of this dress. The end.