Last week, I went to Red Deer for a two-day work conference, and naturally that required me to over-think a bunch of outfits. I'm not going to pretend that this is any kind of travel capsule, because I made no special efforts to mix and match; I just wanted to feel (a) good in whatever I wore, (b) appropriate for the occasion. Ready to check out some horribly lit selfies? Well, alrighty then!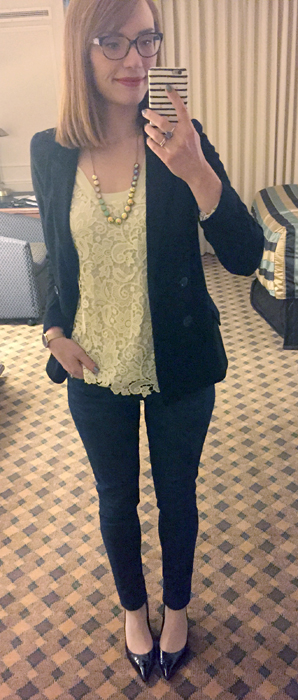 I wore this for dinner and drinks with some colleagues (and clients) the night before the conference started. We went to a hipster-y joint in downtown Red Deer (To The Lost), which turned out to serve excellent handmade cocktails … and the food was not bad either. (That's an understatement actually. It was delish.) The vibe was quite chill, so this outfit ended up being a good choice — casual, but with some dressier elements. Speaking of which, I really like the quality of this J. Crew Factory lace tank. It was something like $18 on clearance, and well worth that price; the lace is very nice and looks more expensive than it was. I bought it less than 2 weeks ago, so you might still be able to find it in stores if you're interested.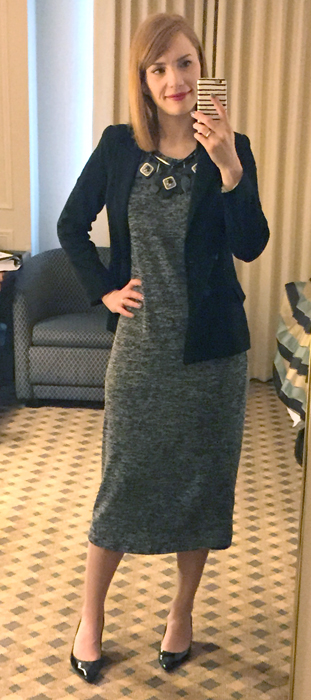 For the first day of the conference, I went with comfort (my trusty Joe Fresh tube dress) and dressed it up a bit. I picked this particular blazer because it's a heavy knit (comfy and warm) with a cotton lining (extra warmth) — perfect for the chilly temps inside the conference hall. I added a fancy necklace for some visual interest, and my comfiest heels. Pretty basic, but fail-proof.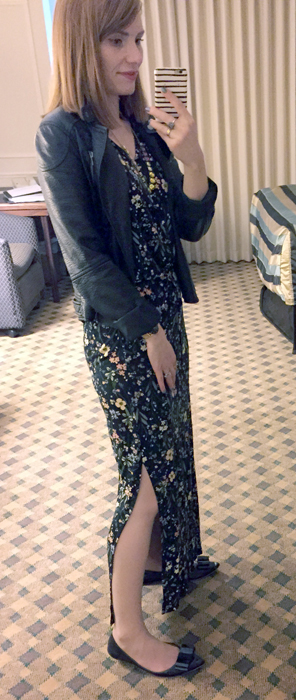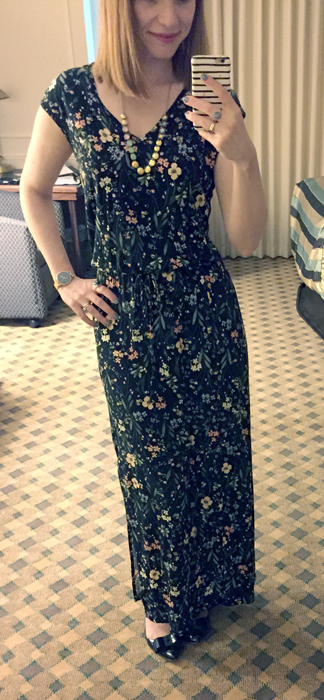 The conference dinner was hosted at a restaurant located on a ranch, so again, the vibe was quite laid back. I picked a maxi dress because I thought it would hit the right balance between casual and dressy, and added a leather jacket for a bit of edge, plus warmth.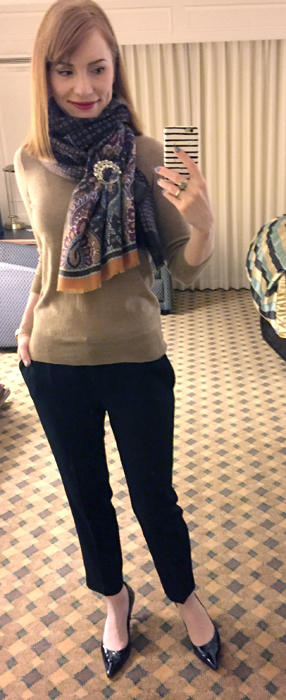 For the last day of the conference, I knew I wanted to wear a couple of recent thrift scores — this pretty wool scarf and brooch. The rest of the outfit was basically just "background", but it still hit the conference trifecta: warm, comfortable, and polished.
For those not familiar with Alberta geography, Red Deer is a midsize (by local standards) town halfway between Edmonton and Calgary. The only time I usually stop there is when I'm traveling to Calgary, and then usually only long enough to hit up Gasoline Alley (a commercial strip on the edge of town where one can fuel up the car — and oneself, with donuts from the famous Donut Mill). On this trip, I realized that there was a Value Village and a Salvation Army a few blocks from my hotel so … well, you know where I'm going with this. I couldn't let the opportunity slip, so during our scheduled "free time", I took myself off for some thrifting.
How did Red Deer's thrift scene compare to the Edmonton's? It was not quite as exciting (few places are, to be honest), but it wasn't bad either. I didn't find much at the Sally Ann, but the VV had a few treasures.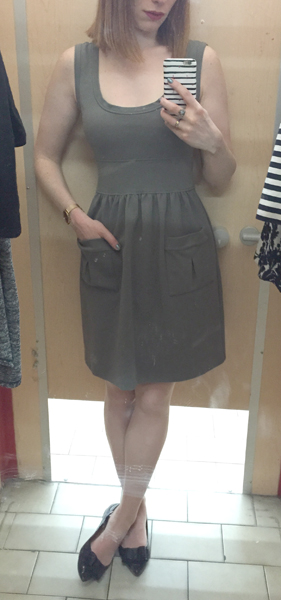 I rarely find DVF here in Edmonton, so this was a bit of a surprise. I had to double check that this was, in fact, an authentic dress since it didn't look like something you'd expect from the brand. The inside tag looked legit though.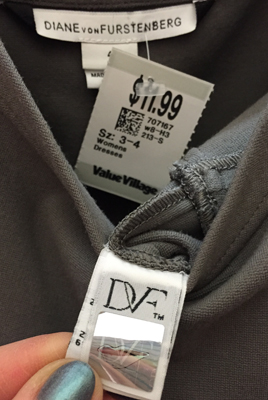 I googled the name of the dress (helpfully noted on the inside tag, which I wish more brands would do), and this proved to be a CDN$400 piece. Hard to believe — it's cute, but the quality seemed meh to me. For $12, it was tempting but I ended up passing on it because I don't need another casual dress, and there was nothing special about this one except for the label.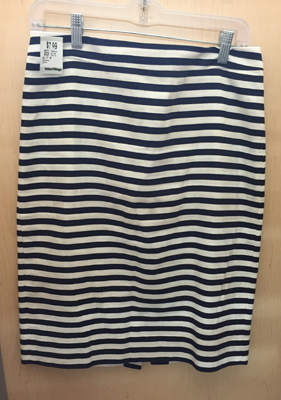 This J. Crew skirt was also a decent price, but the wrong size so I had to pass.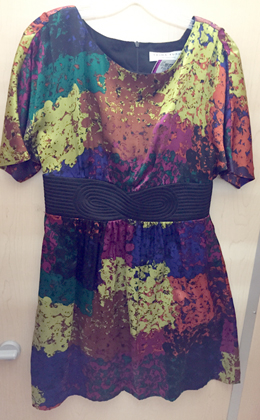 Ditto for this Trina Turk dress, although the price was a bit steep in any event.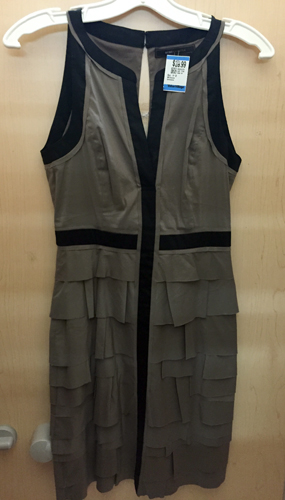 This BCBG dress took the cake, however. Forty freaking dollars for a simple cocktail dress? Holy crap. I thought my local VV was bad, but this is another story. I was amused, however, that they priced BCBG higher than DVF.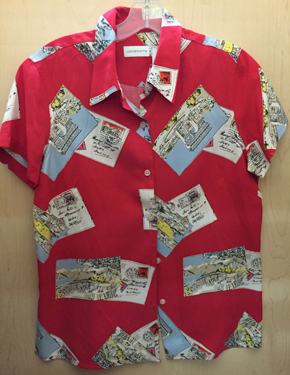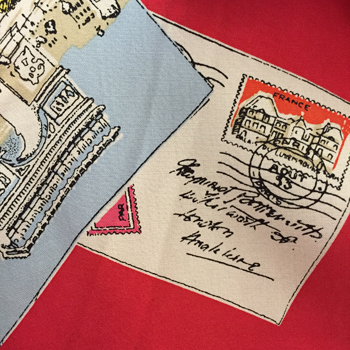 I loved the print of this Liz Claiborne shirt, which struck me as very Anthro-esque. The fabric was a lovely silk as well, but it was still a pass for me. The size was too big, and the style too 80s for my taste — though alterations might fix both problems. Considering the price, I didn't feel like taking a gamble on my rudimentary skills.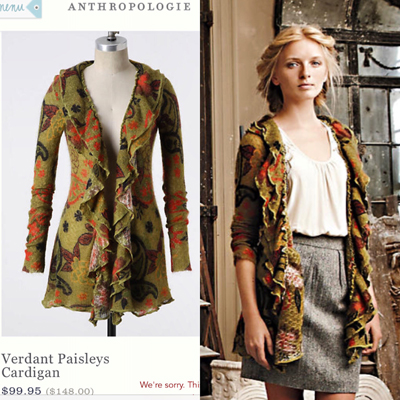 In the end, the only thing I bought was this Guinevere cardigan. I was a bit iffy on the colour and print, but I loved the soft wool and decided the cardigan might be a good topper for a few things in my closet. If nothing else, it shall count as my Red Deer souvenir.
Speaking of souvenirs, on the way home, I made a quick side-trip to visit the (even smaller) town of Lacombe, and checked out its secondhand/thrift/antiques scene. [The thrift store did not yield any treasures, but the consignment store (surprisingly large and well-stocked) had a few, including a pair of made-in-Italy Jenny Kaye leather flats which, unfortunately, were not my size.] I stopped into the cutest little antique store where, sadly, the prices on Royal Albert teacups were no bargain, but where I did pick up this cute geegaw: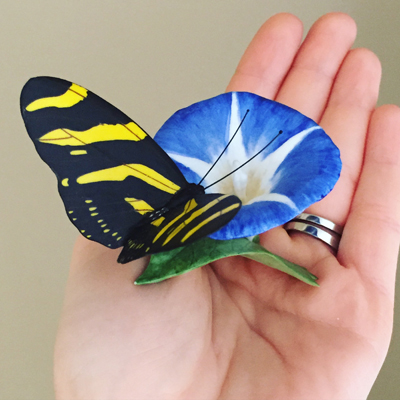 This little adventure off the beaten track (aka Highway 2) reminded me of an idea I'd had years ago to do a day-long "antiquing" tour of small towns around Edmonton. I'm more convinced than ever that it would be a lot of fun; now, I just have to find some partners in crime … Stay tuned.