Everyone has their own little fall season rituals, whether it be re-discovering one's favourite cozy sweaters or indulging in a spiced pumpkin latte or two. This year, my fall-inspired obsession has been colour; I've been craving autumnal shades, from mossy green to mustard yellow and mushroom grey and, most of all, burgundy. I noticed this personal trend in nail polish especially; I normally like to switch up my polish colours all the time, because I get bored easily and like a lot of variety, so it was definitely unusual to have a two-week stretch when my polish picks looked like this: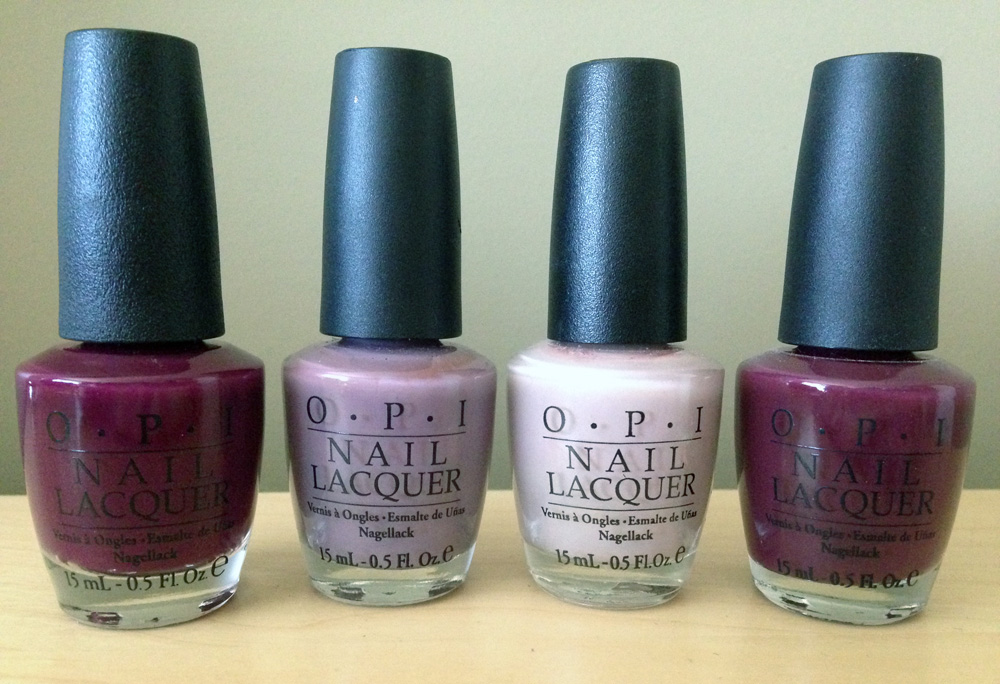 Not surprisingly, a lot of my outfits reflected a similar colour palette, so I thought it would be interesting to show them together in a WIW post. Without further ado …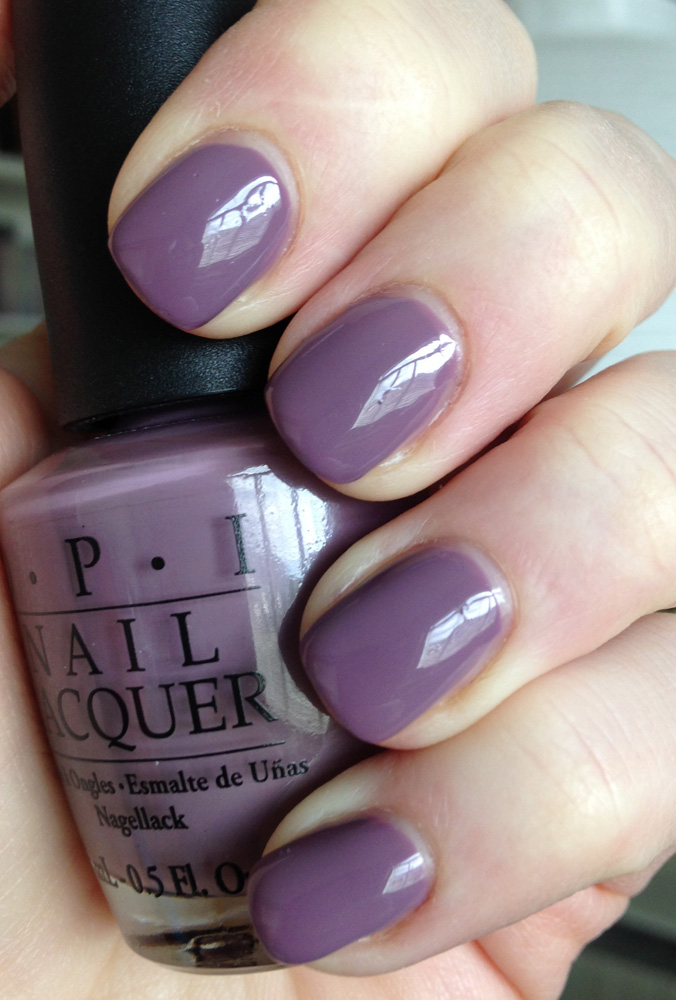 Every time I put on Parlez Vous OPI, I am reminded of what an underrated classic it is; it's not one of those polishes that wow you in the bottle, but is it ever flattering and pretty on the nail.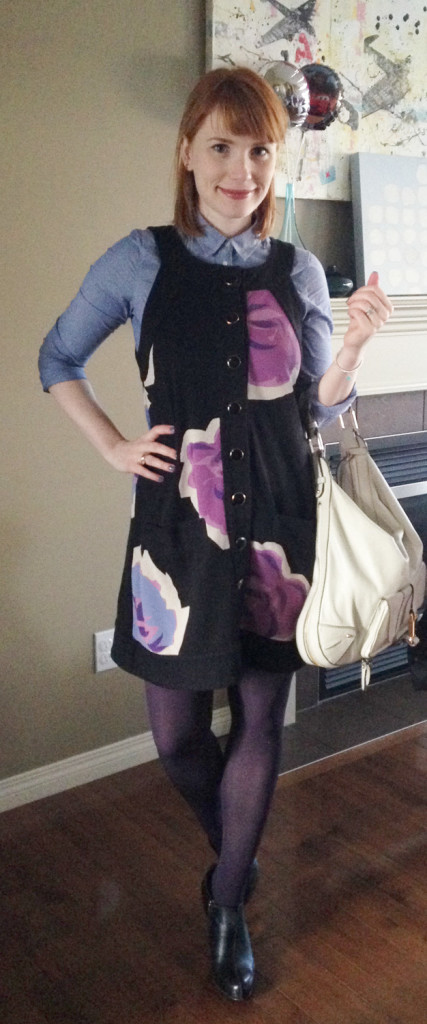 I love the mix of shades of purple in this Marc by Marc Jacobs tunic, and I added an extra one with dark aubergine coloured tights. While I like the colour of this pair of Joe Fresh tights, I am not impressed with the quality, and in particular the opacity; I should have known better, and stuck to my usual brand (Hue).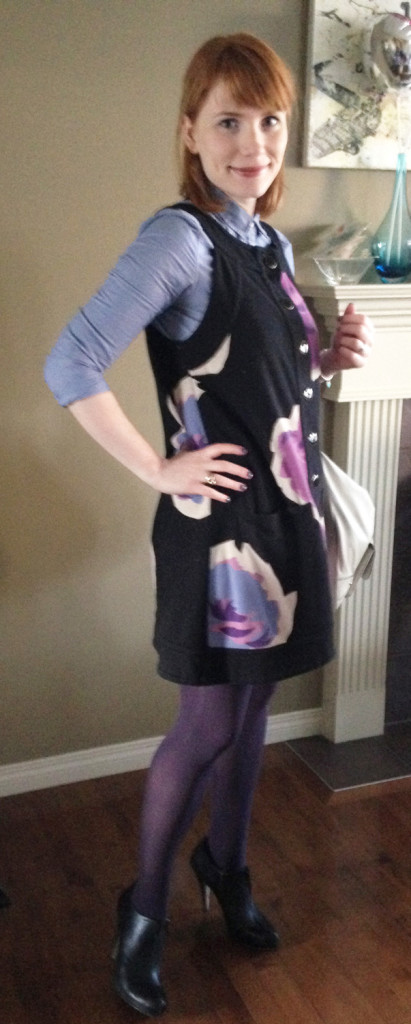 Sorry about the blurry photo – taking pics on the go , with two kids wreaking havoc in the background, is always a hit-and-miss affair.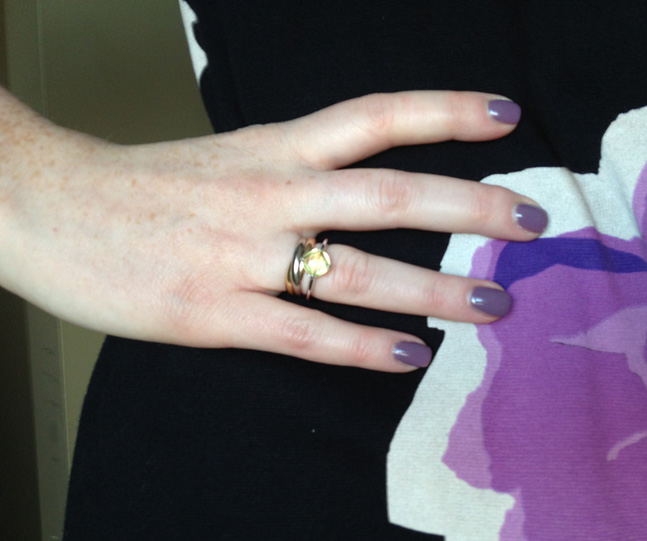 One of my few polish purchases this fall has been this purple-leaning burgundy creme from the OPI San Francisco collection. If I could only find a sweater or cardigan (or slim-cut cords) in this colour, I would be a happy camper.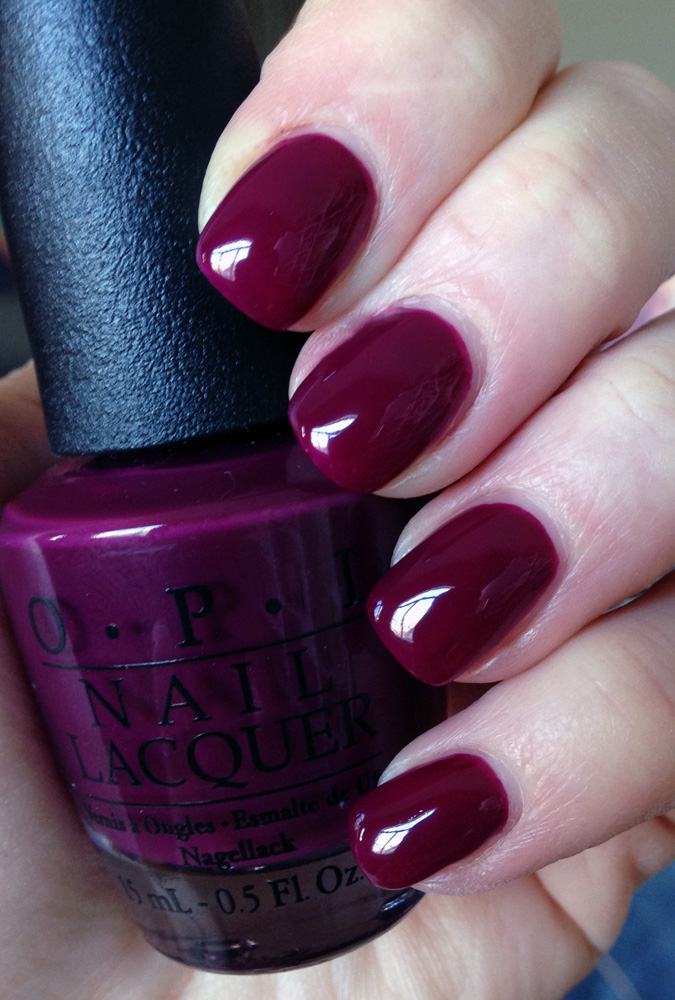 I have been avoiding buying Joe Fresh clothes for a while now, but finally caved in and bought an item recently. The culprit? This cream, loose-knit cardigan. It's been one of the items missing from my fall wardrobe, and I simply had no luck finding one I liked second-hand. This one met all of my criteria, minus quality (it's only part wool) and the fact that it's made in China. If I were less impatient, I would have waited – I'm sure I would have eventually found a good alternative either at consignment or thrift. But with winter looming, temptation got the best of me.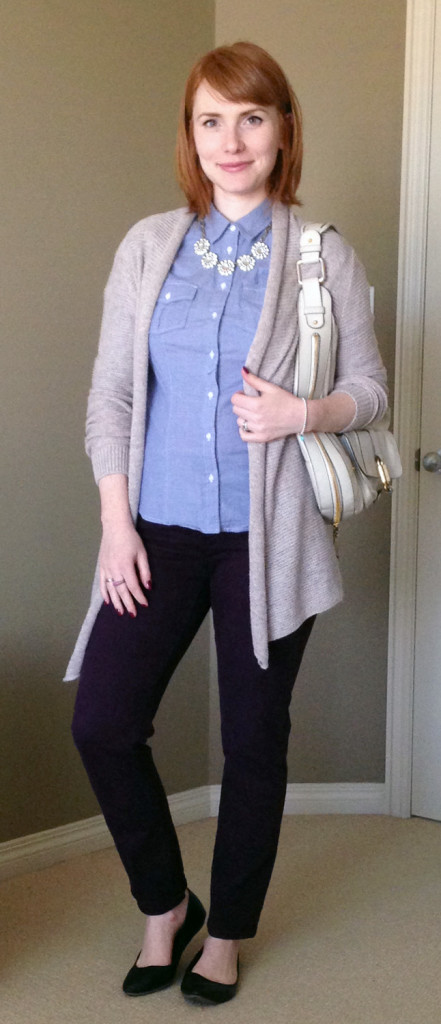 I've been wearing my glasses a lot more recently (mostly out of convenience), but I still hate wearing them in photos. I can't help feeling like I look extra geeky with them on; I guess the psychological scars inflicted in middle school never really go away.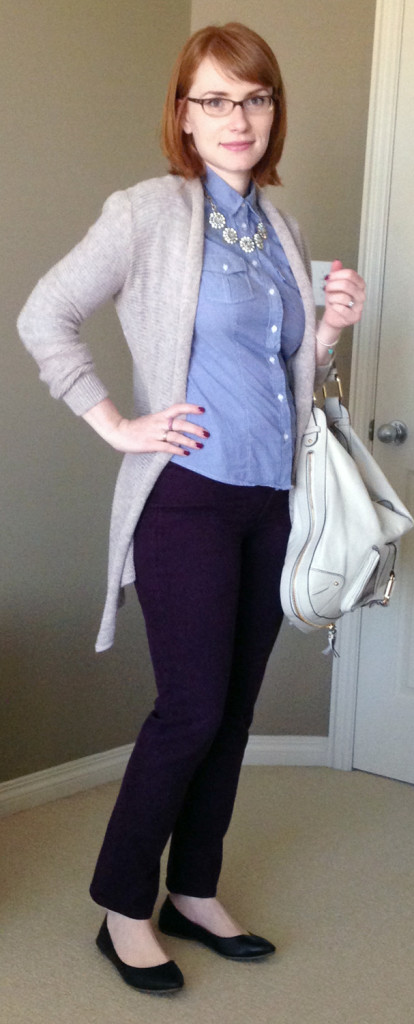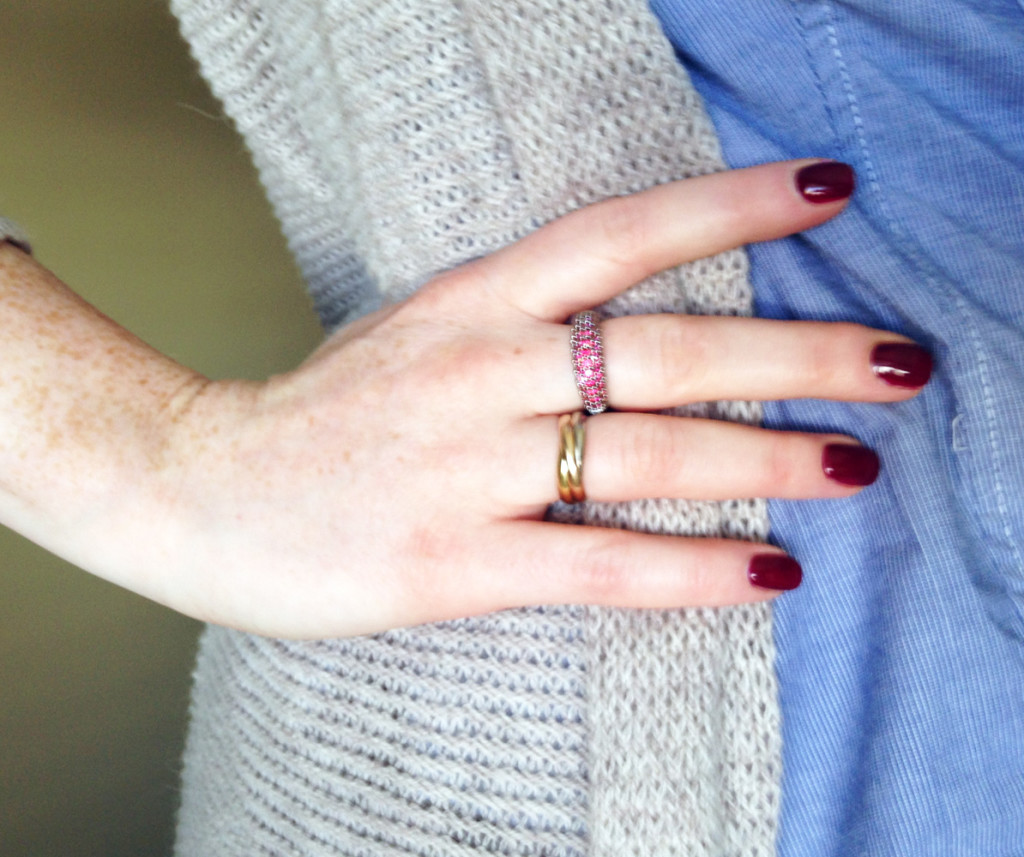 You might do a double-take when you see this next polish, but I assure you that it's different than the previous one. OPI Boris and Natasha (love the name!) is an older polish from the Russia collection, and it's a more brown-leaning burgundy than In the Cable Carpool Lane (above). You could call it "raisin", if you wanted to get real' fancy.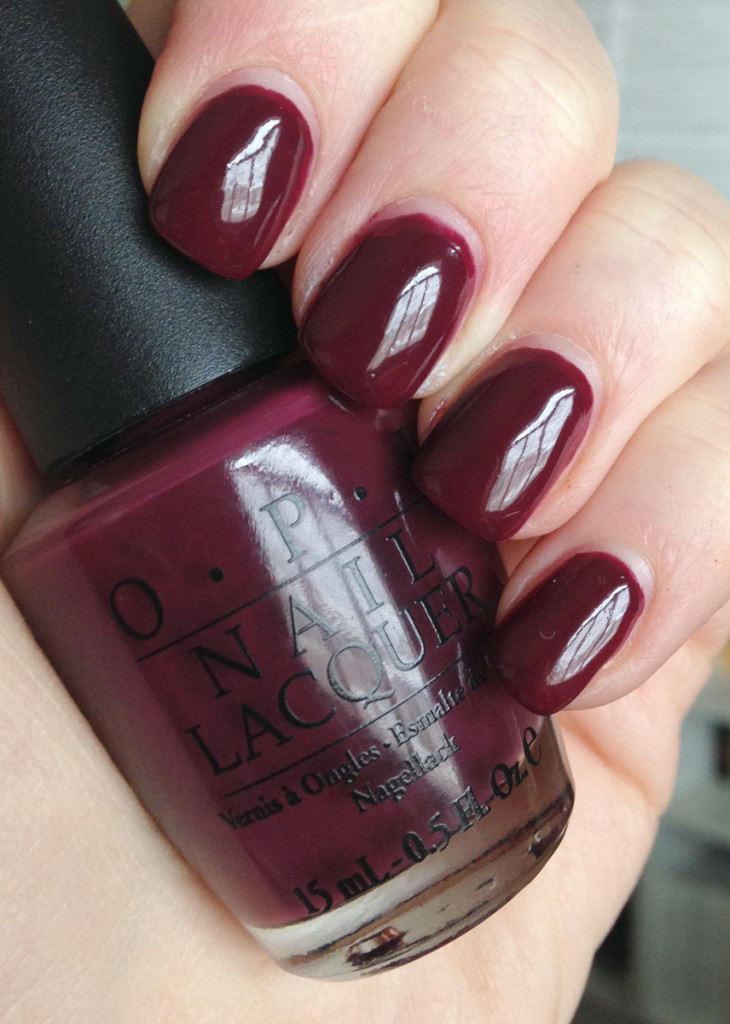 And speaking of similar things, here's a slightly different take on the same cardigan as above.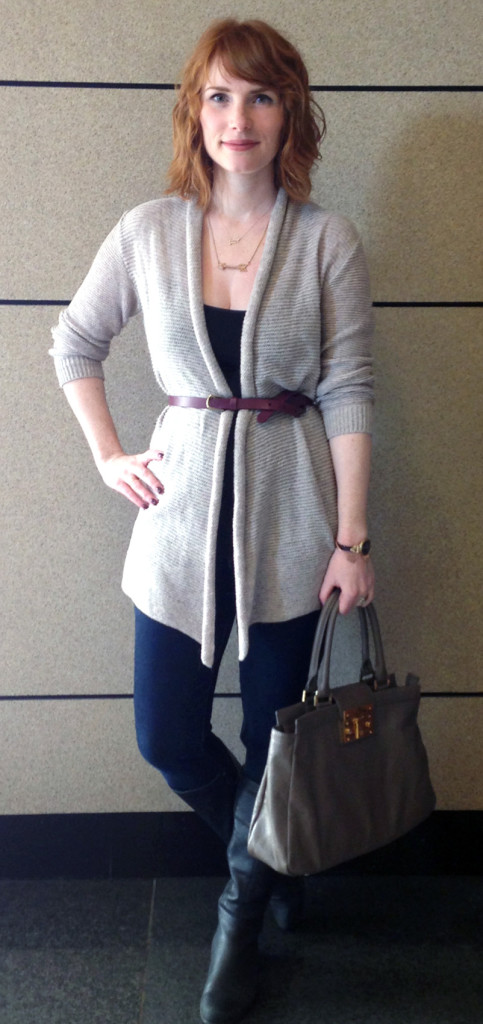 One of the things I'm still self-conscious about, post-baby, is my postpartum tummy. Let's just say that it's not as camera-ready as it used to be, especially from certain angles. Adding a belt to the equation might seem either foolhardy or masochistic, but remember – I have been preaching the gospel of the belt for a long time, so I had to practice it too. It was less daunting than it seemed, just a question of finding the right spot to belt – in this case, my natural waist.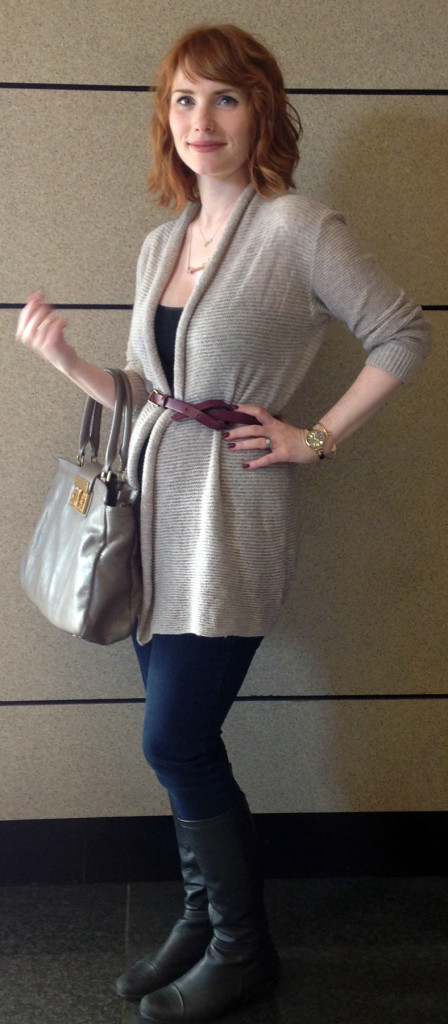 As always, when I'm feeling anything less than 100% great about my outfit, I pile on favourite accessories to distract myself.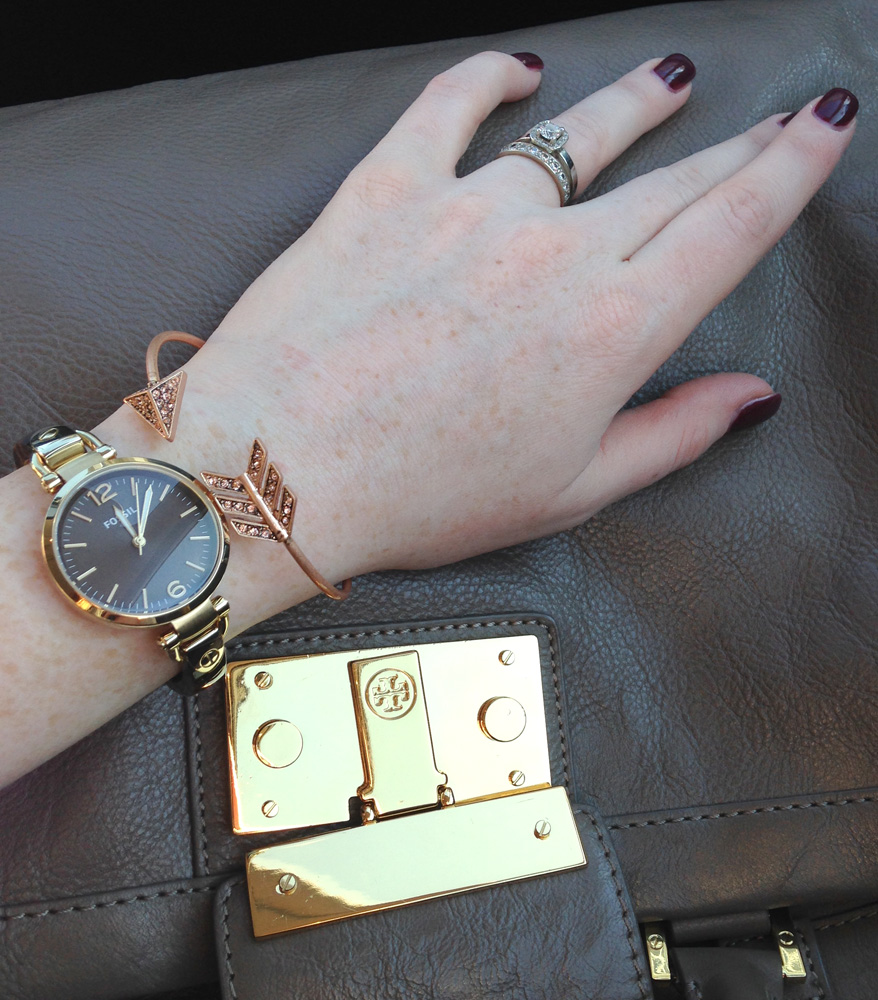 One of my favourite "neutral" polishes is OPI Puerta Vallarta Violeta from the Mexico collection. It's the most exquisite shade of pale lavender: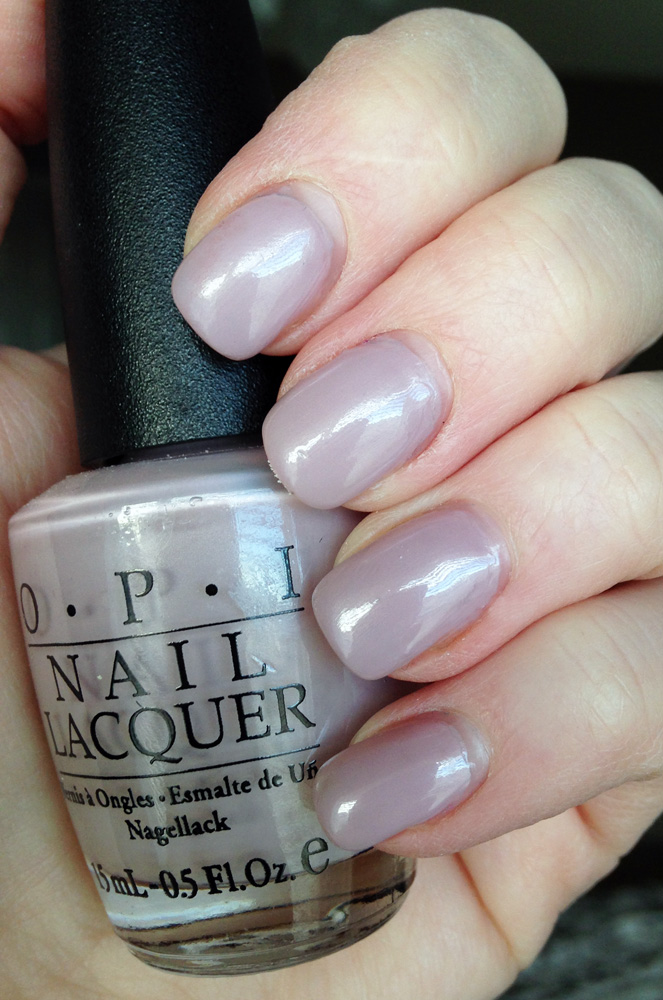 I love my new Adriano Goldschmied Stevie cords (a fantastic Kijiji find), and I wish it was still summer so I could wear them with flats everywhere. They're slim enough to fit into my boots, but I prefer how they look with flats (hence these photos).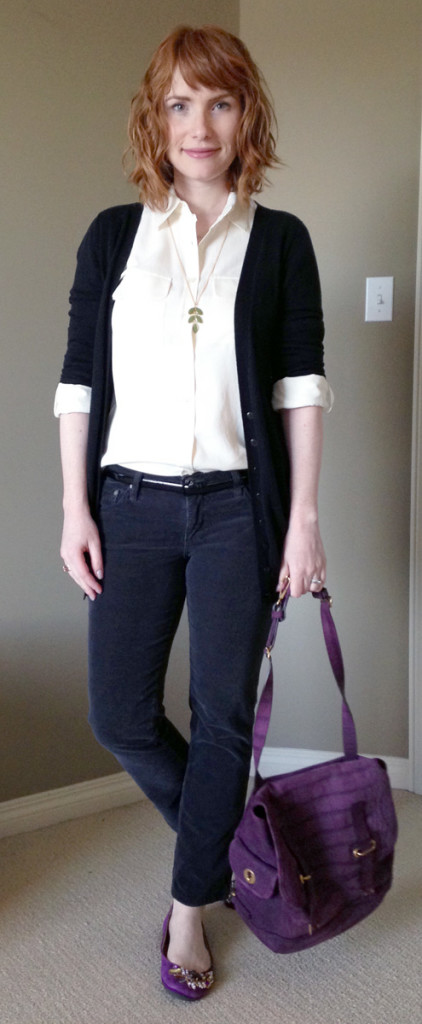 I'm also loving this cream silk blouse – another closet "hole" filled. I can't believe it's taken me this long to add this basic piece to my wardrobe!


I love how this outfit came together; it's pretty basic, but it feels great. That's the most important thing, now more than ever.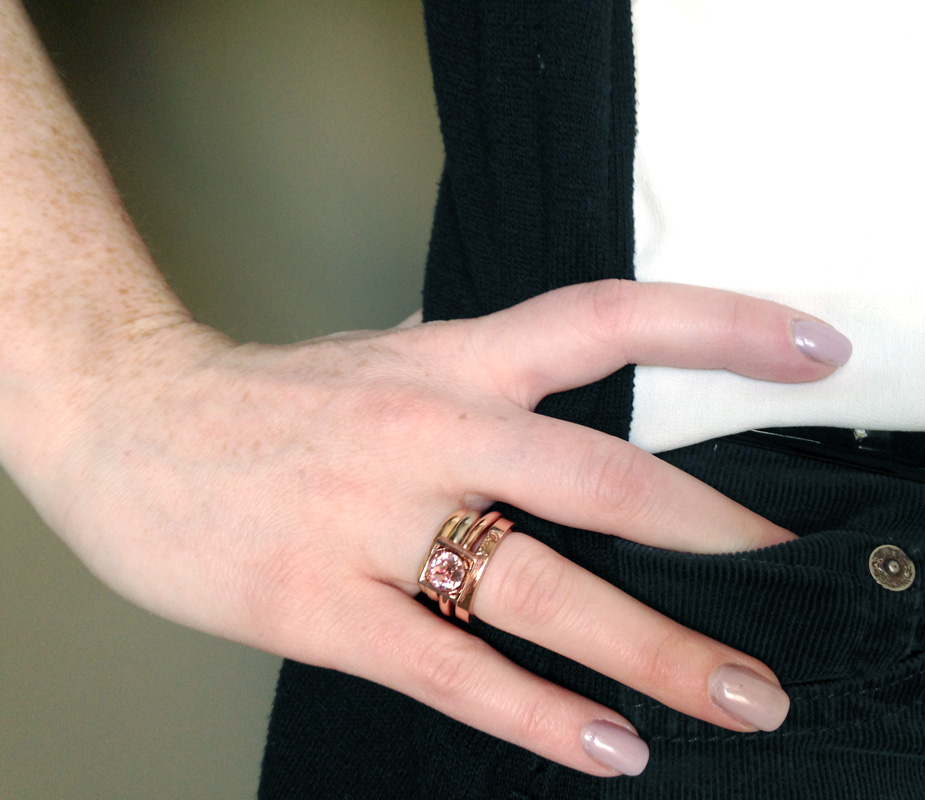 Do you have any fall fashion faves?